Recognizable as the "jet engine taking off" sound, Flanger is one of the earliest modulation effects used in modern music. Flanger effect is used to thicken up the audio and stereo widening apart from creating the usual jet plane sound. We have done a rundown of the best vintage Flanger VST that will take your guitar production to the next level.
Some of the finest vintage Flanger VST plugins on our list incorporate all the elements of 1960s Flanger pedals. So, without further ado, let's get started. 
5+ Best Vintage Flanger VST 2023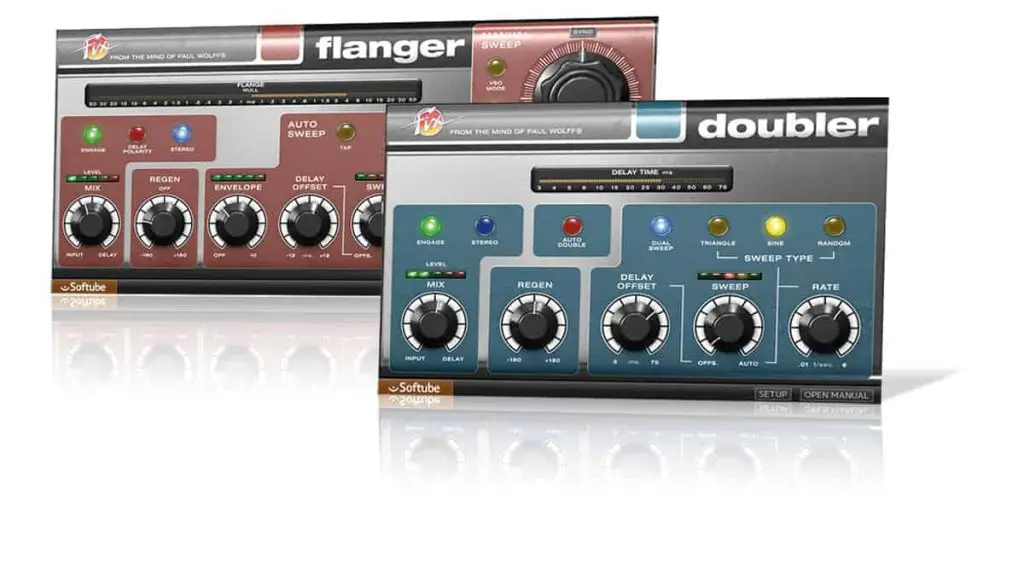 If you are looking for a versatile flanger VST with guitar pedal style flanging, Fix Flanger is worth its weight in gold.
Softube's Fix Flanger is a modern flanger VST that offers superior flexibility and realistic flanging controls. Based on the DSP modelling technology, Fix Flanger can be used as a flanger VST, stereo widener and doubling tool on vocals.
You can choose any style of flanging option, from vintage guitar stompboxes to manual tape machine flanging, this plugin can do it all. 
The USP of Fix Flanger and Doubler is its Auto double feature that deploys unique and precise phase cancellation.
Features of Fix Flanger:
Auto Double
Lush chorus and textures for guitars and vocals
VSO flange control and motor bounce emulation

If you are fond of subtle modulations, stereo sweetening, and double-tracking guitar tracks, then the Instant Flanger Mk II is one the best vintage flanger VST effects for you.
For starters, this nifty flanger plugin can convert bland mono guitar tracks to massive arena stomping lead guitar tracks in no time.
Instant Flanger MkII VST is renowned for its "pseudo-stereo" sound. It provides dual outputs that are configurable in Deep, Wide and Shallow modes for more customization and an impressive array of stereo width expansion possibilities.
The icing on the cake is perhaps Instant Flanger MkII's sublime depth control intensity that can add delayed signal to the dry signal and subtract dry signal from the delayed signal with litheness.

Looking for a decent flanger plugin that can bring the vintage stompbox ethos back to life? Look no further than Antresol.
As well as regular left/right stereo processing and mid-side processing, the D16 Group Antresol flanger offers 3 unique characters for shaping your typical flanger sound. 
Mistress is an emulation of Electro-Harmonix Electric Mistress pedal, and comprises two modes. While Linear mode is used for creating a flanger image, Concave mode follows time delays.
Features of Antresol:
Two Graphical User interface for beginners and professionals
64bit internal processing
Tag-based browser for recalling presets
MIDI Learning mode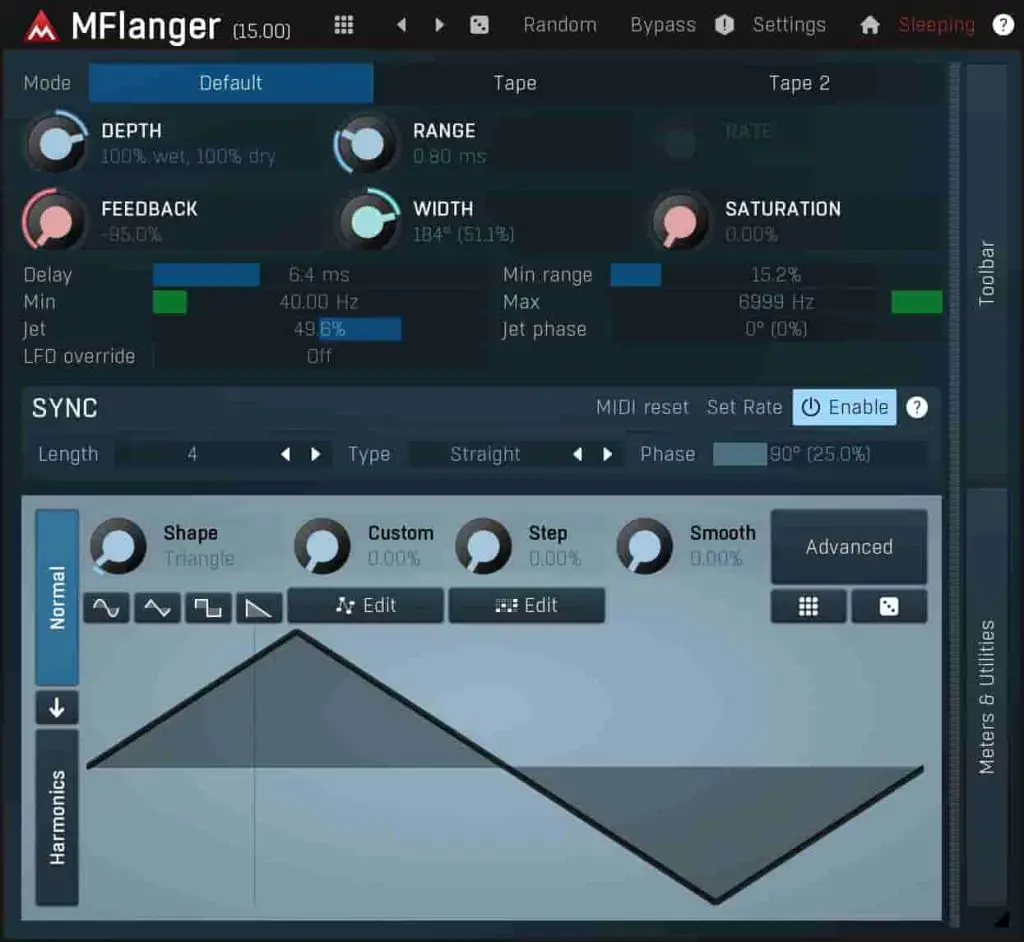 MeldaProduction's famous multi-band flanger finds its way into our list of the best flanger plugins.
It comes with up to 6 fully customizable bands and 3  transparent crossover algorithms namely: hybrid, analog, and linear-phase.
For starters, you can simultaneously tweak several frequency bands with various styles of flanger effects. Interestingly, MFlangerMB sports 2 graphic user interfaces. 
While the basic GUI displays pre-defined modes for beginners, the advanced GUI displays many additional features that can be used to add stunning flanger effects in your mix. 
Features of MFlangerMB:
Fully Automatable
High Quality upsampling and sync interpolation
4 Global Modulators
Up to 8 channels surround processing
Dual Graphical User interface for beginners and professional music producers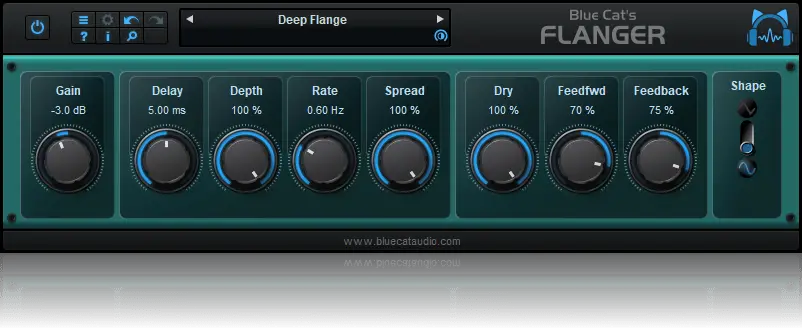 Modelled on the vintage flanger sounds of the 1970s and 1980s, Blue Cat's Flanger is a versatile tool that is relatively easy to use. You can dial in the perfect flanger effect on your guitar track in a jiffy. 
Did we forget to mention that it is a free flanger vst plugin? You can dial in everything ranging from smooth and soft flanging to harsh and metallic comb-filtering effects for free.
What is a Flanger effect?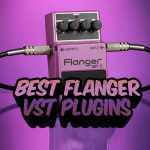 The first flanger effect was created when 2 tape machines were made to play identical tracks at the same time.
Combining the two signals together created a distinctive comb filtering sound that was first heard in popular psychedelic rock songs of the 1960s. 
Flangers also include a "feedback" which is mixed with some of the affected signal back again to further intensify the effect.