Gated reverbs share somewhat similar characteristics to chamber and room reverbs insofar as coloration is concerned, however, differ in terms of decay time. Finding a decent gate reverb is no easy feat though. There are hundreds of plugins claiming to be the best gated reverb VST and whatnot!
Fret not, we did the graft and created this list of some great gated reverb VST plugins that will help you dial in the vintage reverb of the 1980s. 
So, are you ready to find the best gate reverb plugins? Without further ado, let's get started.
6 Best Gated Reverb VST Plugins 2023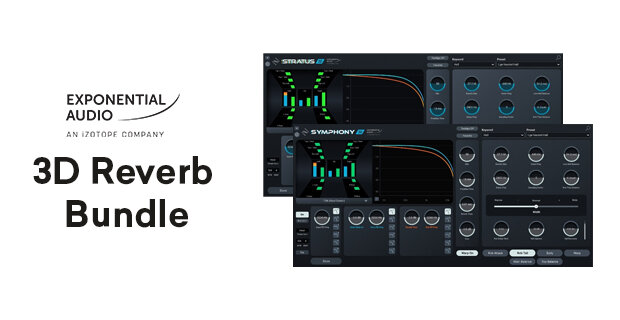 If you are looking for a solid gate reverb with a powerful algorithm, look no further than Exponential Audio's 3D Reverb. 
With its gate and chorus effects you can shape the colored contours of your reverb signal and fit it into music projects of varied hues. You can use its Gate to duck reverb and create a wide stereo-esque space in your mixes.
3D Reverb's rich musical reverb algorithm, coupled with its precise parameters, can produce some splendid reverb tails, with articulative reflections such as brimmy chorus guitars, boomy vocal rooms, ambient rooms, and more.
You can design unique sonic reverb soundscapes that segue from minimal room reflections, to otherworldly spatial room reflections to euphoric orchestral chambers.
R2 boasts an eclectic preset bank collection that can seamlessly blend all kinds of chamber, room, classic, hall and plate reflections with tail modulations and create a vibrant aural dimension of never-heard-before spatial effects.
3D Reverb Bundle Features:
More than 1,200 presets (rooms, plates, halls, chambers, and more)
High Pass and Low Pass Filters
Independent parameter  controls for reverb tail, attack, and early reflections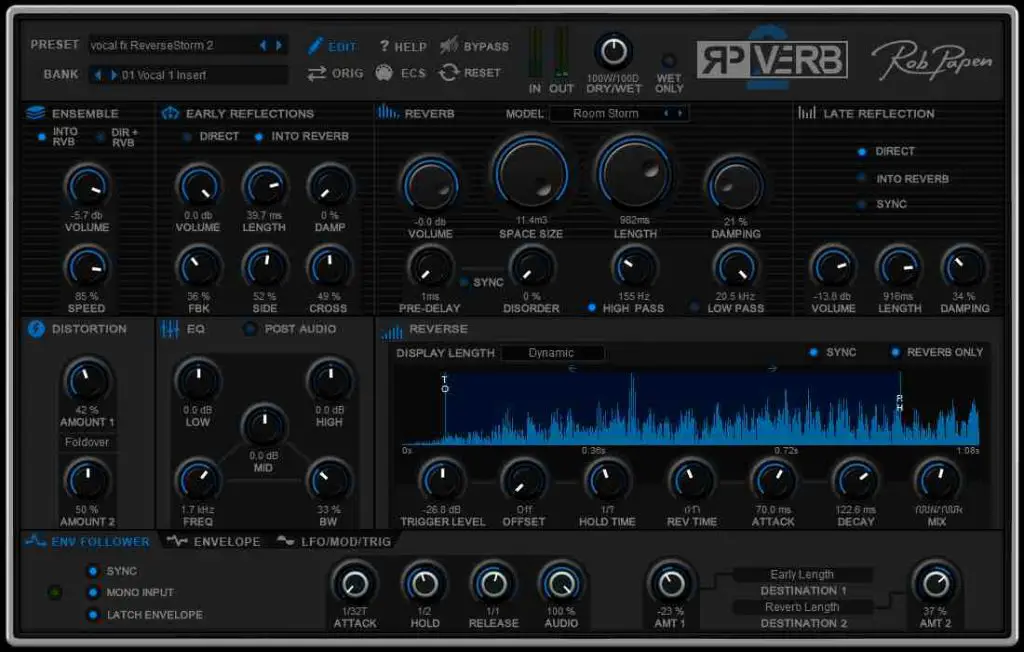 RP Verb 2 is the quintessential gated reverb that can control and mangle the sound of your musical compositions in myriad ways.
For starters, it comes with over 500 presets that are categorized in bank folders, and a quick browser for recalling your favorite presets.
RP Verb 2's special Envelope Follower module can dial in the much sought after gated reverb effect. The module comes with a Tempo sync option with reverb size, length, damping and pre-delay controls. You can also tempo sync the pre-delay controls for extra precision. 
Not to mention, the Envelope Follower comprises a volume control knob with Low-pass & Hi-pass filters that come with On/Off knobs.
Further, RP Verb 2 also offers a 'Distortion' module that can mold and mangle your reverb tails with impeccable finesse. The Distortion module comes in handy for sculpting the reverb sound of drums and percussion instruments.
All in all, RP Verb 2 is one of the best gated reverb VST plugins that gives you complete control over the reverb sound for producing drums and percussion tracks.
Features of RP Verb 2:
High-quality Equalizer
Dry/Wet Reverb blend parameters
Separate Wet control
FX Bypass Knob
LFO
Mod Matrix
SEE ALSO: You might also be interested in these Spring Reverb Plugins.

Crystalline's nifty "Gate" module can let you dial in the legendary 1980s gated reverb sound popularized by the likes of Phil Collins' "In the Air Tonight" song.
Featuring 'threshold' and 'release' knobs, the Gate Module offers an intuitive and fast way to make your snares harken us back to the signature 80's drum sound.
You can BPM sync the attack and decay times so that the gated reverb sits in sync with your DAW's current tempo. This feature is essential because it keeps your mix clean and in sync with the audio project. 
What's more, Crystalline boasts over 300 presets that were created by BABY Audio and esteemed producers such as Damian Taylor (The Killers, Bjork, The Prodigy, Arcade Fire), M-Phazes (Madonna, Eminem) to name a few. 
Not to mention, it also offers a Tone EQ that can smoothen frequencies that get a bit too harsh, sharp and sibilant and even transform them from bright sounding to dark and vice-versa depending upon the musical context.
SEE ALSO: 6 Best Reverb VST Plugins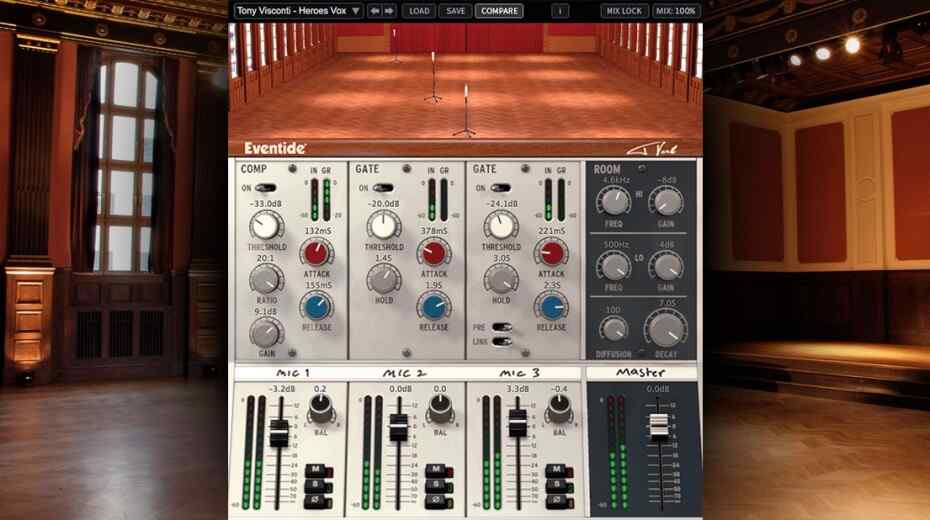 Tverb is one of the best gated reverb VST modeled on a technique invented by David Bowie's producer on his 12th album, Heroes, that was released in 1977. 
The technique involved setting up 3 microphones in the hall of Hansa Studios in Berlin where the 1st mic was for David Bowie to sing into, a second microphone was placed 15 feet away and the third was placed further back in the hall. 
Noise gates were placed on the second and third microphones and they were set to open (in increments) each time Bowie sang louder and louder into the first microphone. Brilliant, isn't it?
Tverb, in its essence, also integrates 3 independent reverbs with compression on microphone 1 and puts in tweakable gates on microphones 2 and 3.
The 2 moveable gated microphones are used to adjust the reverb size, presence and tone. 
What's more, TVerb also offers 2 Linkable post-reverb gate modules that control the exact time, and speed and length of time at which the gates should close or stay open, respectively.
All in all, TVerb is a great gate reverb if you are looking for adding some vintage reverb richness to your mix.
SEE ALSO: You might want to check out these Convolution Reverb Plugins.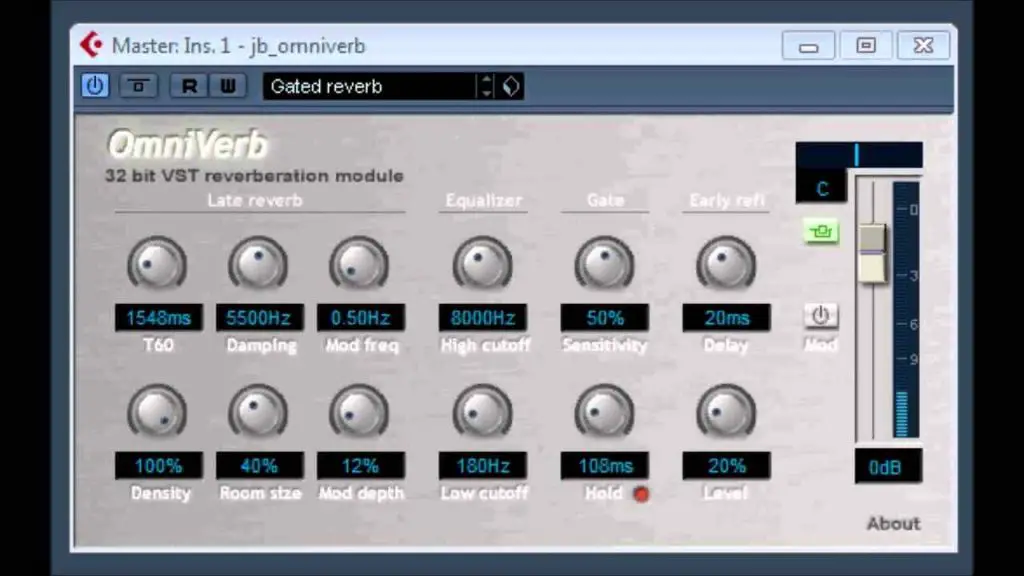 Omniverb is a free gated reverb VST that works like a charm on Piano, strings (especially cellos) and orchestral music. 
Don't for a moment think that Omniverb is a free plugin so it must have limited potential. Omniverb comes with tons of useful parameters to sculpt the tone of your reverb, namely: echo density, reverb time, room size, Early Reflections to name a few.
You can also use it to add ambient drone as a background accompaniment to your guitar chord progressions.
Not to mention, Omniverb comes in handy for sprinkling some nice reverb tails and effects on lead guitar (especially solos, and licks).
SEE ALSO: Best Reverse Reverb VST Plugins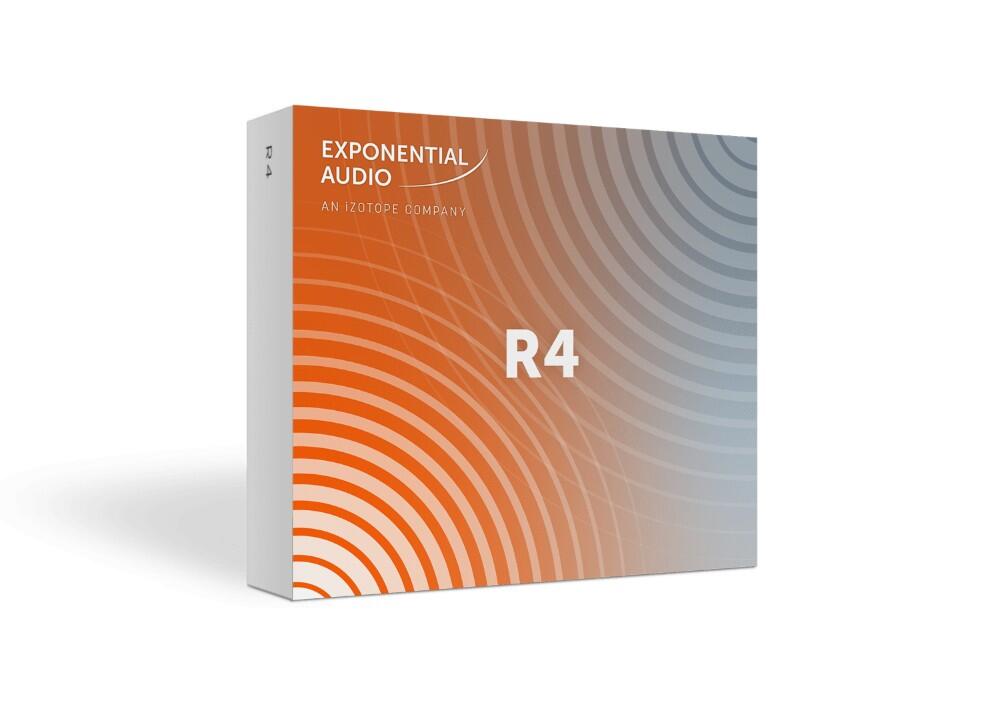 Rounding up our list of gated reverb plugins is R4 Reverb which uses an updated R2 algorithm to deliver a retro tone replete with modern gain and filters.
If you are looking for a plugin with the warmth and saturation offered by vintage hardware reverb units with a modern twist, look no further than R4 Reverb. 
It comes with over 1,200 presets spanning across plate, room, hall, spring, chamber and all types of reverb that one could imagine. Not to mention, pre-delay, reverb delay, chorus and gate modules that can create some interesting effects.
For instance, you can craft ambient drones and rich textures with the "Freeze" feature.
What's more, you can also sync R4 reverb to the tempo of your project session and use its dynamic tail suppression to fit the reverb beautifully and naturally into the mix in any musical context.
What are Gate Reverbs?
Gate Reverbs have a long decay time and they leave behind some reverb tails. They are then passed through a noise gate that cuts off the reverb tail suddenly before it comes crashing down to zero amplitude.
Gated Reverb VST plugins are best suitable to be used on Drum tracks especially snare drums if you want them to sound boomy with a thick tone.