Searching for a bass preamp VST is not easy. There are only a few preamp bass plugins available online for bassists and only a handful are worth their time.
Fret not, we found some of the best bass preamp VST plugins that you can use to sculpt a solid low end bass tone for bass guitar and synth bass. These bass preamp plugins are both premium as well as free so that you get plenty of options to choose from.
So, are you ready to find some good bass preamp plugins? Without further ado, let's get started.
5+ Best Bass Preamp VST Plugins 2022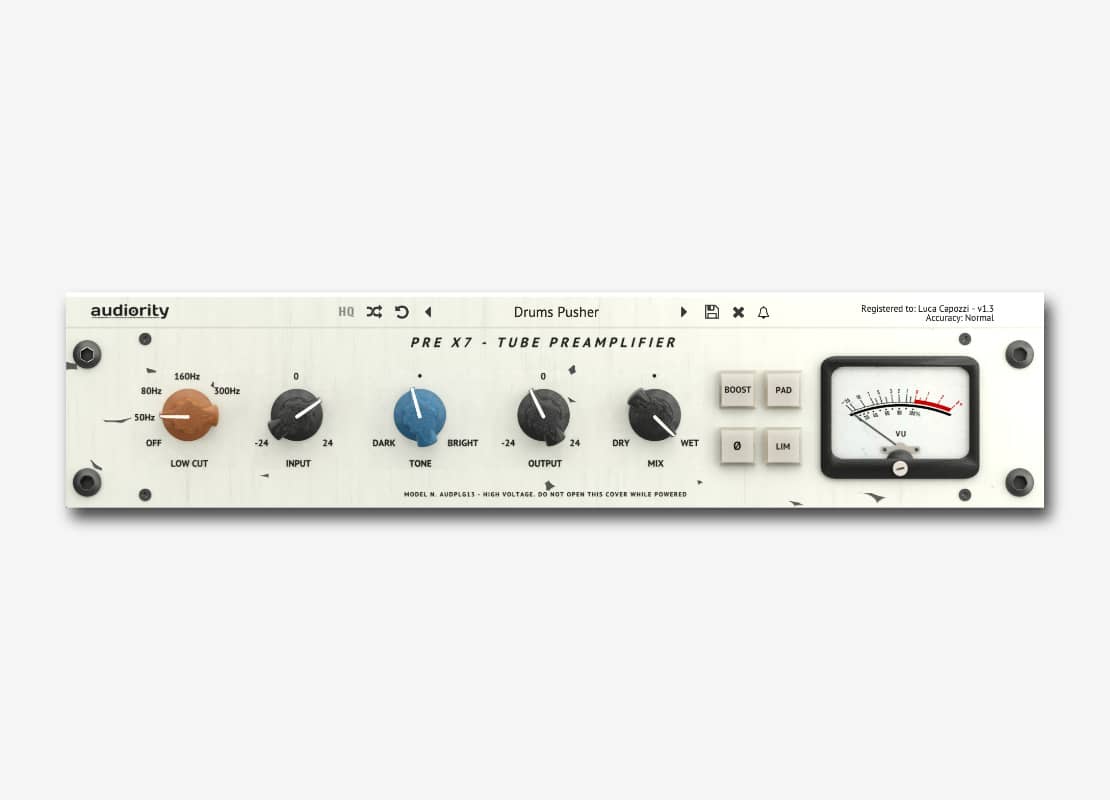 Modeled on vintage tube preamp units, Audiority's Pre X7 is a nifty analog bass preamplifier that calculates input and output of 12AX7 tube models in real-time.
What's more, Pre X7 takes care of phase cancellation issues and offers a brickwall clipping limiter should you want to retain distortion in your mix or bass channel tracks.
Not to mention, there is a high-pass filter as well as a Tone control knob for sculpting the input signal before the output tubes. 
Features of Pre X7 
Real-time I/O of 12AX7 tube models
Brickwall clipping limiter
Phase, Boost, and Pad switches
Input/Output Linking
SEE ALSO: 

5 Best Bass Amp VST Plugins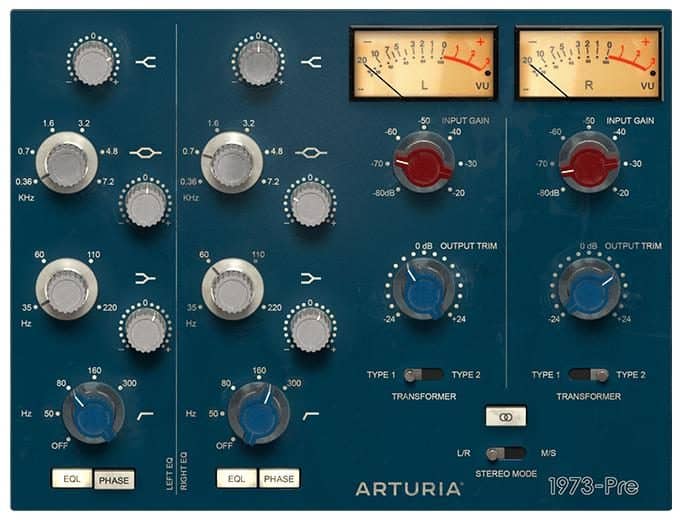 Renowned plugin makers, Arturia drop yet another masterful bass VST in the form of Pre 1973, a bass preamp that harkens us back to the rick analog sound era of the 1970s and 80s.
You can add the pre 1973 to individual tracks in your song to attain that lush harmonic saturation reminiscent of the golden era of music. 
What's more, Pre 1973 boasts a 3-Band Equalizer that can fine tune the low end bass content in your signal, add overall presence and remove unwanted sibilance caused by the higher notes.
You can also add Gain to boost the low end and create a more cohesive bass tone via harmonic distortion, and presence.
All in all, Pre 1973 is one of the best bass Preamp VST plugins that comes with a High Pass Filter to give your mix or channel track more headroom by cutting off inaudible low end so that you can jive and feel the bass.
SEE ALSO: 

5 Best Metal Bass VST Plugins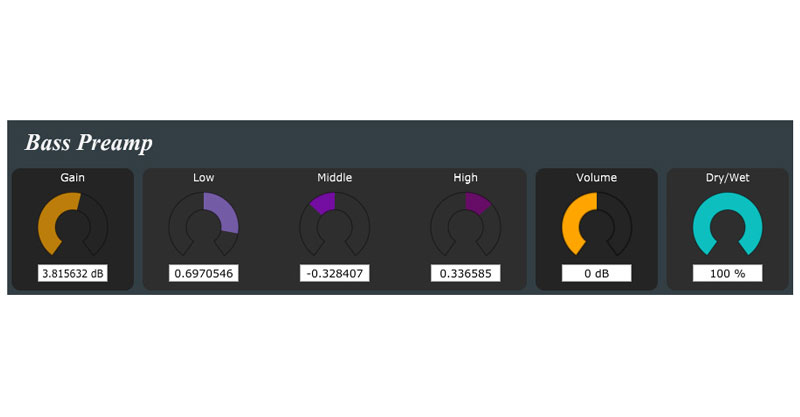 ATK Bass Preamp is a free digital recreation of the popular Fender Bassman stage Preamplifier.
Sporting a neat and clean graphical user interface, ATK Bass Preamp offers parameter controls such as High, Mid, Low, Volume, Gain, and Dry/Wet Ratio to craft a definitive low end bass sound that can be used for laying down some sick bass lines for all genres of music.
Not to mention, you can also import hundreds of third-party bass impulse responses into your channel track's signal chain and further enhance bass guitar sound.
SEE ALSO: 5 Best Bass Amp Simulator VST Plugins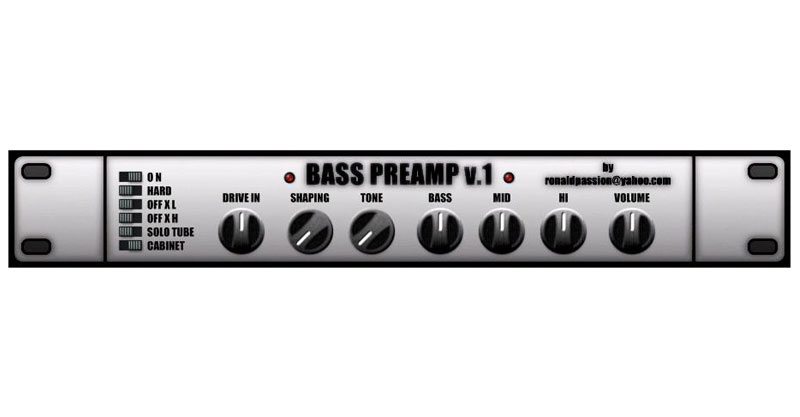 Symbolic of its name, Bass preamp is modeled on an analog tube bass preamp of the analog gear era. 
There are lots of parameter controls that help you get access to a granular level of bass preamp tone shaping.
For starters, the Bass Preamp plugin comes with a modest ON/OFF Switch for Preamp Activation. 
You can mold the tone and character of the preamp with a HARD/SOFT knob or add extra Hi or Lo Body with X-TRA Lo and X-TRA Hi knobs. The hard/soft knob can determine the heaviness of your bass guitar signal and can be used to achieve a bass sound suitable for recording metal.
Further, there are Tube, Cabinet, Drive In, Volume, Tone, Bass, Mid and Bass tone knobs also available in this free bass preamp VST plugin. 
SEE ALSO: 5 Best Free Bass Amp VST Plugins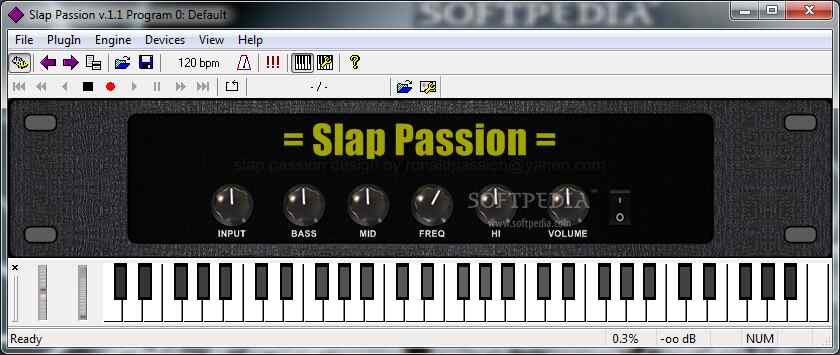 Rounding up our list of the best bass preamp VST plugins is Slap Passion, a solid tube bass preamp emulation that is available free of cost. 
Slap Passion comes with MIDI CC controls, and an input section with Clean Tube style bass model. If you are looking for a definitive bass preamp plugin to dial in a clean and smooth bass guitar tone for slap bass tracks, look no further than Slap Passion.
What's more, Slap Passion also boasts a Bass, Mid, and Hi tone knob section with 12dB range per each knob.