Vocoders were first introduced to synthesize human voice in the 1930s and were predominantly used in radio and TV films in later years. A combination of words: VOice and enCODER, usage of vocoder software in music is still prevalent. There are many vocoder VST plugins available that are digital emulations of the original analogue devices.
A Vocoder plugin can also be used to synthesize the human voice and make it sound more robotic and staccato-esque. So, are you ready to find out the best vocoder VST plugins available on the market that are both paid and free of cost? Without further ado, let's get started.
5+ Best Vocoder VST 2023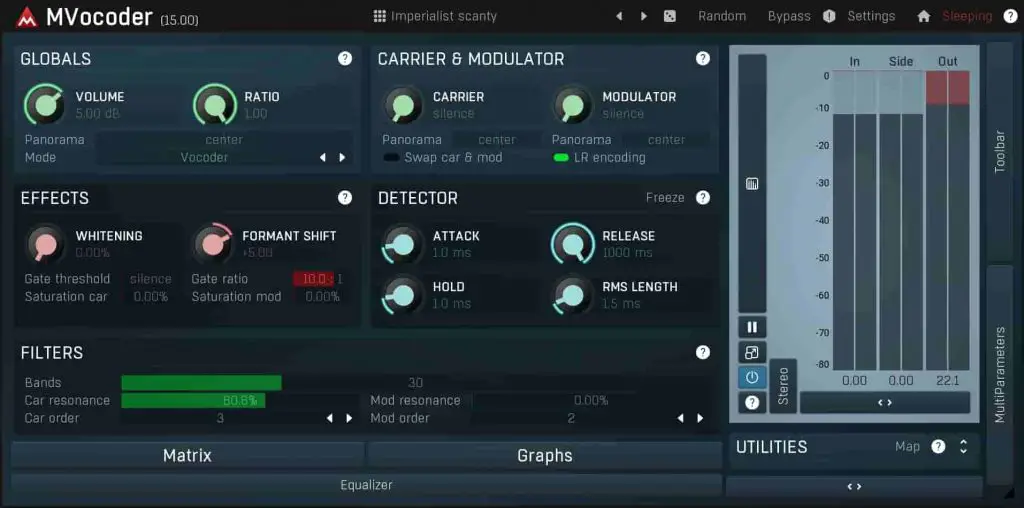 MVocoder is a nifty vocoder plugin that can help you modulate every parameter on its GUI with an in depth analysis.
It comprises 4 Modulator sections including envelopes, followers, and morphable shapes. For instance, you can dive deep into MVocoder's onboard upsampling section and vet its mid/side capabilities.
The Band Matrix and Band Graph sections alone make Mvocoder a powerful VST that can augment your vocals immensely.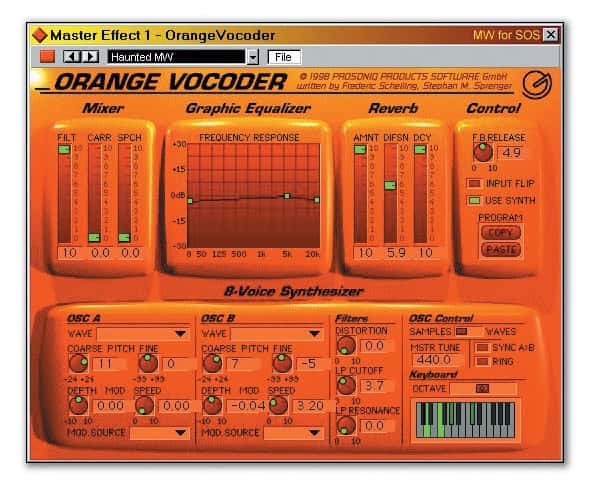 Zynaptiq's Orange Vocoder IV is a futuristic vocoder VST that features 2 sound sources (waveforms or samples), and 2 modulators (each can be set to an LFO).
Wait, there is more in the offing. Orange Vocoder also comprises a dedicated pitch modulator, enveloper, ring modulator, reverb, graphic EQ, filter, silence detection, mixer, and a freeze button.
What's more, you can also create new synth settings from scratch via Orange Vocoder's nifty Zynth button that combines the power of AI and scripting to create some stunning synth patches.
You wouldn't want to miss out on this comprehensive vocoder software suite at any cost.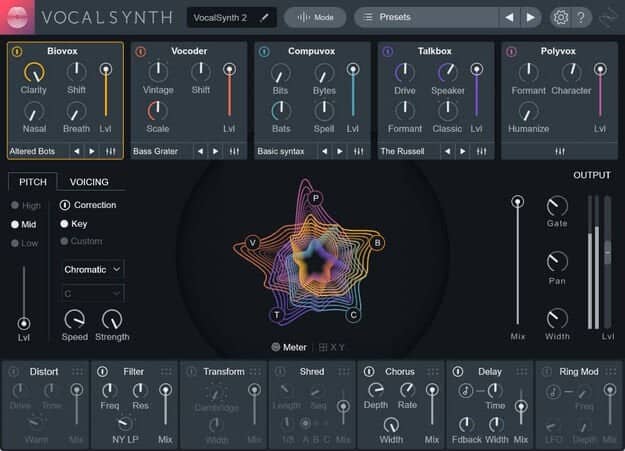 Symbolic of its name, Vocal synth 2 is a vocal synth vocoder VST from pioneers iZotope. Vocal Synth 2 comprises 3 main modes in Vocal synth namely: Auto, MIDI, and Sidechain.
Auto mode is used to generate sound where you can simply apply it to an individual audio track and press play.
On the other hand, MIDI Mode controls the harmonies generated by a MIDI controller. Lastly, Sidechain mode can run a synth, guitar, or other instruments via Vocal Synth modules. 
You can tweak human vocal characteristics using Vocal Synth 2's Biovox feature that can fine tune vowel shapes, nasally vocal performances, and smooth harsher vocal textures and sibilances according to any song's demands.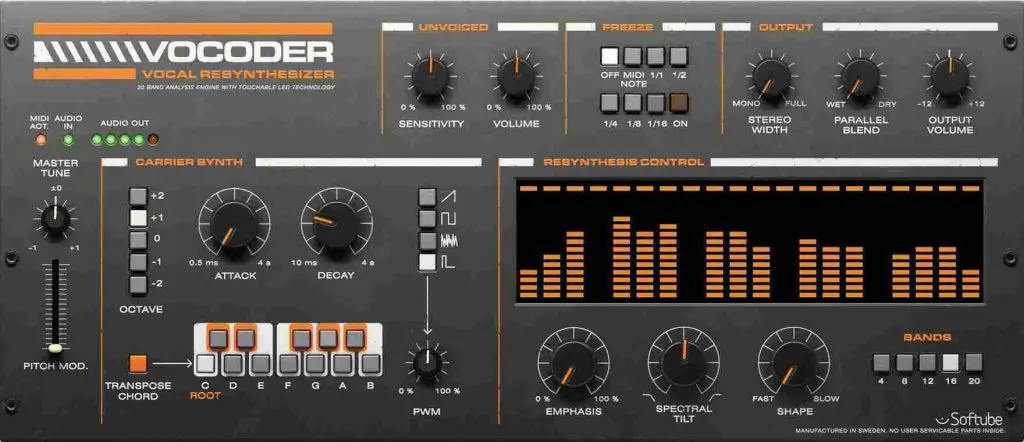 One of the best vocoder VST plugins on the market, Softube's Vocoder is used for speech enhancement contouring of noise and reducing ambient noise in vocal performances.
What's more, Softube Vocoder can also be used for voice doubling and adding a touch of nice reverb to the vocals.
The Softube Vocoder comes with an inbuilt six-voice polyohonic carrier Synth with MIDI capabilities and 4 selectable waveforms.
Not to mention, a Chord transposer and Stereo Widener that can balance the spread of vocals between even and odd bands. You can also use Softube Vocoder's smooth Vibrato effect for a warm output to create a fat and layered vocal sound.
5) Evoc20 PS by Apple (Free with Logic Pro X)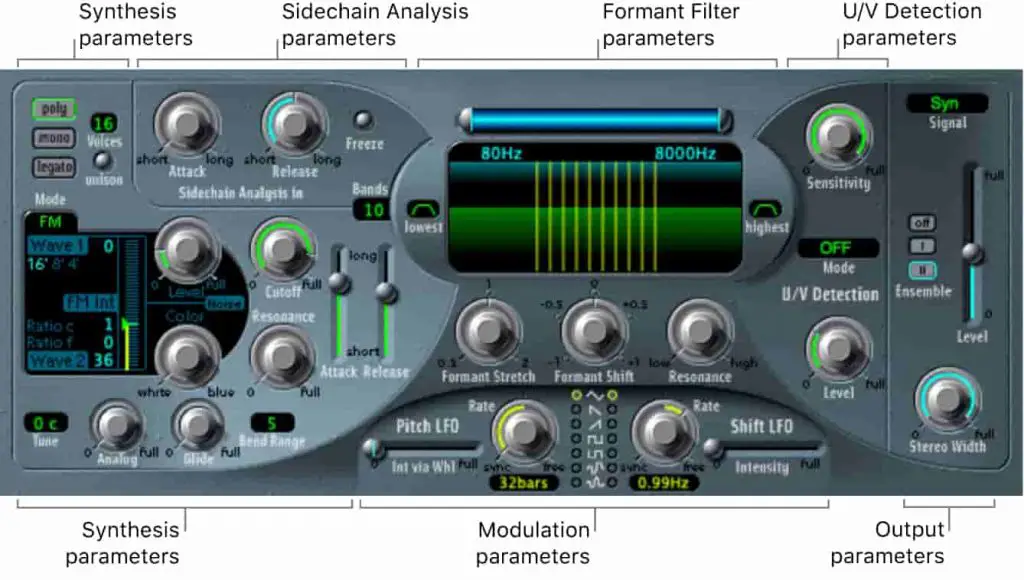 An amalgamation of polyphonic synth and vocal harmonizer plugins, Evoc20 PS comes free of cost. However, you need to have Logic Pro X on your Mac for this free vocoder plugin to work.
Evoc20 PS comprises 3 modes namely: Analysis, Synth, Vocoder and comes with inbuilt modulation effects, unvoiced detection, noise generation, onboard effects and a nifty Freezing function (that freezes vocoded vocals into a synth like voice).
The freezing function comes in handy to recreate that vintage 80's funk style vocals and also emulates Daft Punk's signature vocal style with ease.