Harmonizer VSTs help producers in creating sublime harmonies of an audio/guitar track within seconds by adjusting pitch correction. Some of the best harmonizer VST plugins on the market can be used on guitar solos, vocals, and other string instruments that can be further enriched with twin harmonies.
So, are you ready to explore the finest Harmonizer VST plugins and add lush dynamics to your audio tracks? Without further ado, let's get started fellas.
5+ Best Harmonizer VST 2023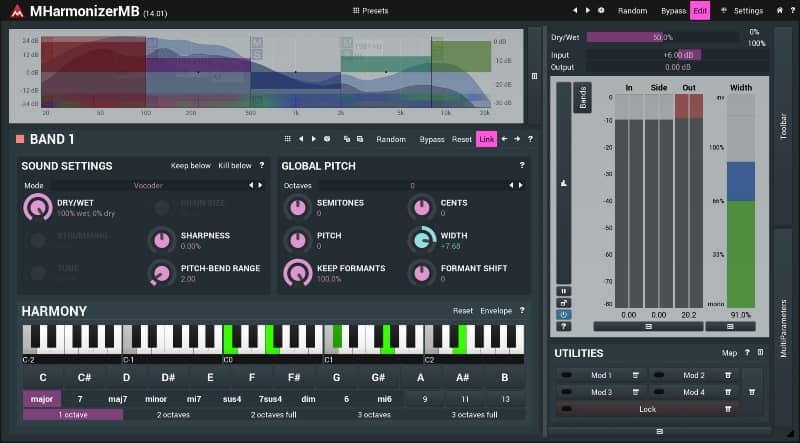 A splendid multiband harmonizer by Melda Production, MHarmonizerMB offers 6 different bands for creating eclectic harmonies with formant adjustment, up to 120 voices, strumming, pitch, width, and more.
With MHarmonizerMB you can modulate any parameter easily, and each modulator can work separately as a pitch detector VST, LFO, enveloper, randomizer, and audio level follower.
That's some serious potential for sculpting limitless genre-defying sound.
What's more, all six bands can be individually split in many ways, including: Panorama, Transients, Noise, Parallel, Level, Mid-Side, and Frequency (Linear-phase or Analog).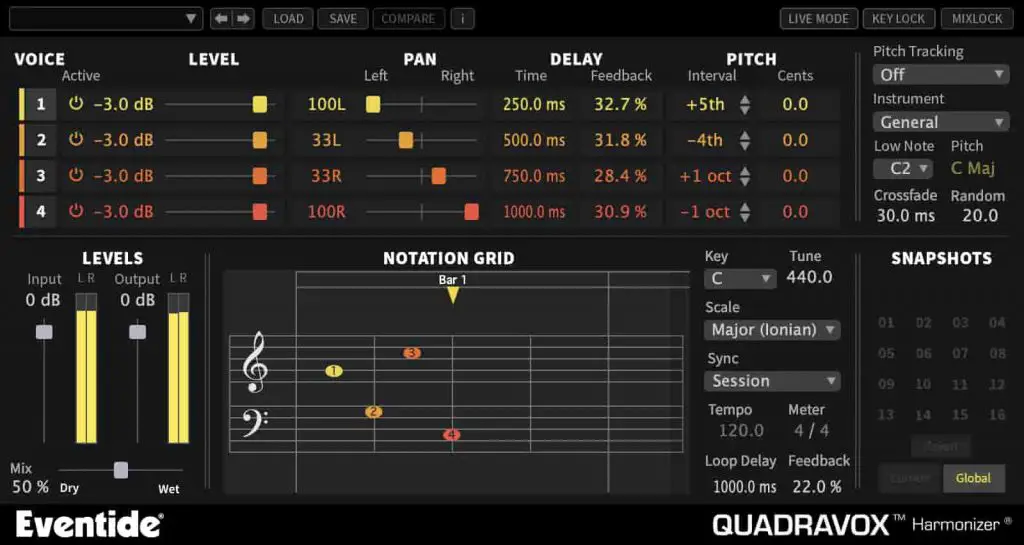 If you are feeling uninspired and seek some sort of quirky songwriting ideas, throw in the Quadravox VST inside your DAW and hear the magic unfold.
Quadravox is a nifty composition tool designed to stack harmonies, widen the stereo scope of instruments and offer innovative rhythmic sequences.
Take any incoming tones (including guitars, drums) and generate up to four voices based on the selected project key and timing interval(s).
What's more, these 4 voices can be further embellished with pitch modulation, delay time with feedback, and panning effects.
In short, if you want to create eclectic guitar harmonies and groovy sequences, Quadravox is one of the best harmonizer VST on the market.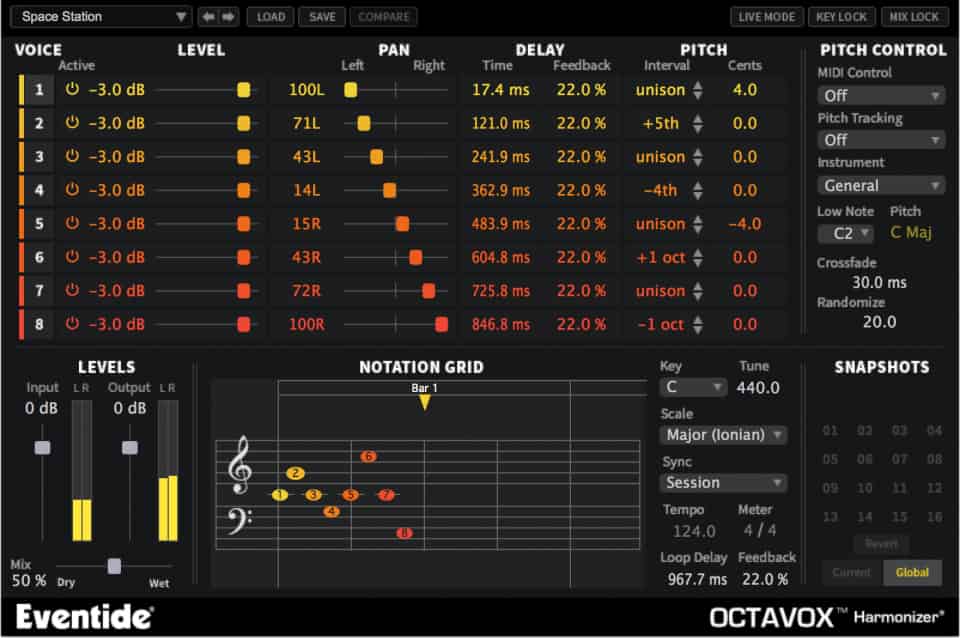 Modeled after the Eventide H8000 hardware effects processor, Octavox is a nifty VST that can take any incoming tones from synths, guitars and drums and output them in up to eight voices depending upon the selected key and timing interval(s).
If you want to create mesmerizing melodies, harmonies and even rhythmic sequences, Octavox should be your go to tool.
Octavox comes with 70 presets,  and doubles up as a 8-voice diatonic pitch shifter VST where you can further add delay, detune, feedback and panning effects to create surreal harmonies, chord progressions and ambient sonic landscapes.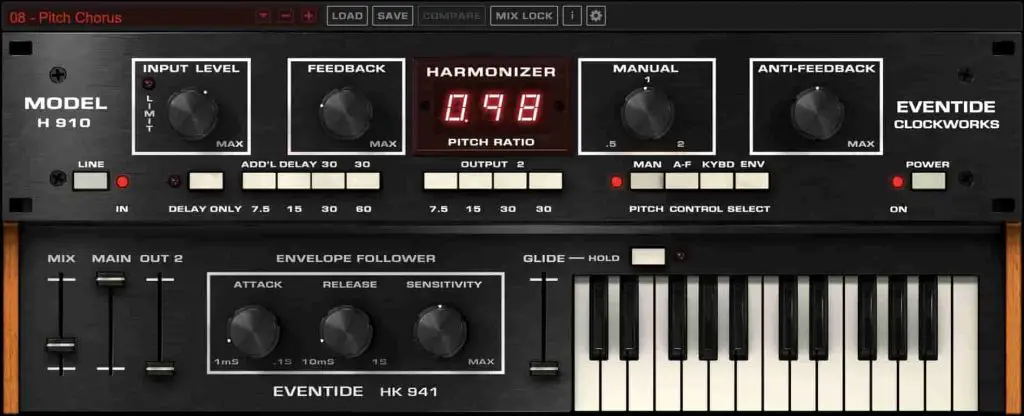 The Eventide H910 VST is a concoction of delay, modulation and pitch shifter thrown in for good measure so that you can spice up tracks in your mix.
For instance, the Eventide H910 can be used to to fatten up snare drum sounds, detune synths/guitars, and evenly spread the individual guitars and piano tracks.
Modelled after the world's first digital effects processor, the Eventide H910 Harmonizer VST can digitally recreate sonic harmonies heard in the records of music legends such as David Bowie, AC DC and Frank Zappa.
Another solid Harmonizer from Eventide, H949 Hamonizer continues forward the legacy of its predecessor, the H910 pitch shifter to deliver ground breaking de-glitched pitch shifter technology.
Modeling the micro-pitch effect popularized by its popular hardware namesake, H949 Harmonizer offers geniune double-tracking emulation by fiddling with micro time pitch alterations to deliver similar sound effects as used by Jimmy Page on various Led Zeppelin records.
What's more, H949 Harmonizer also incorporates a flanging effect, repeat effect, reverse effect, and a random variable delay between 0 to 25 milliseconds.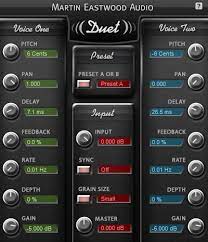 Rounding off our list of the best harmonizer VST is Duet, a double-tracking/harmonizer effect that can embellish guitar solos and lead guitar parts.
Duet also doubles up as a great vocal harmonizer plugin essential for crafting some nice vocal harmonies. 
It can thicken the sound of your individual audio tracks and add a rich glossy sheen to your recordings as if their harmonic range had been tweaked for good.