Delay VST plugins come in handy for crafting the ambience of your audio tracks. If you are a guitarist who prefers some spacey ambient rock or even progressive metal with a tinge of atmospheric delay sounds, this list of the best Delay VST plugins will be of immense help.
There are tons of delay plugins on the market and searching for the best Delay VST can surely throw you off your creative workflow real quick. Which is why, this list of the best delay VST will be beneficial whether you are a beginner or a professional looking for distinct delay tones to add to your guitar tracks.
5+ Best Delay VST Plugins for Guitar 2023

If you want to spruce up your guitar solos with a powerful dual-delay, look no further than Repeater which boasts 23 authentic delay units that run the gamut from famous vintage digital emulations to classic oil cans and plates. 
Repeater offers dry/wet mixing for each of the dual stereo channels, as well as independent re-panning to attain that classic double delay line effect with phase invert.
What's more, it comes with tap-tempo, Ping-Pong mode, MIDI learning, dual filters (high-pass and lo-pass, and 64-bit internal processing for a slick delay tone.

U-he have a formidable lineup of VST plugins and they further up the ante with highly popular delay plugin Colour Copy.
Inspired by classic bucket-brigade analogue delays, Color Copy can do it all from low-range rumblings to highly resonant, screaming delay line swooshes.
Color Copy features BBD style delay, over 100 presets, midi note tracking, preset browser, resizable graphical user interface and LFO to modulate taps, amplitude and position.
It originally started off as a stompbox effect in Repro VST but soon evolved into a compact delay in its own right.
Color Copy comes with a ducking compressor and lets users create everything ranging from flange/chorus effects to looper effects and regular ping-pong delays.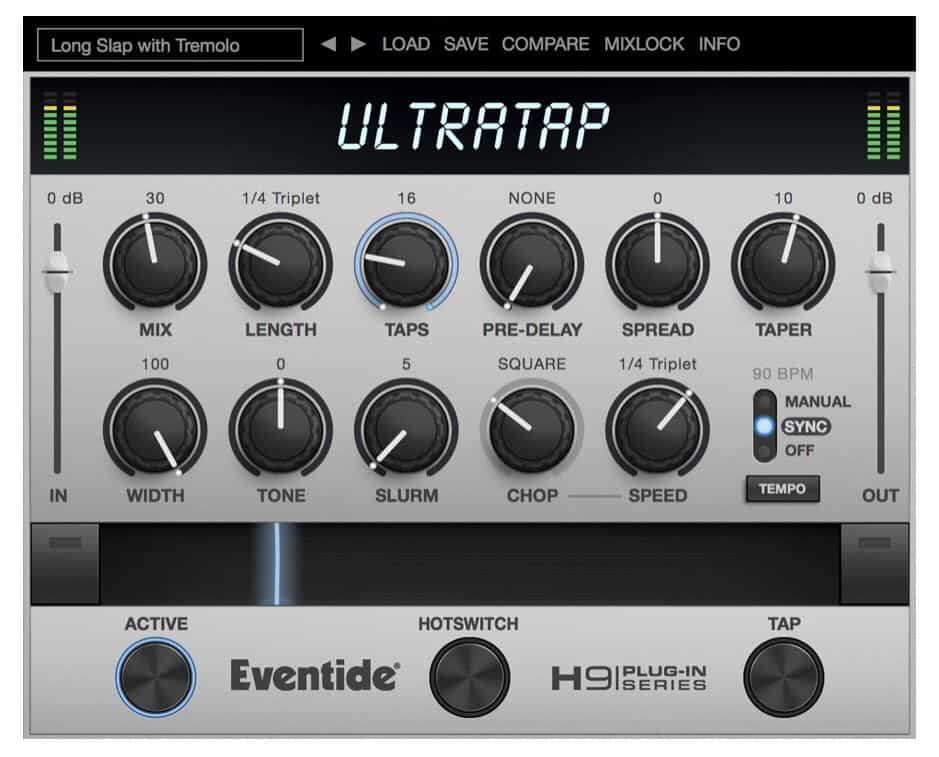 UltraTap takes modulation controls to a whole new level with this versatile delay VST where you can add rhythmic delays, arrhythmic glitchy reverbs, or infuse euphoric pad-like volume swells in no time.
For instance, if you want to create swelling guitar chords, UltraTap has got you covered.
For starters, the UI is super clean and streamlined with no bells and whistles so beginners will find it particularly easy to use on their guitar tracks.
What's more, Ultra Tap comes with over 150 presets, up to 64 taps for creating morph delays, LFOs , Tap Tempo, and MIDI control.

If you are looking for an authentic and in-depth emulation of the legendary Binson Echorec 2 for attaining a rich, and saturated delay sound, look no further than the Pulasa Audio Echorec.
It accurately emulates the iconic delay/echo sounds of pioneers such as Pink Floyd, Led Zeppelin and other 70s psychedelic rock bands in a compact modern VST plugin format. 
Echorec offers an authentic tube sound with which you can create a pitch modulation effect on the lines of a wow and flutter delay effects on the delayed signal.
Echorec is one of the best delay VST plugins through which you can change the delay time in real-time while jamming or live session or sync the delay to a selected tapped tempo again, in real time.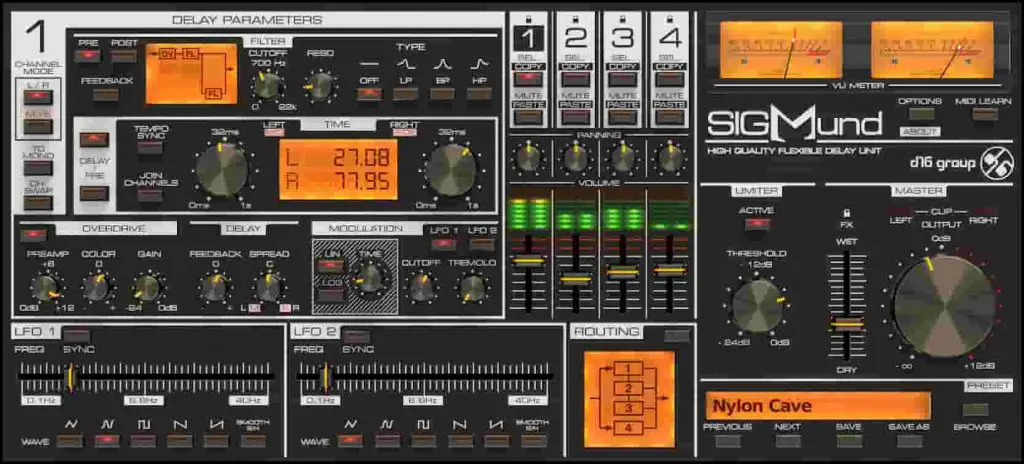 Rounding up our list of the best Delay VST plugins is Sigmund by the D16 Group. It boasts 4 independent delay units each with their own inbuilt independent set of parameters.
Each delay line comes with complementary built-in modules such as Overdrive, Multimode filters and Amplitude modulator. Sigmund also doubles up as a multi FX plugin with tremolo, filter, limiter and distortion all readily available at command.
Sigmund comes with over 300 presets, advanced MIDI learning mode, easy-to-use GUI with legible parameter controls, master limiter and zero artefacts or aliasing.
However, since there's a lot of tweakage involved with the delay types and their own individual component modules, Sigmund has a steep learning curve for beginners learning the ropes of music production. 
Features of Sigmund:
Stereo Spread
Tap Tempo
LFO
Peak follower
Transient Detector
Essential components of a Delay Plugin
Although a delay VST can have several components, generally speaking, a delay VST depends on these two components:
a) Feedback: Also known as the number of times the sound is repeated in a delay signal.
b) Delay time: Also known as the time interval between each audio signal repeats itself all over again. Example, ½, ¼, ⅛, or dotted delay.