Looking for free drum plugins for Reaper? We found great drum VSTs from the depths of the internet that can sculpt a powerful sounding drum track for your rock, metal and indie mixes.
Gone are the days of recording countless drum takes to get a tight hi-hat, kick or snare drum sound, instead some of the best free drum plugins for Reaper can do it all and save you lots of time, effort and money. So, without further ado, let's get started.
5+ Free Drum Plugins for Reaper 2023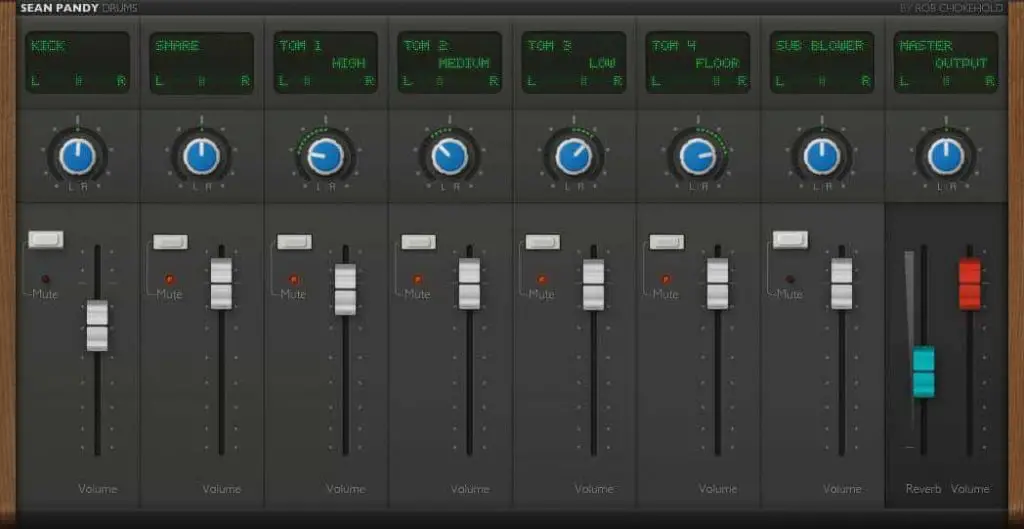 Metal producers using Reaper often find themselves short of options when it comes to finding a reliable drum VST on budget. 
Say no more for Sean Pandy Drums is a formidable free drum plugin that can take care of heavy drumming needs traversing genres such as Djent, Black metal, Deathcore, Metalcore, Mathcore and all the rest of it.
At the heart of it, Sean Pandy Drums is an acoustic drum rompler that comes with 4 Toms, Snare, Kick, and a Sub Blower that can be tweaked and amalgamated together to sculpt a modern metal sound with brutal and groovy drum beats.
Furthermore, each individual drum component boasts up to 10 round robin samples and 6 velocity layers that are essential for creating heavy blast beats and double bass drumming with high BPM tempo.
To gain granular control over each component of your drum track, you can split the drum track into Stereo and Multi modes.
Selecting Stereo mode will output all drums over channels 1+2 with master panning and reverb controls. 
Alternately, Multi mode outputs all drum tracks on individual channels such as snare, toms, kick, etc. allowing users to focus on detailed tweaking of individual drum tracks.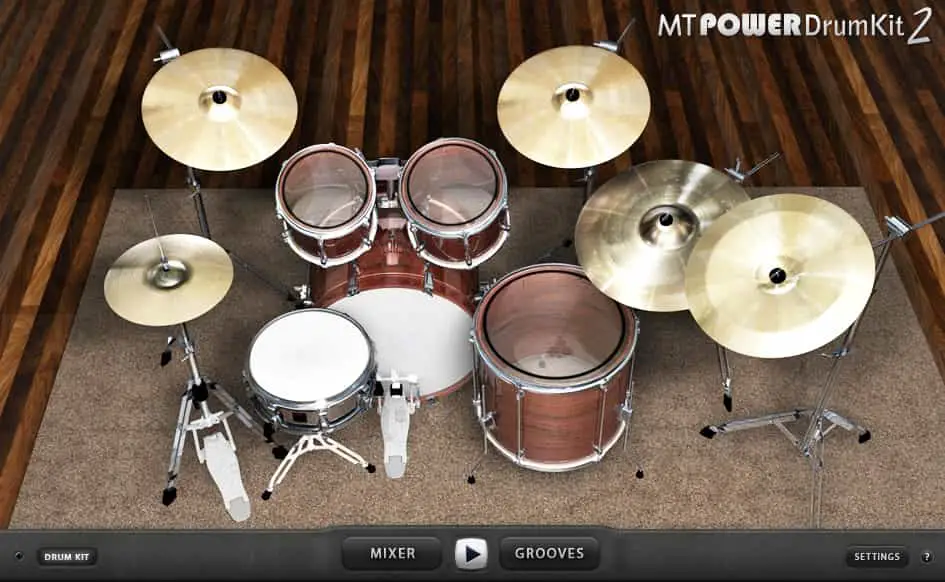 MT Power Drum Kit 2 is a massive drum library of neatly programmed drum grooves, snare drum sounds, kick drums and more. 
With pre-processed and mix-ready drum samples at the ready, MT Power Drum Kit 2 ensures producers won't have to waste precious hours fine tuning and tweaking drum timbres.
The rhythmic articulation of patterns, fills and drum samples in MT Power DrumKit 2 sound natural, loud, and bear no resemblance with digital sounding drum tracks.
The real novelty of MT Power Drum Kit 2 is its organic tonal character that can cut through dense mixes with other instrument tracks such as distorted rhythm guitars, lead guitar, deep bass, et al.
If you want to delve deeper and create a truly custom drum sound, you can finetune parameters in individual drum tracks whether it be snare, kick, hi-hat, crash/ride cymbals or toms.
All in all, if you are looking for a powerful Drum VST for metal songs, MT Power Drum Kit 2 is one of the best free drum plugins for Reaper that gives you a great head start.

SM MegaReaper DrumKit is a state-of-the-art drum kit especially designed for Reaper users whether you are a professional producer or a beginner in music production.
Boasting a massive range of drum samples, SM MegaReaper DrumKit was sampled from the 1960s Ludwig Oyster Blue Pearl Drum Kit and comes with 2 GB plus worth of samples.
Touted as the "deepest sampled drum kit in the world" SM MegaReaper DrumKit can be used on your drum tracks inside Reaper with reckless abandon.
You can use the SM MegaReaper DrumKit for a melange of genres spanning across rock, indie, pop, blues and jazz.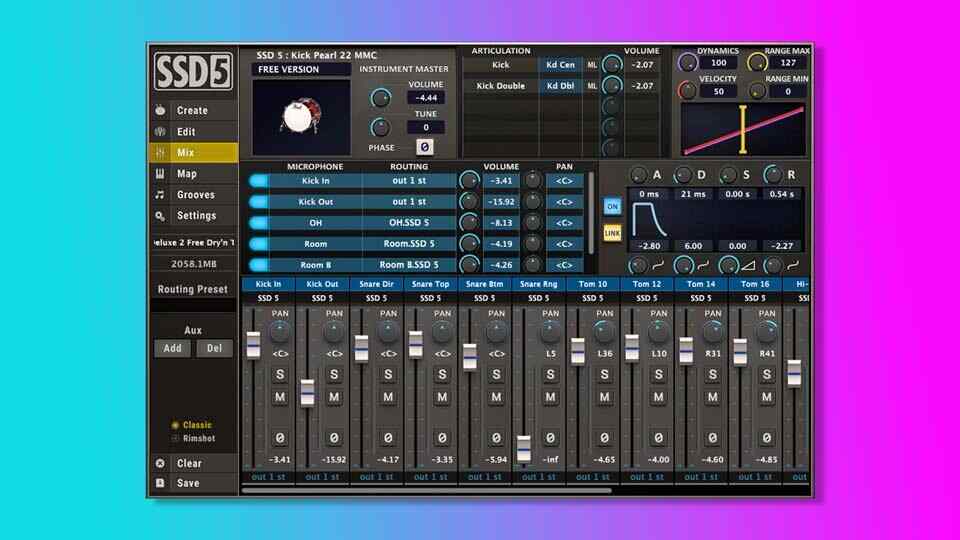 Looking for a robust metal drum VST that comes free of cost? Look no further than Steven Slate SSD 5 that offers realistic drum kit presets, and an intelligent MIDI learning mode.
For starters, Steven Slate SSD 5 boasts the popular Deluxe 2 Drum Kit which comes with mix-ready Slate snare and kit presets. You can use this drum kit for all your drum tracking, mixing and jamming  sessions. 
Not to mention, Deluxe 2 Drum Kit comprises modules such as Deluxe 2 Free Hugo that can be used for dialing in compressed room mic sounds and Deluxe 2 Free Tight which offers tighter drum ADSR controls.
Beginners looking for a reliable drum tracking plugin will find Steven Slate SSD's resizable GUI easy-to-use, intuitive and responsive enough for carrying out quick drum kit parameter edits.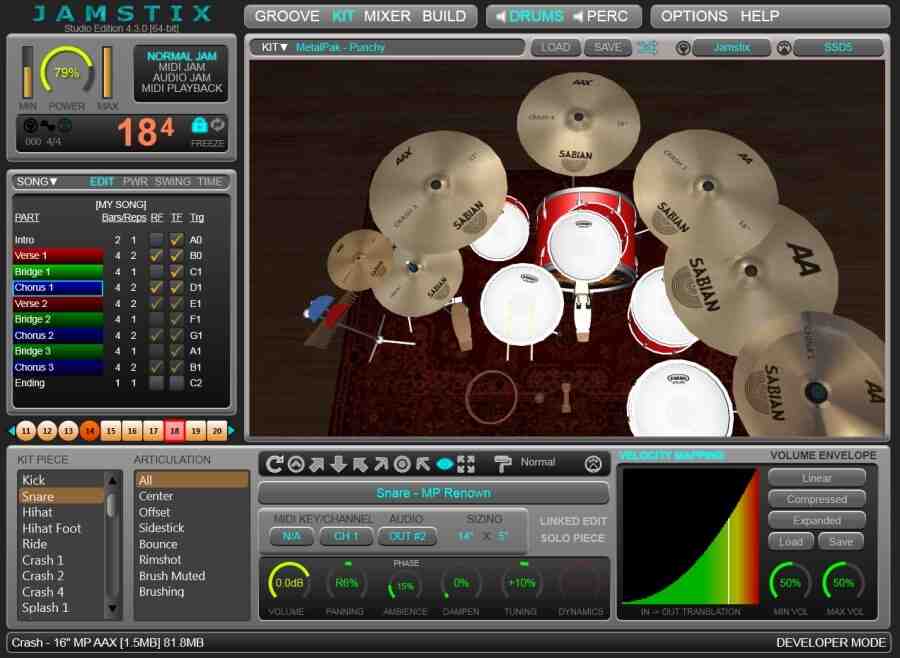 Rounding up our list of best free Drum plugins for Reaper is Jamstix 4, which boasts 200+ multilayered high-quality drum sounds and tons of 3D drum kits to get started.
What's more, Rayzoon Jamstix comes with 8 inbuilt virtual drummer models, and 21 drumming styles that can each be customized to create a realistic drum sound from scratch with natural timbres.
You can track the 3D drum kits in real time and program drums with virtual drummers that offer granular controls over individual drum tracks whether it be snare, hi-hat, kick, toms, and cymbals.