Looking for GTune VST review before you use the plugin? We reviewed the Gtune VST plugin that will help you tune your guitar & other stringed instruments easily without wasting any time.
What is GTune VST?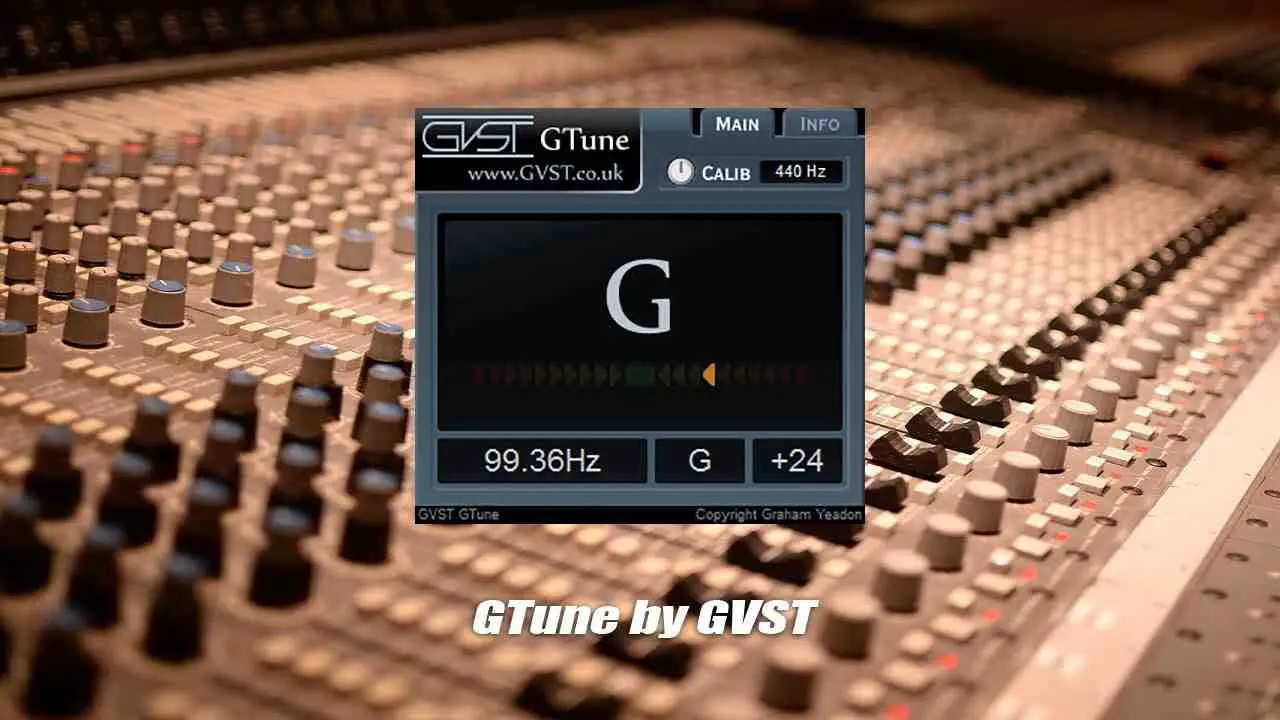 GTune is a free chromatic instrument tuner VST plugin developed by GVST. Compatible with major OS' such as Windows 64-bit, macOS, and Linux, the GTune plugin functions in similar fashion to hardware instrument tuners but with added benefits. 
When you hit a string on your guitar or any other stringed instrument, GTune automatically detects the pitch of the note being played, and shows the most accurate corresponding Western scale note.
Through the "LED" indicators present in GTune, users can change the pitch of their Guitar string(s) or any other stringed instrument.
What's more, GTune VST also shows a numerical read-out while correcting the intonation of your instrument and bringing it quickly and precisely into tune.
Which is why, you can also use GTune as a standalone guitar tuner plugin right inside your DAW (Digital Audio Workstation).
Download GTune here.
What DAW's support GTune VST?
GTune is compatible with almost all popular DAW's available on the market. You can use it with FL Studio, Logic Pro X, Reaper, Cakewalk, Ableton Live, Garageband, Reason, LMMS to name a few.
Even though DAW's such as FL Studio and Logic Pro X have their own Tuners, using GTune has its own benefits.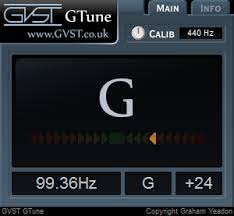 For starters, GTune mimics a typical electronic tuner with LED-esque display that lights up when the flatness or sharpness of a note's pitch is detected.
There is also a text display offering notes being played in real time for more more proficiency. The detected frequency of the notes is depicted in Hertz based on the Western musical scale.
For instance, the frequency is displayed in the form of notes being played and offset in cents.
To put it simply, "C -10" indicates that the detected pitch is 10 cents below C.
Best suitable for stringed instruments, GTune has been available for more than a decade and is the go-to tuner VST for guitarists, bassists and other instrumentalists.
Fast, accurate and easy to use, GTune VST can also be used to tune bass guitars as it remains consistent across entire sound range that never goes up more then +0.2 HZ or +1 cent off.
What separates GTune from rest of free tuner plugins available on the market is that it highlights frequency with up to 2 decimal points.
Which is slightly better than the free tuner from its closest rival, MTuner by Melda Production which displays just 1 decimal point.
Apart from Guitars, can you tune other instruments with GTune VST?
Although GTune VST is primarily known as a guitar tuner and stringed instruments' tuner plugin, it can also be used to tune 808 kicks.
Sounds odd but this nifty guitar tuner VST can add subtle tweaks to the tonality of your 808 kicks without making them sound tacky.
Basically, GTune can alter the 808 kick's pitch thus fine tuning and giving it a subtle variation and "swing".
When paired with other drum tracks, such as snare, hi-hat's, cymbals (crash and ride), toms and overhead mic's, you can really infuse a new lease of life into your mixes and master drum tracks without loading a boatload of unwanted VST plugins and clogging the workflow.
How to use GTune VST Guitar Tuner inside your DAW?
Using Gtune is as simple as loading any other VST/AU plugin. Simply download the .dll file for Windows, place it in your plugins folder of your DAW's installation folder.
Then recall the plugin on your Channel track's effects signal chain as you would normally do for any VST plugin.
For Mac, you will need to install the components file and place it in the plugins folder of Logic Pro X's or Garageband's installation folder.
Then, recall the plugin on your Channel track's effects signal chain as you would normally do for any AU plugin.
Pro tip: You can try being a little more experimental by putting Gtune VST on every stringed channel track irrespective of tuning.
This can add subtle detuning or pitch shifting modulation effects which can make your lead guitar or other string instrument tracks stand out, sound exciting and really create a unique guitar tone.