Looking for free chorus VST plugins? You have arrived at the right place as we have found some of the best free chorus plugins that you can use on your guitar, synth and vocal tracks.
Chorus plugins are used for adding a shimmery modulation effect by varying the pitch up or down of a dry signal and blending it with wet signal to create a lush and detuned guitar effect tone.
So, are you ready to find some free Chorus VST plugins? Without further ado, let's get started.
5+ Free Chorus VST Plugins 2022

A vintage chorus effect, Blue Cat's Chorus is a nifty plugin that can tweak the original guitar track and create deep pitch modulation on the lines of eclectic 'bubbling' chorus effects. 
What makes Blue Cat Chorus a special vintage chorus plugin is that it features a "Stereo Spread" control option through which you can dial in the quintessential stereo widening chorus effect sound.
With the addition of variable delay between notes, Blue Cat Chorus can simulate several voices across octaves to forge together a cohesive chorus sound.
Easy to use with a skinnable and customizable graphical user interface, Blue Cat Chorus is CPU friendly and doesn't affect the processing power of your DAW as well.

Touted as one of the best free Chorus VST plugins with a melange of features, Azurite is a multi-voice chorus that offers versatile chorus sounds.
Easy to use inside your DAW, Azurite emulates vintage analog choruses and can be used by guitarists, keyboardists and music composers of all hues. In fact, it also offers glitch chorus effects that can further embellish your mixes.
Not to mention, a 2 band EQ, 27 built-in presets, Dry Delay, LFO tempo sync and stereo and mono operation mode make Azurite a lucrative plugin for free VST lovers.
What's more, Azurite also doubles as a Flanger effect plugin with feedback control and echo control.

An experimental dual-path stereo chorus, Dust Bucket is a free chorus plugin that uses fixed length true-stereo delays with modulated sample-rate to create a truly iconic avant-garde chorus sound.
If you are looking for a clean and warm chorus sound without non-linear behavior, Dust Bucket should definitely be on your radar.
Further, Dust Bucket also offers flanger and other simple modulation effects that make it stand out as a comprehensive suite of modulation effects for guitarists and producers alike.
All in all, Dust Bucket is one of the best free Chorus VST plugins with a neat user interface for creating experimental chorus effects that can be used on your prog rock guitar tracks.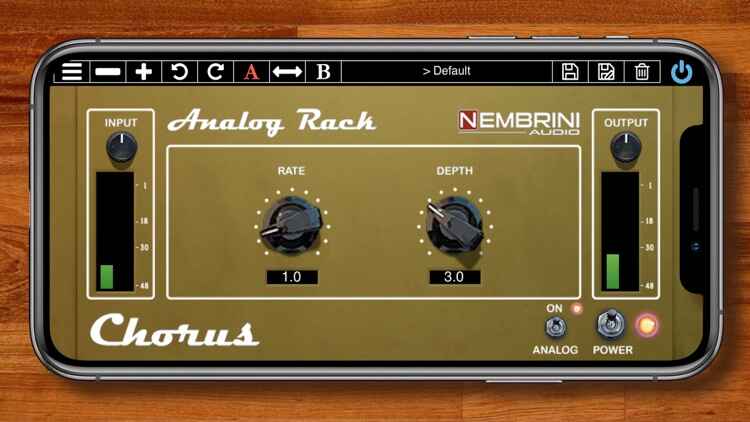 Symbolic of its name, Nembrini Audio's Analog Rack Chorus offers simple yet powerful chorus effects that harken us back to the analog gear era. 
Modeled on some of the most famous Chorus pedals and rack effect units back in the day, Analog Rack Chorus makes sure you do a deep nostalgia dive into the shimmery Chorus sounds.
For starters, Analog Rack Chorus comes with a custom designed tube preamp virtual circuit mounted in the form of a rack.
You can use this plugin on your guitar tracks, or as a standalone digital chorus effect plugin. 

Rounding up our list of free Chorus VST plugins is ATKChorus, a nifty chorus effect plugin that comes with a stripped down and easy-to-use graphical user interface. 
ATK Chorus offers feedforward and feedback channels that can come in handy for sculpting eclectic guitar chorus tones.
What's more, ATK Chorus is modeled on a variable delay filter that is propelled by a low frequency delay signal.