Chorus is a modulation effect that creates a copy of the original dry signal and varies its pitch up and down. By blending the dry and modulated signals, you can create a lush shimmery detuned tone which adds further depth and dimension to a sound. A chorus VST comes in handy for this purpose.
Interestingly, by using 100% of the modulated wet signal instead of blending it with the dry signal, gives you the vibrato effect. We have covered some of the best modulation VSTs here. If you are a guitarist on the lookout for a decent sounding Chorus VST, your search ends here. Without further ado, let's get started with the best chorus plugins.
5+ Best Chorus VST Plugins 2023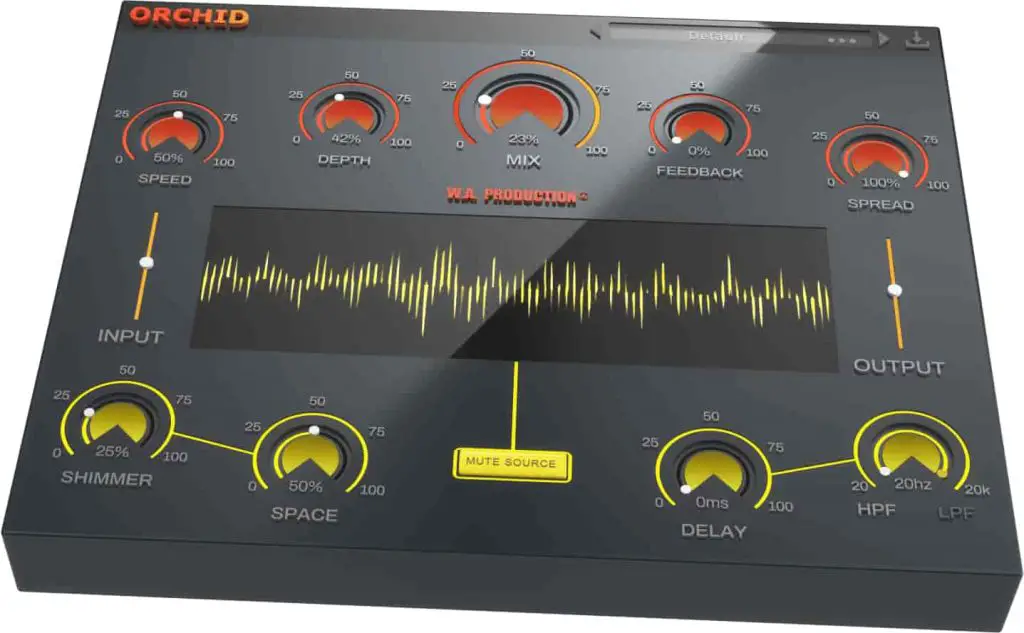 Want to emulate a warm and lush chorus pedal sound that harkens us back to the 80s? W.A. Production Orchid might be exactly what you are looking for. 
It also comes with an inbuilt delay and reverb that further enrich its studio grade chorus envelopes.
What makes the W.A. Production Orchid VST really shine is its shimmer effects dial that can generate beautiful harmonics which are two octaves higher for a meatier, spacey chorus sound.
You can use W.A. Production Orchid Chorus for fattening up guitars, synths, bass, vocals and drum tracks with rich harmonic content.
It is one of the best chorus plugins that offer four-way chorus processing with delay, reverb, shimmer, spread and filtering.

Modelled on legendary analogue chorus hardware such as Roland Juno-106, Solina String Ensemble and Elka Synthex, the Syntorus 2 is a versatile dual analog-style chorus with a warm analog feel and modern sound.
You can dial in precise chorus tones with complete control over individual delay lines. 
Each delay line comprises an inbuilt tremolo, panning and multimode filter that can come in handy for crafting Leslie speaker sounds and triggering doppler effects through delay modulation.
Syntorus 2 boasts over 100 presets, tag based preset browser, BBD delay line simulation, 3 separate LFOs, each routed to 3 dedicated delay lines for a euphoric chorus tone that straddles between classic chorus, Doppler effect to Leslie speaker emulation.
All in all, Syntorus 2 is one of the best chorus VST plugins on the market.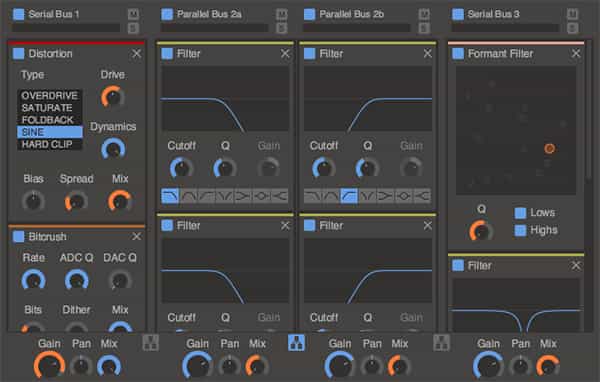 If you are looking for a less CPU intensive Chorus VST with a simple graphic user interface and minimalistic chorus effects, then the KiloHearts Phase Plant is worth its weight in gold. 
For starters, Phase Plant offers various modulation patterns and only 4 controls so that you can sculpt a breezy guitar chorus sound within minutes. Not to mention, a cool Delay, 3 Band EQ and Limiter for in-depth modulation.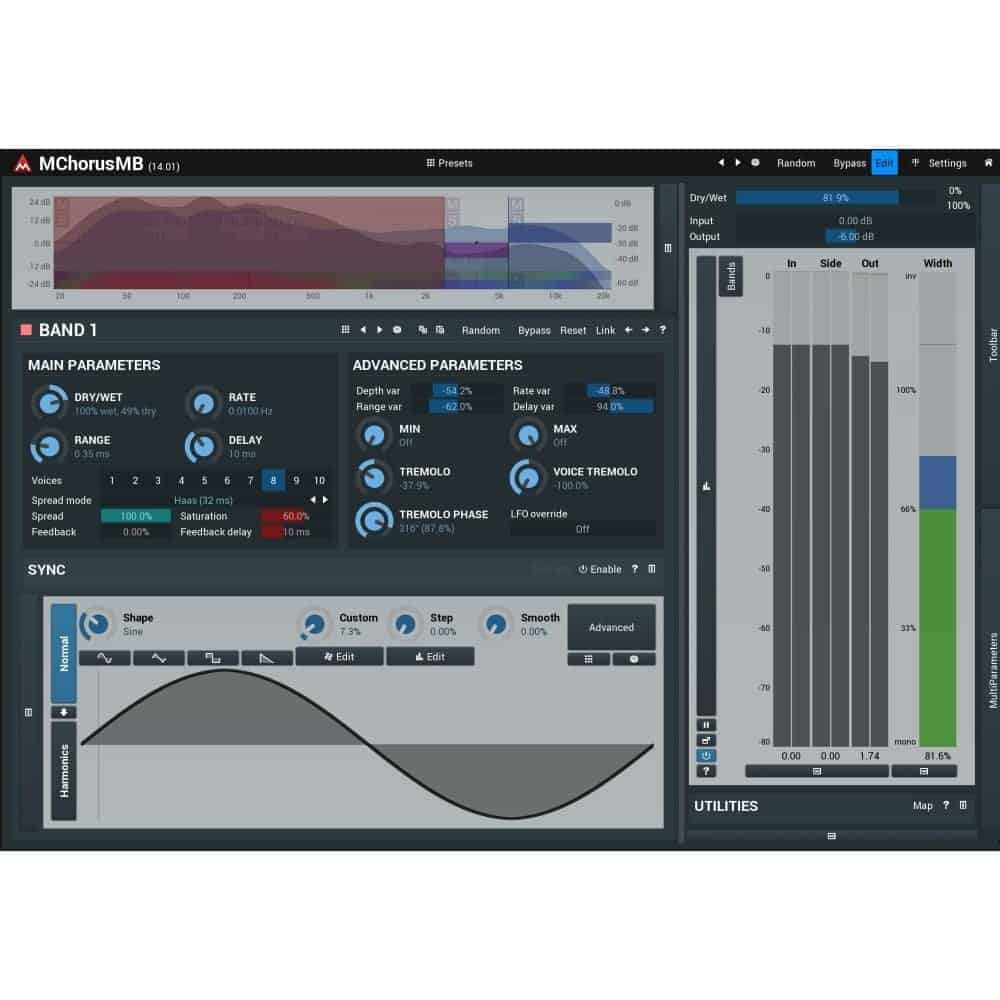 MeldaProduction plugins are known for their reliability and the MChorusMB is further testimony to that characteristic.
Sporting a clean, and intuitive GUI, MChorus MB is a versatile multiband chorus VST that can be used on guitar, vocals, and various percussion instruments. 
Not to mention, MChorusMB is perfect if you are producing film scores, and gaming music thanks to its ability to handle mono and stereo signals and 8 channels of surround audio.
Plus, audio engineers who like to dive all in and customize their chorus effects will find this VST a great addition to their collection.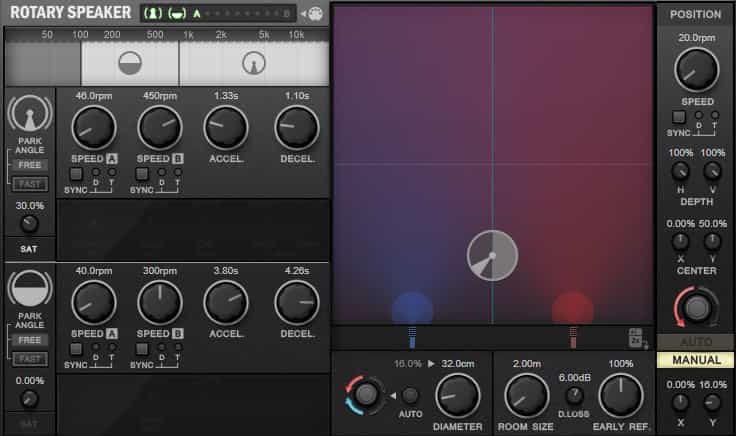 Rounding off our list is EARevolve, a nifty dual chorus VST that comes with a rotary speaker. EARevolve is renowned for its ability to transform and enhance mono signals into deep and dynamic stereo sounds. 
It also boasts natural filters, doppler effect that can help in crafting a complex modulated chorus effect.
The streamlined and user-friendly interface of this VST offers many possibilities apart from adding Chorus effects. For instance, you can also use it as a stereo depth widener.