Converting your DI signal to a realistic and expensive Acoustic Guitar sound has now become a reality with acoustic guitar VSTs. We explore some of the best acoustic guitar VST plugins on the market that can actually make your recording sound better than an actual acoustic guitar!
Truth be told, a guitar is always not accessible when we are out and about and suddenly this sick guitar chord progression or melody dawns on you.
You can simply launch your DAWs MIDI keyboard, load some of the best acoustic guitar VST plugins on our list, add real articulations and record a rough draft in no time. So without further ado, let's get started fellas.
5 Best Acoustic Guitar VST 2023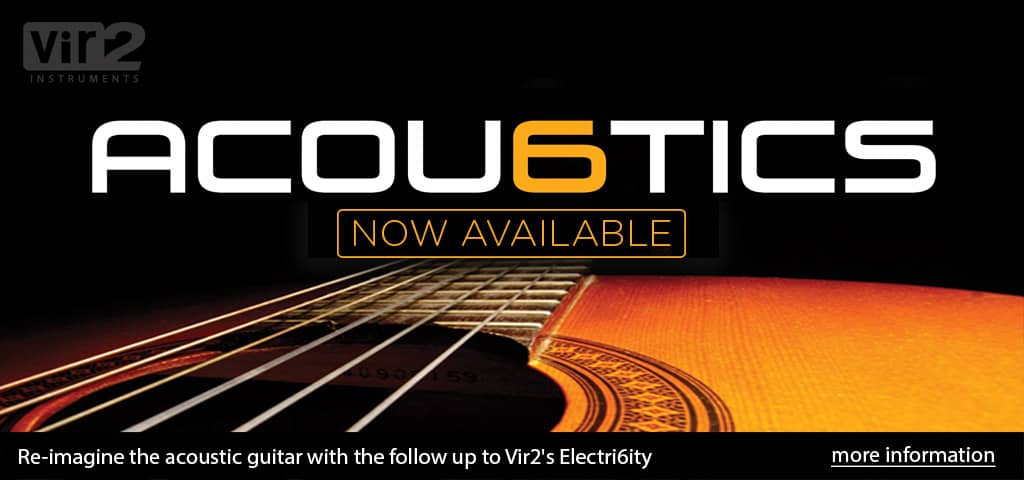 A massively popular guitar plugin in the VST realm, Acou6tics provides realistic simulations of legendary acoustic guitars from yesteryears. 
Depending upon your song's demands, you can toggle between various types of playing styles including plucked, picked, and finger picked within Acous6tics solid guitar VST interface. 
While each of the aforementioned styles bring their own unique dynamics, tone, attack, sustain and the rest of it, they do help you carve out varying degrees of tones for different styles of guitar production.
SEE ALSO: 5 Best Guitar Amp Plugins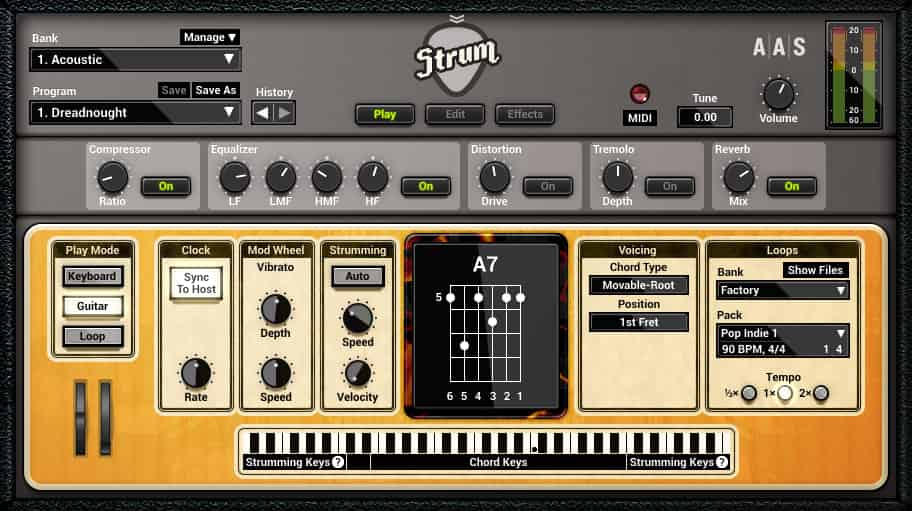 With its eclectic collection of over 100+ acoustic (nylon & steel) and electric guitars, strumming patterns, picking styles, complex chord voicings, and automatic chord recognition feature, Strum GS2 is surely one of the best acoustic guitar VST plugins on the market.
What's more, it also boasts a 102+ strong MIDI riff library, tons of sick 2 channel amps and guitar effects such as spring reverb, so you can get started playing guitar with your MIDI instrument in no time.
Overall, there are around 200 experimental presets with 63 for acoustic guitar, 40 presets for experimental acoustic sounds and 80 presets dedicated to clean electric guitar sounds.
SEE ALSO: 5 Best Guitar Preamp VST Plugins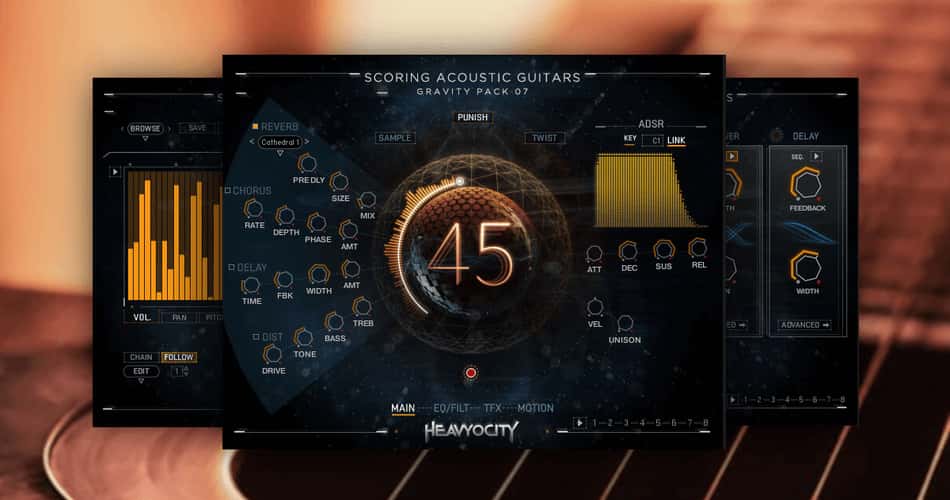 If you are fond of cinematic guitar scores for soundtracks, or background music, Scoring Acoustic Guitars is a nice VST for Kontakt Instruments by Heavyocity.
This lush VST accurately captures the resonance and rhythmic drive of nylon and steel-string acoustic guitars in a realistic manner.
Scoring Acoustic Guitars boasts a melange of sampled acoustic guitars with carefully selected pluck and vibration parameters that can create ambient guitar-scapes with lush atmospheric pads.
SEE ALSO: 5 Best Guitar Distortion Plugins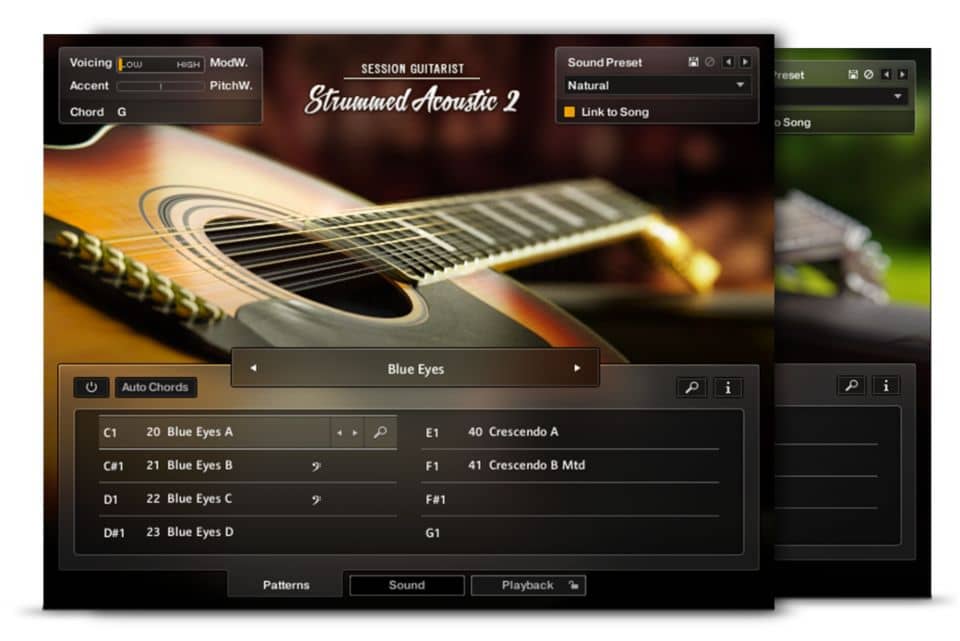 Another Kontakt instrument VST that is worth mentioning is Strum Guitar. It is a collection of four guitars (acoustic, electric, acoustic 12 string and electric 12 string) where all strums were sampled with upstrokes and downstrokes depending upon the velocity of the picking hand to achieve maximum accuracy.
You can find all the major and minor chord inversions, upstroke and downstroke patterns in this comprehensive plugin.
Strum Guitar comes with an intelligent inbuilt sequencer with chord recognition ability for easily adapting to a song's needs and playing the desired chords realistically. 
SEE ALSO: 5 Free Distortion Plugins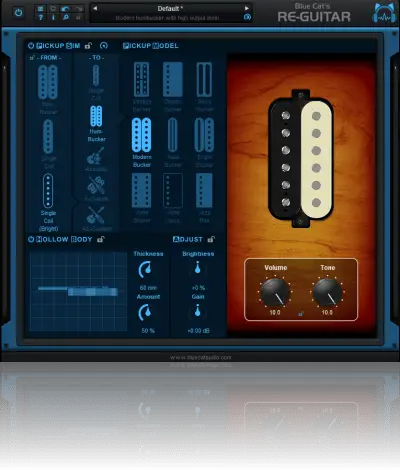 Rounding off our list of the best acoustic guitar VST plugins is Re Guitar from Blue Cat. It boasts a ton of tasty acoustic guitar simulations, and users can dial-in customized simulations as well for rock and metal.
Re Guitar, at its core, is an acoustic guitar tone modeler replete with acoustic guitar, pickup types and hollow body emulations.
There are several standard parameters for honing the guitar tone such as brightness, gain, tone and volume bar for custom guitar tones. 
What's more, you can even tweak these settings and automate them for live recording purposes.
Blue Cat also has some great free guitar vst plugins such as FreeAmp that you can give a try. Symbolic of its name, FreeAmp is a free guitar amp that can recreate powerful tube amp tones inside your DAW with zero cost.
SEE ALSO: 5 Free Preamp Plugins