Looking for the best drum vst for your mix? We scoured the web and carefully crafted this list of the best drum VST plugins that span multiple genres including EDM, pop, metal, rock, you name it. 
A standard drum kit comes with many hassles and recording drums often ends up in mic bleed and unwanted noise, all of which is a pain to edit out in DAWs. 
Unless you are an exceptionally good drummer, the safest way to record drum tracks nowadays is via Drum VSTs. If you want to add tasty drum loops, percussive elements and grooves to your mixes, these Drum VST plugins will suffice. So, without further ado, let's get started.
5+ Best Drum VST 2023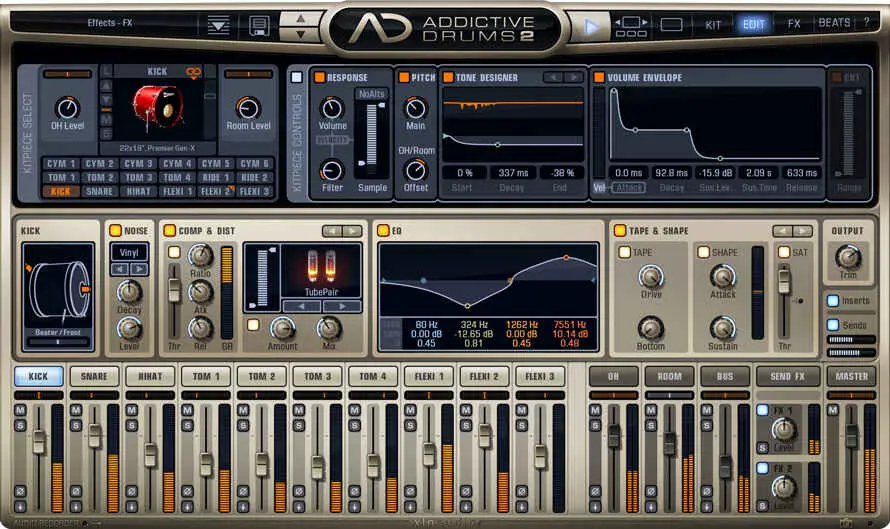 With its extensive collection of drum libraries spanning genres such as rock, indie, jazz, pop and electronic, XLN's Addictive Drums 2 is an industry leading plugin that should definitely be on your radar.
For starters, it comes with 130+ presets (with clean, raw samples) as well as processed, already-mixed plugin samples. Each library boasts kit presets and pre-recorded grooves.
You can separately tweak the knobs to adjust the levels of the snare, kick drums as well as high-hat, overhead and room microphones.
All in all, the tack of writing drum tracks and tasty grooves comes naturally once you have Addictive Drums 2 loaded in your DAW.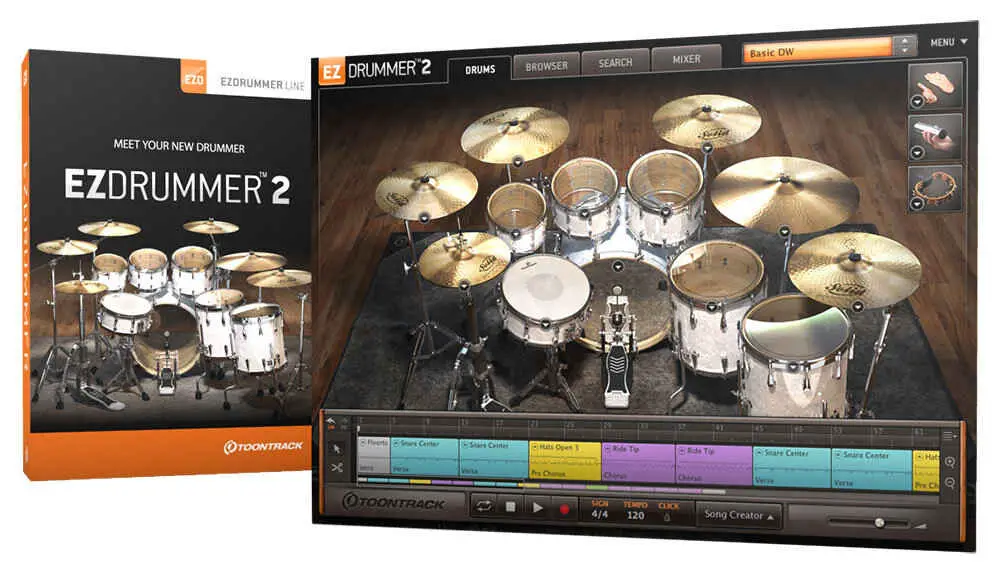 A very renowned drum plugin in the VST realm, Toontrack's EZDrummer 2 can create great-sounding drum tracks within minutes.
It comes with 2 sound libraries, modern or vintage, and an auxiliary percussion library that features percussive instruments such as shakers, cowbells, tambourines, finger snaps and hand claps, and maracas. 
While the vintage kits feature two Ludwig drum sets, the modern library comprises selections from Gretsch, DW, and Yamaha brands. 
You can harness its distinct groove library that incorporates a ton of playing styles and time signatures ranging from straight 4/4 to swing ballad ¾. All in all, EZdrummer 2 is one of the best drum VST plugins for rock that you wouldn't want to miss out on.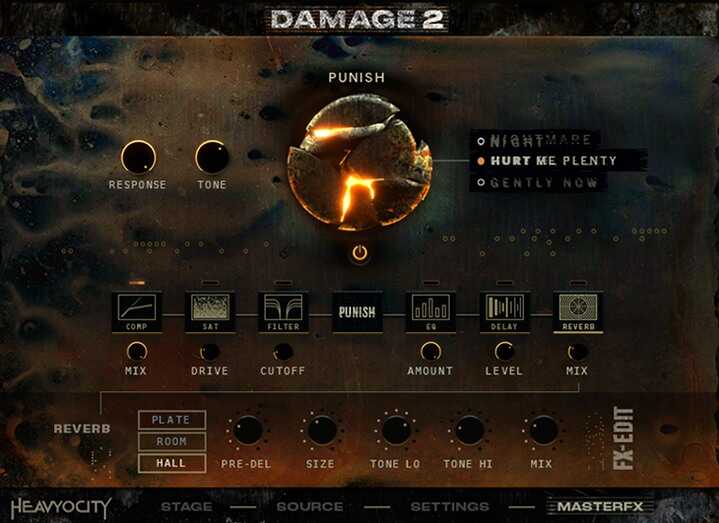 Heavocity's Kontakt instruments are a rage in the music production realm. Heavocity's Damage 2 VST library comprises exotic percussive sounds, traditional drumkits and a smorgasbord of wooden and metal percussion instruments. 
If you have a penchant for producing industrial rock or scoring drums for epic cinematic scores, boomy marching drums in the style of Hans Zimmer, look no further than Heavyocity's Damage 2.
Not surprisingly, this VST is used by a number of renowned film composers such as Brian Tyler, Harry Gregson-Williams, and more.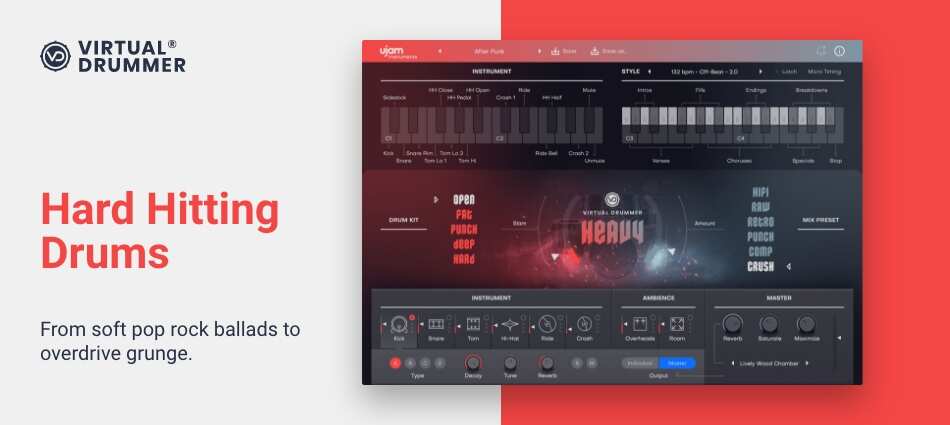 A solid drum VST offering by ujam, Virtual Drummer Heavy 2 is touted as a superior indie and rock music drummer plugin.
For starters, this drum VST boasts 200+ presets, 60 Musical drumming styles with a staggering 1380 drumming patterns and 5 meticulously recorded drum kits that create an immersive surround sound effect and sound refreshing and original. 
Virtual Drummer Heavy 2 also features a virtual rock drummer with real drum performances to give you a good head start, plus you can also create customized drum kits on the go.
You can also harness tons of mix-ready presets in multiple drumming styles and patterns.
What's more, Virtual Drummer Heavy 2 also incorporates individual volume control of each element of the drum kit as well as a master section with its own saturation and maximizer.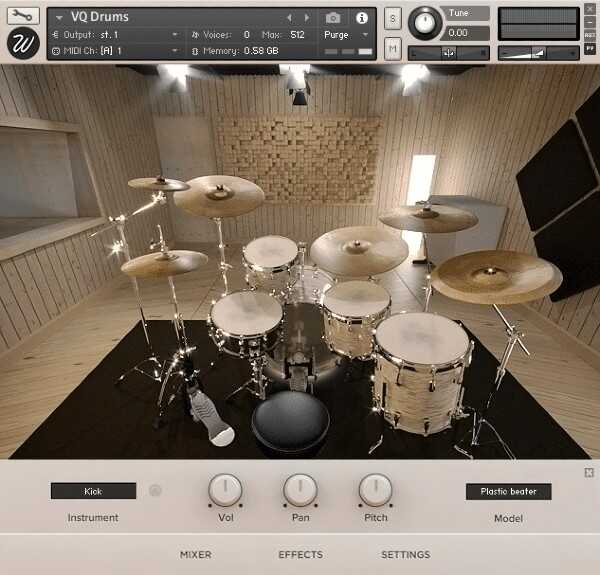 Rounding off our list of the best drum VST plugins is VQ Drums by Waves, which is a nifty drum library based on 1964 Ludwig kit recorded in a wooden studio. It can be loaded in Native Instruments' free KONTAKT player. 
While you can run it in the DEMO mode inside the free Kontakt player, we reckon this one's a copper if you want to lay down groovy drum lines.
If you are a classic rock, jazz or blues rock musician who wants sublime drum kits with that go well with blues guitar riffs, licks and guitar channel tracks, look no further than VQ Drums that was intrinsically designed for rock 'n' rollers.
The drum library incorporates some serious chops when it comes to groove-laden power plays and hooking drum loops.