Bass Guitar amp tech has changed rapidly over the years. Nowadays bassists prefer loading up a bass amp VST on their DAW for a quick jam, recording session or practice.
Not only are bass amp plugins convenient, save time and money, they also effectively don't take up any space. Back in the days, expensive bass tube amps and cabinets and a ton of other complimentary bass gear such as microphones were a different story altogether.
However, finding the right bass guitar amp plugins is not so easy. Which is why, we did the graft and reviewed the best bass amp vst plugins that will come in handy for 4 and 5 string bass guitarists across genres. So, without further ado, let's get started.
5+ Best Bass Amp VST Plugins 2023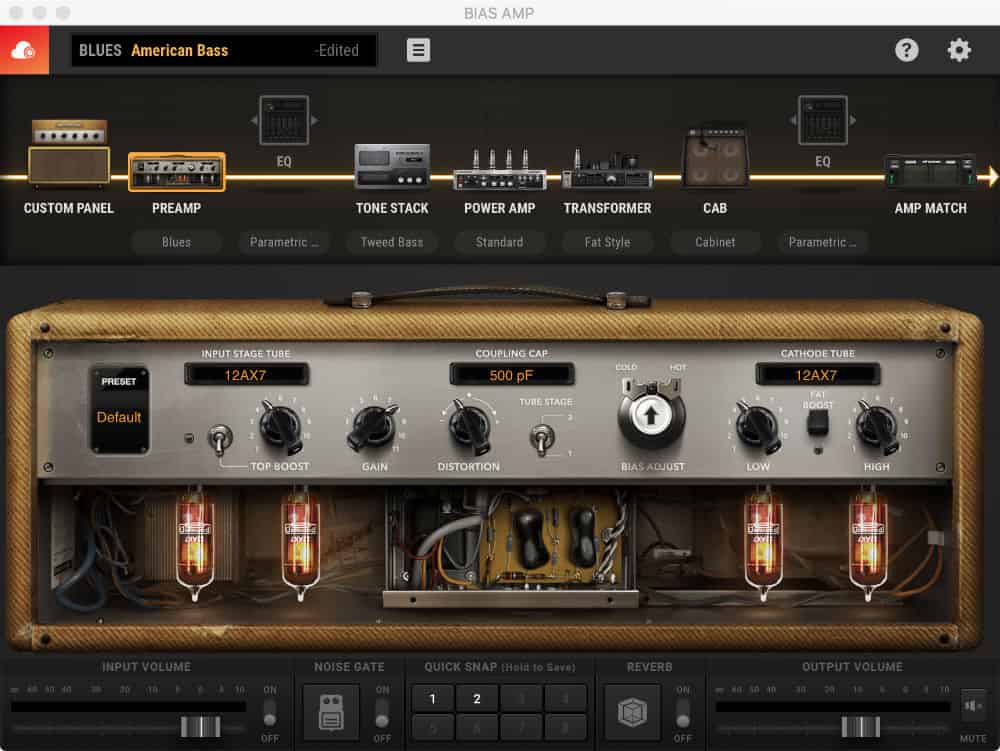 Revered plugin maker Positive Grid's Bias Amp 2 is a behemoth when it comes to dialing in authentic bass guitar tones.
For starters, it doesn't inundate the GUI with unwanted frills and instead focuses on what's necessary to craft a decent bass amp simulator sound. 
With its beastly 4 Bass Amp presets, you can tweak any kind of bass tones all you want. From groovy funk basslines, to chugging deathcore bass riffs you can create your own bass tone in a jiffy with Bias Amp 2.
You can fiddle around Bias Amp 2's amp design parameters such as preamp tubes, biasing, transformers, shelf frequencies and power supply to hone in on a truly customized bass guitar sound.
You can build your own custom bass amp by taking inspiration from ToneCloud, Bias Amp 2's online community of fellow bassists where you can find tons of free bass amp presets, expert advice and even share your presets with everyone else in the community.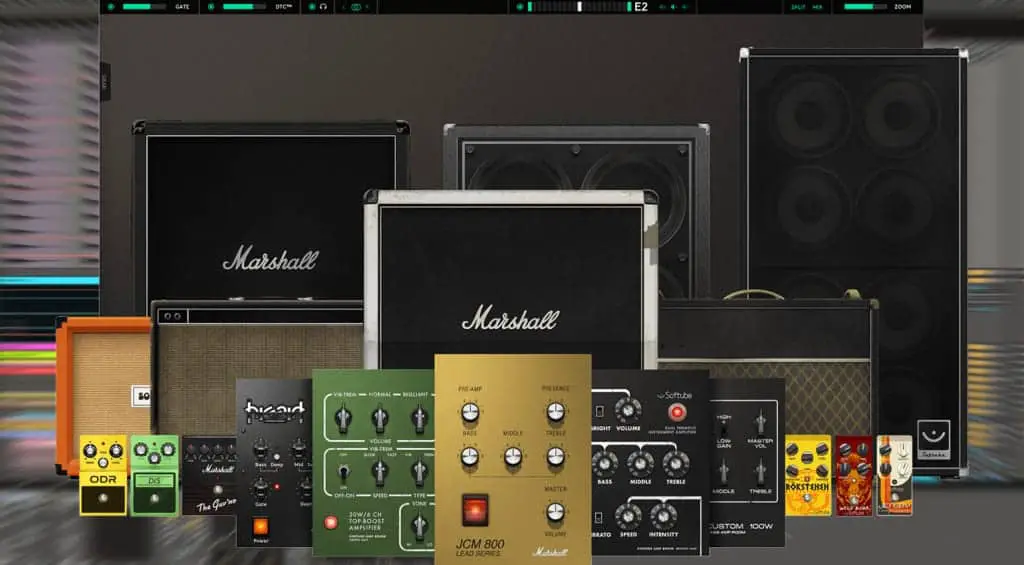 A digital recreation of the legendary 'Hiwatt DR103' bass head and the vintage 'Ampeg' 8×12 bass cab, Softube's Amp Room Bass is one of the best bass amp vst plugins you can get on the internet.
It follows a pretty minimalistic approach where it boasts a single yet sufficient bass amp and a collection of 3 nice cabinets to choose from. 
The real charm about Bass Room is that you can dial in the most realistic and authentic bass tones at par with what one would get with the inimitable 'Hiwatt DR103' bass head and 'Ampeg' 8×12 bass cabs.
Features:
Realistic bass tones
Suitable for diverse genres such as rock, metal, funk, and jazz.
Lots of tone customization options
Easily dial in great bass guitar tones in a short time.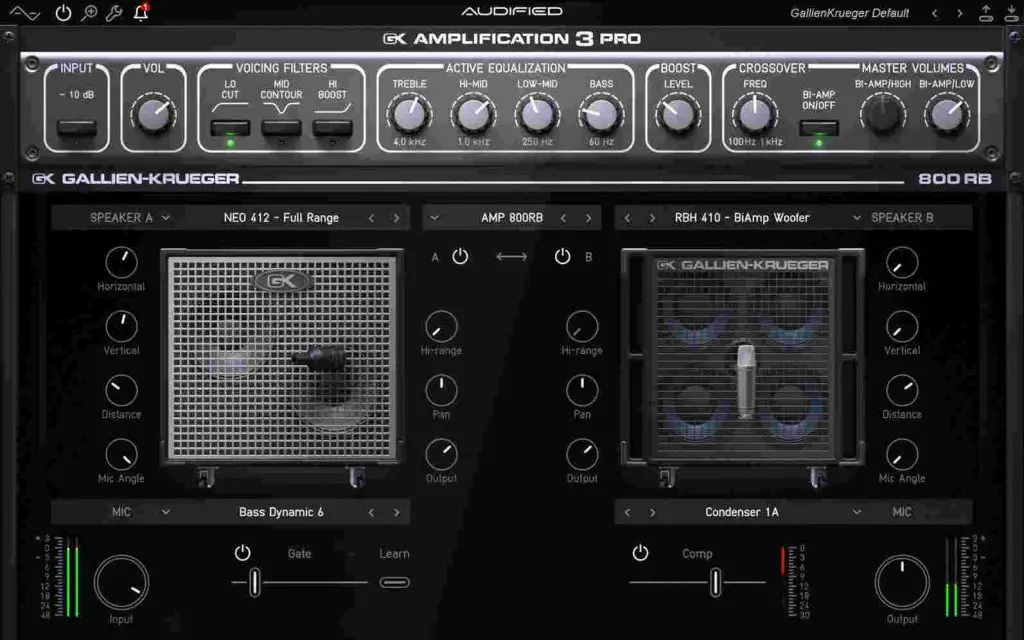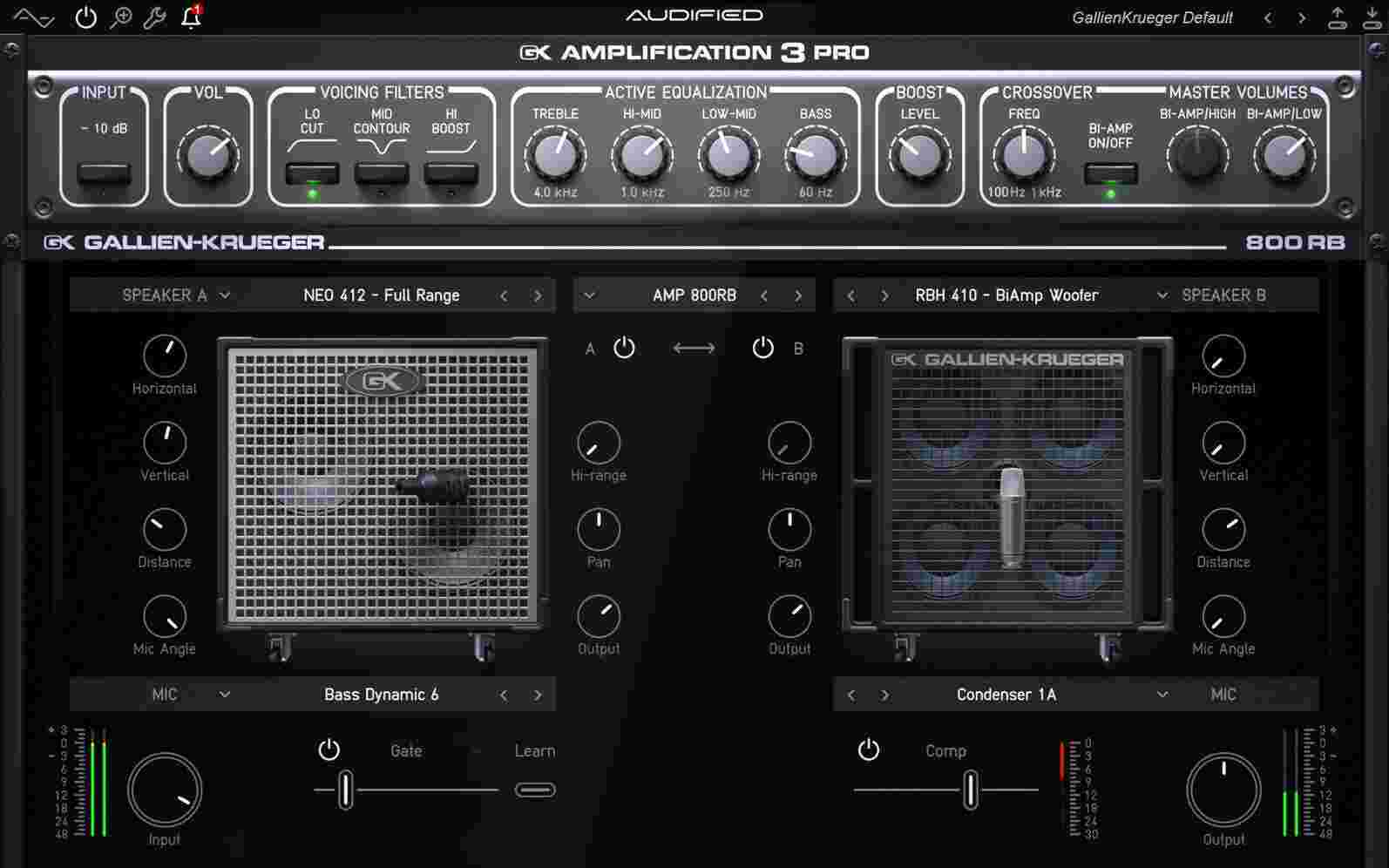 A versatile bass amp, GK Amplification 2 Pro is modeled on 3 popular GK bass heads namely, GK MB150, GK 800RB and GK 2001 RB.
Not to mention, you can devour a huge collection of bass cabinets that fits with your favorite bass head. You can also blend in 2 speaker cabs with different tones to achieve a customized bass sound.
GK Amplification Pro 2 comes with Bass Head EQ, Boost, Microphone type selection with positioning option, a metronome and track recorder handy for recording short bursts of creative inspiration or jamming on the side.
Al together, GK Amplification 2 Pro is easy-to-use for beginners who would find it a breeze to dial their own custom tone from scratch.
Features:
EQ
Voicing filters
Microphone positioning
Various inbuilt Microphone types
Microphone angle adjustment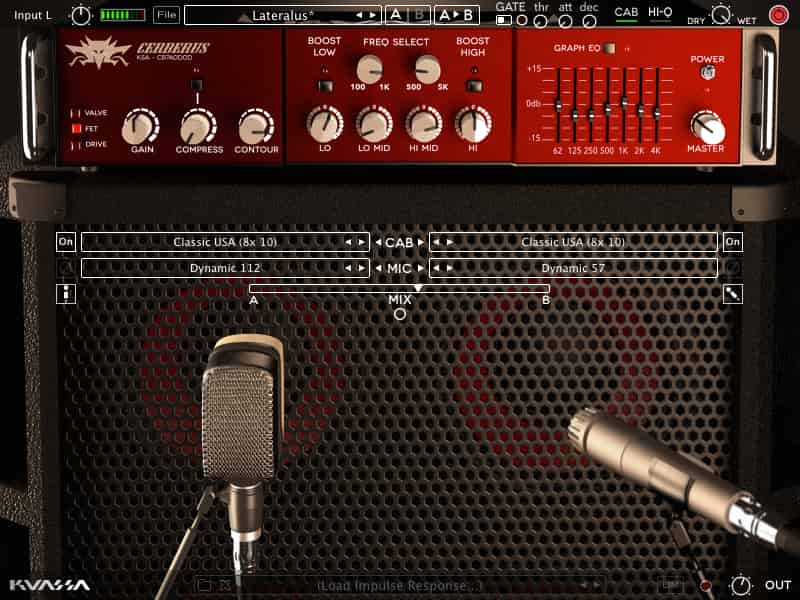 Kuassa's Cerberus Bass Amplifikation is a 3 channel bass amplifier rack extension that also doubles up as a VST. If you are looking for a compact bass tone with rich low end punch, Bass Amplifikation should certainly be on your radar. 
This nifty bass VST features a minimalistic single screen interface, and supports lots of varying bass playing styles that run the gamut from picking, bass slaps to fingerstyle bass.
You can turn on the Destruction Mode on the Drive Amp type to get a filthy and raw bass sound with distortion that is apt for various metal sub-genres.
That said, Bass Amplifikation can also dial in some warm and clean bass tones that reminisces the smooth bass sound usually found in tube amps.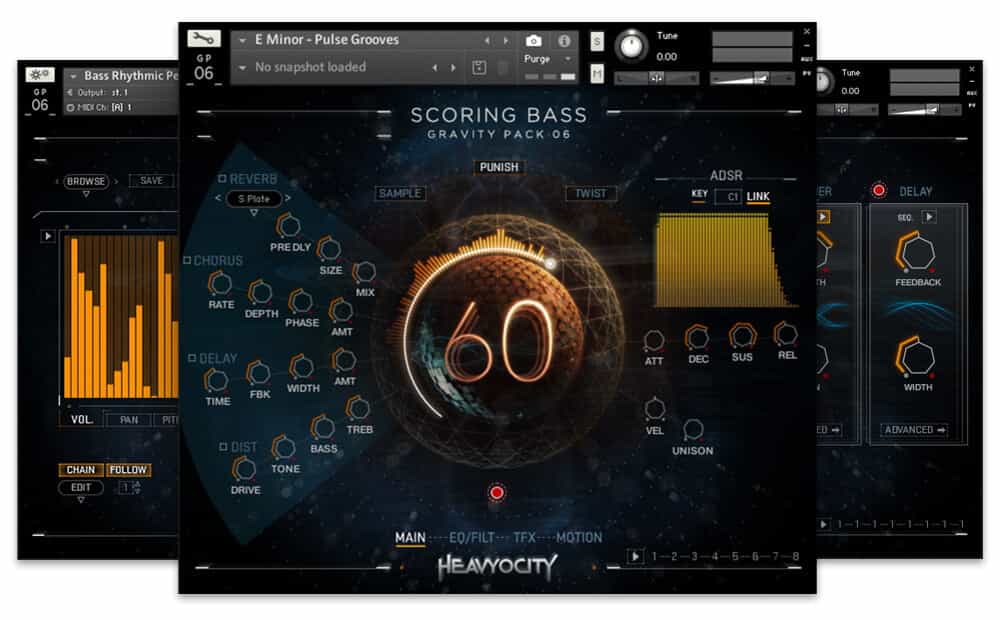 Rounding up our list of the best bass amp VST plugins is Heavocity's Scoring Bass. We all know Heavyocity's knack for pumping out plugins that are used in composing cinematic soundscapes and euphoric atmospherics, and Scoring Bass doesn't disappoint one bit on that front.
You will find 3 bass guitar VSTs, and tons of sampled bass guitars and bass loops that can help you easily dial in a bassline tone suitable for a Hans Zimmer score.
You can use Scoring Bass for your metal bass projects, cine rock tunes and more. If you are looking for a pounding bass guitar tone that sits firm in the center of the mix replete with other instrument tracks, look no further than Scoring Bass.
SEE ALSO: 5 Best Free Bass Guitar Plugins