Recording guitar and producing music on the computer has become very easy nowadays. One can simply flick in a bunch of free guitar amp plugins in their DAW and viola you have decent guitar tone within minutes. However, the problem of finding free amp simulator vst plugins is very prevalent.
Especially when you are on a tight budget. Fret not, we scoured the web to find the best free amp simulator vst plugins that will drastically enhance your guitar tone.
In the olden days guitarists had to spend a lot of time, energy and money on their tube amps to derive an optimal guitar tone that is mix ready and could be used for liv sessions.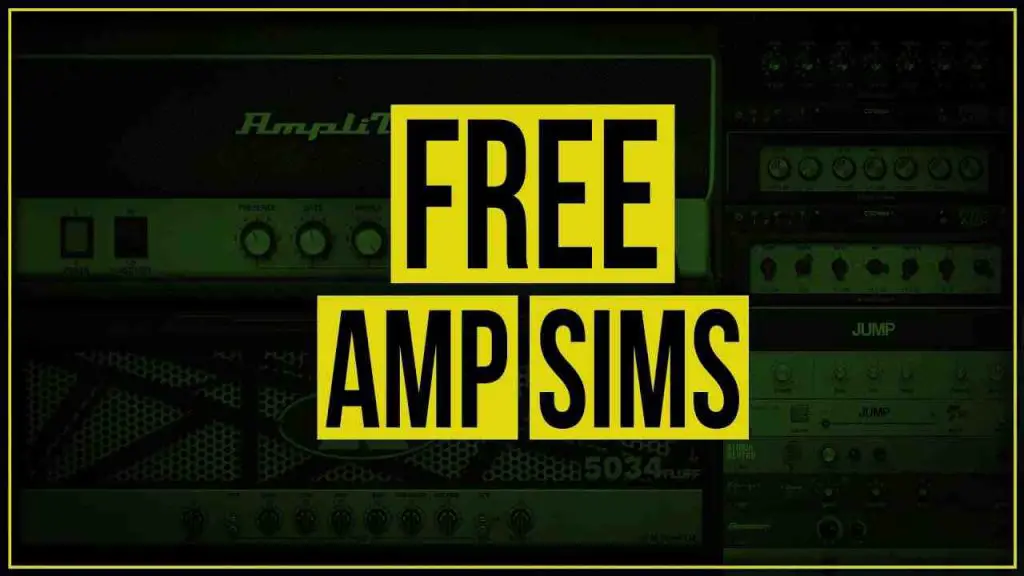 Now, some of the best guitar amp simulation plugins make short work of all such hassles as you can switch between hundreds of amps, microphones  (and their relative position to the speaker cone) instantly within a single plugin without breaking the bank.
Just throw in some of the best free amp simulator vst plugins on our list in your DAW program and you can craft some serious guitar tones that range from outright distortion, to ambient cleans. So, without further ado let's get started.
10 Best Free Amp Simulator VST Plugins 2022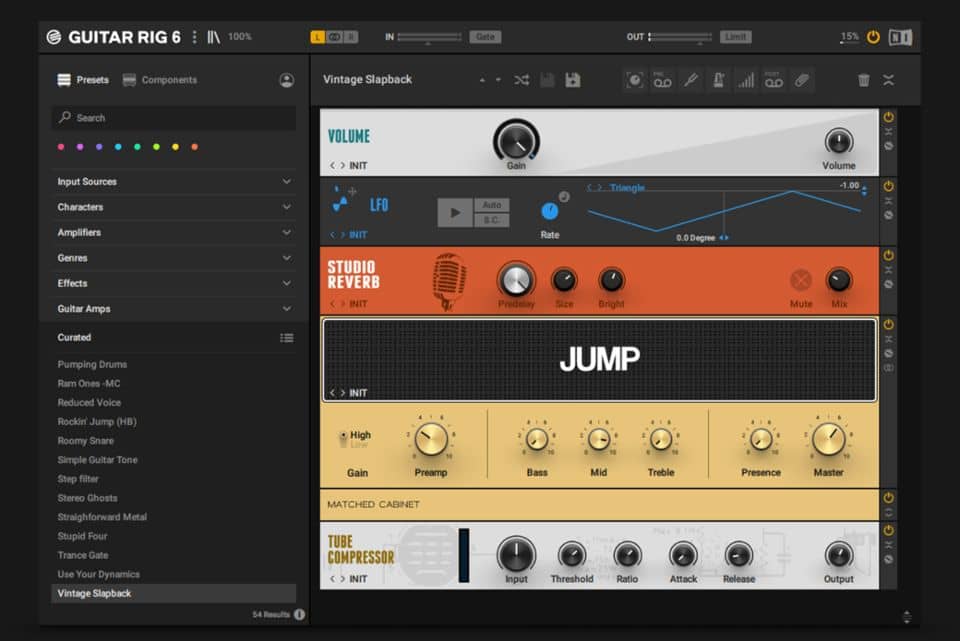 A stripped down version of Guitar Rig Pro, Guitar Rig 6 Player's is a free Kontakt effects processor and plugin that doesn't compromise on sound.
It boasts a bright British-style tube amp emulation along with a matched cabinet, and 13 effects to customize the nitty gritties of your guitar tone.
Guitar Rig 6 Player is a great free amp simulator vst for those wanting to dip their toe in the immersive world of best free amp sims without any financial commitment. 
With a simple to use interface and foolproof drag and drop layout, the software allows you to create your own custom signal chains with ease.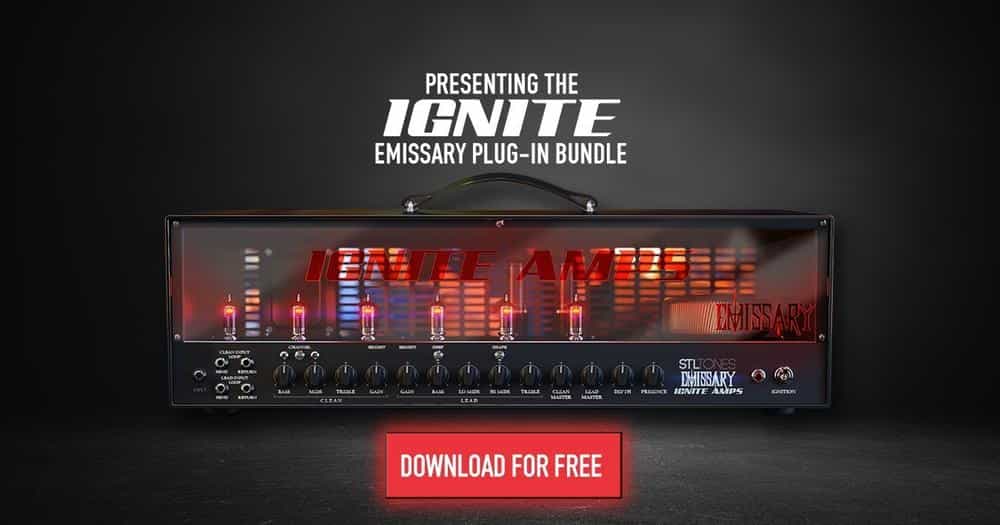 Touted by many as one of the best free amp simulator plugins, Emissary by Ignite Amps offers rich tone sculpting potential for all kinds of guitarists.
Whether you are into playing heavier genres of music such as Metal, blues or your a jazz axeman with a penchant for overdrive and clean tones, Emissary is a great free standalone guitar amp simulator offers value to every cohort of guitar players.
Emulating a custom dual-channel tube amplifier, Emissary's components were intricately recreated in the digital format to come as close as possible to the original sound without taking a toll on the CPU.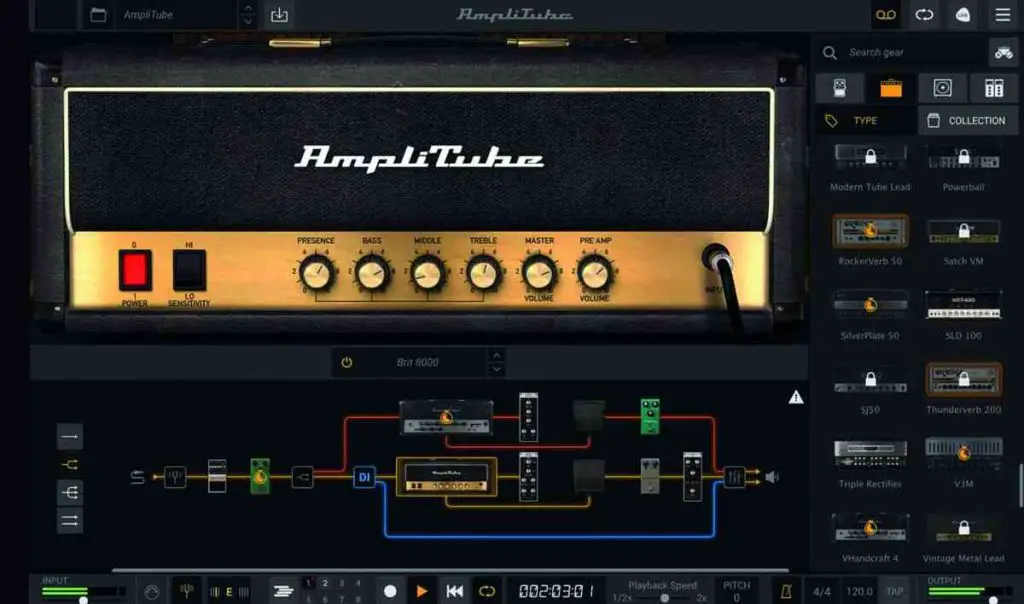 The lite version of AmpliTube 5 doesn't disappoint one bit as a top tier free guitar plugin that comes with over 400 gear models, 39 effects pedals, a barrage of guitar amps, mics, cabinets, and rack FX. 
If you want to dial in some great guitar sim tones but are currently short on money, Amplitube 5 might just do the trick for you.
You can use it for practice sessions or even straight up audio recordings. What's more, Amplitube 5 further lets users customize every aspect of their guitar tone.

Symbolic of its name, Free Amp by Blue Cat Audio makes it easy for hardcore tone chasers to tweak guitar amps at the drop of a hat. For starters, Free Amp comprises 3 amp models with inbuilt EQ. 
What's more, you can even load your own custom cabinets and third-party guitar impulse responses.
Not to mention, you get unfettered access to tons of free guitar amp models that run the gamut from heavy metal guitar tones to crunchy overdrives and soothing cleans.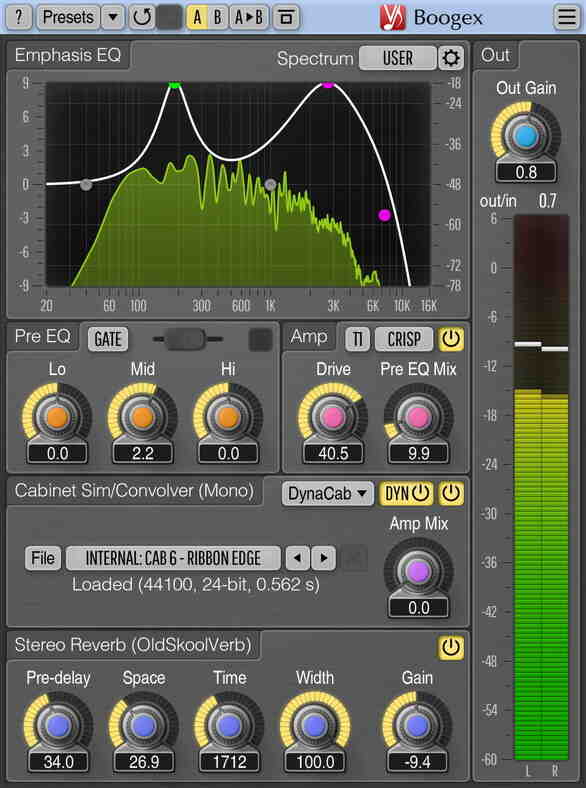 Voxengo's Boogex is one of the best free amp simulator VST plugins that offers immense sonic potential. You can achieve brutal distortion tones as well ambient clean plucks with a little bit of fiddling around.
If you want to further enhance your guitar tone, there's an option to add some reverb and input gate. 
The built-in reverb on Boogex was derived from Voxengo's classic OldSkoolVerb reverb and could do wonders for your guitar tone's atmospherics if the dry/wet ratio is kept in check.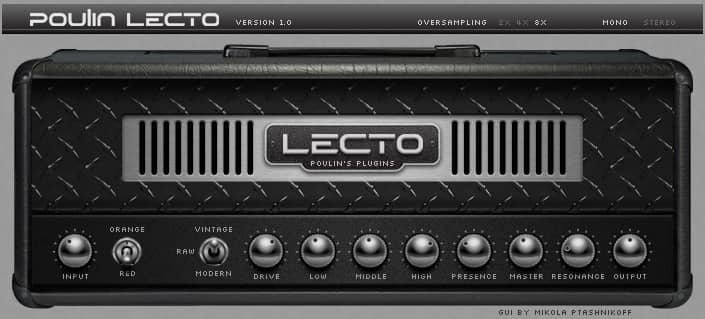 LePou Amp Sims offer a solid collection of eight free guitar plugins that can each be downloaded separately. No wonder you have a gamut of guitar tones available at your disposal.
However, some amps are only 32-bit so they might not be compatible with many new DAWs.
The eight LePou amp sims available in 64-bit are: Lecto, Hybrit Head, Le456, LeGion, LeXTAC. These are compatible with almost all DAWs out there.
You can do it all with Lepou Amp Sims, from dialing in bright jangly madchester guitar tones to twangy reverb guitar sounds that are eargasmic.
Lepou Amp Sims also boast a nifty cab impulse response loader that can be used to import hundreds of guitar impulse responses and craft your own distinct guitar tones.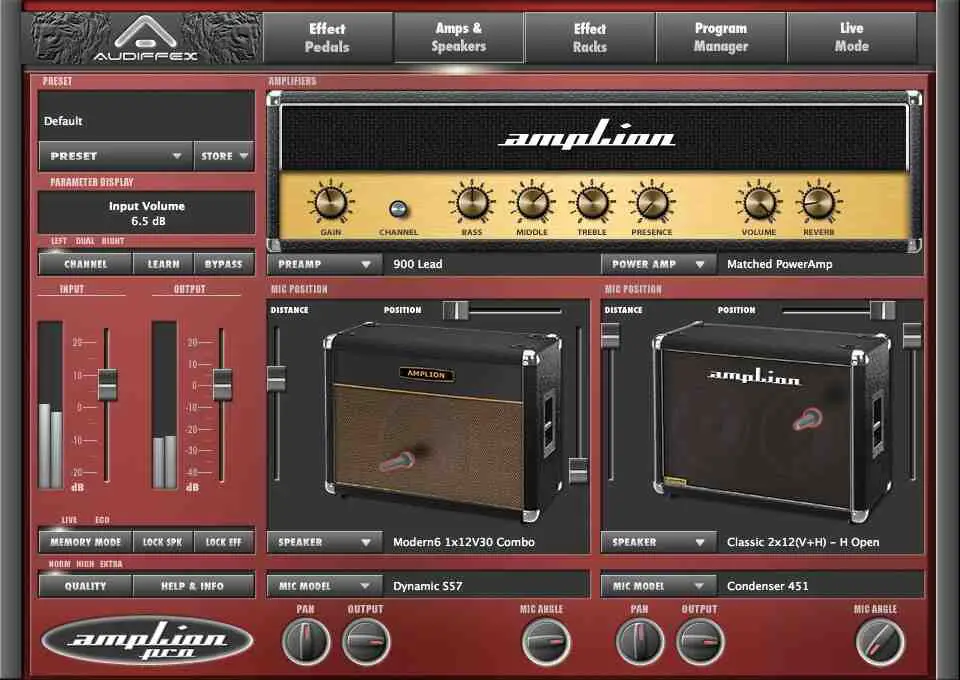 ampLion Free is the lite version of its bigger brother Amplion Pro. Based on Audified's 'precise circuit modeling technology' ampLion Free offers guitar sounds that are as close as possible to a live guitar amp without ever requiring an impulse response to lift its sound and tonal capabilities.
The novelty factor that makes ampLion Free a decent amp sim is that it comes with a free Live Guitar and Bass Bundle LE that includes even more speakers (with variable positionings), virtual stompboxes and amp sims for you to immerse yourself in day in, day out.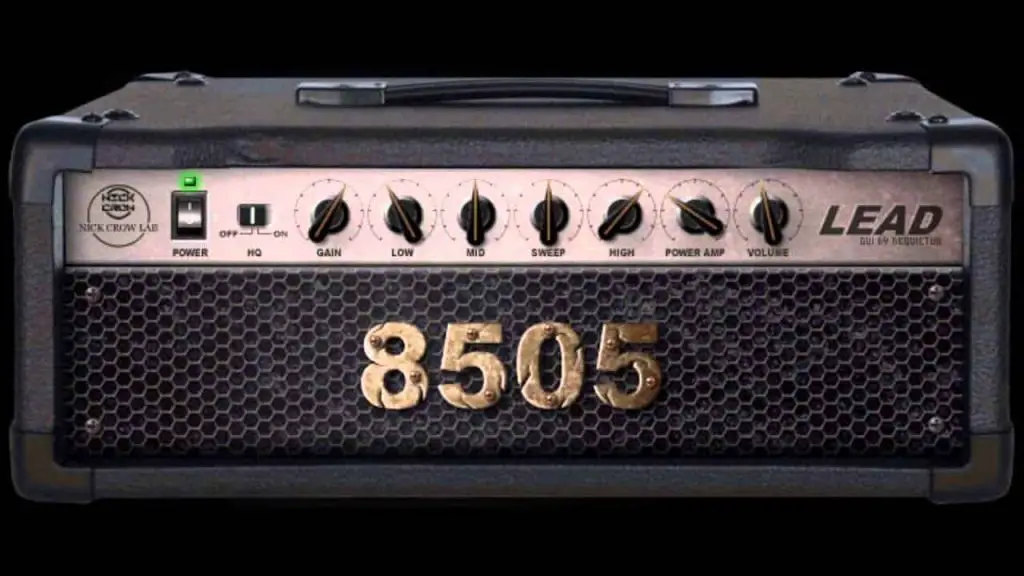 A list of the best free amp simulator vst plugins will be incomplete without mentioning Nick Crow Lab 8505. Especially, if you are a metalhead or a djent guitarist looking to achieve some high gain metal amp sounds modeled on legendary Peavey amps.
The Nick Crow Lab 8505 is a free standalone guitar amp simulator which can dial in extreme distorted guitar tones and sports a clean graphical user interface. 
Not to mention, you can shift gears and mellow down to chunky crunch sounds and switch back again to searing distorted leads.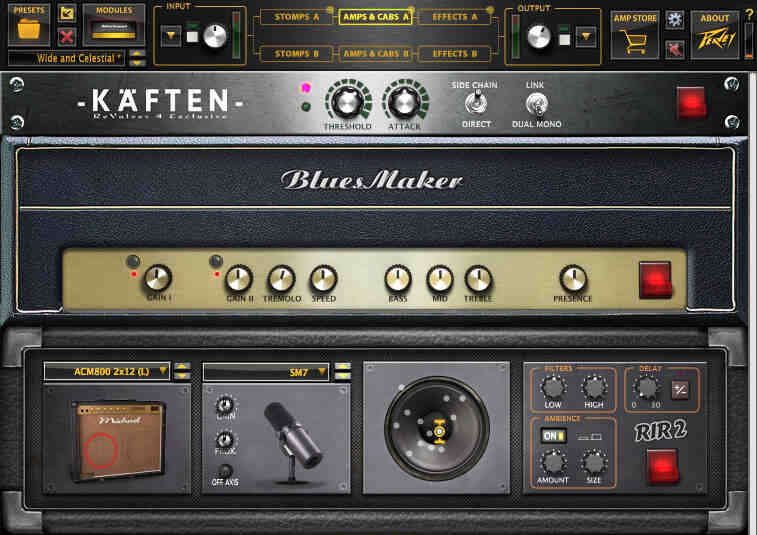 Amp pioneers Peavey have their very own ReValver 4 free vst plugin that steps up the game when it comes to producing heavy guitar tones.
Featuring an entire suite of cabinets and stompbox models, the Peavey Revalver is designed with advanced cabinet modeling technology, where you can import third-party impulse responses including bass impulses and then further customize IRs, speaker configurations, and change mic positionings.
What's more, you can further expand Revalver's sound sculpting potential and create truly custom guitar tones as Revalver functions as a host for third-party guitar amp and other guitar plugins. 
All in all, Revalver is one of the best free amp simulator vst plugins available on the market for diehard metal guitarists.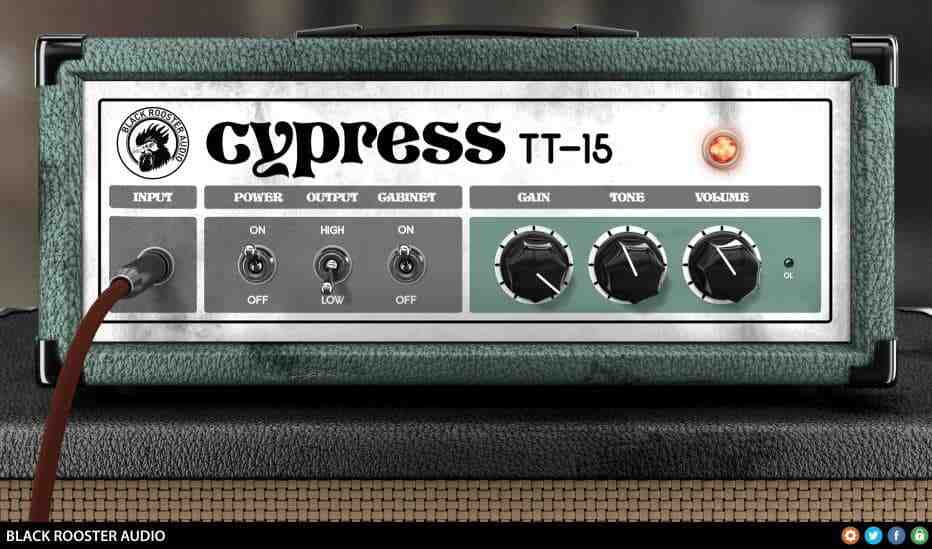 Rounding up our list is Black Rooster Audio's Cypress TT-15 which is modeled on unique low watt amplifier with its own distinct sound and character.
Sporting 6 simple control knobs, and a decent 2×12 cabinet emulator, beginners will find it easy to dial in their own custom guitar tone on Cypress TT-15 without any hassles. 
The Cypress TT-15 can be used to craft some incredible tones that range from crunchy overdrive, nice cleans to filthy distortion.