A Convolution reverb is a reverb effect that uses impulse response files (IRs) to simulate a real acoustic space. There are only a handful of decent free convolution reverb plugins scattered on the internet.
We did the graft and reviewed some of the best free convolution reverbs that work in VST/AU formats on Windows and Mac. 
These free convolution reverbs add a rich atmospheric ambience to your mix or guitar channel tracks. 
How does a free Convolution Reverb work?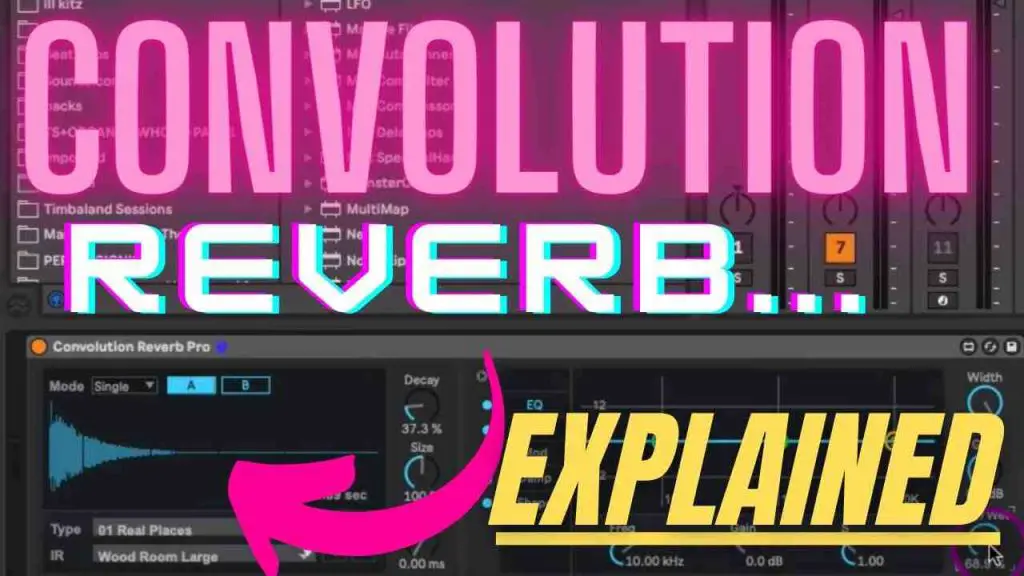 An impulse response captures the sound of a real acoustic space such as a hall, room, stairwell as well as artificially simulated space (when recorded from an analogue reverb unit). 
Convolution Reverb plugins can load IR files and apply the reverb properties of the real acoustic space (hall, tunnel, etc.) to the newly processed audio signal.
Doing so, Convolution Reverbs create a simulation of recording an audio track in a natural environment (via impulse responses of outdoor spaces). 
These types of reverb can also mimic the sound of expensive hardware reverb effects in digital format.
Some of the best free convolution reverb vst on our list can be used with any pack of external impulse responses. 
Luckily, most of the convolution reverbs mentioned on our list also double up as Impulse Response loaders so you can import thousands of Impulse responses and try them out on your DAW. So without further ado, let's get started. 
4+ Free Convolution Reverb VST Plugins 2022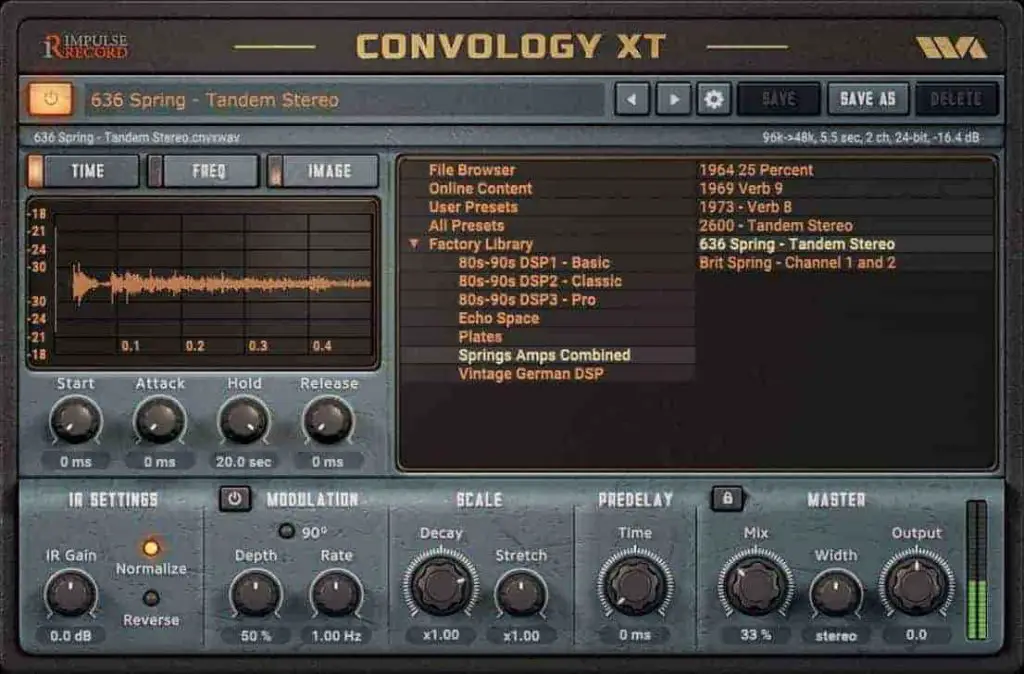 One of the leading free convolution reverbs, Convology XT comprises a collection of 70 solid reverb impulse responses that were captured from a wide range of vintage hardware reverb units. 
Convology XT is also known for being a top tier IR loader where you can import hundreds of external third-party impulse responses in WAV format to further enhance the sound scaping potential.
A zero latency plugin, Convology XT offers lots of tweakable settings such as attack, prelay, decay time, and the frequency response. 
What's more, you can also time-stretch and apply modulation to your favorite IR files to achieve a stereo widening effect sound or creating a snazzy new IR from scratch. 
SEE ALSO: You might also be interested in these Spring Reverb Plugins.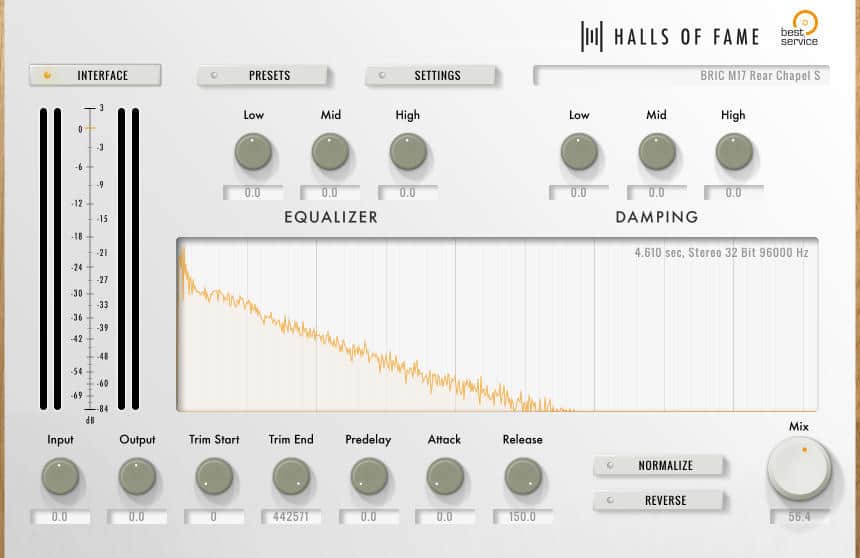 Sporting a stripped-down neat and clean graphical interface, Halls of Fame 3 is a great free reverb can help you dial in some great convolution reverb sounds in a jiffy.
You can create some pretty interesting reverb textures for your mix with its Reverse button.
Not to mention, Halls of Fame 3 has its own collection of samples from many digital and vintage hardware reverb devices
Like most plugins on our list of free convolution reverb vsts, Halls of Fame 3 also allows you to load third-party impulse responses which is very easy to do. Simply locate the IR file in the preset window and import them.
Hall of Fame features a Normalize button to keep volume levels consistent while using Impulse responses which might decrease or increase the volume of reverb. 
Not to mention, Halls of Fame 3 has its own collection of IR samples from many digital and vintage hardware reverbs such as the ones mentioned below:
Lexicon 300
Lexicon 480
Lexicon 224
Lex 96L
Lex 96
T600C
Bric M7
R 880
EMT 240
EMT 250
QRS 2496
Even T 2016
AKG BX 20
SEE ALSO: Best Gated Reverb Plugins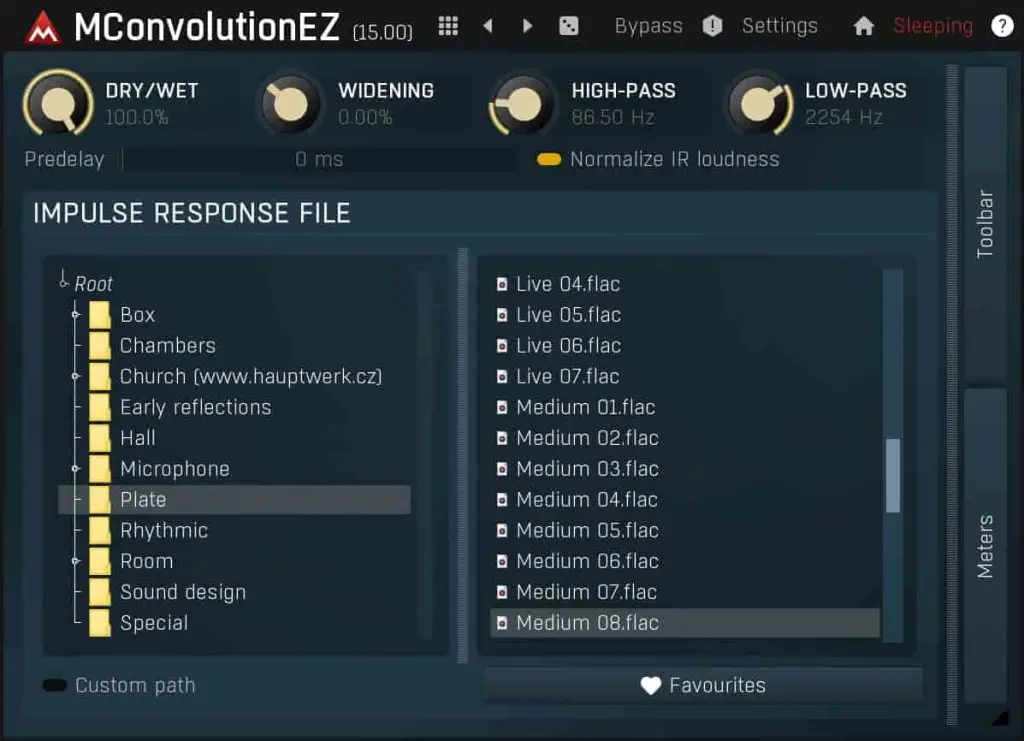 MConvolutionEZ is a free convolution reverb plugin that is quite easy to use and perfect for beginners learning the ropes of adding convolution reverb for the first time on their mixes. 
For starters, you can tweak the stereo width or stereo spread of the active impulse response and sculpt this free reverb's tone using a pair of filters. 
MConvolutionEZ allows users to import third-party impulse responses in WAV and FLAC formats respectively. 
Again, the graphical user interface offered by this free vst is again quite intuitive and offers a smooth editing experience.
The novelty factor that makes MConvolutionEZ stand out is its nifty file browser located at the middle of the GUI. You can use this plugin to test newly downloaded free impulse response libraries. 
SEE ALSO: Best Plate Reverb VST Plugins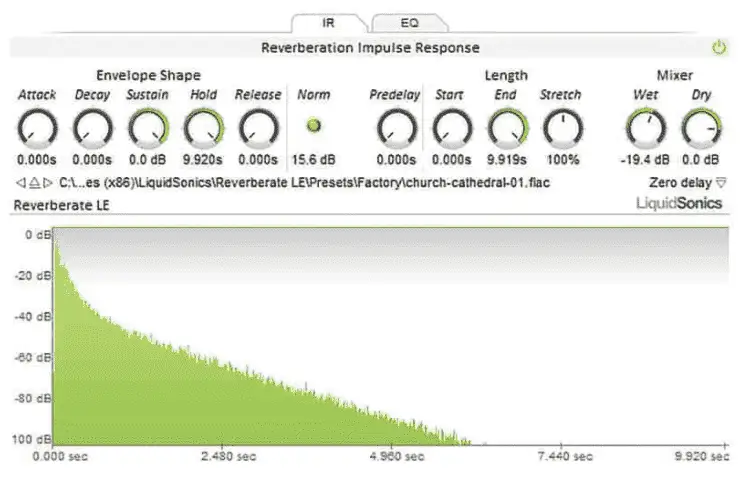 Released way back in 2006, Reverberate LE has amassed its own fan following over the years. It is a decent IR loader with a small collection of stock impulse responses.
Reverberate LE offers complete freedom to users to import their own third-party impulse responses in WAV, FLAC, and AIFF formats.
What's more, you can further customize the impulse response files and create your very own IRs thanks to Reverberate LE's time stretching and envelope filters.
There is also a parametric equalizer that comes in handy for altering the tone of your IR samples.
Please note that it only works in 32-bit digital audio workstations on Windows OS. 
SEE ALSO: Best Shimmer Reverb VST Plugins