Looking for free harmonizer VST plugins? You have arrived at the right place. We scoured the web to find the best free harmonizer plugins that can seamlessly create auto harmonies for your guitar, vocal, or synth instrument channel tracks.
Finding decent free harmonizer vst plugins is very hard. After hours and hours of searching, we finally found some great harmonizer plugins that can create multiple harmonies and add a melodic wall of sound to your mix or instrument channel tracks.
Most of the free harmonizer plugins on our list are VST/AU format compatible and hence can be used by both Windows and Mac OS users. 
What's more, these free harmonizer VST plugins are compatible with DAWs (Digital Audio Workstation) as well. So without further ado, let's get started.
6+ Best Free Harmonizer VST Plugins 2022

Harmonyzer is a nifty plugin that can add several layers of chord notes to your audio tracks. 
For instance, it can add chord notes played on a split part of the MIDI keyboard (or laptop keypad) with your left hand to the solo notes being played on the right split part by your keyboard right hand. 
Better still, each part (left and right) can send their notes to a separate MIDI channel for further audio processing and tweakage.
If you want to repeat the same process to create vocal harmonies you can play the chord with your left hand and type the melody (one key at a time) with the right hand.
The resultant harmonies produced will be based on inversions of chords that you just played, such as 2nd inversion, 3rd inversion, and so on and so forth.
Here's the signal chain configuration for deriving optimal results from Harmonyzer:
Insert Harmonyzer before one or more VST instruments
Choose MIDI channels, and select split point. 
Select CC for turning on/off harmony effects and the maximum number of solo notes (including added chord notes)
Voila! You are ready to produce multiple auto harmony sounds
Harmonyzer can be very usefuI as a vocal harmonizer plugin as well as for harmonizing Strings, or rhythm guitars.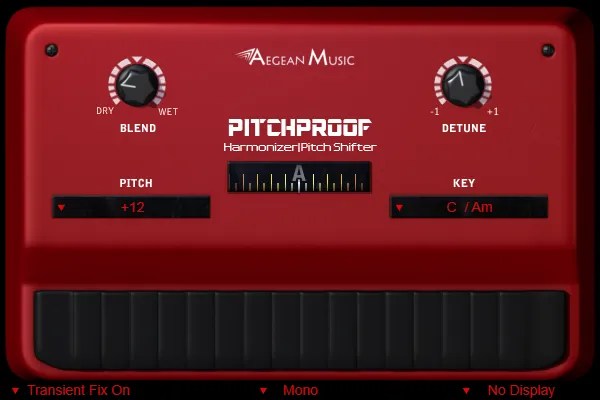 Touted as one of the best free harmonizer VST plugins online, Pitchproof is known for shifting the pitch of the audio input thereby combining old techniques of pitch shifting with the finesse of modern harmonizer plugins.
Pitchproof works really great with electric guitar tracks where it adds a pitch pedal simulation. Pitchproof also boasts a nice Detuner which can add a natural flair and realism while simulating different voices.
For instance, you can make your electric guitar sound like a real bass guitar on your home studio recording by detuning your electric guitar track by -12 semitones or -12 half steps.
You can dial in a beautiful harmony through the Blend control parameter where you can blend the dry and wet signals. 
Pitchproof boasts a slick pitch visualizer menu where you can select harmonies or pitches such as +7 or -7 semitones.
These harmonizer effects can be played in major or minor key scales. 
For instance, if you choose a D major scale key (which doubles as D Minor in the minor scale), you should play only the notes A, B, C, D, E, F, and G for the optimal harmonized results.
What's more, Pitchproof can also be used as a guitar tuner since it detects the current pitch of the note being played and displays it on the screen.
Features of Pitchproof
CPU friendly
Mono and Stereo input modes available
Transient Fix with On/Off Switch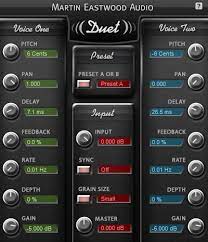 If you are looking for a double tracking harmonizer effects plugin, Duet is worth a gander.
It was intrinsically designed to enhance vocals and instruments, such as guitars, synths, by adding a rich sheen to the audio track and thickening the wall of sound. 
Duet comes in handy especially when you want to simulate double tracking guitar especially in a live event. 
Hence, it does away with the need of adding a playback track so any solo musician or guitarist can perform at concerts with real-time rhythm guitars. 
Duet applies a pitch-shifter to the left and right speaker channels and allows the pitch to be manipulated in real-time while keeping the duration of the audio intact. 
By doing so, Duet creates a sonic illusion of multiple harmonies or voices all being played at the exact same time thereby adding texture or layers of guitar or other instruments to your music. 
Duet is a great free harmonizer VST through which you can easily convert a rhythm guitar chord progression into a wall of sound of multiple guitars playing the same chord progression in different inversions or a single voice played across octaves thus sounding like a full fledged choir.
What's more, you can also create some nice modulation effects such as a silky smooth Chorus to your audio tracks and add 'a sense of movement'.
One of the best free Harmonizer VST plugins, TunedDelays is a delay-based harmonizer that can convert any kind of noise ranging from microphone hiss, mic bleed, to percussion lines into melodic audio that is likable to the ears.
In essence, TunedDelays can transform your microphone into a virtual guitar where mic hisses and beeps can be turned into guitar chord strums which actually sound realistic and authentic.
What's more, it also boasts 3 MIDI-controllable tuned-delay lines where you can individually tweak parameters such as amplitude, tuning, feedback and feedback damping.
TunedDelays Features:
Inbuilt multimode resonant output filter
Tweakable natural stereo chorus effect.
Inbuilt input noise gate and lo-cut filter.
Syncable LFO for modulating amplitude, pitch, and filter cutoff.
Stereo processing.
Please note, that since TunedDelays is a free plugin you may come across a Nagging screen message on the GUI that asks users to rate the plugin. Besides that screen message, the plugin works just great!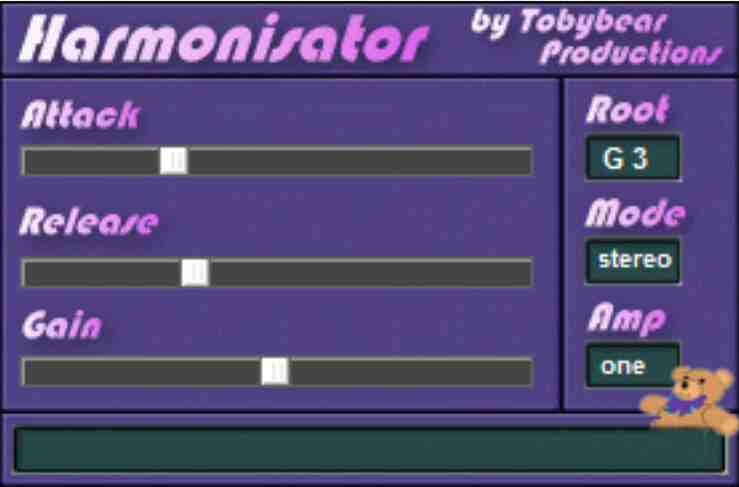 If you are looking for a free VST plugin that can harmonize audio streams or tracks according to MIDI notes, Harmonisator is worth its weight in gold.
Simply import an audio track into Harmonisator, and hold down a chord on your MIDI keyboard or laptop keypad and Harmonisator duplicates the audio data and shifts the pitch of the audio track in tandem to the chord just played. How cool and easy is that?
If you want to create some quick choirs to go along with your guitar chord progressions or program drum loops in eclectic styles, Harmonisator will definitely come in handy.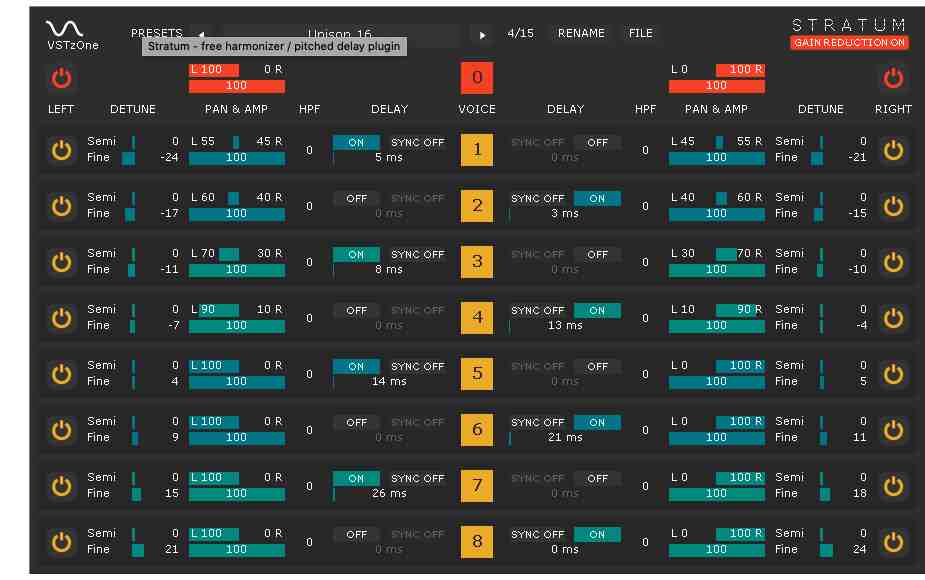 Rounding up our list of free harmonizer vst plugins is Stratum, a nifty auto harmonizer that can also be used to create stereo from mono, synced pitch delay or add a unison effect with full control of each voice amplitude and stereo position, 
What's more, you can also use Stratum as a harmonic exciter plugin to create a massive wall of sound from incoming audio signals. 
For starters, you can create up to 8 additional stereo voices or 16 Mono voices where each voice has their own individual parameters to tweak.
You can also Detune semitones up to  +-2 octaves and finetune in cents up to +-1 semitones.
Stratum Features
Amplitude and Panning control
Add up to 2 seconds Delay and sync delay with host
Add High Pass filters
Gain reduction