Looking for the best free pitch shifter vst plugins? We have done a rundown of some of the finest pitch shifting plugins that can increase or decrease the pitch of instrument tracks or audio files in general.
Almost all of the plugins available on our list of free pitch shifter vst are 64-bit compatible with both Windows and Mac OS. 
Most modern computers and music production software (DAW) work only with 64-bit plugins as 32-bit vsts are outdated or not updated at all.
What is a Pitch Shifter VST?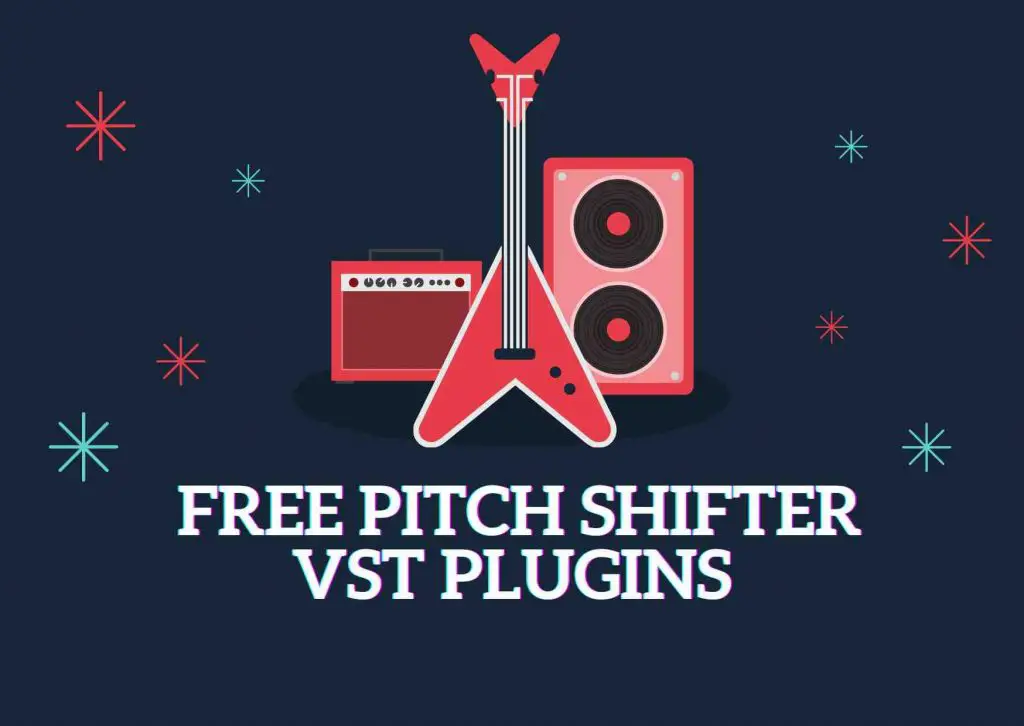 A pitch shifter or pitch shifting vst plugin is a software that can tweak the tone and pitch of an audio track by increasing the pitch in frequency or decreasing it. 
A pitch shifter can be used on any designated instrument channel track whether it be guitar, vocals, bass, or other musical instruments.
So, are you ready to find the best pitch shifting plugins that are available online free of cost? Without further ado let's get started.
5+ Best Free Pitch Shifter VST Plugins in 2022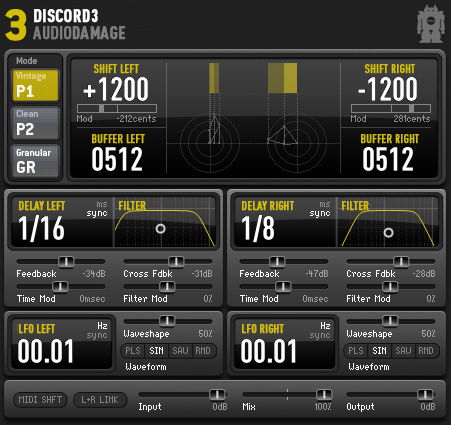 An emulation of one of the world's earliest pitch shifters used in recording studio control rooms, Discord3 is a free VST/AU plugin that can be used for a plethora of pitch shifting tasks such as subtle guitar track doubling, vocal doubling and more.
Packing all the features of its hardware emulation in a digital format, Discord 3 can also be used for creating a true stereo surround sound ambience as it adds extreme sound effects to your guitar/vocal channel tracks.
All in all, Discord3 is a beginner-friendly pitch shifter that boasts an easy-to-use interface with intuitive control knobs.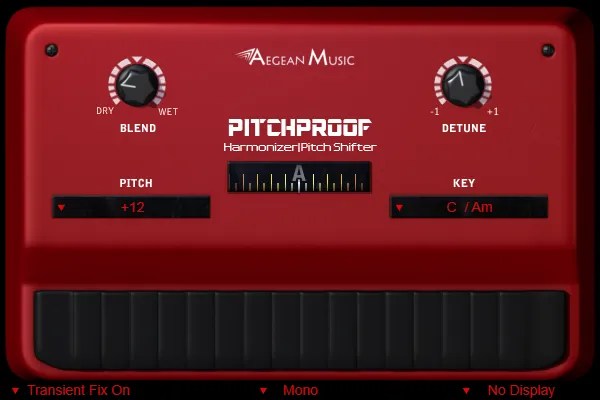 One of the best free pitch shifter vst plugins, Pitchproof shifts the pitch of the instrument input by combining varied styles of pitch shifting used in pristine analogue pitch shifting equipment.
The resultant pedal simulation sound resembles a solid guitar harmonizer pedal where you can select pitches up to +7 or -7 octaves.
What's more, you can also add intuitive pitch shifting effects in the form of multiple harmonies in major or minor scales.
For instance, you can select the D major scale for Key, which doubles as Dm (D minor) implying you should play only the 7 notes (A, B, C, D, E, F, and G) for optimal harmonized guitar/vocal results.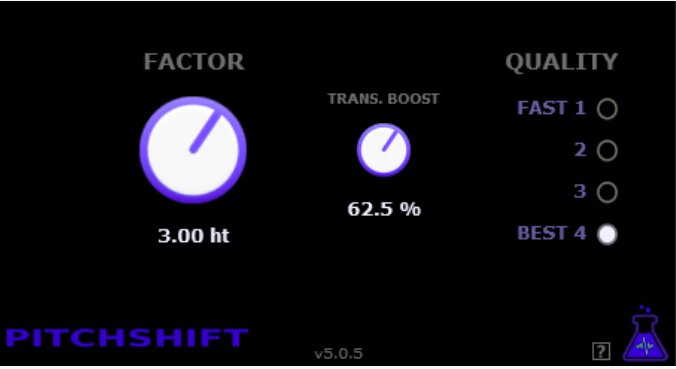 Blue Lab Audio's PitchShift is another nifty free pitch shifter that can smoothly change the pitch of your instrument channel tracks up to one octave up or down. 
The transient booster acts as a very defining feature of PitchShift.
It can also boost the attack of the resultant sound or increase the transients through tweaking knob parameters in the transient booster. 
This is extremely useful because you can recover attenuated attacks after applying pitch shifting. Remember, pitch shifting often leads to diminished transients. 
What's more, PitchShift also manages phasing issues by maintaining accuracy of the pitch shifted frequencies. All in all, PitchShift is a must have free pitch shifter vst plugin.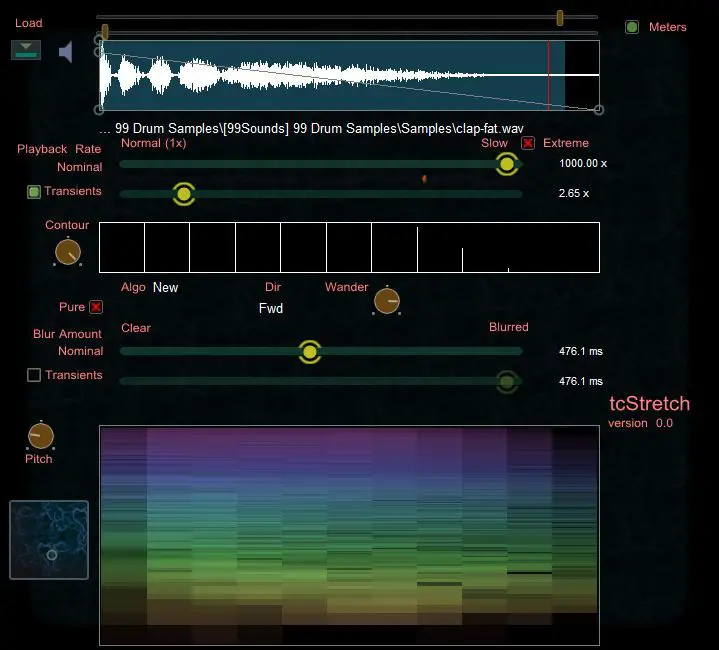 Symbolic of its name, Tonecarver's tcStretch is a handy plugin that can be used for pitch shifting, time stretching, and blurring any instrument channel track such as guitar, vocals, bass, you name it. 
While you can apply Pitch shift up to plus or minus one octave, time stretch can be up to 1 million times slower. 
tcStretch's Blurring effect can blend in nearby spectral material and reduce static in the output.
Blurring auto adjusts both the blur amount and playback rate to fit the transients of the audio material being stretched.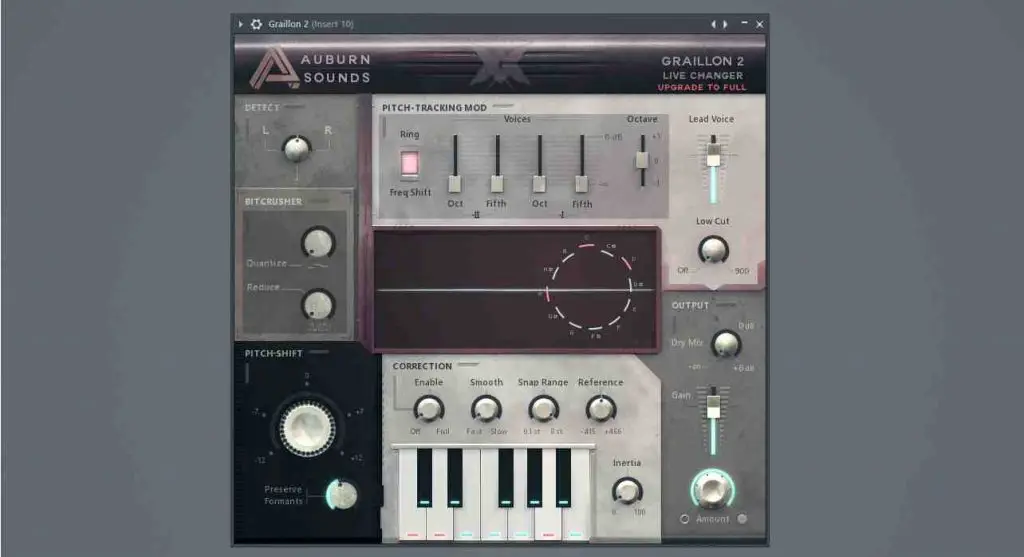 Rounding up our list of the best free pitch shifter VST plugins is Graillon FE, a live real-time live vocal changer that comes in handy during tracking vocals. 
It offers some features similar to Melodyne, the numero uno Autotune VST plugin.
With Graillon FE at the helm, you can transpose vocals up or down, transpose guitar harmonies, and also apply robotic sound to add a sort of modulation to your instrument channel tracks. 
You can also use its Bitcrusher to spruce up your mix.