An impulse response or IR is an audio sample taken from a space to capture its sonic character. Using convolution reverb you can apply the character of vintage instruments, real world space, to your sound. Some of the best reverb impulse responses do it so effortlessly that you cannot distinguish the original sound from the impulse response.
What is a Reverb Impulse Response?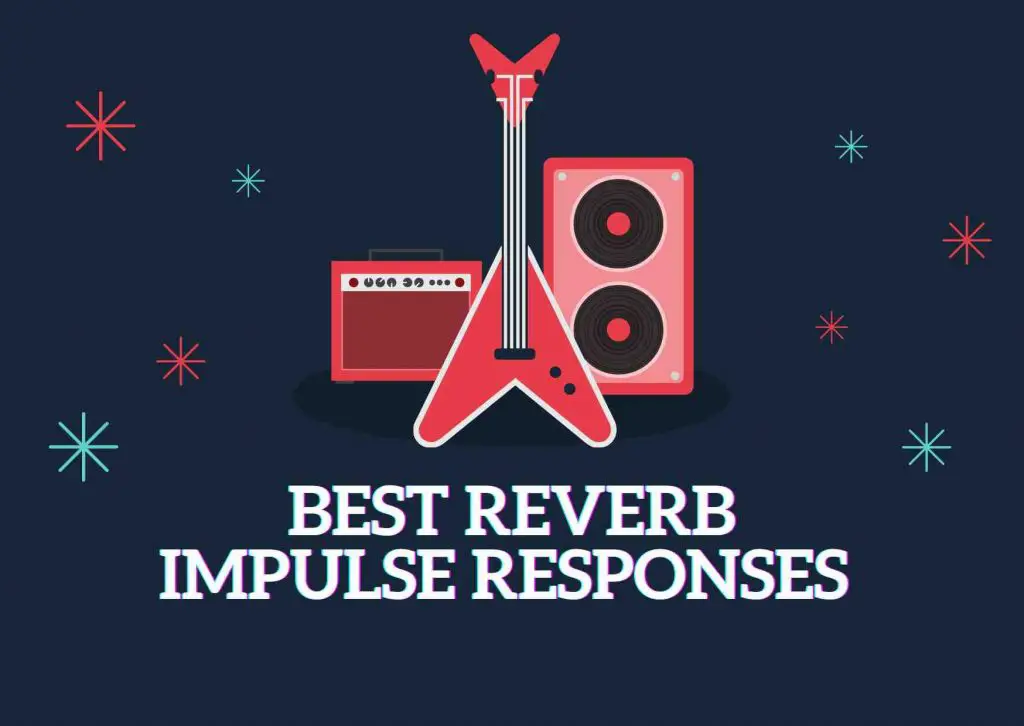 A reverb impulse response, also known as "convolution reverb", is an effect that creates artificial reverberations from natural acoustic spaces.
It does so by convolving the impulse response of natural reverberations in a space such as a stairwell, or underground chamber, with the recorded sound.
Over the last few decades Convolution technology has rapidly evolved and it can be now used to capture subtle ambiances and then reproduce them digitally in the form of IR files on the computer. 
How do Impulse Responses work?
An impulse response file is a short burst of audio (usually up to 10 seconds of duration) that is either recorded through a hardware reverb unit or in a real space with its natural ambience.
Impulse responses can be loaded onto any Digital Audio Workstation (DAW) on your computer with the help of IR loaders.
We have done a rundown of some of the best reverb impulse responses available online as well as convolution reverbs that double up as Impulse Response loaders. So, without further ado let's get started.
7+ Best Reverb Impulse Responses 2022
Free Reverb Impulse Responses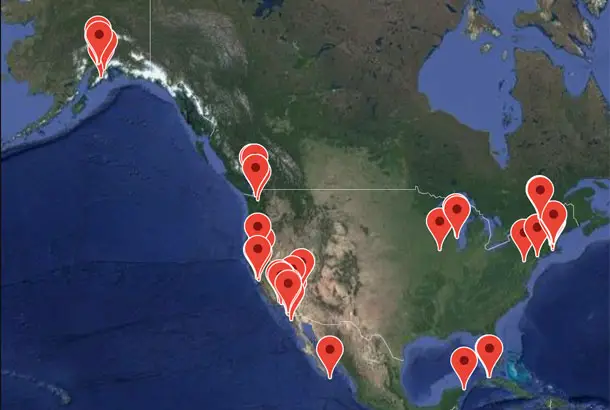 With an extensive reverb IR library spanning over a 100 real-world spaces sampled from around North America, EchoThief offers a rich collection of impulse responses that were sampled from natural environments such as the ones listed below: 
The Batcave from the famous 1960s Batman TV series.
A subterranean communal qasgiq.
The stream bed that lies beneath Byron Glacier.
The hallowed Cathedral Room of Shasta Lake Caverns.
Central Park's Naumburg Bandshell
Indoor racquetball court.
The Béton Coignet of Brooklyn, New York's Cleft Ridge Arch.
The Cedarburg covered bridge in Wisconsin.
Such an eclectic collection of reverb IRs is surely going to spruce up your mixes with lush atmospheric richness and effects.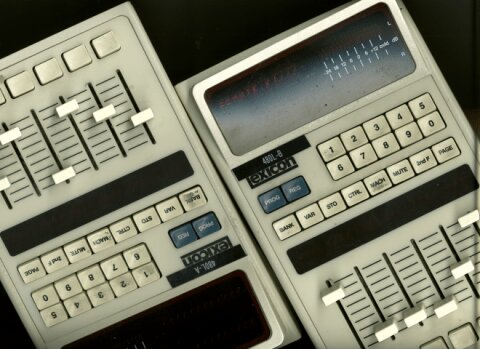 After it was initially released in 1986, the Lexicon 480L became the standard by which all other processors were measured.
Over the years, the 480 L has been used on many popular records and hit songs. Now the digital recreation of the 480L is available for free!
If you are looking for brighter and more aggressive reverb IR sounds that can fit into, say dramatic cinematic scores or rock or metal mixes, the480L reverbs should definitely be on your radar. 
Some great reverbs in this collection include the likes of "Random hall/Random Well" and "Wild spaces/Inside Out" that can really shine through with songs with a good fast tempo.
All the acoustic IR packs work well with both third-party IR loaders as well as hardware effects modelers such as Quad Cortex, Boss GT 1000/Core, Kemper, Fractal Audio Axe FX, Line 6 Helix, Headrush, Line 6 HX Stomp/Pod Go and more.
All in all, Lexicon 480L is one of the best reverb impulse responses that is available for free on the internet.

The Bricasti M7 is a revered modern unit that offers fine classic reverb sounds. Touted as "the future of reverberation", the Bricasti M7 is a snazzy reverb that boasts tons of classic reverb sounds. 
However, it is quite expensive. Luckily, the folks over at Samplicity have made a free collection of some of the best reverb impulse responses that includes 136 presets from the M7. 
On expected lines, the IR pack comprises traditional reverb sounds that sound ultra-realistic and super lush clean. You can use these free reverb IR's on any project spanning diverse music genres from heavy metal to ambient post rock.
SEE ALSO: 100+ Marshall Cab IRs

If you are looking for a collection of classic IR reverbs, the PCM 90 is a one of the best reverb impulse responses pack of great sounding lush reverbs.
A slightly newer IR reverb pack than Lexicon's aforementioned 480L, you can find some nice presets in the room pack of PCM90.
Some of our favorites are Drum Plates Big Drums and Inverse Drums which offer a lot of creative drum sound sculpting potential.
SEE ALSO: Best Bass Impulse Responses
How to create new Impulse Responses with a Convolution Reverb?
There are many approaches to creating an impulse response file, but the easiest one is to create a new impulse response through a convolution reverb that also doubles up as an IR Loader.
We have done a rundown of some of the best convolution reverb plugins that can help create Impulse Response files right inside your DAW or audio editing software.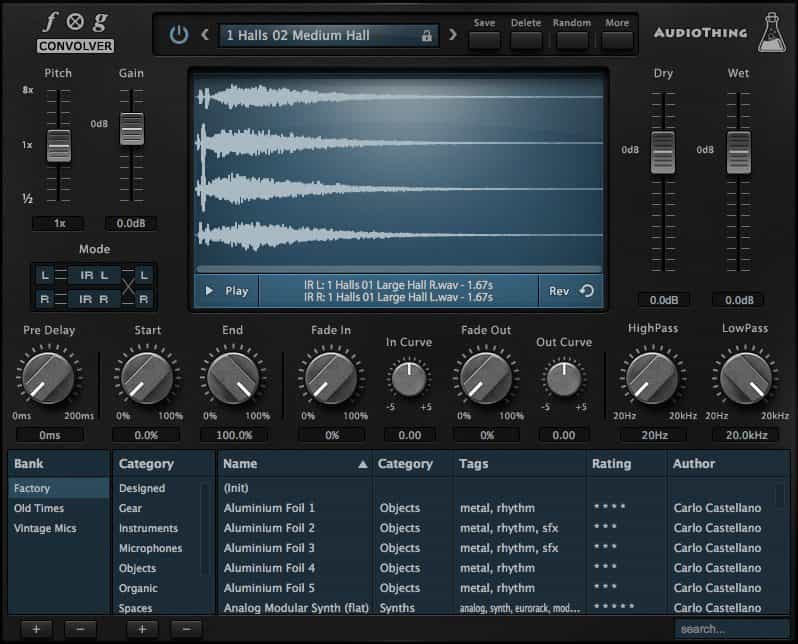 A solid convolution reverb/processor plugin, Fog Convolver 2 can also be used as an impulse response generator.
You can now load 2 different impulse responses (or a single true stereo/quad channel IR based on your preference) and create linked or separate controls for both IR's. 
You can then route and arrange these impulse responses via up to 5 routing modes namely: single, parallel, serial, parallel mix, and true stereo modes to create some distinct impulse response files.
Each impulse response file can have a 5-band graphic EQ, dedicated multi mode filter (with IR, pre and post modes) and 2 LFOs with 10 waveforms and 18 destinations.
What's more, Fog Convolver also boasts 8 factory banks with over 660+ impulse responses that were created from organic sources, spaces, hardware and digital equipment.
SEE ALSO: You might also want to check out these 10 Free Impulse Responses that offer great guitar tones.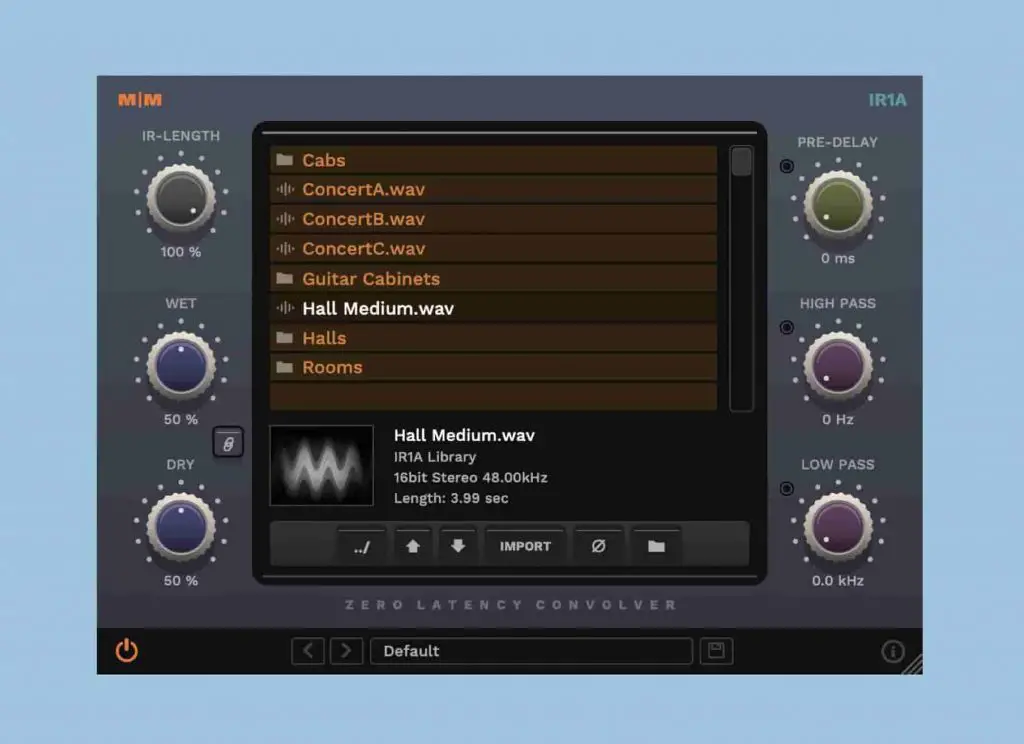 IR1A Convolver is a nifty zero-latency convolution reverb plugin that can recreate guitar cabs by applying the sonic character of one sound to another in real-time via an impulse response file.
You can modify IR length up to 10 seconds at 44.1k sample rate and apply high or low pass filters, and pre-delays to completely sculpt a new impulse response from scratch.
You can load third-party IRs in standard mono or stereo AIFF and WAV formats.
With a sizable collection of over 300 factory IRs and classic reverbs, Convolver also doubles up as an impulse response loader where all the magic happens. 
Simply load any sample or IR file into Convolver and you can emulate guitar amps, cabinets, delays and freaky filters in a jiffy.
Kilohearts' Convolver is a Snapin that can be used as a standalone plugin inside your DAW or in conjunction with various Kilohearts' snapin hosts.
How to use Impulse Responses?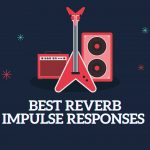 1. You can import IR files using an Impulse Responses Loader plugin in your DAW.
2. Locate the IR folder. A file pathway usually looks like this: Documents -> Ableton -> Factory Packs -> *IR Pack Name* -> *IR Pack Effect Name* -> Convolution Reverb -> IRs
3. Simply Drag and Drop impulse responses from the IR loader to your channel tracks.
4. Make custom presets of your go-to impulse responses so that you don't need to search them on your hard drive each time you open a new project in your DAW.
5. Don't fret over the sample rate of your newly loaded impulse responses. You IR files usually will have different sample rates. That problem is taken care of by the plugins (IR Loader/Convolution Reverb) as they convert your IR files' sample rate.
Use convolution reverbs from our list of the best reverb impulse responses for adding room sounds and small ambiences for creating a signature sound of your mixes. These subtle variations make your songs stand out.