Looking for a decent free spring reverb VST plugin? We found just the right kind of free spring reverb VST plugins that can produce the inimitable "boing" sound that you are going after.
If you are tight on budget this season, these free spring reverb plugins will make your guitar tracks sound just as bright, bouncy as a premium spring reverb plugin. Just toss them in your DAW, do a few tweaks and hear the magic unfold. 
Most of the free spring reverbs on our list are both 32 bit and 64 bit so any modern DAW (Digital Audio Workstation) would be able to load these plugins without any problem. So, are you ready to find some great free spring reverb plugins? Without further ado, let's get started.
5 Best Free Spring Reverb VST Plugins 2022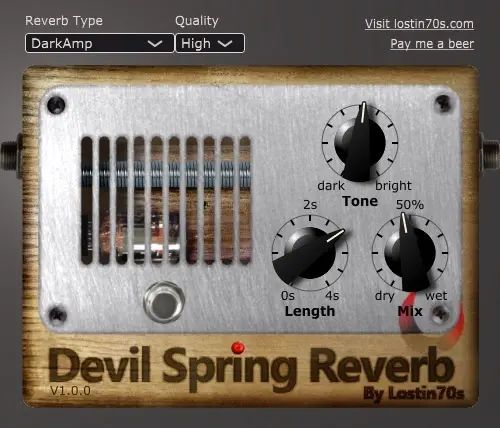 Lost in 70s' Devil Spring Reverb is a digital replication of vintage spring reverbs that were captured through impulse responses which have been processed and cleaned by a convolution reverb algorithm for optimal results.
Devil Spring Reverb can produce sounds that are warm, lush and comes with a reverb brightness tweak knob for achieving customized tones for your mix, guitar, vocal and other instrument channel tracks.
Features of Devil Spring Reverb:
Over 38 spring reverbs impulse responses that were cleaned by a convolution reverb algorithm for optimal results.
3 levels of complexity namely: low, mid and high. Selecting low and mid levels limits the audio bandwidth.
You can tweak the length of impulse responses and use the dry/wet blend knob to dial in extreme spring reverb settings.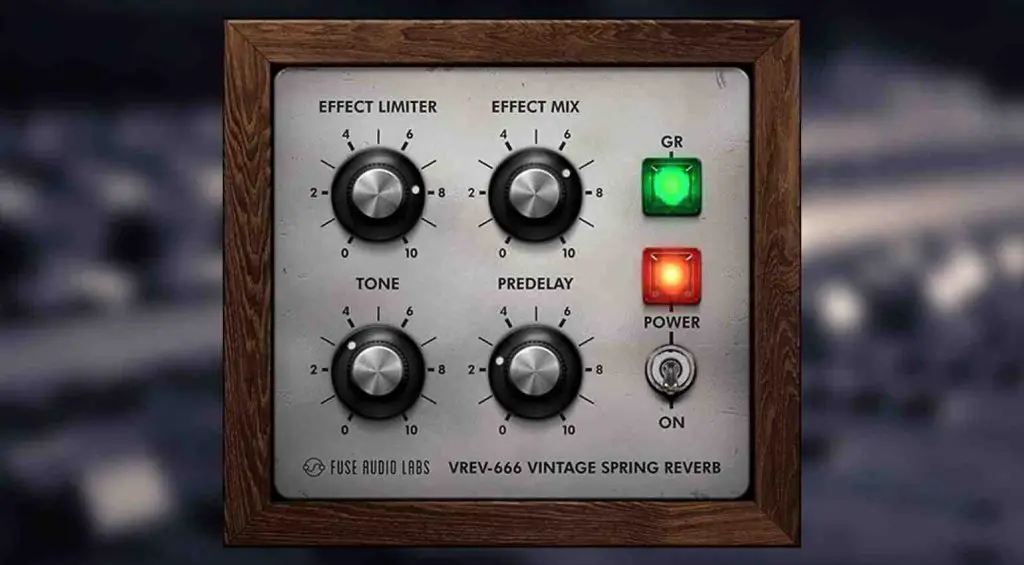 Touted as one of the best free spring reverb VST plugins available on the internet, VREV-666 is an emulation of a legendary rare spring reverb from the 1960's. 
The original hardware spring reverb unit was designed to alter the acoustic properties of listening environments. 
VREV-666 follows in on the footsteps and delivers a compact spring reverb plugin that can produce the same rich and bouncy spring reverb sound of vintage electromechanical reverb units in a very natural and authentic style.
For starters, VREV-666 comes with a pre-delay of up to 150 ms, tone EQ for attenuating pronounced resonance and a mix stage for blending dry/wet reverb signal ratio.
Whether you use it on your vocals to make them sound edgier, or want to add more grit and texture to your guitar and bass tracks, VREV-666 reverb offers some great tones. It can also add some raunchy ambience to your synth tracks.
SEE ALSO: Best Free Plate Reverb VST Plugins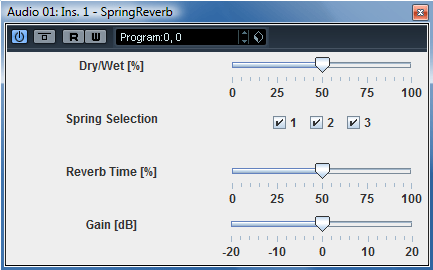 Hotto Spring Reverb emulates the physical behavior of the reverb springs in a digital VST plugin format.
It comes with 3 springs that produce the typical reverberation disperse sound and lots of adjustable parameters to dial in your favorite spring reverb tone. You can use a spring individually or blend all 3 springs simultaneously to create a euphoric wall of sound.
Features of Hotto Spring Reverb:
Dry/Wet Blend Knob: Mix between direct and reverb signal.
Reverb Time: You can tweak the reverberation time via percentage meter.
Gain: You can set the gain level in decibels for the output signal.
SEE ALSO: You might also be interested in these Reverse Reverb VST/AU Plugins.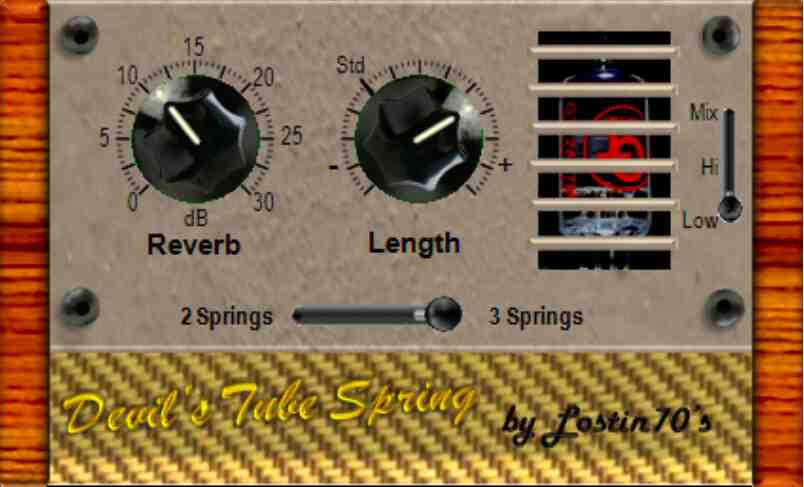 Another solid reverb plugin from Lost in 70s that made it onto our list is Devil's tube Spring. An emulation of vintage spring reverb impulses, Devil's Tube Spring is followed by a classic reverb tail.
This free vst plugin for Spring Reverb enthusiasts comprises 2 spring reverb models each with up to 2 or 3 types of springs, and a reverb control knob through which you can seamlessly blend dry and wet signals akin to guitar tube amps to achieve a really warm and lush guitar sound.
Further, Devil's Tube Spring also allows you to alter the length of the spring reverb impulses in Standard and HQ Mode.
Rounding up our list of free spring reverb vst plugins is VeeSpringVERB, an amp spring reverb simulation plugin that comes in handy for those looking for an affordable free alternative to Softube's Spring Reverb.
For starters, you can tweak its slider to change dry to wet signal ratio and/or blend the two together to get a custom spring reverb sound.
What's more, you can also use it as a send/return effect along with a free vintage-style EQ such as KuassaBasicQ and apply some distortion to this signal chain to get a really nice vintage sounding reverb sound suitable for guitar channel tracks.
Please note that this plugin will work with DAWs that also allow 32-bit programs to run.
You might also be interested in checking out these Free Plate Reverb Plugins.
Free Spring Reverb VST Plugins: Frequently Asked Questions: FAQs
How does a Spring Reverb work?
A Spring reverb is a type of reverb that produces sound depending upon the unique behavior of a coiled spring. 
A typical spring reverb uses a transducer fitted at one end of the spring and the pickup at the other to produce its signature "boing" sound.
What kind of sounds do Spring Reverbs produce?
Spring reverbs are known to produce a dark, edgy sound with a lot of character that can vary widely depending upon the size of springs used. 
Vintage tube amplifiers for guitar often use Spring Reverb technology to produce some rich tones.
Most modern spring reverb plugins are known for recreating such metallic reverb tones with lots of character.
SEE ALSO: Best Gated Reverb VST Plugins