Plate reverbs have been popular since the golden age of analog recording. We found some great free plate reverb VST plugins that will enhance your mix and instrument channel tracks without a doubt.
Plate reverbs are created by exciting giant metal plates with a transducer. Most of the plate reverb plugins on our list digitally recreate the same effect in a VST/AU plugin format.
These free plate reverb plugins can be used on snare drums, lead guitar, vocals, and on every instrument track where you would need a compact reverb with unique character and smooth early reflections.
So are you ready to create a recognizable plate reverb sound that seamlessly blends into your mix track and doesn't overpower the dry signal? Without further ado, let's get started and explore these types of reverb.
SEE ALSO: You might also be interested in checking out these Gated Reverb Plugins
5 Best Free Plate Reverb VST Plugins 2022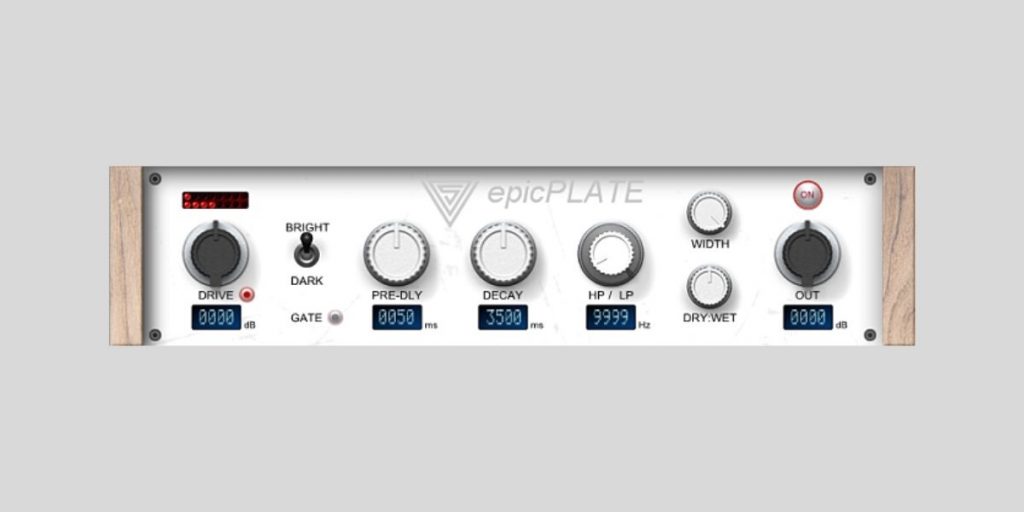 If you are looking for a plate reverb plugin that can dial in authentic emulation of classic plate reverberation, look no further than epicPLATE.
For starters, epicPLATE boasts unique reverb diffusion that can be useful for sprinkling your tracks with all kinds of delay effects.
Especially if you are a drummer or vocalist looking to spruce up your channel instrument tracks, epicPLATE might just do the trick.
epicPLATE is well known for emulating the fast reverb build ups that plate reverbs are famous for and can apply 150 ms of pre delay quite well. Not to mention, tons of presets that will help you further customize your own plate reverb sound. 
All in all, epicPLATE is very CPU-friendly and a perfect companion for snare drum tracks where it can really make them pop and add character to them.
Features of epicPLATE
Authentic recreation of classic plate reverbs.
Lightweight digital signal processing and CPU friendly
True stereo reverb processor.
SEE ALSO: 6 Best Shimmer Reverb VST Plugins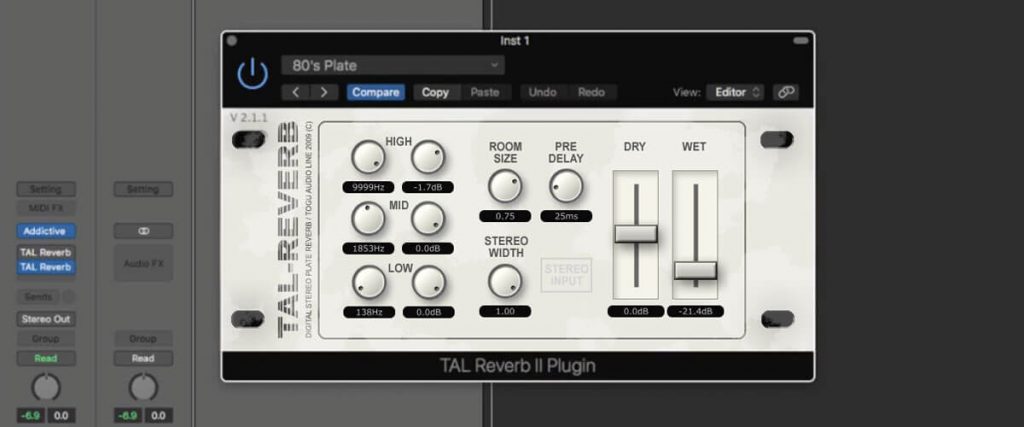 Touted as one of the best free plate reverb VST plugins for drum tracks, Tal Reverb 2 is a natural sounding reverb that's modeled on a plate that can dial in lush, realistic sounding ambient textures in real-time.
It comprises a subtractive EQ section, and stereo input mode that is wide and deep and best suited for fine tuning your drum tracks' hi-hats.
You can instantly dial in a colorless diffuse plate reverb without digital artifacts that can come in handy for a wide range of genres and instrument tracks such as bass, drums, guitar, synths and more.
Features of Tal Reverb 2
Authentic Plate reverb sound.
10 factory presets.
Room size / decay length control.
Up to 1 seconds Predelay 
Subtractive EQ
Stereo width control.
SEE ALSO: 10 Best Free Reverb VST Plugins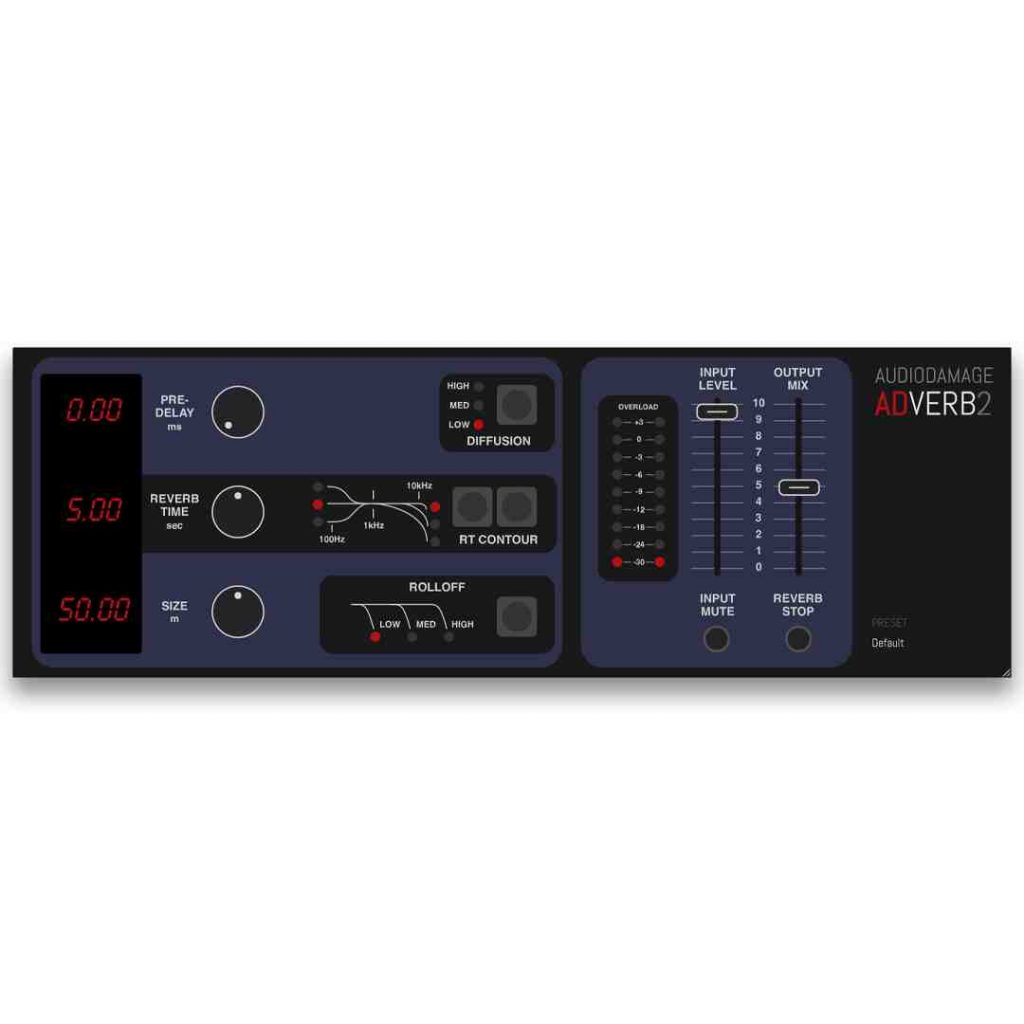 A solid vintage digital plate reverb, Adverb is quite easy to use and features standard plate reverb settings such as time, pre-delay, size as well as a filtering section to shape the sound and tone of your reverb tails. 
It bears an uncanny resemblance to the classic Lexicon model 200 reverb unit in terms of sound and feel.
What's more, Adverb is one of the best free plate reverb vst plugins that is CPU friendly thanks to an optimized reverb algorithm. 
If you are looking for the archetypal 80's studio sound for your mix with short reverb tails, Adverb is worth a gander.
Note: You might as well be interested in these Free Convolution Reverb Plugins.

Most free plate reverb plugins available online are minimalistic and focused on beginner music producers and TAL Reverb is no exception to that rule. 
For starters, Tal Reverb is a free open source stereo plate reverb sports only a handful of knobs that make it super easy to use. Not to mention, it's quite diffuse and produces a distinct smooth reverb sound via special signal routing and slight delay modulation that avoid artifacts in the reverb tail.
It is the perfect free VST to have if you want to put space around all kinds of instrument tracks that run the gamut from guitars, drums, vocals to percussion instruments.
Features of Tal Reverb:
10 handy presets
Easy to use
1 Second Pre-delay 
Silky smooth diffuse sound
Midi Learn Mode for VST plugin formats
12 dB High- and Low-Pass filter
Note: You might also be interested in these Reverse Reverb VST Plugins.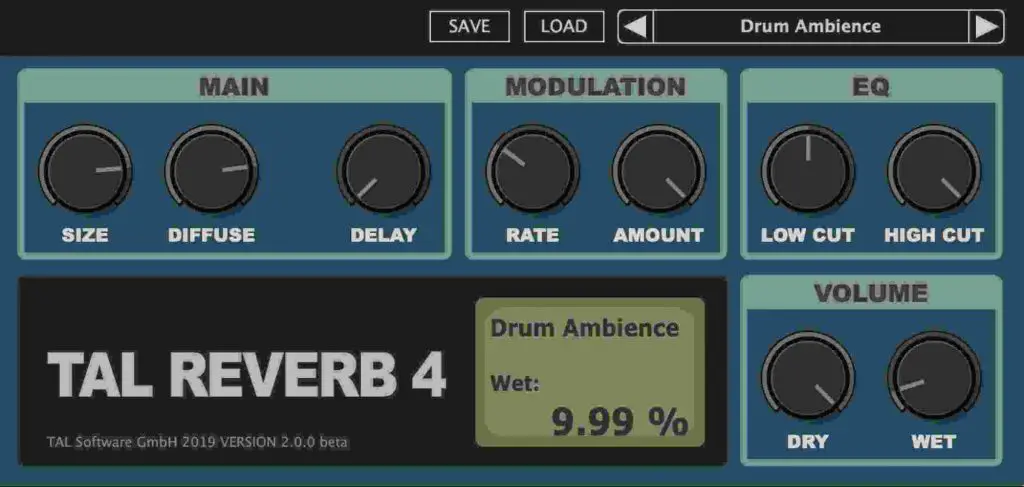 Rounding up our list of the best free plate reverb vst plugins is another solid reverb from TAL called TAL-Reverb-4. It is the latest in the series of high-quality free plate reverbs launched by TAL and doesn't disappoint one bit. 
Modelled on plate reverbs with a vintage 80's character, Tal Reverb 4 can instantly dial-in nostalgia inducing modulated reverb sounds of the disco pop era with a super fast build up time and long reverb tails.
Tal Reverb 4 is very easy to use and beginners will find it a handy plate reverb that works on almost any instrument track whether it be guitars, acoustic guitars, drums (snare, toms, hi-hat, kick, cymbals), vocals or synths.
However, please note that this plugin only supports stereo channels as of now. 
SEE ALSO: Best Spring Reverb VST Plugins