Finding a decent reverse reverb VST is really hard.  Fret not, we did the graft, and collated this list of some great reverse reverb plugins that can be used on your guitar, drums, vocal, and synth instrument channel tracks.
Reverse reverb is commonly used in shoegaze, a sub-genre of rock music. Legendary bands such as My Bloody Valentine popularized the effect to a great degree on their album, Loveless.
Nowadays, Reverse Reverb VST plugins are also used in various EDM tracks, pop and hardstyle music. So, are you ready to dive into the world of reverse reverb plugins and explore different types of reverb? Without further ado, let's get started.
4+ Best Reverse Reverb VST Plugins 2023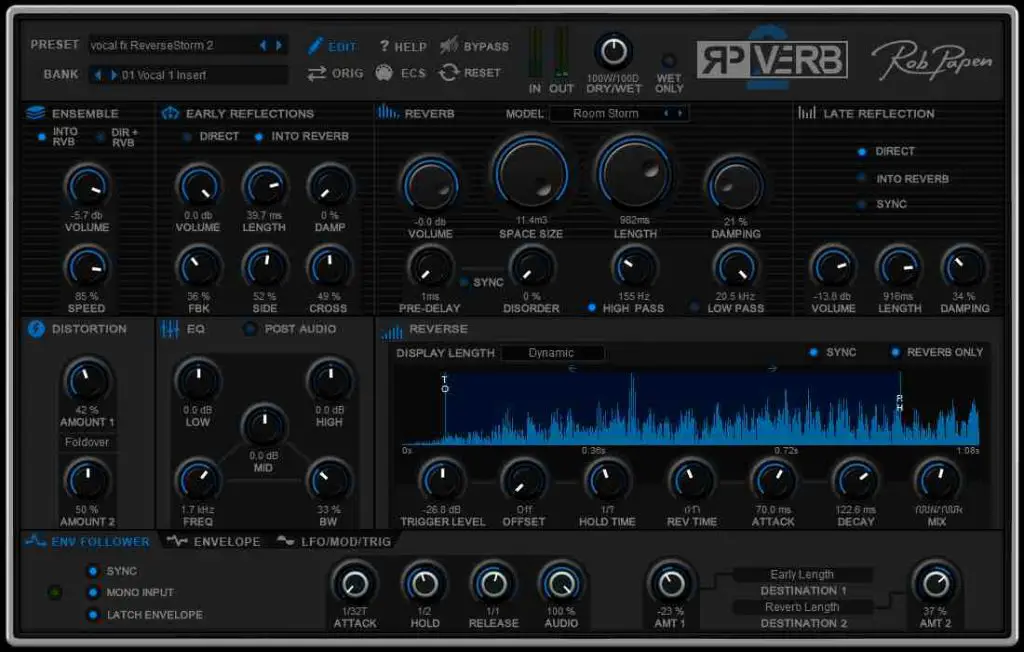 RP Verb 2 comprises a 'Reverser' section with which you can creatively reverse and mold the reverb's sound in myriad ways. 
For starters, this reverb plugin allows you to reverse the reverb based on tempo as well as modulate it for spawning some out-of-the-box soundscapes. 
RP-Verb 2 features over 500 presets, and a quick file browser for calling up your favorite reverb settings quickly.
This nifty Reverse reverb vst can be used on any instrument track that runs the gamut from drums, guitars, to vocal and even loops.
What's more, RP Verb 2 comes with an LFO, Mod Matrix, Envelope Follower to sculpt the sound, size and length of your reverse reverb. 
You can also apply the distortion module with 4 sub-types (Fuzz, Fold Over, Power, Distortion) which comes in handy while adding reverb to drums (snare, kick, hi-hat) and percussion tracks (ride/crash cymbals).
Features of RP Verb 2:
Dry/Wet Blend Knob
Wet-only reverb knob.
FX bypass knob.
High-quality Equalizer
Ensemble with 6 voice chorus.
SEE ALSO: Best Free Plate Reverb VST Plugins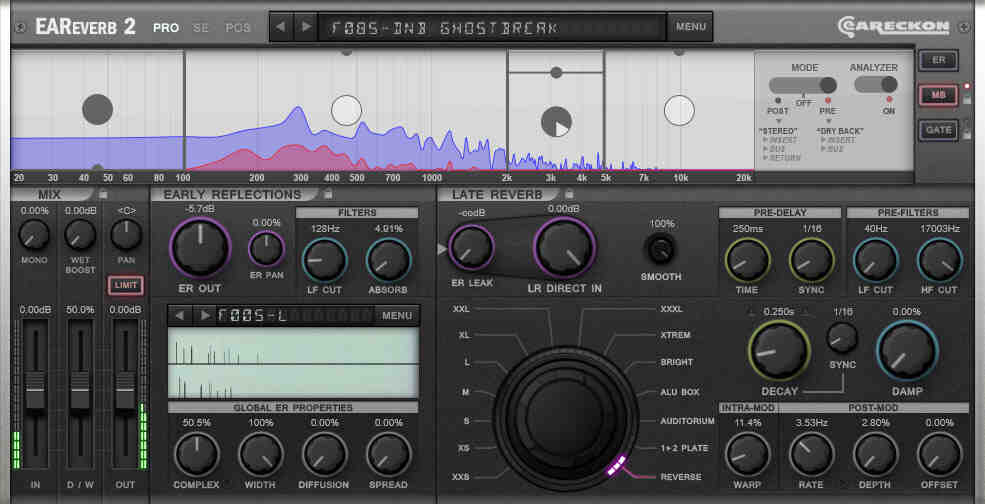 An algorithmic reverb plugin, EAReverb 2 sports a neatly stripped down graphical user interface and is quite apt at simulating natural environments.
Powered by the "Natural" core engine of the original EAReverb and over 9 different complex algorithms, EAReverb 2 avoids metallic artefacts in the reverb tail and offers a wide range of parameters to tweak a truly custom reverse reverb sound.
For starters, some of the 9 algorithms include Reverse, Natural, Bright, Alu Box, Auditorium, Plate, and Bright.
The reverse algorithm is the one you should be looking for if you want to craft that signature whoosh effect.
EAReverb 2 boasts a solid synchronisable reverse algorithm that can dial in a textured long sweeping "whoosh" effect that harkens us back to the 1980's. 
The lush reverb tails have no metallic artefacts that are often associated with Spring Reverbs and you tweak the reverse algorithm all you want until you are satisfied with your reverse reverb effect.
Available in 32/64-bit VST2, VST3, AU, AAX formats, EA Reverb 2 is one of the best reverse reverb VST plugins available on the market.
SEE ALSO: Best Free Spring Reverb Plugins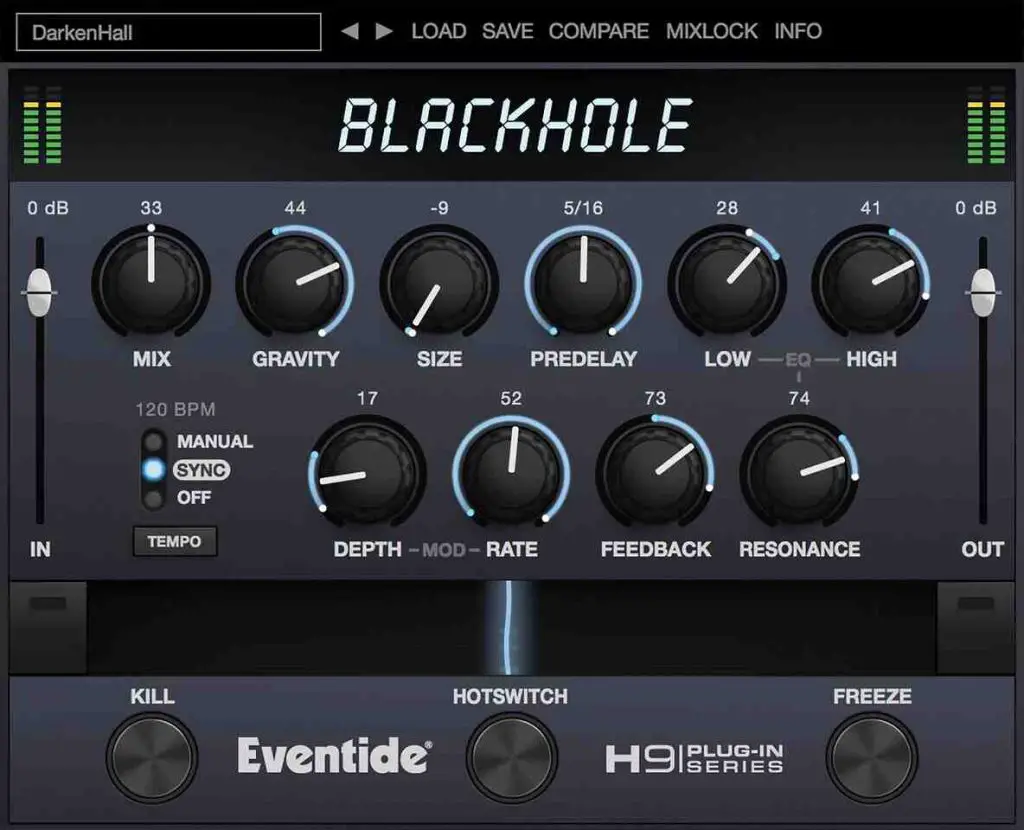 Legendary reverb maker Eventide dives into the world of digital reverse reverbs with Blackhole. 
Boasting over 50 presets created primarily by Eventide artistes, Blackhole is a powerhouse of sorts when it comes to dialling lush ambient drones and abstract spatial effects.
Through its unique "Gravity" control parameter, you can reverse a normal reverb's decay time. Blackhole is a splendid reverse reverb plugin that can be used on guitars, strings and ethereal pads. 
When you increase the size of the reverb, its soft attack, sustain and rich harmonic reverb tails can infuse a new lease of life into dull recordings whether it is rhythm guitar chord progressions, riffs, licks, or guitar solos.
Conversely, when you decrease the size of the reverb, Blackhole can convert a bland 4/4 drum track into a groovy rhythm section that just makes you bop. 
All in all, Blackhole is a great ambient reverse reverb plugin for guitars, drums and layering keyboard chord inversions.
SEE ALSO: Best Convolution Reverb Plugins

Rounding up our list of the best reverse reverb VST is Crystalline. Crystalline's "Reverse" algorithm is known for intricately reversing the reverb playback of your audio track, thus opening the doors for immense sound scaping potential.
Crystalline packs in over 300 presets that were created by BABY Audio in collaboration with esteemed producers including the likes of Damian Taylor (The Killers, The Prodigy, Arcade Fire), M-Phazes (Eminem, Madonna) and Michele Canova (John Legend, Alicia Keys) to name a few industry titans.
Beginners will find Crystalline easy-to-use as it sports a fully resizable window and click+drag supported graphical user interface.
With a BPM-synced start and end time feature, Crystalline lets users hard-sync the attack and decay time of their reverse reverb to that of their DAW's current tempo for keeping the reflections naturally in sync with the music or project tempo. 
Crystalline also comprises a slick EQ called "Tone" that can shift the frequency equilibrium of the reverb from dark to bright and vice-versa.
The Tone EQ can apply a "smoothing" effect that can be used to mellow out harsh frequencies that get sharp and resonant.
SEE ALSO: Best Gated Reverb VST Plugins
What is a Reverse Reverb?
A Reverse Reverb is created by reversing a reverb tail so that its volume rises gradually and moves to occur before an instrument kicks in.
Simply put, when you put a reverb on a sound or audio signal, render out the whole audio and then reverse it, it is known as a reverse reverb.
Typically, reverse reverbs are used to make lush whooshing noises.
Certain DAWs have built-in plugins that can apply a reverse Reverb. Logic Pro X, for example, has a plugin called space designer that can seamlessly reverse any impulse reverb.
How to Create your own Reverse Reverb?
Creating your own custom reverse reverb effect is not difficult. Here's what you need to do:
Bounce an audio/instrument track that you want to add the effect to
Now, reverse it
Create a reverb of your choice either as an insert or a send.
Next, bounce the reverberated audio file/track.
Here's the trick, you need to reverse it one more time. 
Save the project for later usage.
Voila! you just created a reverse reverb on your DAW.