Want a decent spring reverb for your guitar, vocal, drums and other instrument channel tracks? We will help you choose the best spring reverb plugins for all your music production endeavors.
Our list of the best spring reverb plugins will set you in good stead. So are you ready to find some of the best spring reverb VST plugins for your mix? Without further ado, let's get started.
5+ Best Spring Reverb Plugins 2023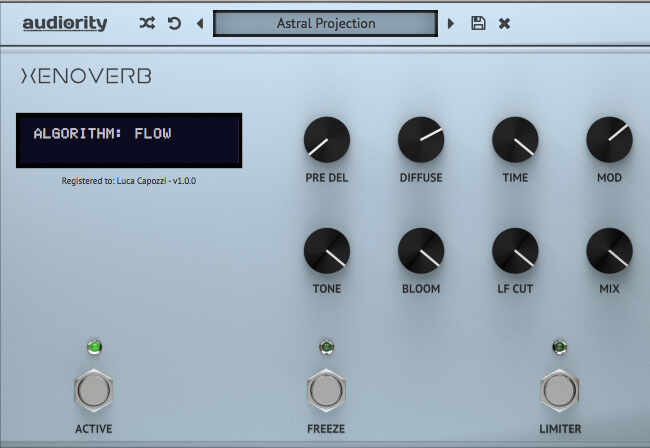 Revered plugin maker Audiority's XenoVerb seamlessly blends the best of modern and classic reverb algorithms. It is a versatile reverb plugin that offers a wide array of reverb presets useful for your guitar channel tracks.
Sporting a spic and span graphical user interface, Xenoverb can help you dial in eclectic acoustic spaces thanks to 10 intelligent reverb algorithms finely crafted with a focus on detail.
The 10 reverb algorithms are: Springy, Room, Plate 1 and 2, Shimmer, Hall, Glass, Flow, Bode and Formant.
Features of Xenoverb
Dropdown algorithm menu with classic LED display
Active bypass button
"Freeze" feature for creating loops
Add pre-delays and precisely tune tones with Knob Value meters.
"Limiter" control parameter for reducing the wet signal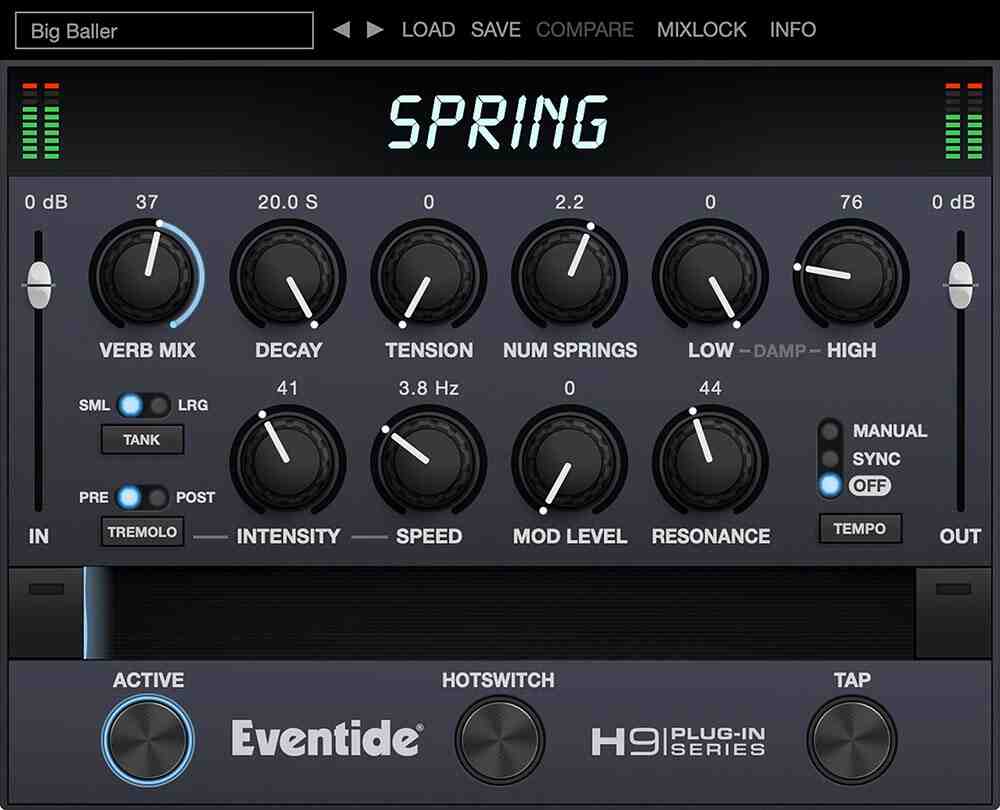 The legendary Eventide analog spring reverb derived from reflections of sound waves traveling through springs comes to life with a digital emulation in the form of Spring. 
One of the best spring reverb plugins available online, Spring can dial in realistic emulations of real springs, and distinct sounds that have never been heard before on a spring reverb.
Eventide Spring comprises 2 different sized spring tanks that can morph between one another. You can seamlessly transition between two reverb settings in real time .
What's more, there is a tube amp inspired Tremolo effect that can be routed before pre or post-spring reverb in the signal chain to create marvellous flutters in your audio track. Think of a smooth fluttery reverb tail sound!
Features of Spring
Modulation effects control for creating Chorus-esque sounds.
Tube Amp inspired Tremolo routed before or after Spring reverb in the signal chain.
Tempo Sync reverb decay to your project's BPM (Beats per minute) inside your DAW.
Tweak resonance by selecting spring tank size.
Change the damping frequency and number of springs to create unique sounds.
Features Artist presets by Nu-Trix, Matt Lange and Nick Hook.
SEE ALSO: 4 Best Reverse Reverb VST Plugins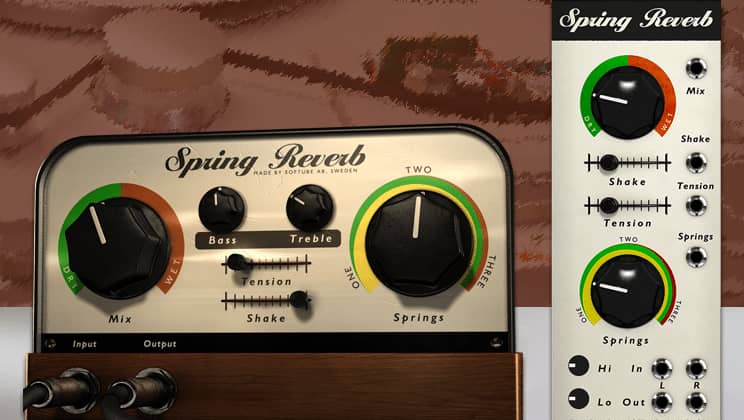 Softube has its own iteration of a digital Spring Reverb aptly called Spring Reverb that offers realistic and vintage spring reverb effects. 
The novelty factor that separates Softube's Spring Reverb from others is its raw and gritty sound that is one of a kind. It comprises tube driver simulation with treble and bass control parameters.
Spring Reverb has a silky smooth wet reverb sound that makes your tracks come to life. It comes with a shake control parameter that removes the harsh thud and clanging sound produced by high wattage tube amps. 
Not to mention, this plugin has been used by producers and record engineers for esteemed bands such as Red Hot Chili Peppers, Metallica, and U2. 
What's more, Softube's Spring Reverb is one of the top spring reverb plugins that is CPU-friendly and doesn't overwork your computer.
If you are looking for a bright spring reverb sound that can infuse soul, and uplift your mix or guitar channel tracks, Arturia's rev Spring 636 definitely fits the bill. 
Rev Spring 636 is a digital replica of the vintage Grampian 636 spring reverb. The original hardware reverb was used by guitarist Pete Townshend of the legendary rock band, The Who and was a staple of Ska and reggae genres. 
Reve Spring 636 plugin follows in on the footsteps of its esteemed hardware counterpart and offers the same authentic, vibrant, slappy and joyful spring reverb effects right inside your DAW.
For starters, Rev Spring 636 features 8 vibrant spring tanks modeled with unique spring and kick sounds, and multiple spring reverb units. Not to mention, it boasts a Post-EQ feature with 3-band EQ for customizing your sound.
All in all, Arturia's Rev Spring 636 is one of the best spring reverb plugins on the market.
Features of Rev Spring 636
Pre-delay & Pre-Filter: The pre-delay determines how quickly the reverb comes into effect. The pre-filter maps out the precise part of your signal where you want to hit the reverb with.
Vintage PreAmp: Warm up your signal with Germanium PreAmp and turn your audio signal into a raging wall of sound when you crank it all the way up.
Reverb Length: Reverb Length control determines the duration and tightness of your spring reverb.
Mix It Right: This feature lets you find the perfect dry/wet signal ratio, as well as customize it as per taste in real-time.
SEE ALSO: 4 Free Convolution Reverb VST Plugins
5) Springs by Audio Thing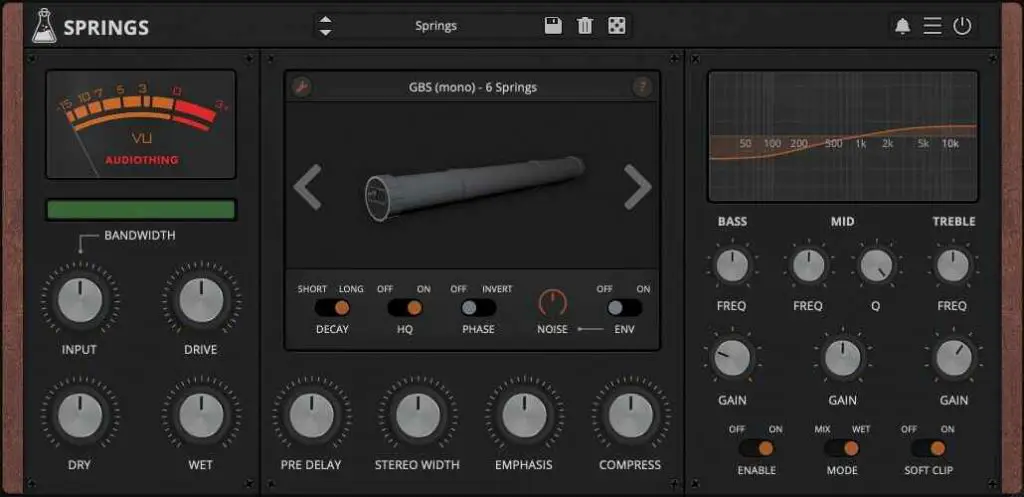 Rounding up our list of the best Spring reverb plugins is Springs which houses tons of eclectic vintage spring reverbs that are paired with an authentic emulation of Baxandall EQ.
For starters, Springs features accurate emulations of 8 types of spring reverbs that run the gamut from a small battery-powered single spring unit to a long 6-spring pipe.
Springs was designed keeping in mind a combination of convolution techniques and modeling to replicate the vintage character of each spring reverb on the plugin.
Features:
Easy to use graphical user interface
Resizable window
Over 50 Spring Reverb Presets
SEE ALSO: 10 Best Free Reverb VST Plugins
Best Spring Reverb Plugins: Frequently Asked Questions (FAQ's)
How does a Spring Reverb work?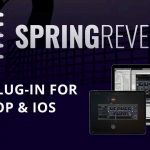 One of the first digital reverb plugins created was a spring reverb which is identical in principle to plate reverbs, however, differs in context.
Instead of a metal plate, a spring reverb utilizes metal springs which vibrate in response to audio signals directed into the sound source, hence producing a distinct metallic reverberated sound.
Spring reverbs sound very different from natural reverbs but retain the qualities of being highly reverberant and distinct in character. 
Spring reverbs have predominantly been used in rock n' roll, surf rock, acid rock and other subgenres of rock music.
SEE ALSO: Best Gated Reverb VST Plugins
What is Spring Reverb?
A spring reverb is a type of reverb that produces sounds depending on the behaviour of the coiled springs in naturally reverberant spaces.
In the olden days of music production, audio engineers in the recording studios had to produce a reverb-y sound by manually placing the source in highly reverberant natural spaces such as stairwells, halls, large empty rooms with high ceilings and wooden flooring. 
The task was a tedious one as you would imagine. With the advent of technology audio production has evolved to the point where you can digitally add a reverb to any sound or audio track without having to move out of your studio space, be it at home or a makeshift studio.