Convolution reverbs, or impulse response reverbs, recreate specific acoustic environments in a realistic way. They are an integral part of audio post production and have gained prominence in mixing in studios where they are used along with direct mics or for augmenting room mics. Luckily, you can recreate the same magic with a convolution reverb VST.
For both professional audio engineers, and bedroom music producers, gaining extra control over your studio (or even venue's) acoustics becomes a reality with Convolution Reverb VST plugins.
For instance, in small rooms with bad acoustics, a convolution reverb helps place the signal from your close-up direct mics into a plethora of recording environments with incredible acoustics.  Down below we have reviewed some great convolution reverbs (both free and paid).
5+ Best Convolution Reverb VST Plugins 2023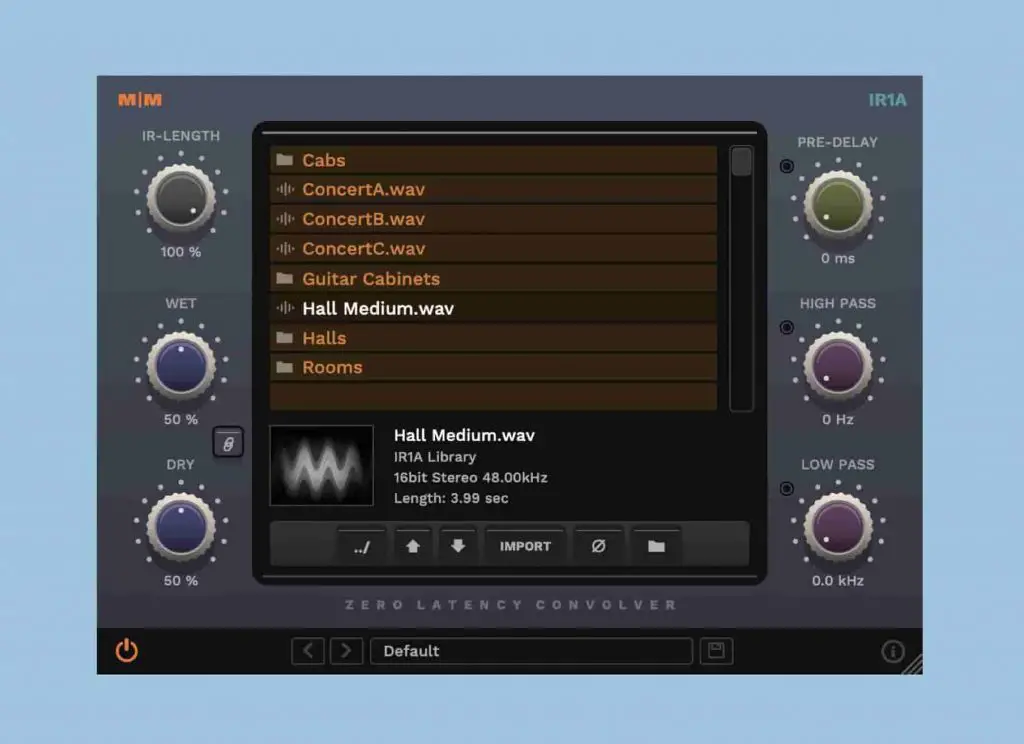 The IR1A Convolver lets you use impulse response files to intermingle sonic characteristics of various sounds in real time.
It boasts a zero-latency convolution engine that can reproduce sounds ranging from guitar cabinets, special effects and lush natural reverbs. The IR1A Convolver comes with a decent sized library of starter convolution reverb presets.
Further, you can add high or low pass filters, and add pre delay to sculpt creative soundscapes. You can easily IR files (including standard mono or stereo WAV or AIFF formats) via its integrated file browser.
SEE ALSO: Best Plate Reverb VST Plugins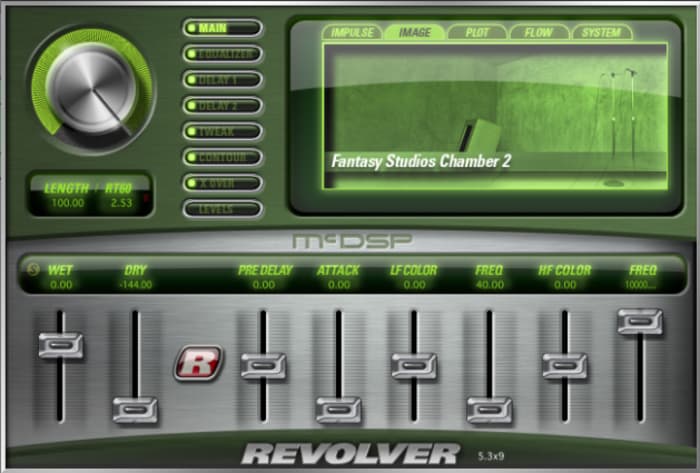 Revolver is one of the best convolution reverb VST that offers complete impulse response control, and comes with a dedicated EQ.
What's more, it comes with a reverb decay crossover network, and offers specialized stereo imaging for unmatched operability.
You will be in awe of its massive impulse library to date featuring 100+ sounds that run the gamut from legendary reverbs to acoustic spaces. 
SEE ALSO: Best Shimmer Reverb VST Plugins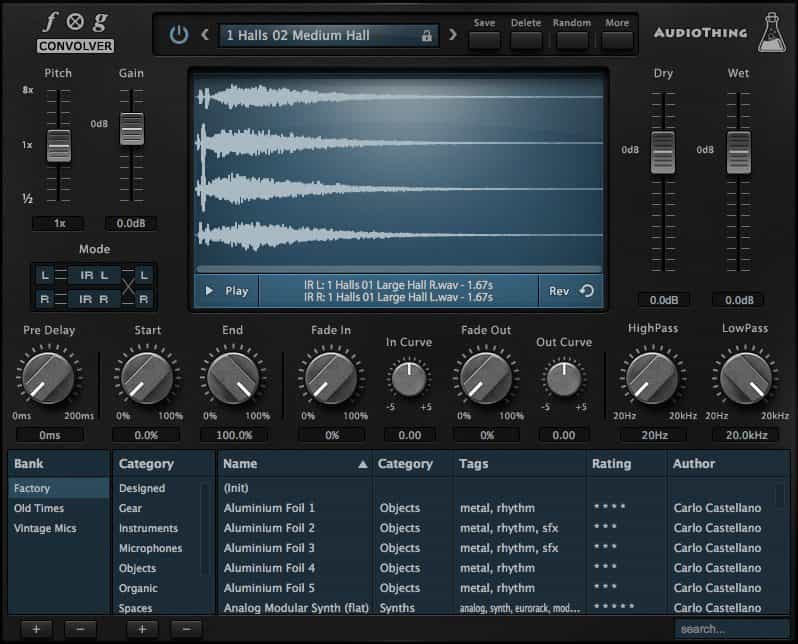 Another great convolution reverb VST that can apply the sonic character of an IR to another sound in real time, Fog Convolver 2 features 660+ IR's composed of speakers, organic sources, spaces and state-of-the-art analog and digital equipment.
For starters, Fog Convolver 2 comes with a resizable window, chorus, waveshaper, compressor and Phaser as well as 4 LFO's with multiple destinations.
In a steady departure from its previous iteration, you can now upload 2 separate impulse responses, or a true stereo IR in the new Fog Convolver 2.
The routing too has been upgraded and there are now 5 routing modes available, namely: Parallel, Parallel mix, true stereo, Single and Serial.
All together, Fog Convolver 2 is usually used to apply an acoustic impulse captured via audio equipment and to create special effects and add reverberation.
SEE ALSO: Best Spring Reverb VST Plugins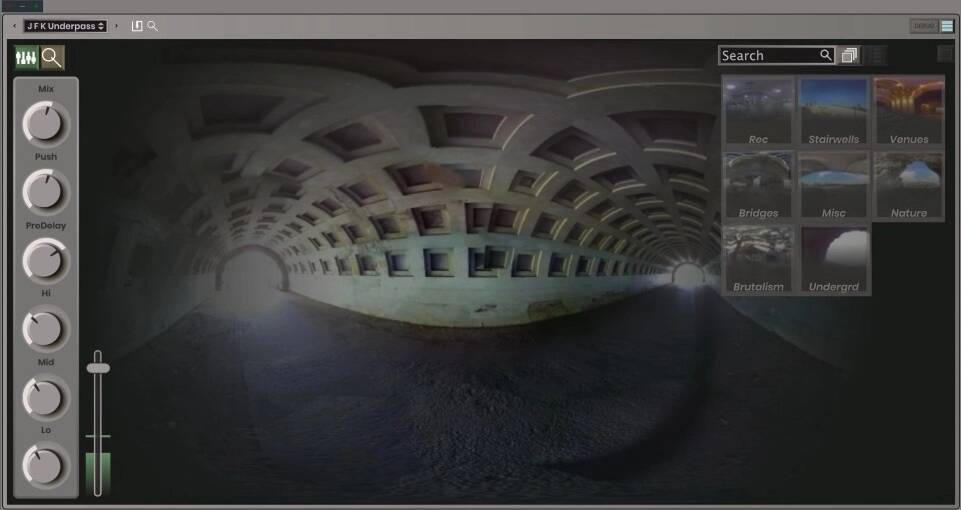 A real-time convolution reverb VST, Echo Thief is modeled on the extensive EchoThief impulse response library.
What's unique about this plugin is that EchoThief provides you access to the revered Batcave sound from the original 1960's show, as well as tons of spectacular acoustic spaces.
What's more EchoThief also comprises a nifty IR compressor that can shape your reverb sound, and a slick EQ to limit the echo effect applied to various frequency bands.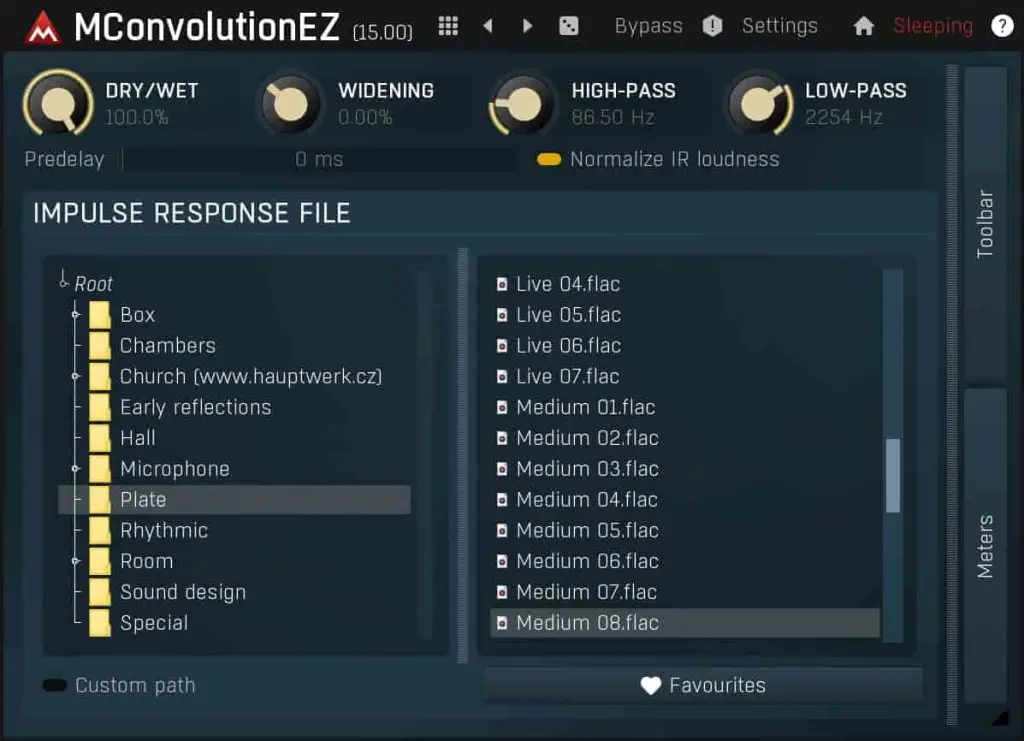 MConvolutionEZ is a free convolution VST that features a large library of some great-sounding IRs that run the gamut from large halls to small rooms as well as guitar amps and microphones. 
This free reverb plugin also doubles up as an impulse response loader where you can upload hundreds of third-party IRs.
However, in terms of flexibility regarding reverb selections, there is not much that you can do with this free convolution reverb.
SEE ALSO: Best Gated Reverb VST Plugins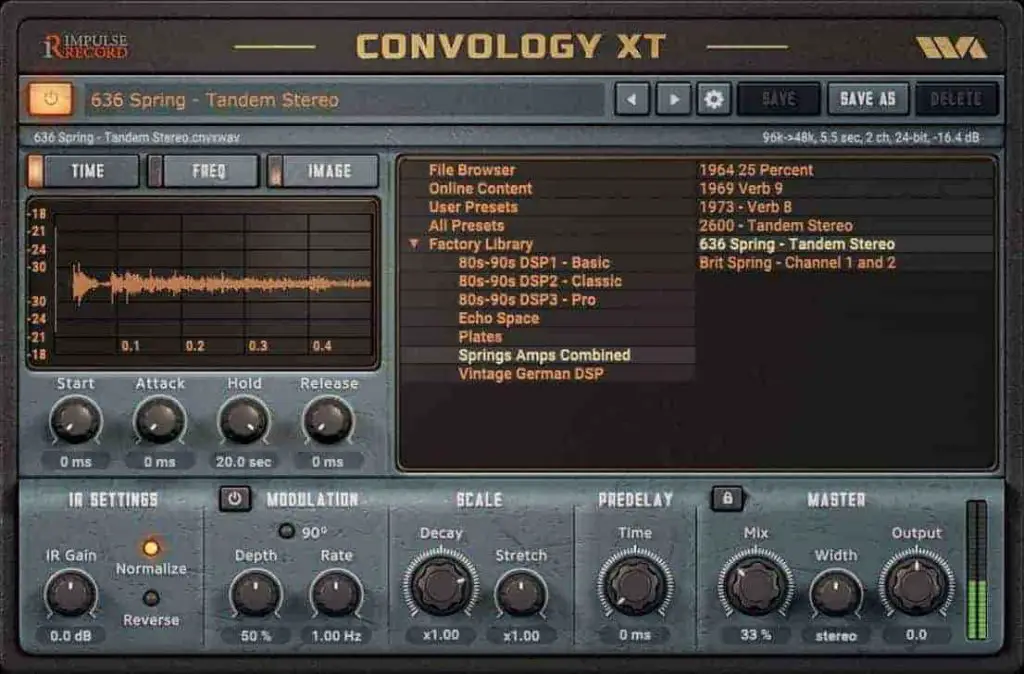 Rounding off our list is a free convolution reverb VST called Convology. It boasts 70+ vintage reverb unit IR files which you can put to use for free, of course. 
Convology is a great reverb plugin for music production and allows users to experiment by creating and importing their own IRs.
Not to mention, Convology also offers superb expansion packs that include libraries of indoor and outdoor spaces, and some special effects.
SEE ALSO: 4 Best Reverse Reverb VST Plugins
How does a Convolution Reverb VST work?
A Convolution reverb VST is a type of reverb that relies on a digital sample of the acoustics of an actual recording environment. This "sampled reverb" is known as "impulse response" (IR) and is very popular amongst guitar reverb fiends. 
To create IRs, audio engineers use a set of speakers, microphones and cabinets to "sweep" a room with the entire frequency spectrum, and then precisely record and capture the response. 
Then, a convolution reverb VST can seamlessly apply the original recording environment's unique acoustic response to any audio track, or mix as per your requirements.