Finding free acoustic guitar impulse responses online is pretty hard. One may find electric or bass guitar IR files but acoustic guitars IR's are a different ball game altogether. 
Luckily, after a lot of research and digging through the depths of le internetz, we managed to find some decent free Acoustic Guitar Impulse Response files.
These IR's were recorded using premium guitars such as Ibanez, Gibson, Taylor, Yamaha, and Martin, to name a few. So, without further ado let's get started.
100+ Free Acoustic Guitar Impulse Responses 2023
This is probably the biggest database of acoustic guitar Impulse responses  that will be useful for budding guitarists, producers, and musicians of all hues. 
With over 123 acoustic guitar impulse responses captured from guitars spanning the likes of Ibanez, Cort, Gibson, Martin, Guild, Rainsong to name a few, this database has some of the finest free acoustic guitar impulse responses that are available online.
You can use these free acoustic guitar IR's for genres that run the gamut from rock, metal, to jazz and even blues.
To get started just select your favorite Guitar brand. Next, select the guitar body shape (classical, dreadnought, etc.).
Then select the acoustic guitar pickup: it could be a Fishman Matrix, or SBT, or others.  Now pick the guitar scale length, and hit the search button to populate a list of free acoustic guitars with the above specifications. 
Next, you can download the IR's and import them to your DAW or multi fx processor such as Line 6 Helix Stomp with an IR loader.
There is also an option to populate even more results and narrow down your search to the nitty gritties if you are an intermediate-to-advanced level guitarist. 
For instance, you can select the top wood, side and back wood specifications to zoom in on a customized acoustic IR sound as per taste.
Note: No Impulse responses will show up if you tick all the boxes at once. Start by selecting one guitar brand, one body type, or one acoustic guitar pickup at a time and so forth.
Pro tip: You can simply tick the pickup option if you are a beginner or do not recognize any acoustic guitar brand being displayed on the list.
Remember, these acoustic guitar pickups can make or break your guitar tone, hence choose wisely. For example: A Fishman Matrix sounds very different from LR Baggs M80. 
You can also combine selections to create pairs of the right pickups with the right guitar.
If you want to further spruce up these acoustic guitar IR's we recommend using these reverb impulse responses that can be blended in with these IR's to create a distinct guitar tone.
SEE ALSO: Learn how to make Impulse Responses in your DAW for free.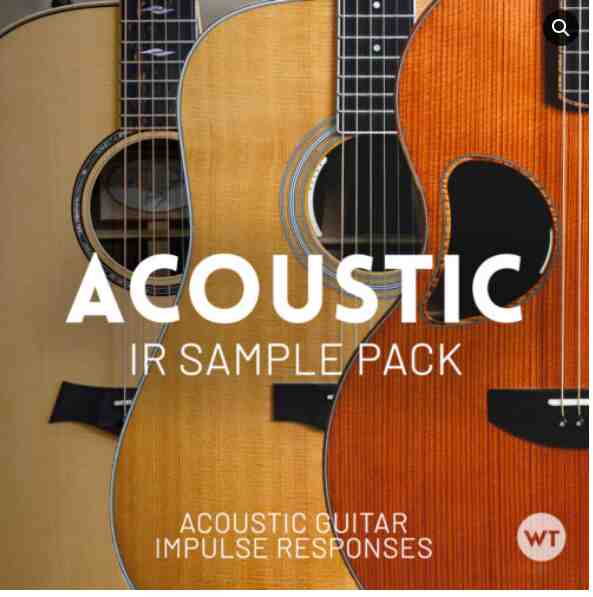 Worship Tutorials' free Acoustic Guitar IR packs offer some great tones that you could expect from a high-quality mic'd guitar in an upscale studio space.
If you are a tone chaser or a beginner acoustic guitarist, Worship Tutorials IR pack has got some solid free goodies in store for you. 
This Acoustic IR pack is created using world class acoustic guitars that were used in recording vintage hit songs spanning genres such as blues, jazz, country, and rock over the years.
What's more, these free acoustic guitar impulse responses were recorded through multiple microphones paired with a variety of acoustic guitar pickup types to accurately capture the authentic acoustic guitar timbre and sound.
You can find IR's captured from guitars such as McPherson Camrielle, Martin D35 and Taylor 816.
There's a plethora of pickup options to choose from and you can further customize your bespoke acoustic guitar tone using variations of pickups, guitar types and cabs.
No matter what acoustic guitar pickups you use, Worship Tutorials IR pack offers some great free impulse responses and IR cabs for acoustic guitarists that will keep you in good stead.
What's more, you can use these free acoustic guitar IR's for country, rock, heavy metal (interludes, bridge section), jazz and even blues.
SEE ALSO: You might also be interested in these Bass Guitar Impulse Responses.
How to use free acoustic guitar Impulse responses?
We have already covered what impulse responses are and how guitarists could use them to derive optimal guitar tones. Before using these acoustic guitar IR's you might want to understand Impulse responses in music and how to use them effectively.
You can download and unzip all the aforementioned acoustic IR files. Once you have done that, simply import them via IR loaders into your DAW or Multi FX processor such as Line 6 Helix, Fractal Audio Axe FX, Boss GT 1000, Quad Cortex, Line 6 HX Stomp/Pod Go, Kemper Profiler, or Headrush Gigaboard, you get the gist.
These IR's are compatible with almost all major modern DAW's and Multi-FX processors.
Next, check if these acoustic guitar IR's sit right in the mix. They can be EQ'd and further tweaked via changing the Type of Pickup, Wood to derive an optimal acoustic guitar sound suitable for your mix or project.
SEE ALSO: 100+ Free Marshall Cab IRs