Looking for a decent shimmer reverb plugin? Your quest has finally come to an end. We have done a rundown of some of the best shimmer reverb vst plugins that will add a touch of silky smooth bright reverb on your instrument tracks.
What is a Shimmer Reverb or Shimmer VST?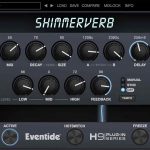 As the name suggests, a Shimmer reverb is a bright reverb effect that is created by passing a normal reverb through one or more pitch shifters. 
To be precise, a shimmer reverb is created when a normal reverb is pitched up an octave to accentuate higher frequencies of an audio signal. 
The resultant reverb sound is lush, warm and bright as if a normal reverb were passed through an aural exciter.
Shimmer reverbs have notably been used by bands such as U2 (on live versions of With or Without You), Black Keys (on The Go Better), Shoegaze band My Bloody Valentine and revered producers such as Brian Eno. 
Now you too can recreate the same bright reverb sound on your mixes, guitar tracks, drums, synths and vocals. So, are you ready to find some great shimmer reverb plugins and expand your arsenal of different types of reverb? Without further ado, let's get started.
6+ Best Shimmer Reverb VST Plugins 2022


Sporting an uber clean and easy-to-use graphical user interface, Bleass Shimmer is a studio-grade shimmer reverb that can add bright harmonic reverb tails to any instrument track.
Bleass Shimmer is a CPU-friendly shimmer reverb plugin that comes with a pitch shifter for creating more pronounced and smooth harmonic reverb tails.
If you are looking to add mesmerizing ambient textures to your guitar, vocal, pads or even drum tracks, Bleass Shimmer should definitely be your go to shimmer reverb.
It offers 2 pitch shifters, each with 3 pitch shifting modes, namely:
Pre Mode-  This mode pitch-shifts audio signal and sends it directly into the reverb stage.
Post Mode- This mode pitch shifts the reverberated signal.
Feedback- This mode pitch-shifts the reverberated signal and feeds it back again into the reverb stage to create a shimmer reverb effect.
Features of Bleass Shimmer:
Dry/Wet Reverb Blend Knob
Input Gain
Pre-delay
Tweak reverb length from 200ms up to 30s
2 Filters: Low Shelf and High Pass
Room size modulation control with (amount & rate) parameters
Color parameter to tweak the reverb's high frequencies.
SEE ALSO: You might want to use some of these Plate Reverb VST Plugins to pair with your shimmer reverb.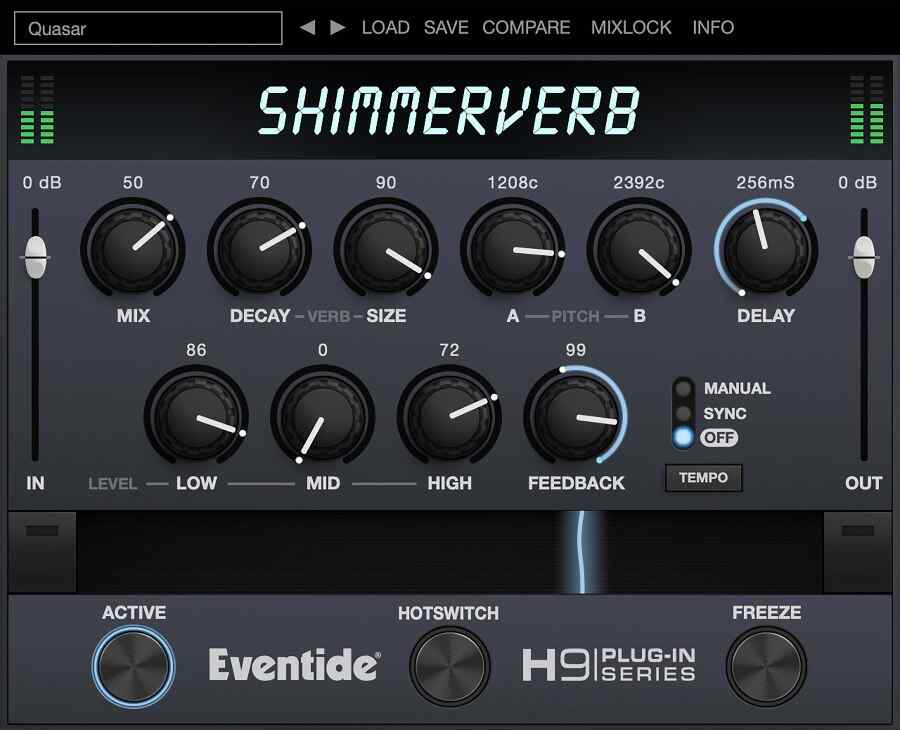 Touted as one of the best shimmer reverb vst plugins online, ShimmerVerb boasts a lustrous reverb sound with parallel pitch shifters that can make any audio signal shimmer with bright reverb tails.
ShimmerVerb's pitch shifting algorithm is loosely modeled on legendary Eventide pitch-shifting hardware such as H910, H949, and H3000 which were used by producer Brian Eno on U2's album, The Unforgettable Fire. 
For starters, ShimmerVerb can add dreamy ethereal layers of ambient reverb to your guitar track, synths, and vocals.
You can use it for creating a smooth Loveless-esque guitar reverb tone reminiscent of Shoegaze legends My Bloody Valentine.
What's more, you can infinitely feedback the signal with beautiful cascading reverb tails that fade into oblivion.
ShimmerVerb also features an easy-to-use performance macro called the Ribbon which helps users plug in a MIDI keyboard and use its Modulation wheel to control morphing between 2 distinct reverb settings such as Feedback swells, pitch shifting, to name a few.
You can also use HOTSWITCH knob for calling up another set of parameters such as octave shifters inside the same preset. 
Features of ShimmerVerb
MicroPitch tuning available around perfect intervals.
Up to 4 octaves of pitch shifting (2 octaves up and 2 octaves down)
Parallel pitch-shifting on the reverb tail.
Seamlessly change pitch with perfect fourths, fifths, and octaves.
SEE ALSO: You might want to check out these Convolution Reverb Plugins.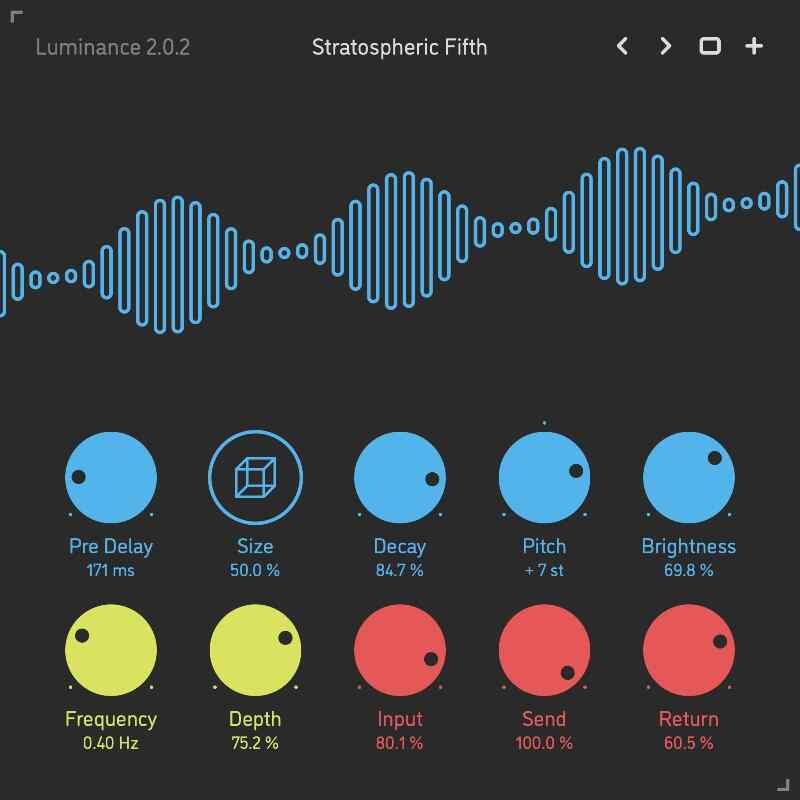 Luminance is another solid shimmer reverb effect plugin that comes with a brilliant granular pitch shifter. 
This plugin has many tricks up its sleeve including alternating-phase time scale modulation, and feedback delay loop to name a few.
Luminance intrinsically follows the original melodic content of an audio track and then creates an ethereal sound layer in the background a la wall of sound that is reminiscent of lush strings, and ambient pads.
This hypnotic wall of sound or lush shimmer reverb tail created by Luminance has an organic character and expansive stereo width.
All together, Luminance is one of the best shimmer reverb vst plugins that can create otherworldly acoustic space simulations by pitch shifting reverb tails upwards or downwards.
Features of Luminance:
Granular pitch shifter 
Powerful reverb engine modeled on 8×8 feedback Delay network
2 pole low-pass filter for shimmer reverb effect
Time scale modulation with Sine Generator
Pre-delay staging
SEE ALSO: You might also be interested in these Spring Reverb Plugins.

Modeled on 1970's vintage hardware digital reverbs, Polaris is an echo/reverb plugin that offers tons of effects via a single multitap delay line.
Polaris boasts a shimmer reverb effect and a swell feature that smoothens the transients of incoming audio signal with longer reverb tails. 
Polaris Shimmer reverb effect is perfect for ambient guitar tracks, intense synth pads, and even boomy drums.
For starters, it allows you to mix unmodulated taps or Early Reflections with the remaining modulated taps via Diffusion and creates a sparkly reverb. 
Furthermore, you can easily edit all taps to create customized room responses, Chorus, delay lines, Flanger, Vibrato and many more effects.
Delay enthusiasts will also like this shimmer reverb vst as they can widen the Stereo Width by applying the distinct Ping Pong delay effect.
If you are looking to get a vintage digital reverb sound, Polaris' internal Sample Rate reduction can come in quite handy. 
Features of Polaris:
Stereo Width Control
Modulation Boost
3 Band Feedback EQ 
Pre delay
Diffusor
LFO
Early Reflections or Unmodulated taps (with 8 Programmable Taps)
SEE ALSO: Best Reverb VST Plugins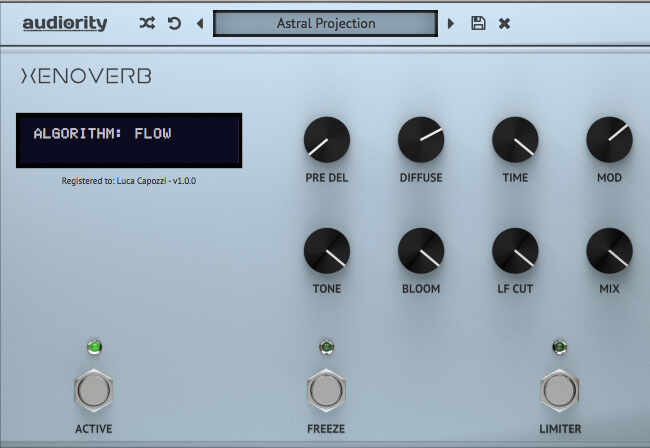 If you are looking for a nifty shimmer reverb for delivering a wide range of reverbs, look no further than XenoVerb. 
It creates a shimmery reverb tail effect with a dual pitch shifter which sends the audio signal to the feedback loop, thus creating an evolving soundscape that is harmonically rich and bright.
Some of the pioneers of rock music such Brian Eno and U2's Edge used such a mechanism via hardware reverb units and XenoVerb recreates that technique in a digital VST/AU format for legions of shimmer reverb enthusiasts.
For starters, XenoVerb comes with over 250 presets, 10 unique Reverb Algorithms such as Shimmer, Bode, Glass, Spring, Room, Flow Hall, Plate 1, Plate 2, and pre-delay to name a few.
It sports a sparkly clean, easy-to-read and simple interface that is easy for beginners to dial in a creative reverb soundscape within minutes.
All in all, XenoVerb is one of the best shimmer reverb VST plugins with abundant features such as Soft Limiter, Modulation, Reverb Freeze, Diffusion, and Tone control.
SEE ALSO: Best Reverse Reverb VST Plugins

Rounding up our list of shimmer reverb VST plugins is ValhallaShimmer, an algorithmic reverb that can deliver thundering reverb sounds that run the gamut from the deep abyss of Valhalla to The Louvre Palace.
This high-quality shimmer reverb has a smooth decay reverb tail that avoids clicks and can be tweaked in real time to produce some dense reverberation.
For starters, Valhalla Shimmer comes with 4 Reverb Modes namely: Mono, Small Stereo, Medium Stereo and Big Stereo. 
These modes come in handy for dialling in reverb decays of varying sizes, from small rooms to vast monuments with their own reverberating ambiances.
Not to mention 5 pitch shifting modes that allow you to shift up to +-12 semitones. This plugin can come in handy for a nice Shoegaze guitar sound.
Pro Tip: You can achieve some slick effects replicating Brian Eno's signature shimmer reverb sound by setting the Pitch Shift amount to +12 semitones and setting the Feedback to 0.5 seconds or more.
SEE ALSO: 10 Best Free Reverb VST Plugins