An Impulse Response loader plugin is used for loading an Impulse Response file or IR file to your DAW (Digital Audio workstation). An Impulse response is basically an audio file in WAV or AIFF format. Loading a particular Impulse response file in an IR loader can help recreate the sound of expensive guitar amp cabinets. We found some of the best impulse response loaders online that are both free and premium.
With these IR loader plugins you can emulate the sound of the iconic guitar amp cabinets such as Mesa Boogie Dual Rectifier, Marshall 4×12 1960A, Fender 65 Twin Reverb and Marshall JCM 800 to name a few.
Some of the best impulse response loader plugins on our list provide you with a plethora of features such as convolution reverbs, choosing the right kind of microphone recording positions and more. So, without further ado let's get started.
10+ Best Impulse Response Loaders 2023
Premium IR Loaders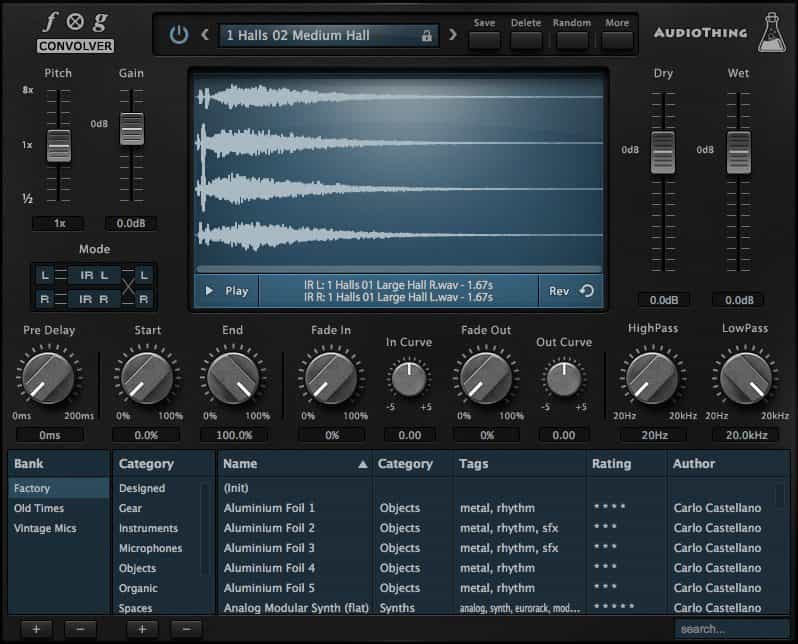 Fog Convolver 2 is a nifty stereo convolution reverb plugin that also features an impulse response generator and lots of modulation effects. It comes with 8 factory banks housing over 660 impulse responses made from spaces, organic sources and acoustic and digital equipment.
What's more, it also acts as an Impulse Response loader where you can load 2 separate impulse responses (or one true stereo/quad channel impulse response). 
You can have linked or separate controls for both impulse responses. Each IR can have a 5-band graphic EQ, 2 LFOs, and one dedicated multi-mode filter with IR, pre, or post modes.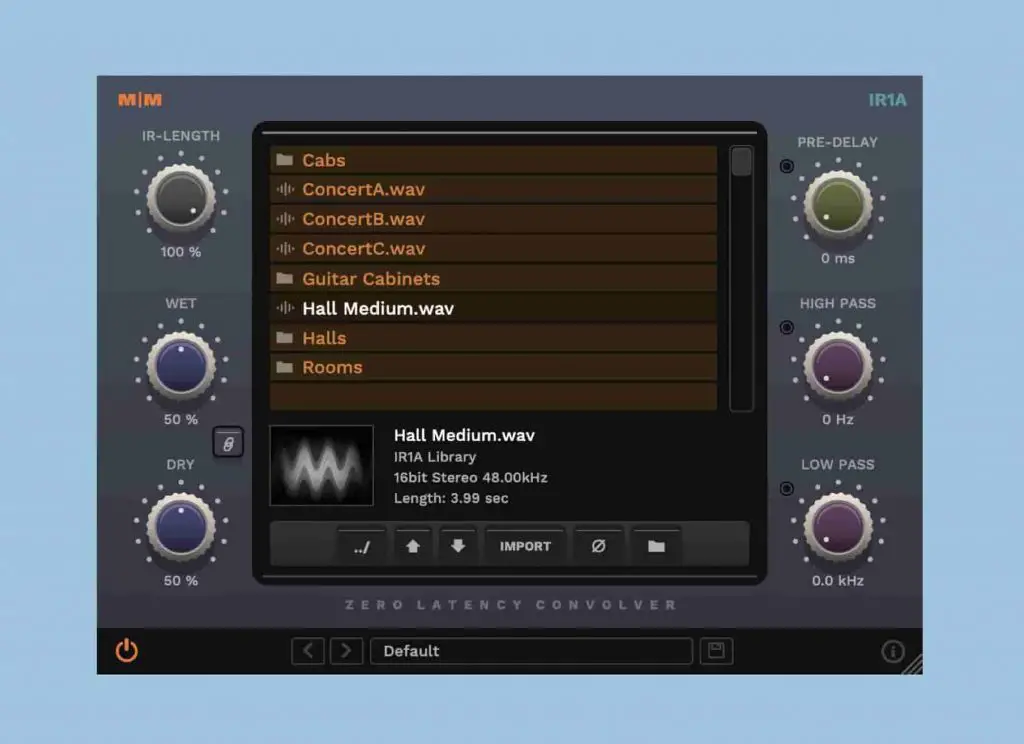 A solid guitar convolution reverb plugin, IR1A Convolver also features an integrated file browser for loading external IR files.
You can import external impulse response files in standard mono WAV or AIFF formats. 
To top it all, IR1A convolver comes with a barrage of starter library presets and offers a CPU-efficient zero latency convolution engine where you can recreate electric and acoustic guitar cabinets, special effects and warm natural reverbs. 
You can load up to 10 seconds of impulse responses recorded at 44.1k sample rate and apply the sonic character of one sound to another via an impulse response file in real time.
The uploaded Impulse Responses' length can be set, and you can apply low or high pass filters, add pre-delay to further enhance the creative sound potential. All in all, the  IR1A Convolver is one of the best impulse response loaders on the market.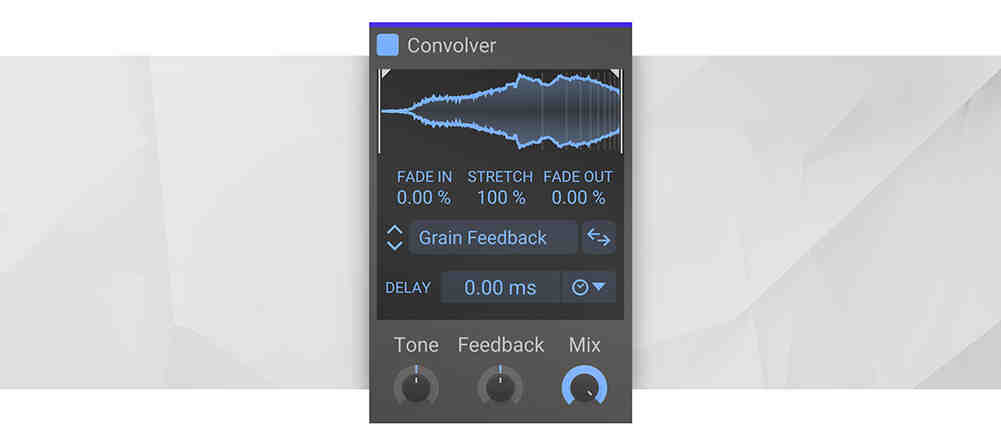 Convolver is another nifty reverb plugin that comprises 300 factory IRs that offer a range of diverse and unique effects. Not to mention, Convolver also packs in some nice reverb IRs that can spruce up your guitar tracks.
Convolver is one of the best impulse response loaders which allows you to simply load any IR or audio file into Convolver and emulate legendary guitar amp cabinets, distinct delays, funky filters and more.
This great plugin by Kilohearts is a Snapin, that is, you can use it as a standalone plugin or within one of Kilohearts' various snapin hosts.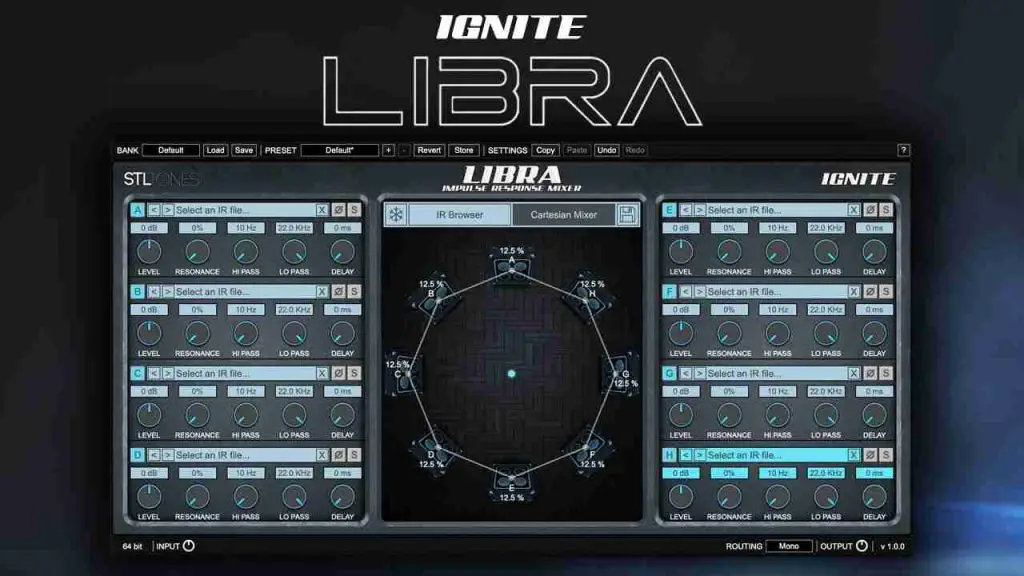 Thanks to its ability to blend up to 8 cabinet IR's, Libra offers an intuitive visual guide to help you dial in a suitable guitar tone for your mix.
Libra also allows users to export their entire IR mix to an individual IR and thus convolve, that is multiply one sound with another. 
You can even load these Impulse responses back again into Libra for even more blending with up to 7 cabinets or load these IR's onto your favorite hardware IR loader/amp modeling units such as Line 6 HX Stomp/Pod Go, Headrush, Quad Cortex, Boss GT 1000, Line 6 Helix, Kemper you get the gist.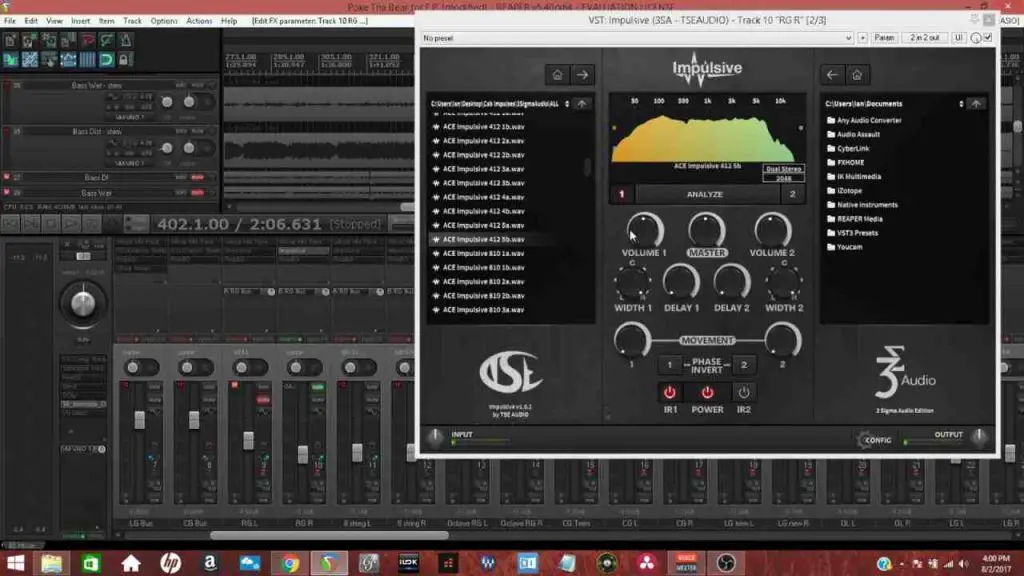 3Sigma's Impulsive sports a dual cab Impulse response loader that offers a large file display, easy-to-use and intuitive folder navigation with folder up/down/swap controls.
What's more, you can even achieve different types of guitar tones from a single IR by effectively changing the number of samples that are being read from the impulse response.
This is hands down a very good creative sound designing feature that can help users derive more utility from a single impulse response.
Impulsive also offers a Movement knob which can simulate speaker movement to get the desired sound output.
Free Impulse Response Loaders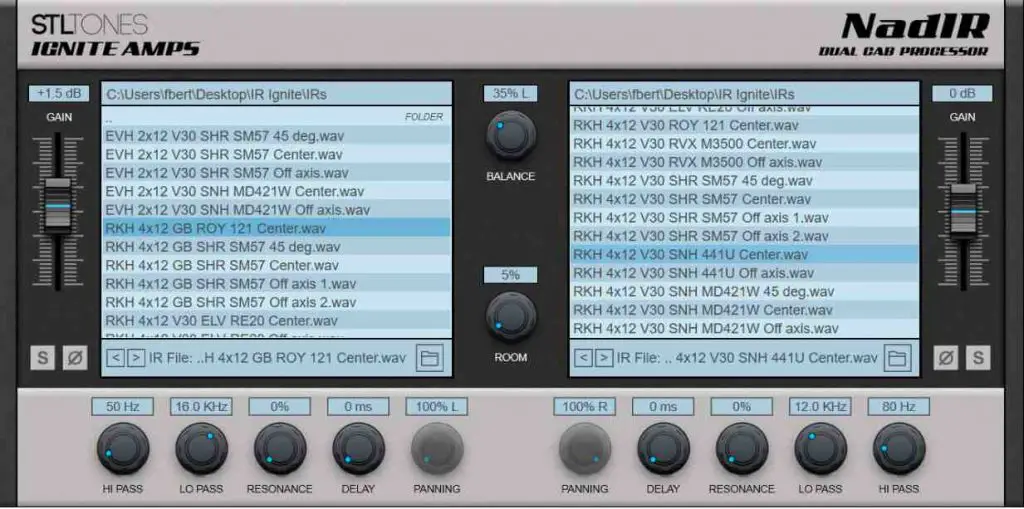 A zero latency, dual IR loader, NadIR can be used as a cabinet simulator for both electric guitar as well as bass guitars. NadIR is a pretty lightweight plugin that is easy on the CPU and offers high-quality convolution in real-time.
You can load up external impulse responses and route them in 3 modes: Mono, Dual Mono and Stereo. 
NadIR also performs automatic high-quality resampling for IRs with different sampling rates.
It provides advanced built-in analog shaped filters and delay controls to further assist guitarists in shaping their tone with ease and grace.
All together, NadIR is one the best impulse response loaders that can be bundled with studio grade cab impulse responses and presets.
You might also want to check out these 10 Free Impulse Responses that offer great guitar tones.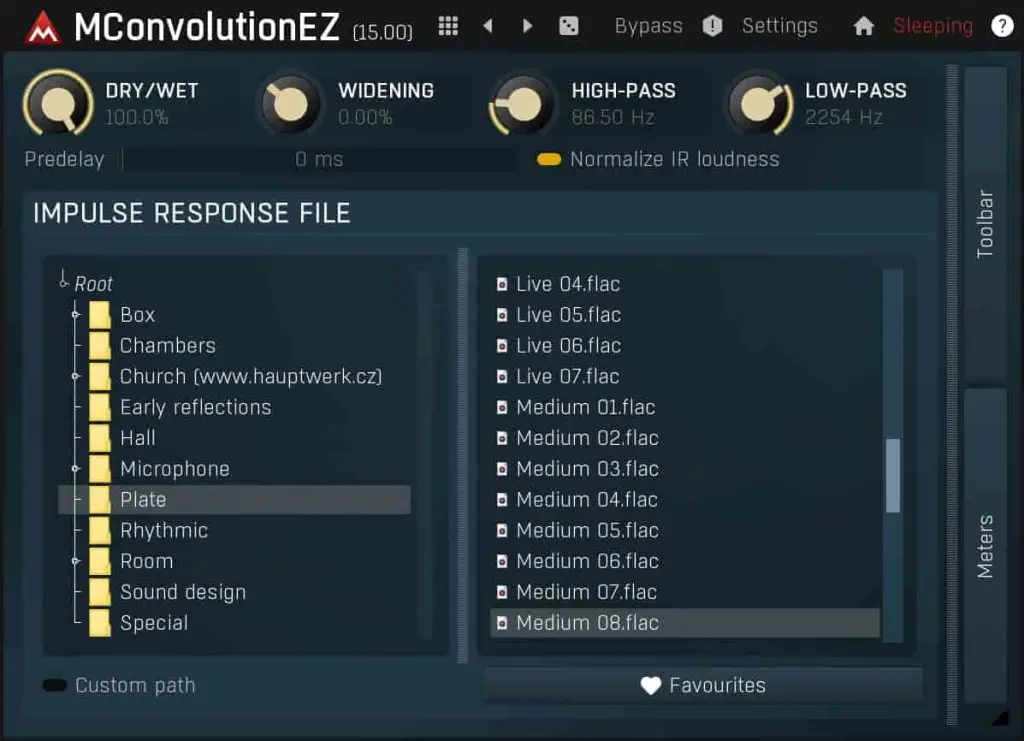 MConvolutionEZ is a slick reverb IR loader that can be used for loading single file IRs instantly. It is renowned for its superfast onscreen folder navigation through which you can locate and find sub-folders easily. 
You can flip through a large list of Impulses with Merely using the up/down navigation arrows on your keyboard can or via single click.
Not to mention, you can even assign IR favorites for quick back-tracking as you wade through the IR sub-folder maze housing hundreds of impulse response files.
Like most IR loaders, MConvolutionEZ also packs in decent High Pass and Low Pass filters.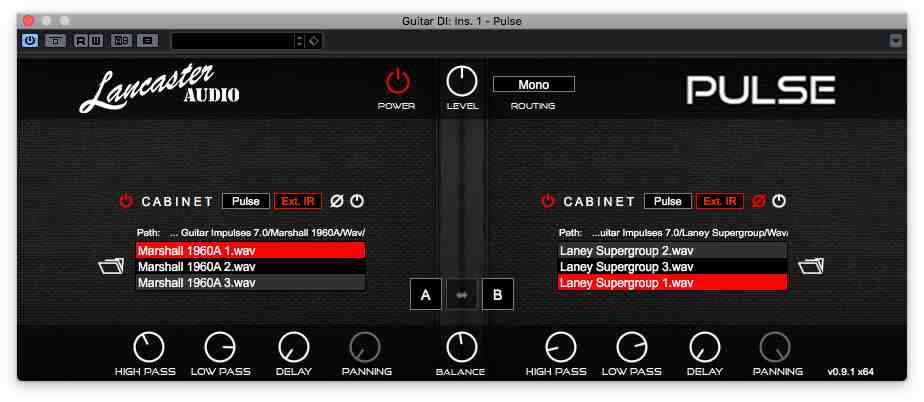 Touted by many as one the best impulse response loaders, Pulse is very easy to use because of its compatibility with all third-party IR's. 
For starters, Pulse offers A/B Control, High Pass/Low Pass Filters, and a nifty blend mode with phase control. The blend mode comes in handy for tackling phase cancellation issues.
Simply insert Pulse into the signal chain, and the pulse cabinet will be auto activated so that you can rip some blistering guitar solos in no time.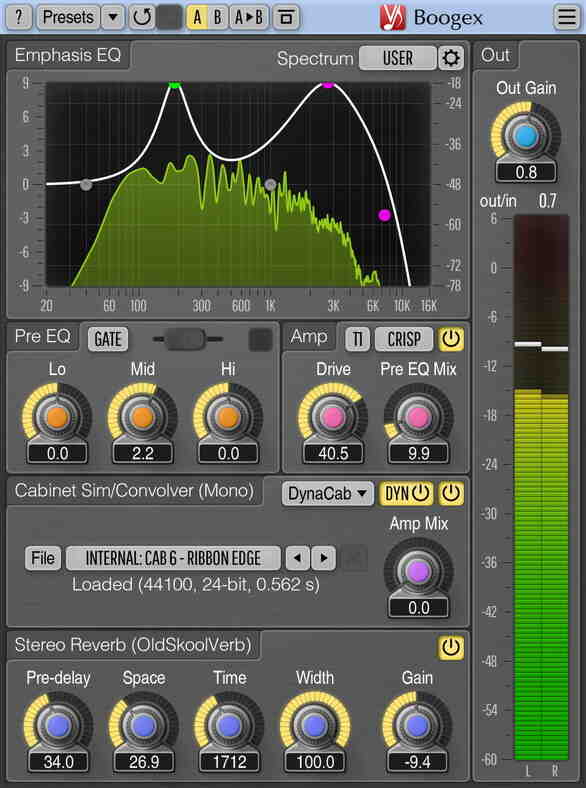 Boogex is a guitar amp simulator plugin that comes with 61 built-in cabinet impulse responses and 10 amplifier modes.
You can also import tons of third-party impulse response files or blend in 2 distinct guitar cabinets at the same time to create a new IR thanks to its Dynacab feature.
Boogex has an inbuilt convolution processor that offers immense scope for sound designing.
You can dial in eclectic guitar sounds such as heavy metal distortion all the way to a jazzy saturation drive. 
To top it all, Boogex offers zero latency making it a quite handy plugin for real-time guitar processing.
SEE ALSO: Free Impulse Responses for Metal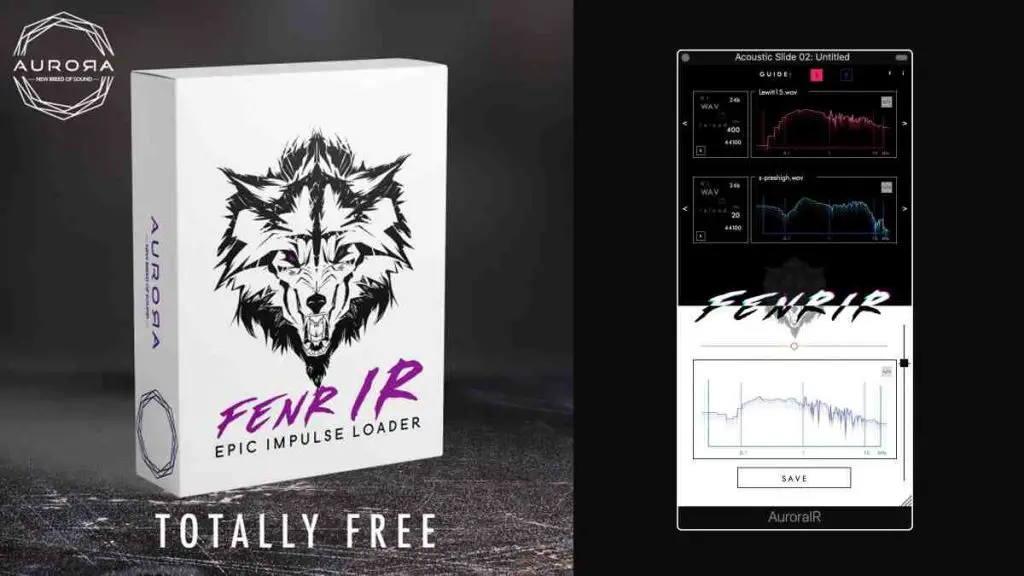 Rounding up our list of the best impulse response loaders is Aurora DSP's FenRIR. 
Simply drag and drop your favorite IR file(s) in FenRIR, blend them and start playing. It offers real time monitoring of all the changes you make can be seen via an intuitive waveform and spectrum analyzer. 
You can also make use of its Transient indicator system to check phase alignment for each external IR file.
Of course, it also allows you to save your newly created Impulse responses into a .WAV file.
Other Features of FenRIR :-
Custom IR's included with the plugin
Drag & drop IR file import.
Real-time IR mixing with visualization.
Polarity and Time adjustment for each impulse response.
SEE ALSO: Best Impulse Responses for Metal Guitar