Looking for the best drum VST for Metal? Your search is over. We have scoured the internet to find some of the best drum VST for metalheads that straddle various genres and subgenres of metal such as Black Metal, deathcore, industrial metal, death metal, djent, progressive metal, math metal and so on. 
These drum plugins go along well with heavy riffs, thumping basslines, growling vocals and more. If you are a metal guitar music producer or a hobbyist who wants to tighten up their drum tracks, these drum VST plugins will definitely help.
So are you ready to find out the best drum VST for metal? Without further ado, let's get started. 
5+ Best Drum VST for Metal 2023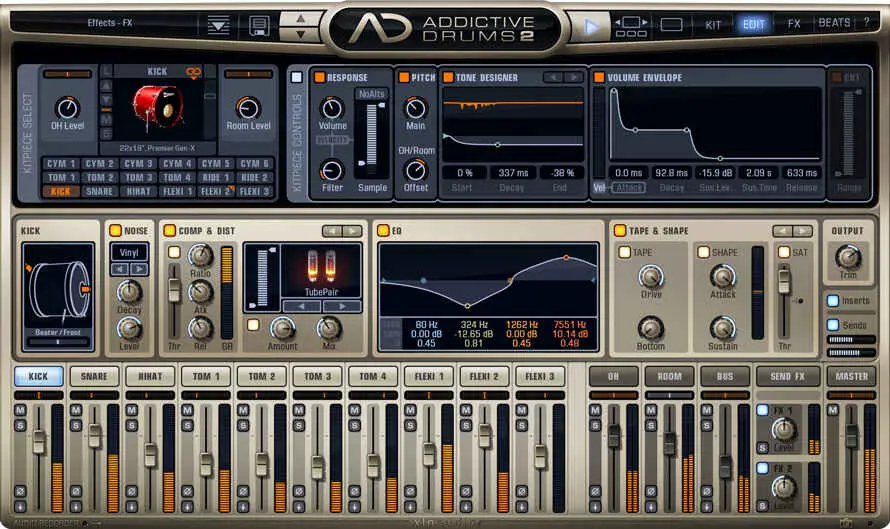 If you want to create beastly drum tracks on the go, look no further than Addictive Drums 2 by XLN Audio.
This drum sampler VST boasts a Beat Transformer tool that can align your drum grooves with the rhythm of a crunchy guitar amp track to achieve a more realistic sound of live drum recordings. 
Not to mention, a slick drag-and-drop feature which allows you to drag-and-drop audio files of drum tracks that you have created in your DAW. 
Addictive Drums 2 also comes with an inbuilt Tone Designer and Transient Shaper that can fine tune your snare, kick, hi-hat and cymbals with precision and add some effects such as delay, reverb, and EQ for a realistic drum tone that sits better next to heavy guitars in the mix.
SEE ALSO: 5 Best Metal Amp Simulator VST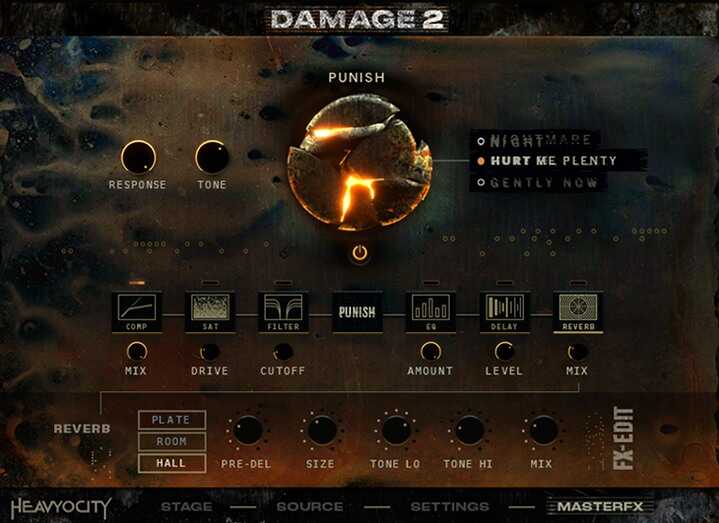 Heavyocity's Damage 2 is a massive drum library that features an array of booming drums, traditional drum kits, and metal percussion sounds.
If you are a metal producer looking for tracking anthemic drum tracks on the lines of Hans Zimmer, then Damage is a serious contender to be in your VST arsenal.
Damage's drum library is an ideal tool for crafting epic cinematic drum beats, marching drums, and industrial-orchestral fusion drums prevalent in film scores.
Several reputed film composers such as Brian Tyler, John Debney and Harry Gregson-Williams swear by this drum library for composing legendary cinematic scores.
Metalheads who are into symphonic metal, melodic death or black metal drums can also incorporate Heavyocity's Damage 2 VST in their drum tracks to fully capture the drum sound of anthemic proportions.
SEE ALSO: 5 Free Metal Guitar VST Plugins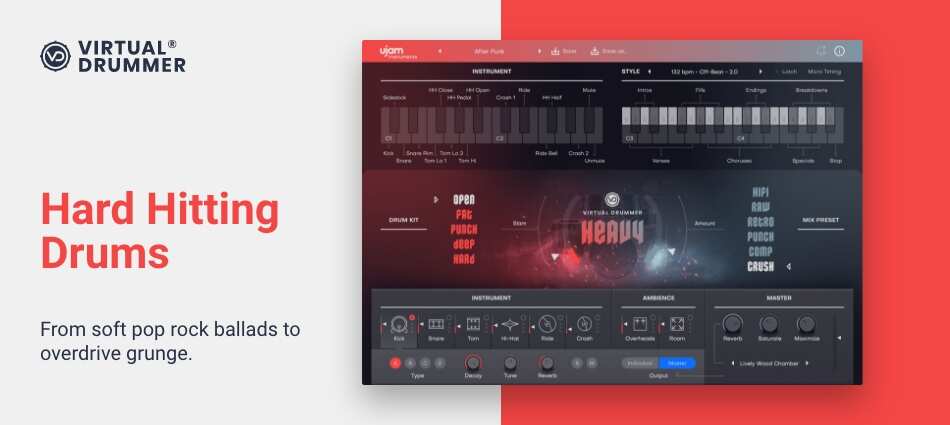 A powerful repository of some mighty recorded drum samples for indie and metal music producers, ujam's Virtual Drummer Heavy 2 features highly customizable raw drum samples that can be arranged and edited with minimal CPU stress.
These samples can be used in composing and arranging extreme metal tracks as well drums used in rock music. 
For starters, Virtual Drummer Heavy 2 comes with 200+ presets, 60 Musical Drumming Styles, over 1380 drumming patterns, and 5 drum kits with interchangeable set pieces.
Not to mention, a virtual drummer that offers realistic drum performances and individual volume control of each element (hi-hat, snare, kick, cymbals, toms, etc.) in the drum kit for better customization.
Virtual Drummer Heavy 2 also incorporates a master section with its own saturation and maximizer. 
SEE ALSO: 5 Free Metal Amp Plugins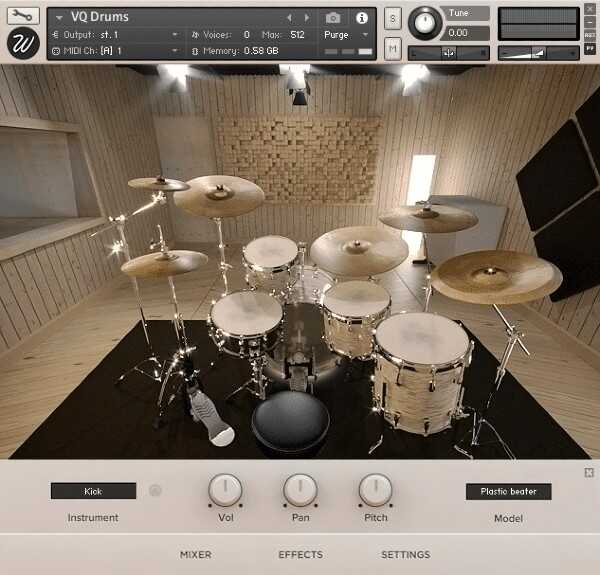 Making its way into our list of the best drum VST for metal is Waves' VQ Drums, which is a nifty drum library based on 1964 Ludwig kit recorded in a state-of-the-art wooden studio.
It can work in the DEMO mode with the free KONTAKT player, however, we reckon going for the full version for more variety and enhanced drum plays. 
The best part about this VST is that it was built keeping in mind the tastes of metal, classic rock, jazz or blues rock musicians who have a penchant for uptempo groovy drums in full swing. 
The drum library in VQ Drums Invasion sits well in the mix with tasty bluesy pentatonic riffs, licks, legato runs, blazing arpeggios and crunchy rhythm guitars with mellow to heavy distortion.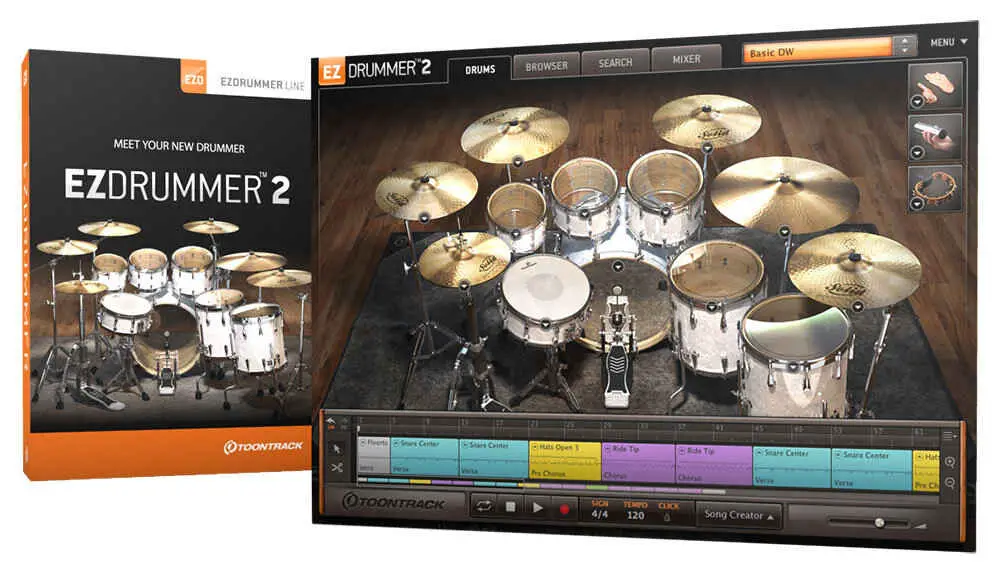 One of the best drum VST for metal musicians, EZdrummer 2 by Toontrack boasts an extensive MIDI library and a nifty groove editor that lets you create custom drum arrangements and grooves quickly. 
What's more, all of the grooves come with convincing velocity layers and were quantized keeping in mind the performance of a real drummer's performance in mind.
You can also harness a MIDI keyboard or electronic drum set to create customized grooves or edit existing ones. 
SEE ALSO: 5 Free Djent Guitar VST Plugins