Finding the best metal plugins is not easy. There are hundreds of cheap knock-offs scattered about on the internet. Fret not, we did the grind and found some of the best metal VST plugins from the depths of the internet.
These metal VST plugins encompass electric guitar, bass guitar and drum plugins that form an integral part of metal music production. Some of the best metal plugins on our list offer a reliable alternative to expensive tube amps and drumming gear.
So, are you ready to delve into some of the finest metal vst out there? Without further ado, let's get started.
5+ Best Metal Plugins in 2023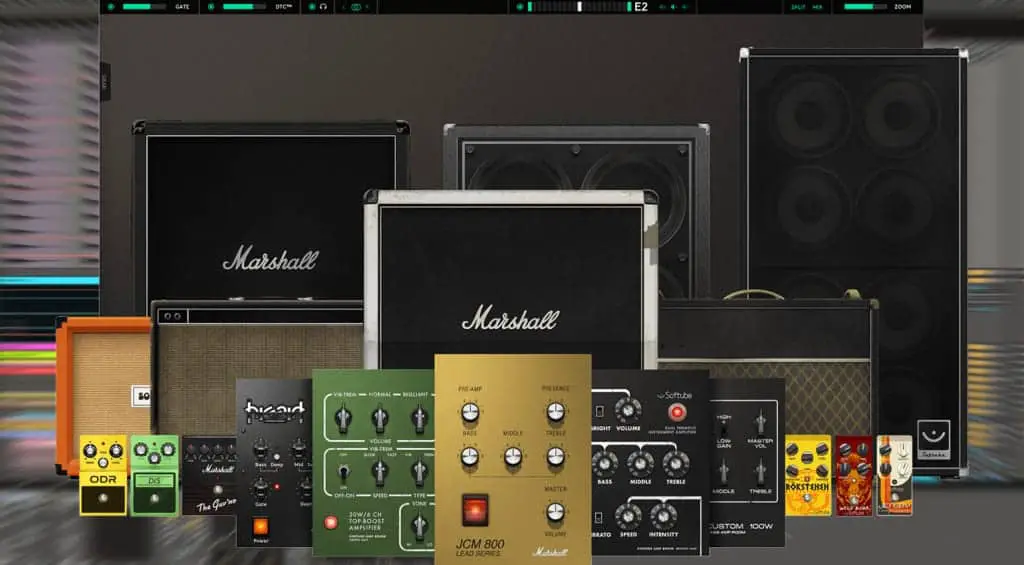 Softube's Amp Room is a blessing for metal guitarists who want to dial in heavy guitar tone with brutal distortion.
With 16 guitar cabinets including microphone angle adjustment and over 1260 presets encompassing various subgenres of metal including black metal, deathcore, djent, progressive metal, Amp Room is solid metal amp that promises unabashed metal guitar mayhem.
Wait, there is more in the offing. Amp Room boasts 15 effects pedals such as distortion (Marshall Guv'nor), preamp, heavy fuzz, Compressor, EQ, Vibrato, delay, reverb,  AutoWAh, Bass Octaver and Tremolo effects.
The real novelty factor that sets Amp Room apart is its free LoadIR feature where you can access hundreds of free metal guitar Impulse responses as well use Softube's very own custom IR's.
Not to mention, some legendary premium IR packs that are included for free such as Jen's Bogren's Bogren Digital IR pack and Kristian Kohle's "Rainbows & Chainsaws" IR pack making Amp Room a modern metal guitarists de facto metal VST.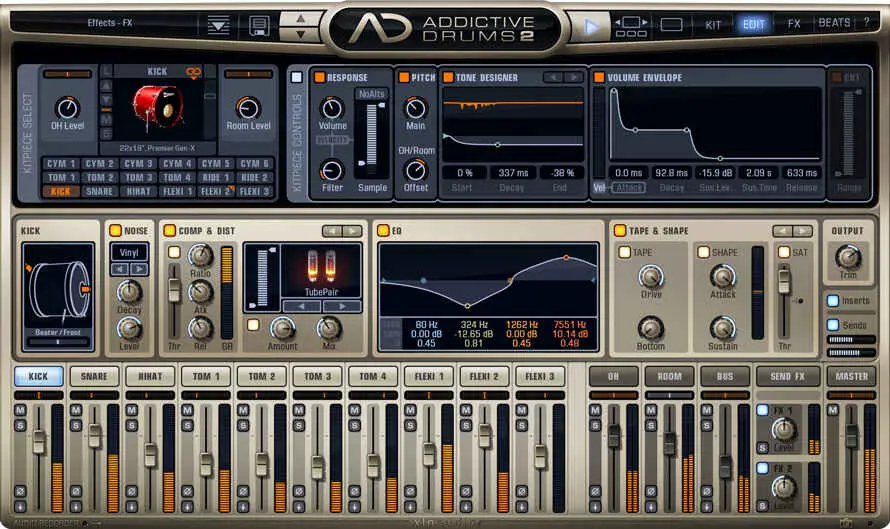 XLN Audio's Addictive Drums 2 is a solid drum sampler VST that can create powerful drum tracks on the go.
For starters, Addictive Drums 2 features a nifty Beat Transformer which can be used to align and lock your drum grooves with a distorted rhythm guitar track.
The resultant drum sound is both natural and authentic, reminiscent of live drum recordings. 
What's more, you can use its built-in Tone Designer and Transient Shaper tools to accurately tweak individual drum tracks such as toms, snare, hi-hat, kick, and cymbals.
You can further embellish the drum tone by adding effects such as delay, EQ and reverb.
All in all, Addictive Drums 2 is one of the best metal plugins from drummers and producers who want to track a definitive heavy metal drum sound.
SEE ALSO: 5 Best Black Metal Drum VST Plugins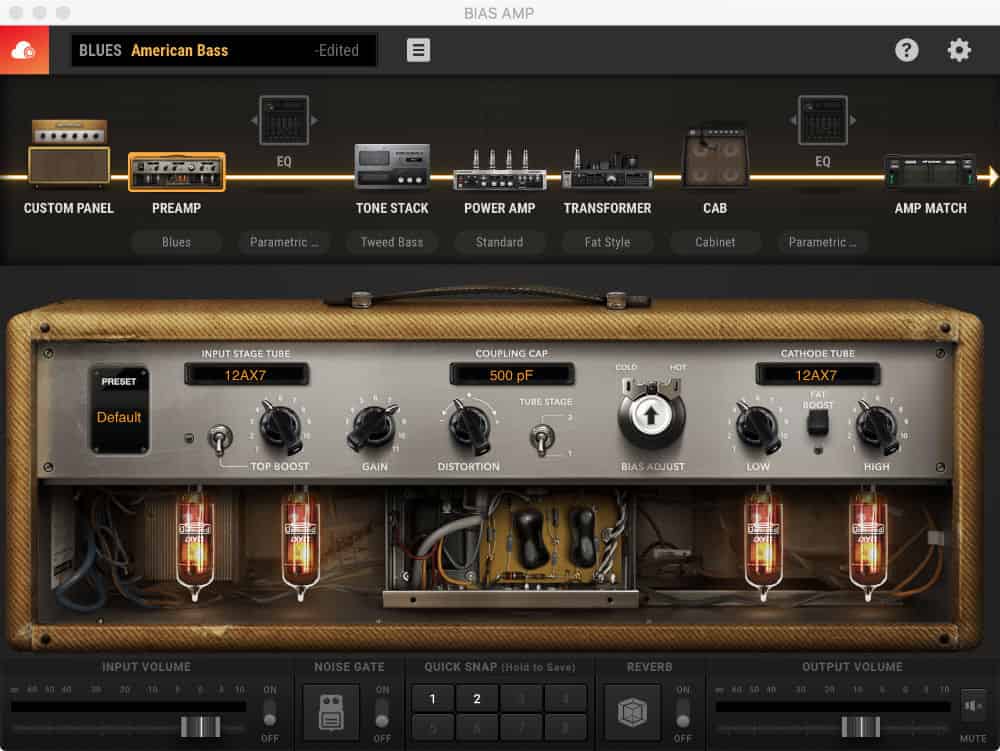 Positive Grid's Bias Amp 2 is a popular metal amp simulator plugin that comprises tons of guitar amp packs for dialing in a solid metal guitar tone.
Not to mention, a spic and span graphical user interface makes Bias Amp 2 the preferred choice metal guitarists looking to create a formidable metal guitar tone with scooped up mids, high treble and high gain for downtuned 6/7/8 string guitars.
What's more, Bias Amp 2 also boasts a new Bass amp for attaining that low end distorted bass guitar tone within a few clicks.
SEE ALSO: How to Record Metal Guitar at Home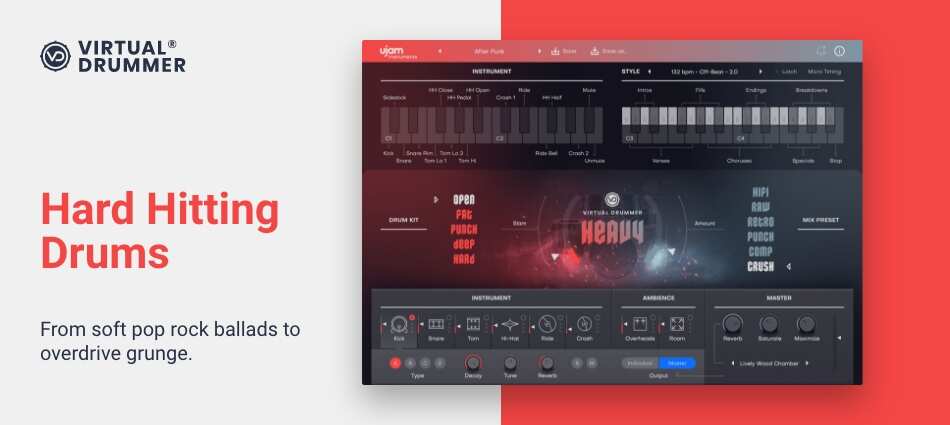 Seeking a powerful drum VST for tracking in metal projects? Lo and behold, Virtual Drummer Heavy 2 is to your rescue. 
With over 60 Musical Drumming Styles, 5 eclectic drum kits (with interchangeable set pieces), 200+ drum presets and 1380 drumming patterns, Virtual Drummer Heavy 2 ensures that you have a massive repository of drum samples at your fingertips.
Not to mention, these drum samples are highly customizable, arrangeable and editable for use in metal and rock tracks and cause zero CPU overclocking. 
And, if you want to take things up a notch, you can start the built in virtual drummer that offers realistic drum tracking, and further customization of each drum element (hi-hat, snare, kick, toms, cymbals, etc.) with volume modulation.
Virtual Drummer Heavy 2 also incorporates a nifty master section with its own maximizer and saturation. 
SEE ALSO: 100 Free Metal Drum Samples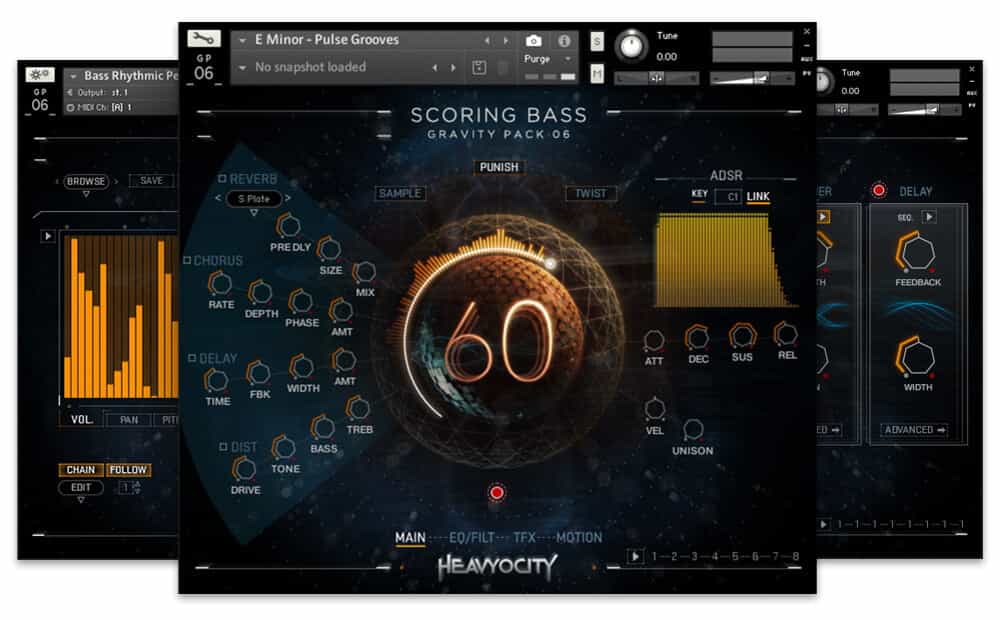 Rounding up our list of the best metal plugins is Heavocity's Scoring Bass,  a cinematic bass guitar plugin that can hold its own against boomy drums and distorted guitar wall of sound.
For starters, Scoring Bass sports 3 bass guitar VSTs, samples and loops that can help you dial in heavy bass guitar riffs, distorted bass lines, and add a level of intensity and drive that can match any heavy metal song's aesthetics.
You can add deep lows, and rich mids that are cinematic and inspired from Hans Zimmer film scores. Top it all off with ambient background atmospherics and Scoring Bass sounds like a bassists dream come true.
SEE ALSO: 5 Free Djent Guitar VST Plugins