Finding some decent free acoustic guitar plugins is not easy. After all, there are literally hundreds of them to choose from.
Fret not, we did the grind and found some incredibly good free acoustic guitar VST plugins that will keep you in good stead. These free acoustic guitar plugins can help you emulate authentic acoustic guitar sounds that can even give some premium plugins a run for their monies.
So, are you ready to delve deep into the acoustic guitar tone realm and craft some sick acoustic guitar melodies? Without further ado, let's get started.
5+ Free Acoustic Guitar Plugins 2023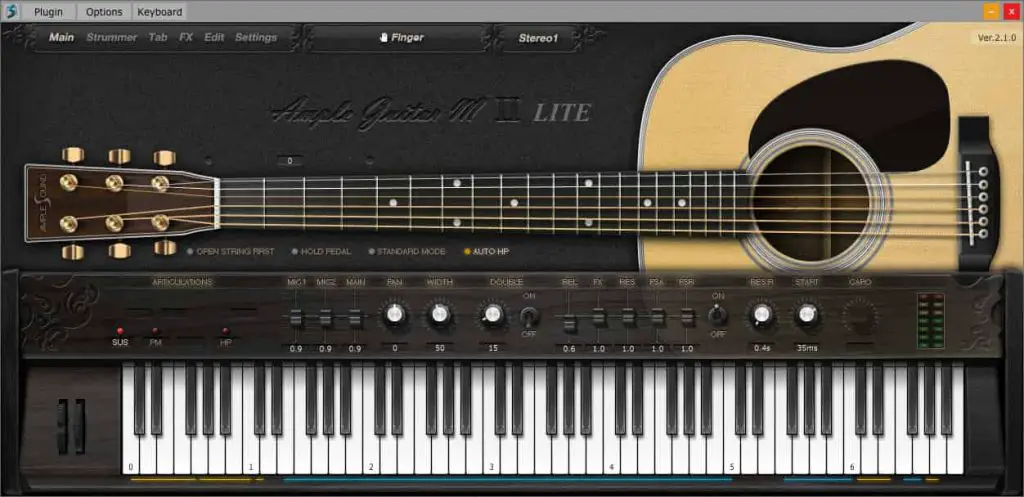 Ample Guitar M Lite II is perhaps one of the most recognizable and sought after free guitar VST that has been around for quite some time.
A sampled acoustic guitar plugin, M Lite II boasts a staggering 866 Samples in 16 bit 4​​4.1khz that will spruce up your acoustic guitar recordings with realistic and vivid sound emulation without needing guitar distortion.
Not to mention, a rich library of eclectic fingerstyle acoustic guitar playing styles and 5 articulations such as Sustain, Palm mute, Hammer On & Pull Offs.
What's more, M Lite II features Capo Logic that can intelligently play according to guitar theory without even using a physical capo.
M Lite II can also transpose all your guitar notes without ever needing to modify tedious MIDI notes on the piano roll editor of your DAW.
SEE ALSO: 10 Best Guitar Amp Simulator Plugins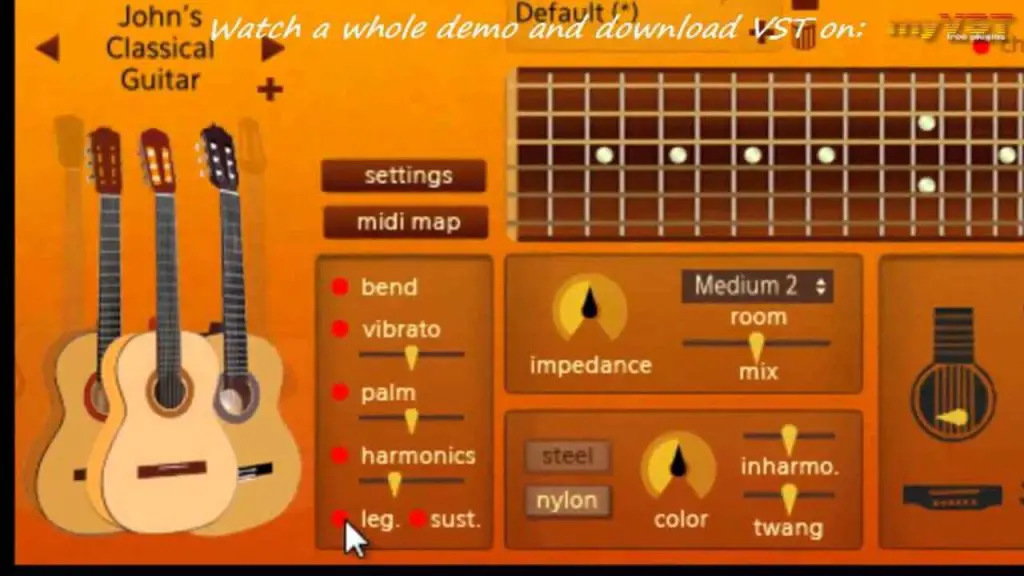 A free acoustic guitar synthesizer VST, Spicy Guitar is an innovatively designed plugin that can replicate vintage physical acoustic guitar synthesizer sounds right inside your DAW.
The resulting acoustic guitar tone is warm, natural and replete with harmonics.
For starters, Spicy Guitar comprises 9 guitars, 5 guitar playing styles, 2 types of guitar string gauges, chord progressions and offers unmatched expressivity that can catapult bland acoustic guitar DI tracks into sublime masterpieces.
Not to mention, a solid playing mode where keyboard presses and piano chords are instantly detected and transformed into guitar chords in real time.
Spicy Guitar's strumming engine is relatively easy to use and comes with Full MIDI learning capabilities.
All together, Spicy Guitar is one of the best free acoustic guitar plugins for beginner guitarists learning the ropes of guitar music production.
SEE ALSO: 5 Best Guitar Amp VST Plugins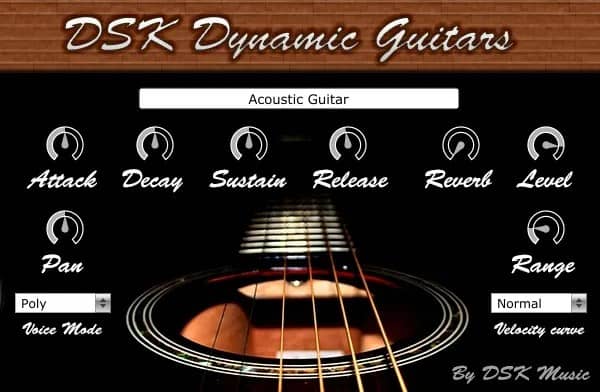 If you are looking for a free plugin that offers high quality and realistic replication of Acoustic, Steel & Nylon guitars, look no further than DSK Dynamic Guitars. 
Dynamic Guitars offers a stunning dynamic velocity response and offers added effects parameters such as Reverb, panorama control and ADSR envelope controls.
You can also turn on DSK Guitar's Voice mode selector to try out different acoustic guitar inflections and further sculpt your tone with a Velocity curve adjuster.
That said, the real USP of DSK Guitars are its nifty nylon guitar samples that are just otherworldly.
SEE ALSO: 5 Best Guitar Preamp VST Plugins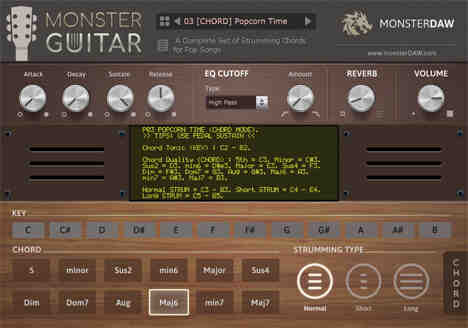 A relatively new plugin in the realm of guitars, MONSTER Guitar offers an unholy amount of free presets for acoustic guitar players.
What's more, you can also gorge on some solid electric guitar presets that offer rich gain and brutal distortion.
Monster Guitar offers eclectic acoustic guitar presets that straddle not just rock and metal but multiple music genres including folk, pop, Reggae and everything in between.
All in all, with Monster Guitar at the helm, you can be sure to dial in an authentic and mellow acoustic guitar tone with rich harmonic content.
SEE ALSO: 5 Best Free Guitar Amp Plugins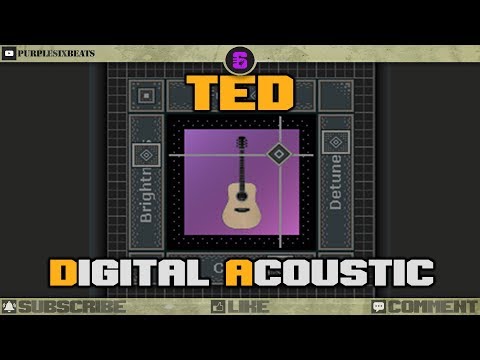 Rounding up our list of free acoustic guitar plugins is Digital Acoustic that emulates an acoustic nylon string guitar, and offers a realistic and versatile nylon guitar tone that sounds smooth and elegant.
For accurate simulation, you can further tweak the nylon guitar tone with Digital Acoustic's nifty Mod wheel and Aftertouch features that can add vibrato and other modulation effects.
Modeled on the Karplus-Strong principal, Digital Acoustic features abundant tone control parameters that can sculpt a definitive nylon guitar sound.
SEE ALSO: 5 Free Preamp Plugins