From being strictly hardware units, Guitar amplifiers have morphed into digital recreations that surprisingly sound very realistic thanks to the advent of technology. With some of the best guitar amp simulator VST plugins, an aspiring guitarist or hobbyist musician can craft authentic guitar tones that were exclusive to expensive tube amps until a few decades ago.
So, are you ready to find the best guitar amp sims that can emulate the tones of legendary tube amps and cabinets? Without further ado, let's get started.
10+ Best Guitar Amp Simulator VST 2023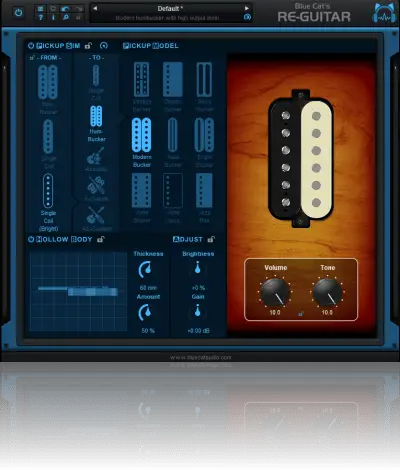 If you are looking for an all-in-one guitar simulator plugin with zero latency issues, look no further than Blue Cat's Re-Guitar. It can emulate different kinds of electric and acoustic guitar tones based on the body of the guitar model used for recording.
Re Guitar boasts an inbuilt pickup simulator that emulates various types of popular electric guitar pickups, inbuilt single coil pickups (vintage, active, hot, tele, neck, bridge+mid, P90, single hot).
It can also emulate humbucker pickups (bright, wide, classic, rails, modern) which can all be further customized as per taste. 
Features:
Solid guitar tone modeler with electric pickups, acoustic guitars and tons of hollow body emulations.
Inbuilt piezo & acoustic guitars: acoustic sim pedals, solid-body piezo, jumbo, mini jumbo, modern & vintage dreadnought and more.
Customization available for hollow body thickness and amount.
Supports any sample rate.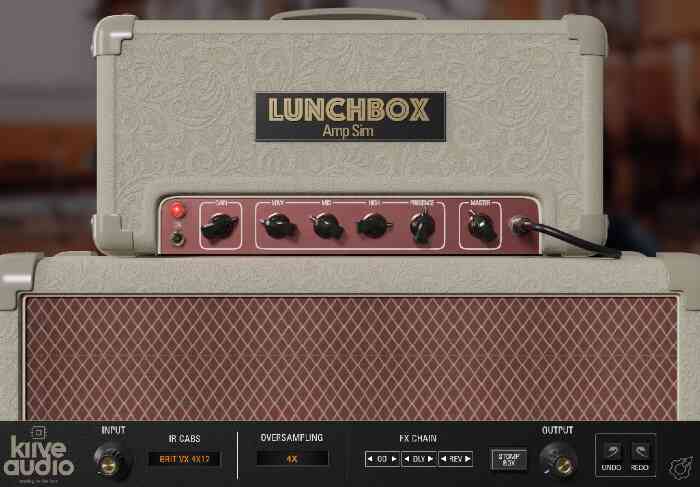 Touted as one of the best guitar amp simulator vst plugins, Lunchbox Amp sim is modeled on popular British valve amps from the 1960s. 
With authentic tube amp-like tones, 3 cab impulse responses, drive, reverb and delay effects, Lunchbox can tweak your guitar tones from overdriven crunch perfect for rock and blues to jangly indie-rock bright tones.
What's more, it features a Stomp Box Pedals section where you get access to three stompboxes models, namely: Transparent Overdrive, Single Room Reverb and a Delay. 
These pedals can be independently engaged and disabled within the signal chain section on any page.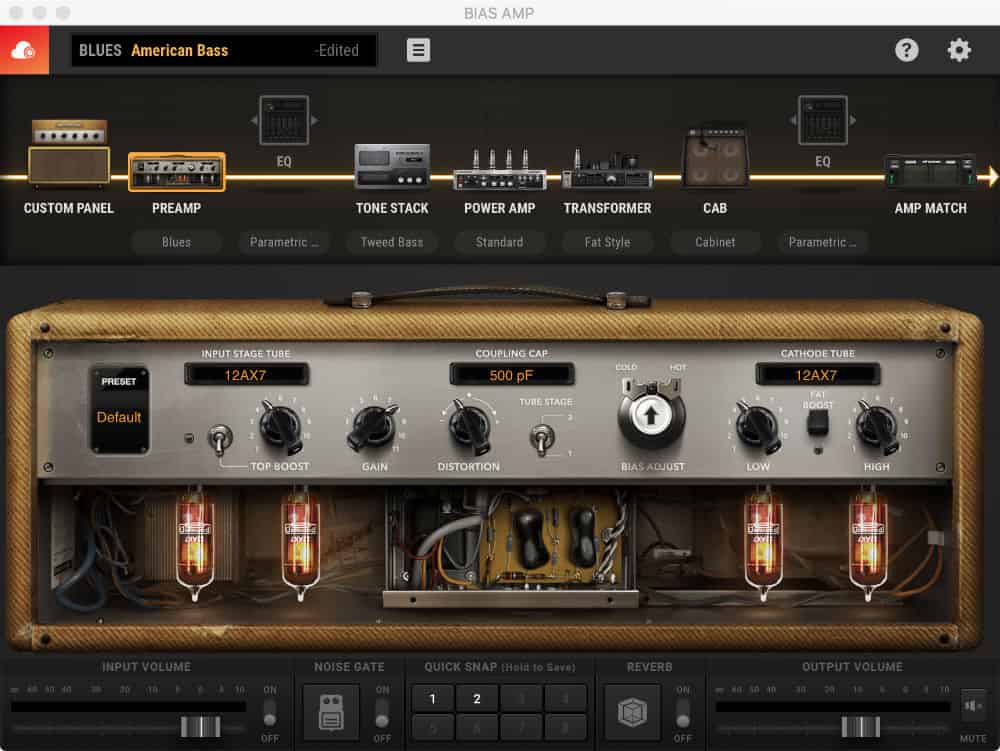 Positive Grid's Bias Amp 2 is a renowned name in the guitar amp simulator realm. Bias Amp 2 makes it possible to dial in realistic guitar tones suitable for a plethora of genres that range from Metal, Blues, Rock, to Jazz and Funk.
If you've ever used your DAW's inbuilt amp designer such as Logic Pro X's Virtual Amp Designer, you can feel the difference in the guitar tone's authenticity when you switch to Bias Amp 2 since it emulates the authentic tone of real hardware amps and cabinets.
You can create a custom amp for your go-to signature guitar tones in a short time and access ToneCloud® where thousands of custom free amps from legendary rock/metal bands, guitarists are available for free to download.
You can even upload your custom guitar tones to the cloud or select tones made by other users.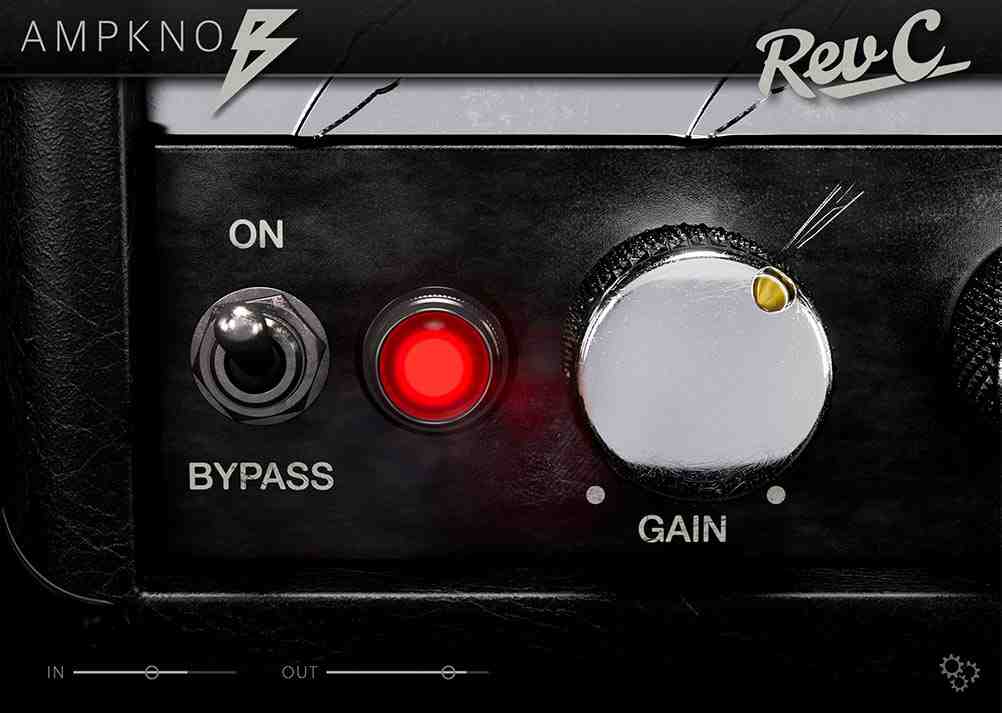 Looking for a no-frills attached minimalistic guitar amp simulator that doesn't hold its punches? Lo and behold, AmpKnob's Rev C is a fiery single knob plugin that captures iconic, high-gain amp sounds that were curated by top heavy metal producers in the world.
Simply plug in, and start jamming or recording heavy guitars without having to tinker with endless controls and knobs on your plugin. 
With RevC at the help, you can instantly hone in on your creativity channel your guitar riff, lick or solo ideas easily without wasting precious time.
SEE ALSO: 5 Best Acoustic Guitar Preamp VST Plugins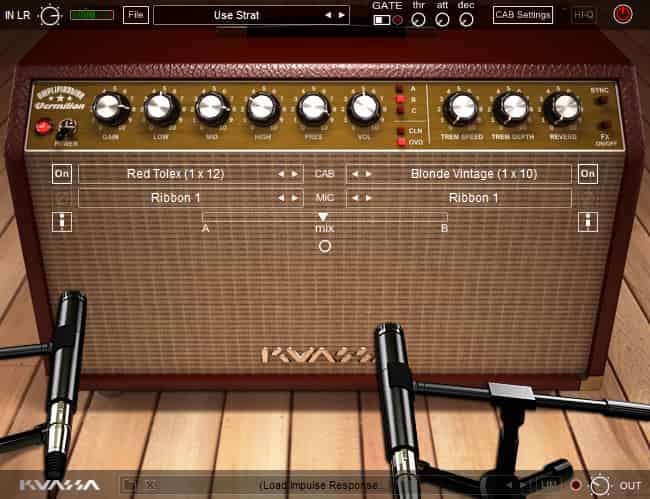 If you are a devout metalhead or djent guitarist looking for a modern high-gain amp preferably for various subgenres of metal or even avant-garde, Amplifikation Creme should definitely be on your radar.
It can help you dial in some filthy distorted guitar tones apt for heavy chugging riffs and achieve that raw top end richness. 
Amplifikation Creme is available in VST/AU/VST3/AAX formats and is compatible with many popular DAWs such as Reaper, Logic Pro X, Reason, Ableton Live, Cakewalk, etc. All together, Amplifikation Creme is one of the best guitar amp simulator vst plugins on the market.
SEE ALSO: 5 Best Guitar Preamp Plugins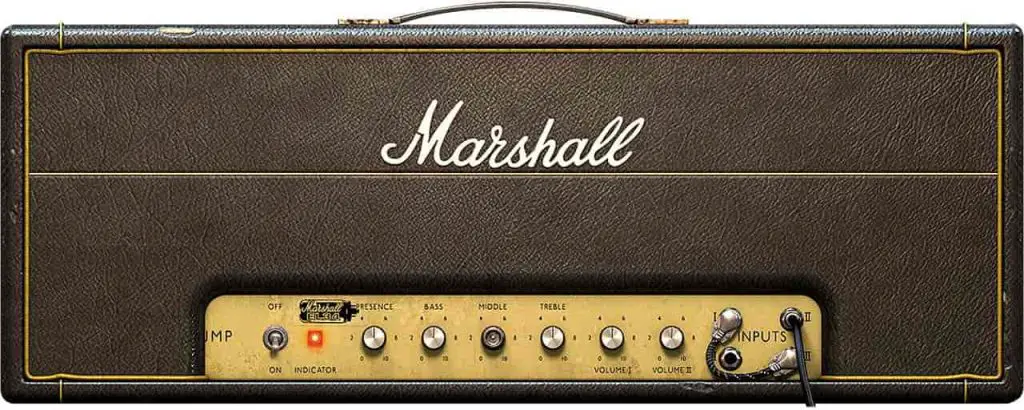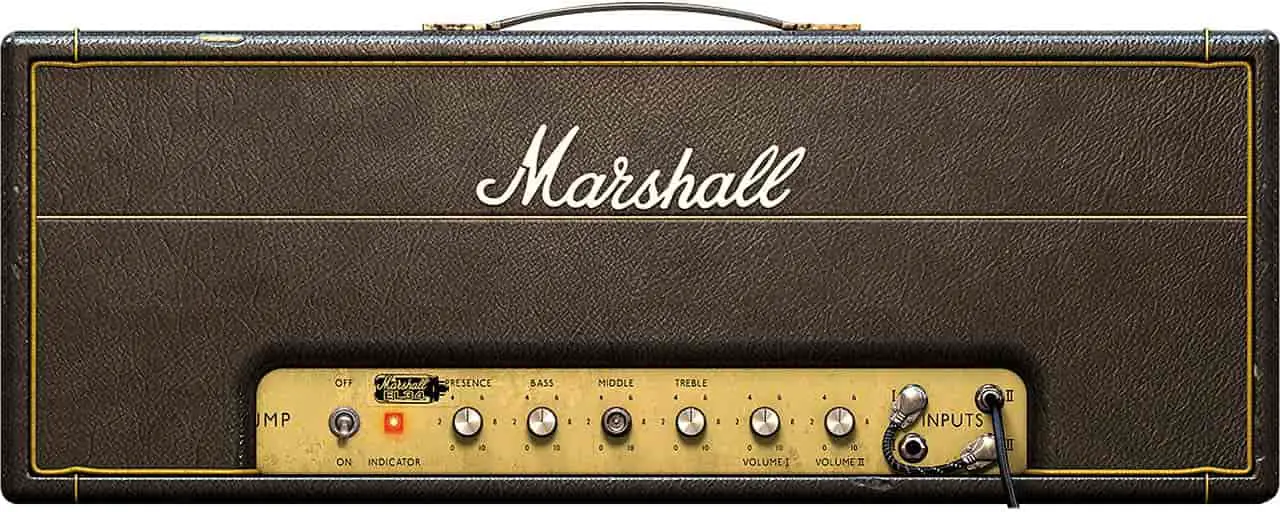 Softube's Marshall Plexi Super Lead 1959 is easily one of the best guitar amp simulator vst plugins on the market. After all, it perfectly encapsulates the iconic Marshall Plexi Super Lead 1959 amp sound. 
You can recreate the legendary guitar amp sounds of guitar gods such as Jimi Hendrix, Jimmy Page, John Frusciante, Slash, Angus Young, Eric Clapton, to name a few with Softube's Marshall Plexi Super Lead 1959 VST.
The Marshall Plexi Super Lead amp sim was crafted after careful examination of each component of its famous hardware counterpart to recreate authentic, detailed and textured guitar tones. 
The plugin doesn't disappoint one bit as it maintains the iconic feel, sensitivity and vibe of the Marshall Plexi Super Lead 1959, one of the most revered amps in the history of Rock 'n' Roll. 
The Cabinet impulse responses available in the plugin were recorded at Kore Studio in London and the mic selections were specifically done by AC/DC's prolific sound engineer Tony Platt (Back in Black and Highway to Hell fame).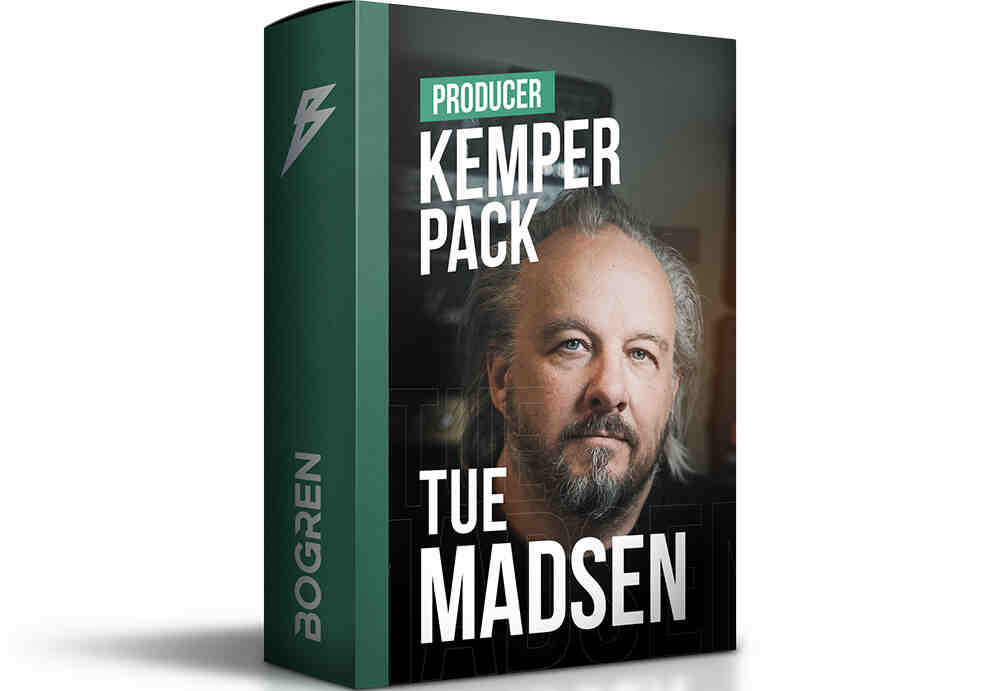 Are you a Kemper user who wants to dial in some ridiculously heavy death metal guitar tones? Legendary producer Tue Madsen (of Meshuggah, August Burns Red, Behemoth, and Black Dahlia Murder fame) has an exclusive high gain Kemper pack.
This signature Kemper pack boasts some much sought after guitar amps and cabs used on some of the heaviest metal songs of all time!
It features 8 Amps, 7 cabs, tons of pedals, 32 producer profiles, and mix ready guitar tones direct from Tue's entire processing chain.
Whether you are a metalcore guitarist, riffmaster or like to downtune your 7 or 8 string electric guitars to Drop A, Drop B and other low tunings, the Kemper pack is one of the best guitar amp simulator vst plugins you can get your hands on.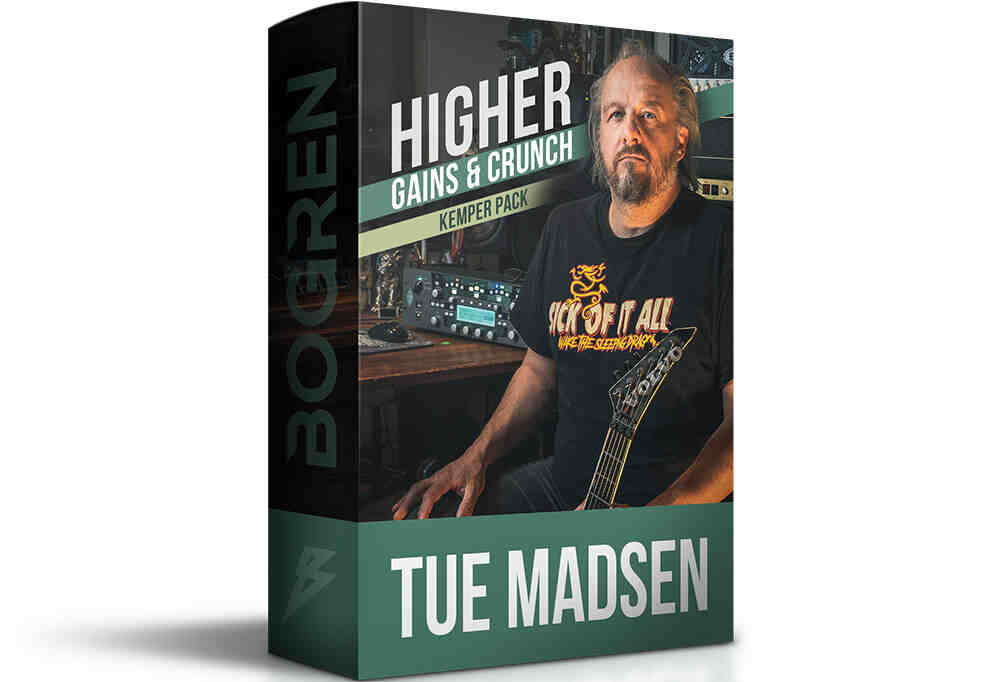 Another Tue Madsen plugin on our list, the Kemper Pack 2 takes things a notch above as it dials in 2x the guitar heaviness staying true to the sludgy Swedish death metal sound.
Don't be afraid to dial in the gain knob both ways as you swing from doomy overdriven guitar sound to haunting clean guitars in no time.
If you are looking for a guitar amp simulator with high gain lead, bone crushing distortion or super high gain amp profiles in general, look no further than Kemper Pack 2.
That said, you can also dial in clean guitar tones used for breakdowns or change in tempo passage segues. 
The Kemper 2 features three guitar tone modes: Clean, Crunch and FX.
It comes with up to 66 producer profiles, mix-finished tones capturing Tue Madsen's entire studio processing chain, plus even more effects than its predecessor for unlimited tonal options.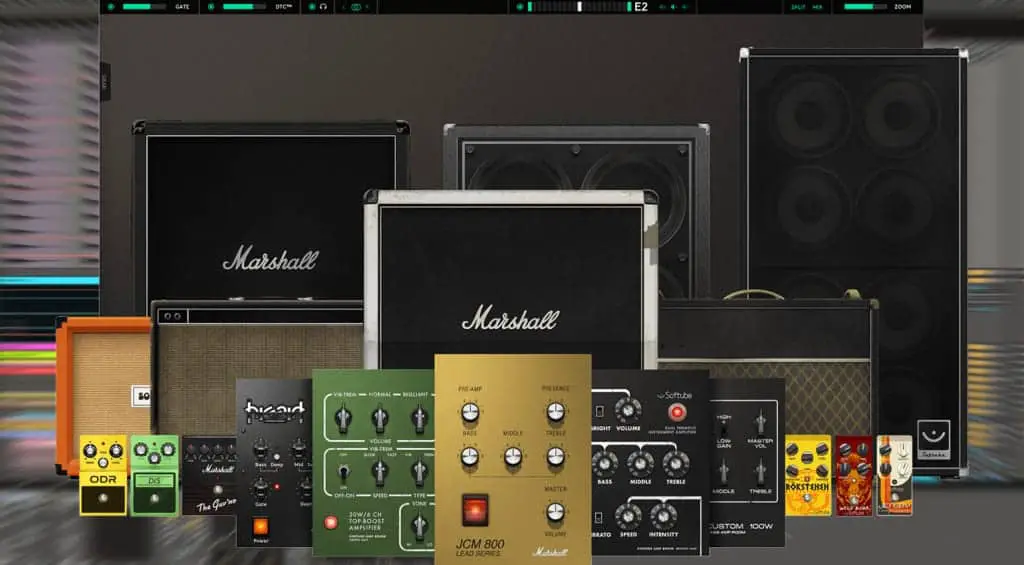 If you are looking for a heavy and distorted guitar sound, the Softube Amp Room Vintage is one of the best guitar amp simulator vst on the market. 
Amp Room Vintage can dial in some serious emulations of 1970s staple classic rock guitar amp tones, as well as heavy and meatier 1980s thrash metal tones suitable for riffs.  
The novelty factor that separates Amp Room Vintage from the rest of the competition is a realistic tube amp tone that can hardly be distinguished from a real tube amplifier.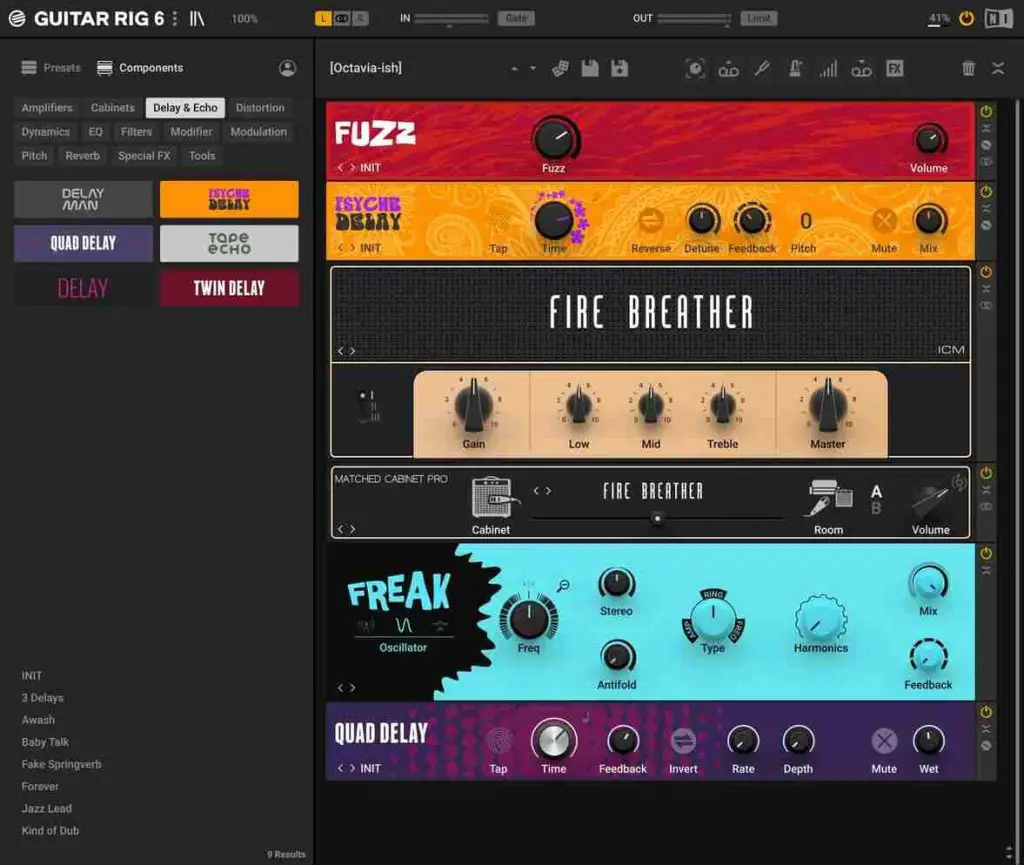 Rounding up our list is Guitar Rig 6 Pro, a nifty multi-effects rack and simulator amplifier plugin created for musicians, mixing/mastering engineers, and users of Guitar Rig Pro 6 LE .
Guitar Rig 6 Pro offers 3 new modelled boutique and vintage amps, a blendable cabinet impulse section which can be paired with a switchable effects section that features Multi stage Chorus, phaser, Delay, and other effects all of which can be independently engaged.
Some of the guitar tones and voicings available on this amp sim are Grit, Warmth, Crunch and Fuzz.
You can tweak guitar sounds thanks to tons of tone-shaping options such as fat, tight and body contours, Pre and Post gain EQ, to name a few.  
SEE ALSO: 5 Free Preamp Plugins
Why are Guitar Amp Simulator VST plugins so popular?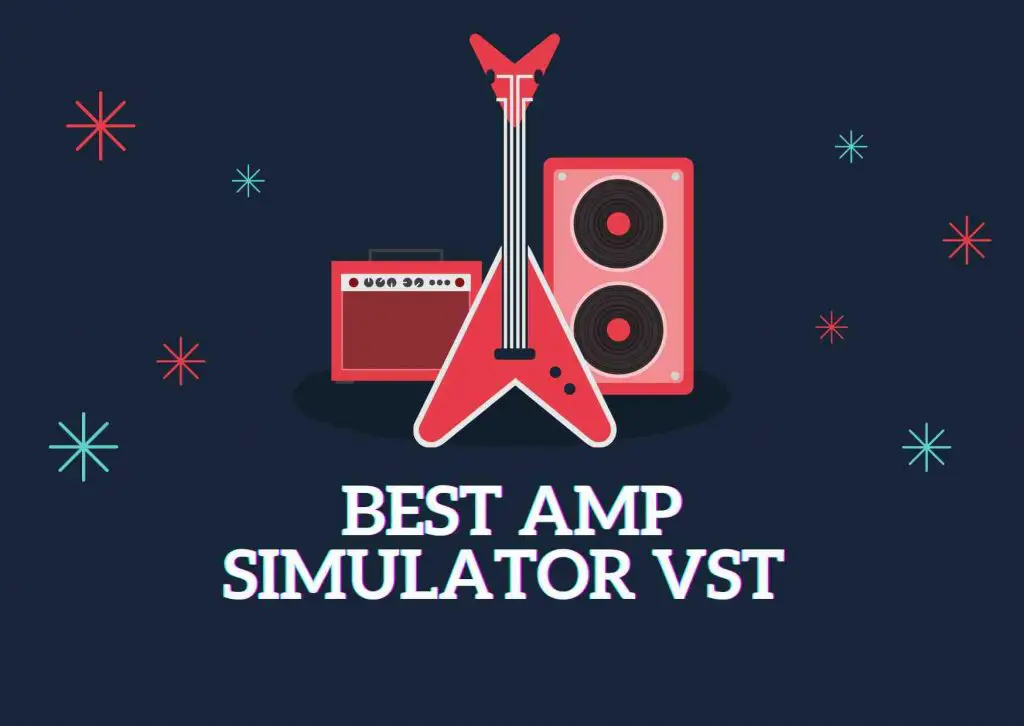 Until the late 1990s, guitarists all around the world relied on tube amps for recording guitar, live performances or to sculpt their guitar tone. Tube amps were quite costly, and heavy to lug around. 
Some of the best guitar amp simulator vst plugins on the market do away with all the hassles as you can easily recreate the same guitar tone right inside your DAW for a fraction of an expensive tube amp's cost or even less! 
Nowadays, since one can literally produce music on their computer, amp modelers focus on digital audio and in-box functionality. Hence, guitar amp sims are very popular.
What is the best Guitar Amp Simulation Software?
This is a quick roundup of some of the top guitar amp simulation software:
If you are a strictly rock and roll guitar enthusiast, Softube's Marshall Plexi Super Lead 1959 should do the job. 
If you are looking for a heavy metal guitar sound, Bias Amp 2 will fit the bill. 
If you are looking for a single coil legendary Fender Strat guitar sound, Blue Cat's Re Guitar is your go to plugin.
If you are going after a slightly more modern metal sound that borders on Djent, Amplifikation Creme and Rev C will do wonders to your guitar tone.
If you are a Kemper owner looking for a reliable amp sim cab for dialing in extreme Death Metal/Black Metal guitar tones focusing on the low end, Tue Madsen Signature Kemper Pack will come in handy.
Frequently Asked Questions: Best Guitar Amp Simulator VST
WHAT IS AN AMP SIMULATOR VST? 
An amp simulator is a software that emulates the sound of a guitar tube amplifier with digital technology.
Amp Simulators are usually available in the form of VST/AU plugins and are designed as a 'plug-in and play' software that can be controlled via an interface. 
Guitar amp sims are designed to give you an authentic guitar tone without the need for a 'real' tube amplifier.
They are used inside an audio editor program or DAW (Digital Audio Workstation) and can be used  in your electric, acoustic, or bass guitar instrument's channel tracks.
They can often be used as a standalone program with your Amp Modeler units such as Quad Cortex.
Simply plug in your electric or bass guitar and the amp simulator vst software will recreate natural sounding guitar tones emulating real tube amps/cabinets by efficiently miming the sound of the hardware gear they derive inspiration from. 
Why use Guitar Amp Simulator VST?
1) Amp sims tend to be far more convenient and cost-efficient since they are realistic digital emulations of expensive tube amps and guitar cabinets at a fraction of tube amp's cost. 
2) You can easily dial in guitar tunes inside these amp sims and even modify the sound by blending in guitar impulse responses or changing microphone positions. 
3) An Amp simulator VST can give you access to all the legendary hardware guitar gear that was once very expensive to purchase.
4) You also end up saving money on microphones and room acoustic treatment.
5) The direct benefit of using guitar amp simulator plugins is that once you have dialed in your favorite tone after a bit of tinkering, you can easily save it and recall it in an instant every time it is required.
6) Also, you end up saving up a lot of storage space in your house or studio as expensive guitar tube amps, microphones and cabinets are pretty sizable and take a lot of space. 
7) Another benefit is volume control. A bedroom music producer or guitarist can easily crank up a thundering Marshall Plexi Amp simulator VST at 2AM in the night without disturbing their neighbors or family members.
8) You can harness the power of the full loud tube amp in your headphones with an amp sim.