Want to know how to record metal guitar at home? You are at the right place. Creating a heavy and aggressive metal guitar tone for recording, jamming or live sessions can take an insane amount of time.
However, you can instantly dial in a heavy guitar tone suitable for various sub genres of metal at home right inside your DAW (Digital Audio Workstation) using two easy and effective solutions.
1) Metal Amp Simulator Plugins
2) Metal Impulse Responses
Back in the early days of metal, the tone purists had to spend countless hours fiddling around knobs on their tube amp, tweak effects pedals, adjust microphone position and lug heavy equipment just to dial in a heavy distortion guitar tone.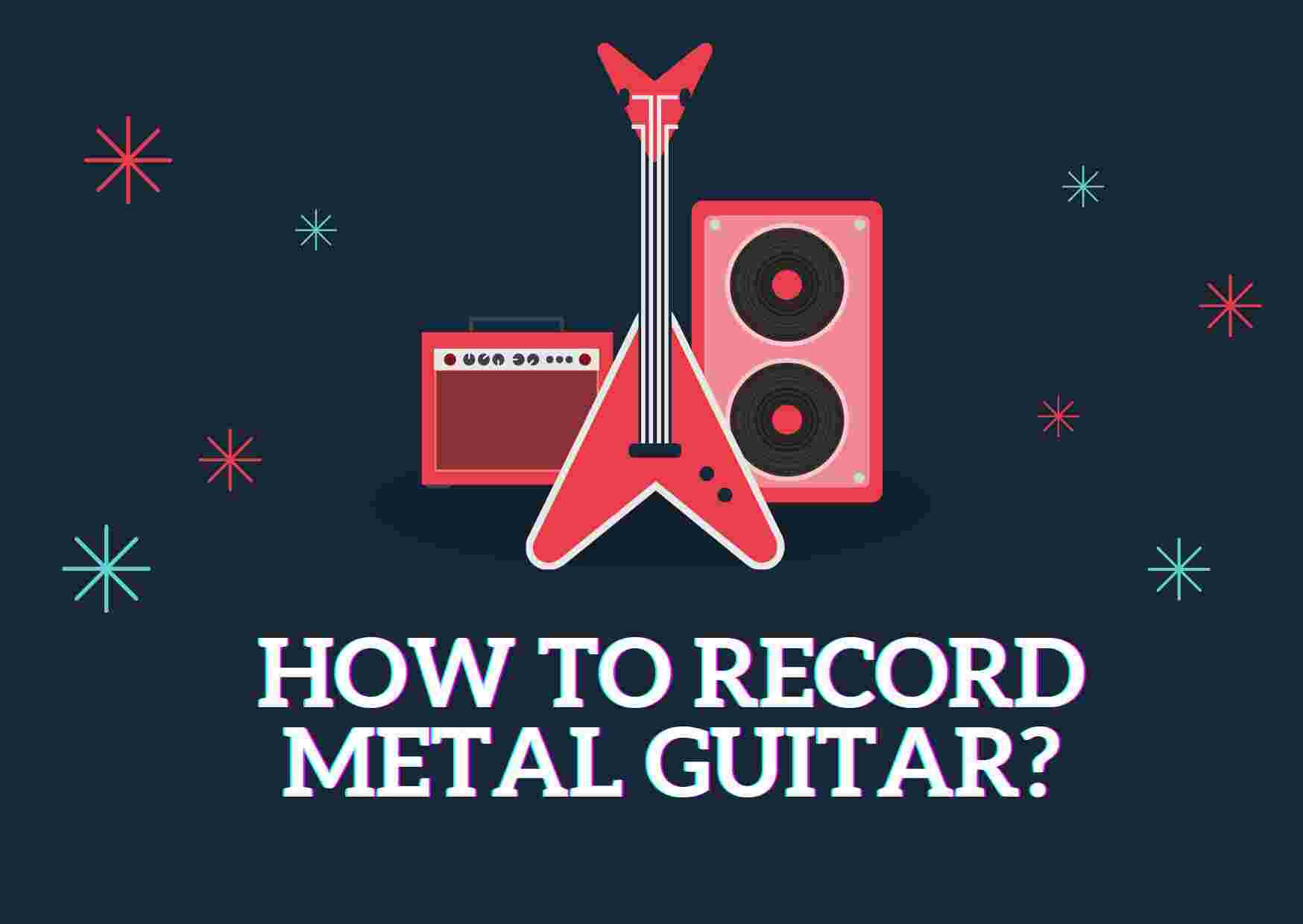 Then, the times changed. Nowadays, you can rely on some nice metal VST plugins, and Impulse Responses to recreate authentic tube amp tone and emulate tons of expensive effects pedals/cabinets right inside your DAW without heading out to the studio.
Down below we lay down the intricacies of how to get a good metal tone without using expensive cabinets and other guitar gear whether you are a beginner or a professional metal producer.
Also, in case you are a djent guitar player wondering how to get djent tone, read on.
How to Record Metal Guitar 
How to record metal guitar with VST/AU Plugins for Metal Tones?
Choosing a decent Metal Amp Simulator VST can transform bland input signals to model brutal tube amps and achieve natural and authentic guitar tone for recording metal songs.
Some of the best amp sims for metal include the likes of premium plugins Softube Amp Room, Bias Amp 2, Amplitude 4, Cerberus bass Amplifikation, to name a few.
Most of these amp sims can emulate rich and organic distorted guitar tones of legendary metal amps such as Mesa Boogie, Diezel and more with a combination of effects pedals such as reverb, compressor, Tremolo, Octaver, Pitch Shifter, Delays and other FX thrown into the mix.

These metal amp sims are highly customizable and offer an abundant amount of tone sculpting potential.
That said, if you are on a tight budget, you can recreate free metal amp tones using VST plugins such as Nick Crow Lab 8505, LePou Amps, and more.
These plugins are somewhat at par with premium amp simulators in certain departments and won't disappoint either.
How to record metal guitar tracks with metal amp VST Plugins?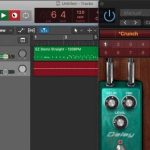 1) To create a solid guitar tone that is heavy and distorted, you need to record your DI (Direct Input or Direct Inject) guitar signal first.
2) Next, load up the amp sim of your choice in the signal chain of the channel track where the guitar DI was recorded.
3) Activate the VST plugin/amp sim to emulate an authentic guitar tone over your recorded signal.
4) Add effects such as reverb, delay, tremolo, compressor in the amp sim as per requirement.
5) Double or quadruple track your rhythm guitar tracks. Record another DI guitar track using the same process as above.
6) Pan one guitar hard left (first DI guitar track) and one hard right so that your rhythm guitar sounds layered and sits nicely in the mix on the left and right speakers.
7) That's it. Now you have a formidable metal guitar tone at the ready in your DAW.
The advantage of using the DI recording method is that the signal is never obstructed by external noise or environment since the signal never comes in contact with the air.
Hence, you can get a professional studio quality guitar tone right inside your DAW.
Amp Sims are the most easy and practical way of recording metal guitar directly through the direct input or direct injection method. 
Metal Amp plugins can replicate vintage high gain electric guitar amps, and bass guitar amps.
Pros of using Metal Amp Sims and VST plugins
Easy, fast and economically feasible way of recording metal guitar at home
Realistic metal guitar tone
No need to lug around a heavy tube amp
Infinite amount of tone customization with the option to store and save tone presets for future use.
Some amp sims provide Drum simulation and offer free drum samples as well.
Please note that most metal guitar plugins come with an amp head, hence you will require a metal cab simulator to make your guitar tone sound realistic. 
SEE ALSO: 5 Free Metal Guitar VST Plugins
How to record metal guitar 
Using Impulse Responses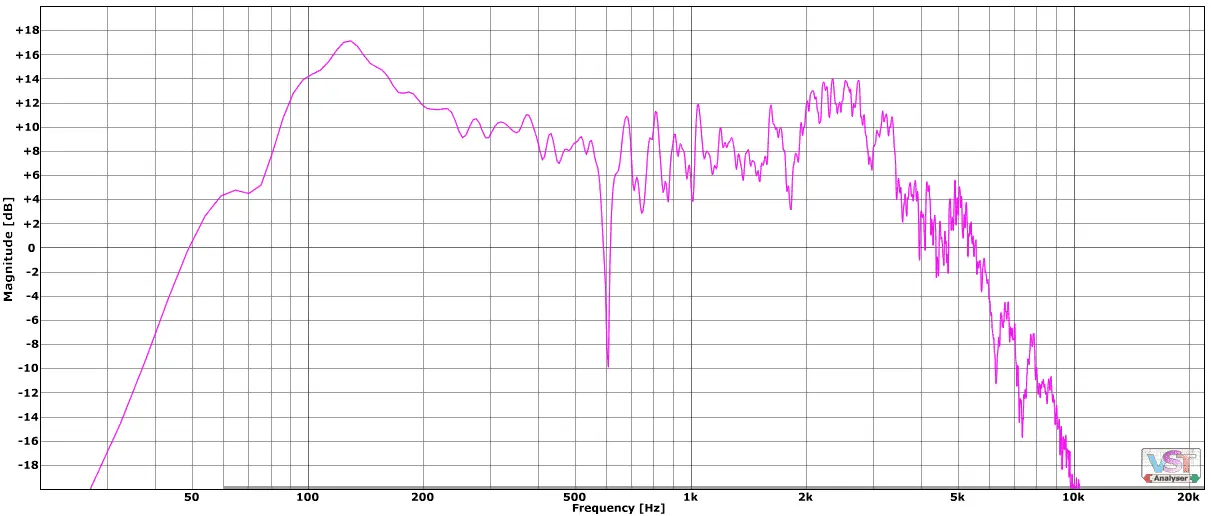 Impulse responses are a great way to spruce up your guitar tone. They have seen a surge in adoption over the years.
Impulse Responses are digital recordings of a space's natural acoustics and can make your guitar tone sound very realistic without artefacts.  
There are many premium amp sims that allow importing hundreds of free third party IR's. Others such as Softube's Amproom come with their own factory IR's as well as premium Impulse responses such as Jens Bogren's Bogren Digital IR pack and Kristian Kohle's Rainbows and Chainsaws IR Pack.
Hence, you can get the best of both worlds with a solid metal amp simulator plugin as well.
Choosing the correct Cabs/speaker (or IRs) is important
Just like choosing the right amp, there are certain cabinets and speakers that suit metal guitar tone very well. 
Which is why IR's capturing speakers such as the Celestion Greenbacks and Celestion Vintage 30, a staple in Mesa and Orange guitar cabs, are highly sought after.
These IRs provide that tight low-end guitar tone perfect for down-tuning. 
SEE ALSO: Best Black Metal Drum VST Plugins
How to record metal guitar
Choosing a suitable Guitar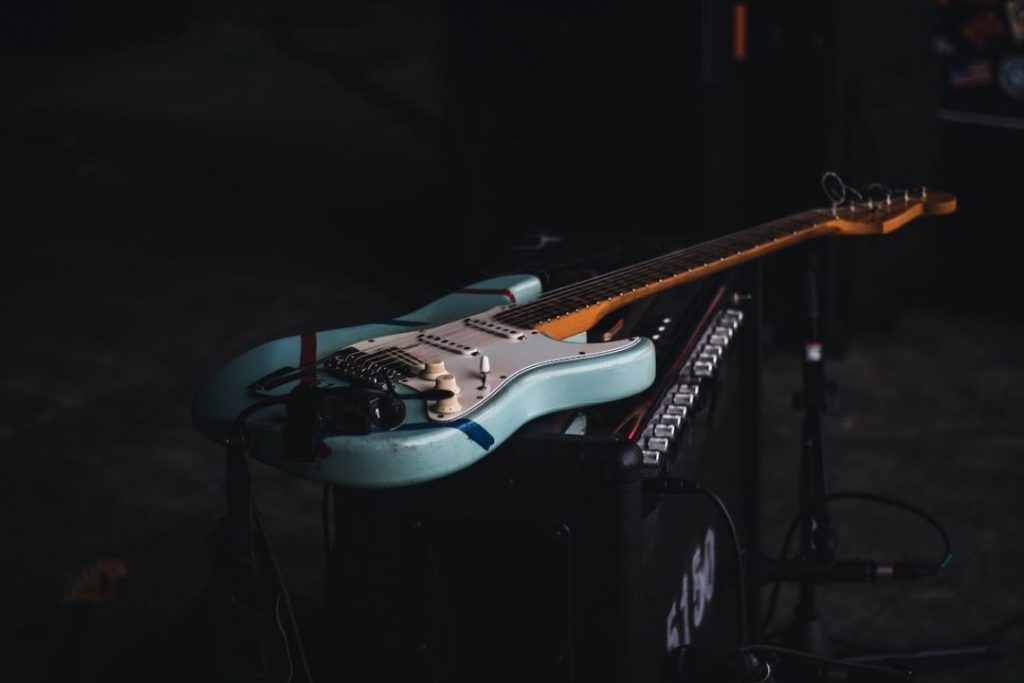 While VST plugins and IRs play their respective role insofar as software and recording is concerned, often a simple change of guitar can also greatly affect the tone. 
The first step in the signal chain is the guitar, and it is important to choose a guitar that is compatible with metal guitar playing. We are talking about the build quality, the material, hardware, and construction of the guitar.
For instance, Solid body guitars produce a rich, resonant and dark sound and are constructed of wood such as basswood, mahogany, and alder. 
At the same time, a smooth and slim set neck on your guitar ensures that you can play legato sweeps, sweep pick, and quickly do pentatonic scale runs without breaking a sweat. 
Next, use a heavy gauge of strings for playing downtuned guitars to achieve a thick tone that keeps the intonation intact.
Not to mention, playing metal guitar music is often best possible with guitars having a locking tremolo system such as a 'Floyd Rose'. 
Especially, if you want to shred, use dive bombs, and modulate the notes by pressing the tremolo bar down without getting the guitar out of tune, a Floyd Rose locking tremolo system will be ideal. 
Other equally important factors that keep the guitar's intonation right are bridge height, string tension, low action (for faster and more aggressive style of shredding), locking tuners and the list goes on.
Guitar Pickups
Low drop tunings are a staple in most modern metal songs straddling genres such as Deathcore, Metalcore, Djent, Doom Metal, Black Metal, Progressive metal, you name it.
These low dropped tunings can go as far as drop B, or even Drop A.
Hence, your electric guitar must be equipped with pickups that are suitable with low and mid-range frequencies to ensure smooth recording that captures the sound completely.
Active and Passive Pickups
Usually metal guitarists prefer using Active guitar pickups as they are known to produce high gain (by driving the amp harder) since they come with a dedicated pre-amp to deliver more output.
Especially, if you are looking to record a high gain metal guitar tone with a crunchy power chord sound, Active Pickups such as Seymore Duncan Blackouts and EMG 81's/85 offer more saturation, compression and attack to your guitar tone.
On the other hand, Passive pickups are known for providing a warmer tone, slightly less gain and high output.
However, it is best preferred to use a metal amp plugin with your Guitar having passive pickups to compensate for the lack of gain.
Conclusion: How to record metal guitar at home
In the ever changing landscape of music production, both professional recording metal musicians and bedroom guitarists can record professional sounding metal tracks, map drums at an affordable cost and save lots of precious time using Metal Amp simulator plugins and metal impulse responses.