When you are looking to create the right guitar tone choosing a good guitar, amplifier, and pickups is pivotal. However, so is choosing the correct Guitar Compressor. This list of the best compressor vst for guitarists delves into some of the most important VSTs that can make our break the sound you are chasing after. 
Some DAWs do offer an inbuilt compressor but most of the time it doesn't pass muster since every compressor has their own very unique way of changing the sound of guitar tracks.
This list of the best compressor VST plugins for guitar encompasses various subgenres of rock, and metal (based on tweakage controls) so there's something for everyone. Without further ado, let's get started.
5+ Best Compressor VST 2023

An emulation of the vintage British Royal Compressor known for its analog sound, Royal Compressor is a general-purpose compressor for instruments that run the gamut from bass, guitars, synth, and drums,
Royal Compressor is one of the best compressor VST for guitar that also doubles as a Vari-Mu Compressor that can add pleasant warm compression to your mix and instrument channel tracks at 64-bit quality, virtually any sample rate and CPU-friendly operation.
Hence, if you are a musician, guitarist or indie producer fond of analog compression sounds and warm guitar riffs in your mix and master tracks, Royal Compressor is your go to compressor VST.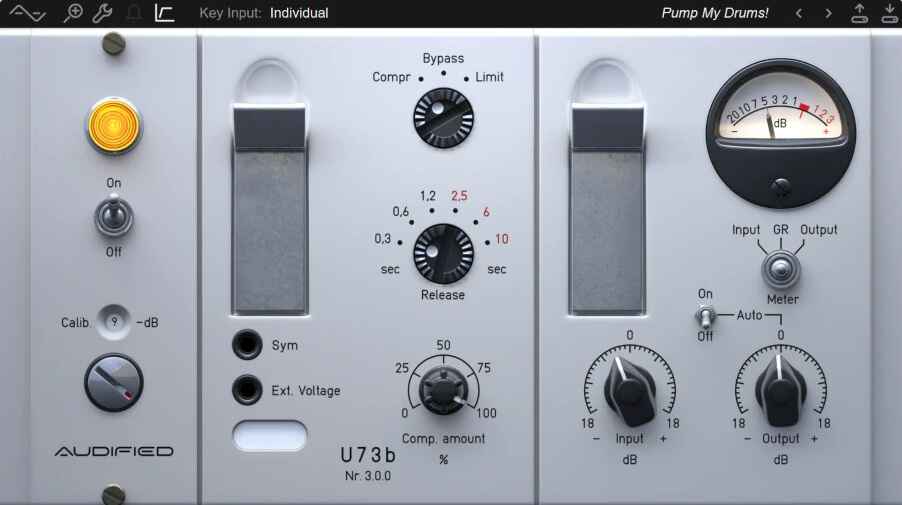 Modelled on the the German broadcast compressor/limiter U73B, this Arturia plugin is a formidable bus compressor VST that comes in handy for more than simply controlling your guitar dynamics.
In fact, U73B is one of the best compressor VST plugins for Guitar if you want to add tone and harmonics to your entire guitar bus signal.
As well as exacting dynamic control for each bus and streamlined bus processing for your guitar tracks, the U73B also features and external sidechain, auto output level control and a nifty high pass filter for switching between vintage and modern compressed sound.
All in all, U73B is a must have guitar bus compressor if you are into producing heavy distorted guitar music such as metalcore, djent and even rock n roll and want to fine tune sibilant frequencies with ease. 
SEE ALSO: 5 Best Opto Compressor Plugins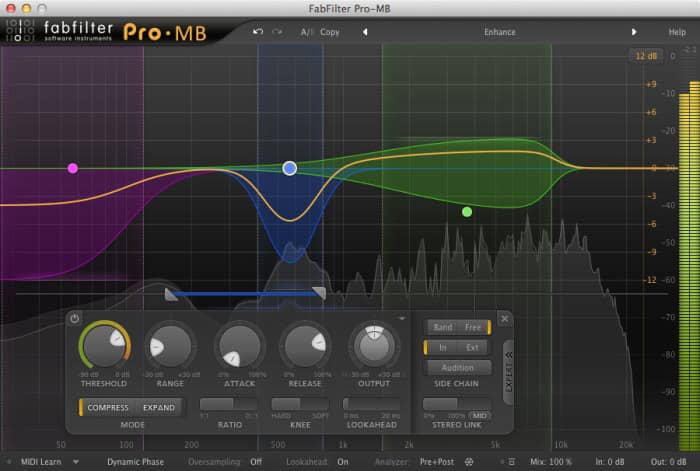 A nifty multiband compressor VST, FabFilter's Pro-MB is renowned for its archetypal sleek and slick sounding multiband compression embellished with some crafty enhancement effects thanks to its slick retina graphic user interface. 
For starters, you can intuitively define specific frequency bands and achieve expansion and pumping upward compression.
What's more, you can recreate a "vintage" compressed sound that is warm and reminiscent of analog compressor units of yore.
You can also activate MIDI learning mode, and process up to 6 frequency bands for a more fuller guitar sound that is effectively compressed for mixing and mastering.
Pro-MB also offers two nifty "Dynamic Phase Processing" and "Linear Phase" compression modes which you can switch back and forth from.
SEE ALSO: 5 Best SSL Compressor Plugins

SEE ALSO: 5 Best VCA Compressor Plugins


Regarded as one of the most iconic compressors of all time, the vintage FET Compressor is known for its aggressive attack as well as solid distortion to the sound source when cranked up.
Softube's FET compressor MKII VST is modelled after its analog counterpart and even takes things a notch above. 
For instance, it is even more flexible than its hardware counterpart it was modelled after.
You can use it for deeper gain reduction, and really go bonkers with the attack, sustain, release controls and even tinker with the distortion until you get a fully compressed guitar sound that is popular nowadays with bands such as Polyphia. 
Softube FET Compressor MKII shows no sign of the pinched sound many other compressors make when pushed to their limits, and it is for this reason alone tone chasers can rely on this compressor if they are looking for a tight compressed guitar tone with grit and feel.
SEE ALSO: How to use a compressor VST for mixing.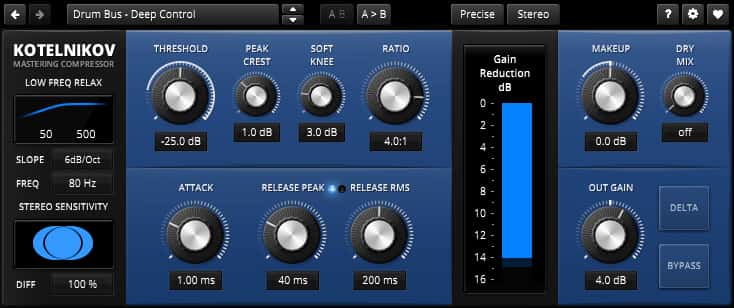 The TDR Kotelnikov GE by Tokyo Labs is a formidable digital compressor that offers streamlined and accurate compression without spillover or quashing transients abruptly.
If you are an indie guitarist or someone who likes to play clean and compressed, bright guitar sounds, the TDR Kotelnikov GE is a must have compressor. 
For starters, it doesn't alternate the timbre of the original guitar track recording and offers extreme control over finer aspects of compression.
However, on the downside, this decent compressor comes with a bit of a learning curve so might have to tweak around a bit to attain the balanced loudness you're looking for. 
SEE ALO: 5 Free Sidechain Plugins