Looking for some good FET compressor plugins? Your long wait is over because we have done a lowdown on some of the best FET compressor VST plugins for you to choose from.
A FET compressor is an analog compressor that deploys a field-effect transistor at the center of the circuit. Some of the best FET compressor plugins on our list offer faster compression with immense transient preservation than most other types of compressors.
So, are you ready to find the best FET compressor VST? Without further ado, let's get started.
5+ Best FET Compressor Plugins 2023


Emulating the vintage 1176 analog compressor, Softube's FET Compressor also includes precise emulation of analog distortion/saturation and the popular 'All Buttons In' mode present in its hardware counterpart.
If you are looking for an aggressive style of compression on your drum or guitar tracks, look no further than FET compressor.
What's more, FET Compressor also features the Parallel Inject control that makes for smooth parallel compression.
Not to mention, a slick sidechain/detector section with low-pass and high-pass filters, lookahead, and parallel blend control parameter to seamlessly mix the program sidechain signal with external sidechain signal.
SEE ALSO: 5 Best Multiband Compressor VST

SEE ALSO: 5 Best Mastering Compressors

Touted as one of the best FET compressor plugins that is modeled on a custom classic Urei 1176 compressor circuit, Smasher can be used extensively on bus or instrument channel tracks with reckless abandon.
Especially, if you are looking for a formidable attack-centered tone, Smasher does the job just right. It recreates the "All buttons in" / "British" mode of several vintage analog compression units.
You can also dial-in a suitable amount of gain reduction and attain that sweet parallel compression sound with the Mix knob.
This slick VST/AU compressor also lends more transients to your channel instrument tracks and ups the sheer firepower of the original Urei 1176 without compromising on performance.
What's more, you can add some lush warm coloration thanks to soft clipping and saturation.
SEE ALSO: 5 Best VCA Compressor Plugins

SEE ALSO: 5 Best SSL Compressor Plugins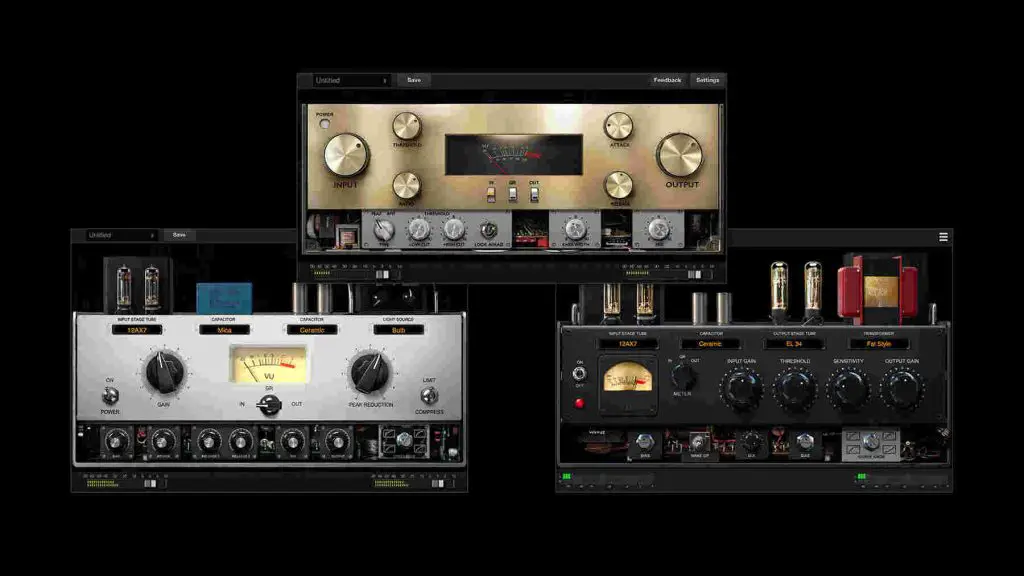 Bolstered by precise matching technology, Pro Series Compressor emulates the classic FET studio compressor in terms of both sound and aesthetics.
Since this plugin relies on profiling technology, it can capture subtle nuances of real world analog compressors with ease. 
For starters, Pro Series Compressor comes with 3 individual compressors: FET, Tube and Optical. 
The FET compressor module offer sublime peak detection that can apply compression with super fast attack times, release times and look ahead. 
Pro Series Compressor is best suited for guitars where you want to filter out the muddy low-end. 
At the same time, it can be used with bass guitars to trim out the loud high-end and lets you control the frequency range for triggering compression.
SEE ALSO: 5 Best Vari Mu Compressor Plugins

SEE ALSO: 5 Best Opto Compressor Plugins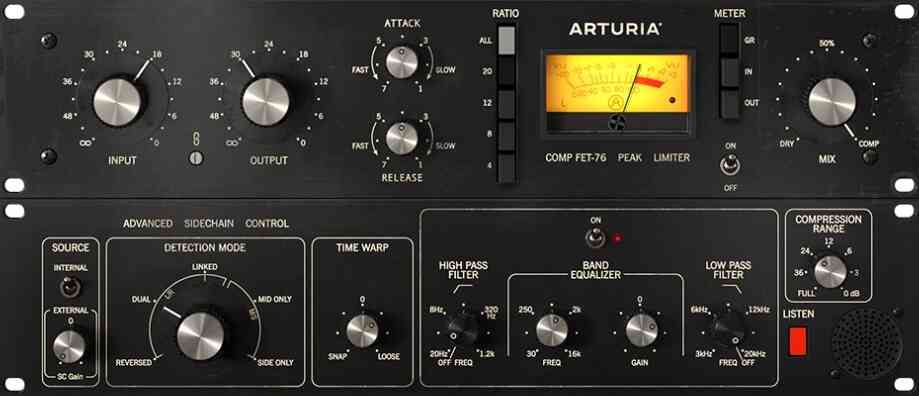 Modeled on the D/E model of the Urei 1176 from the 1960's, Arturia's Comp FET-76 is a relatively easy-to-use compressor with no bells and whistles making it a worthwhile option for beginner producers.
That said, Comp FET-76 emulates the raw and aggressive tone of the 1176 compressor and packs it in a digital format with super fast attack times and more tone sculpting potential.
Further, Comp FET-76 also features a detection mode that boasts 5 methods of reading the sidechain signal.
You can also engage the Time Warp feature and add a few milliseconds of lookahead time for dialing in a snappy compressed tone.
Not to mention, a 3-band semi-parametric EQ that can sculpt the sidechain signal to fasten compression times.
Want to learn how to use a compressor the easy way? Arturia's Comp FET-76 should definitely be on your radar.
SEE ALSO: 5 Free Sidechain Compressor Plugins

Rounding up our list of FET compressor plugins is Punch, which is an emulation of the legendary limiting and analog compressor, the 1176AE.  
For starters, you can immerse yourself in shaping the contours of loudness through Punch's melange of preset ratios such 2:1, 4:1, and 8:1. Punch sounds majestic on Drum tracks, so give it a shot.
And, if you want to take things up a notch, you can dial in the solid 20:1 ratio and engage the formidable limiter.
All together, Punch is a must have FET compressor for beginners who want a super fast attack time, FET Gain Reduction, and an easy-to-use graphical user interface with full automation. 
SEE ALSO: 5 Free Multiband Compressor VST