Multiband Compressors are a vital part of both mixing and mastering stages in music production. Multiband compressors split the frequency spectrum of the input signal into different bands and reduce the dynamic range of each band via preset compression parameters. We have done a rundown of the best multiband compressor VST that will make your mix sound awesome.
You might also want to check out this list of compressor VST plugins for guitar for even better results. So, without further ado, let's get started.
5+ Best Multiband Compressor VST 2023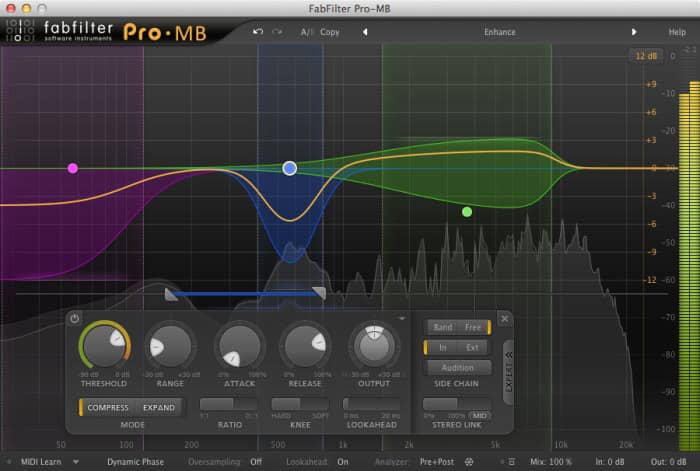 Sporting an intuitive retina interface, Pro-MB by FabFilter is an effective mixing and mastering stage tool that offers transparent compression as well as gating and hard limiting.
Not to mention, pumping upward compression and expansion that can be achieved by this plugin.
Pro-MB allows users to freely define specific bands which comes off as rather convenient as opposed to inserting strict crossovers across the entire frequency spectrum.
SEE ALSO: Learn how to use a Compressor VST for mixing.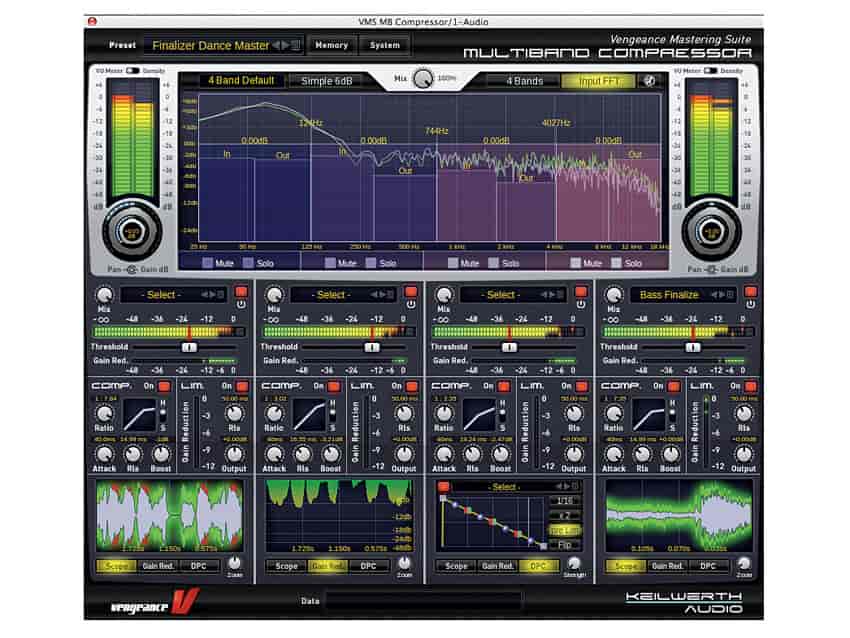 With up to 4 bands of in-depth multiband compression and hard limiting, Vengeance Sound's Multiband compressor comes as part of the Vengeance Mastering Suite although it can be purchased separately.
It can be used for multiband compression on the master tracks as well as mix bus tracks and and channel tracks inside your DAW.
Vengeance Sounds Multiplier features an intuitive visual display with a clearly laid out live waveform scope and Ratio/Threshold curve.
What's more, it also sports a real-time FFT analyzer that highlights all the effects of the multiband compressor across the entire frequency spectrum. All in all, it is one of the best multiband compressor VST plugins at an affordable price point.
SEE ALSO: 5 Best Vari-Mu Compressor Plugins

SEE ALSO: 5 Best FET Compressor Plugins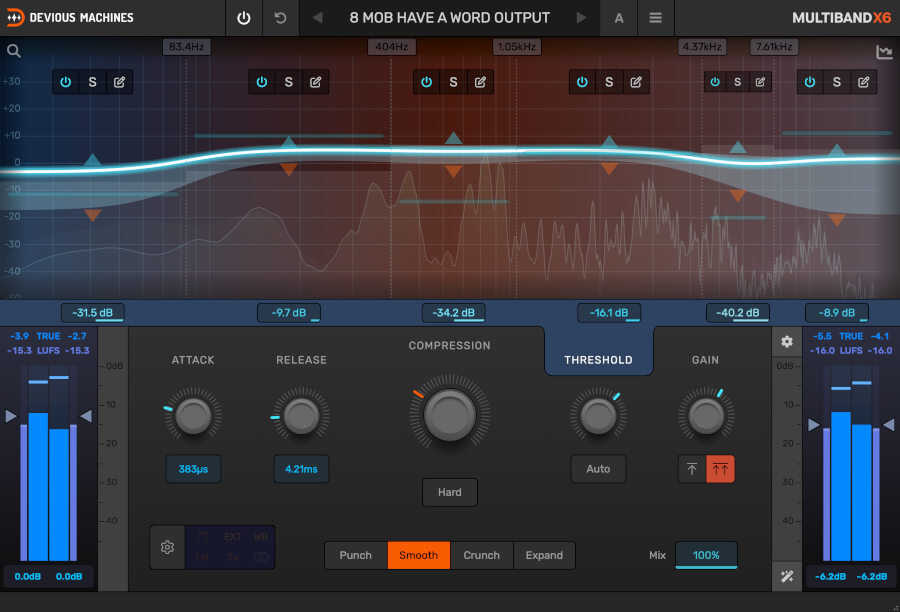 The Multiband X6 offers up to six bands of compression, 3 Styles of Compressors, and smart gain compression with 2 modes. Not to mention, a spectrum analyzer GUI, external sidechain input, mid-side processing and up to 4X oversampling.
The Multiband X6 is a splendid high-resolution multiband compressor VST that can be used in post production: mixing and mastering, as well as live sound environments.
The Multiband X6 is used to limit all audio material with varied characters ranging from fully transparent to audibly aggressive material.
What's more, Multiband X6 relies on multiple limiting stages for improved peak detection so that you can achieve truly marvellous compression results. 
SEE ALSO: 5 Best VCA Compressor Plugins

SEE ALSO: 5 Best Sidechain Compressor Plugins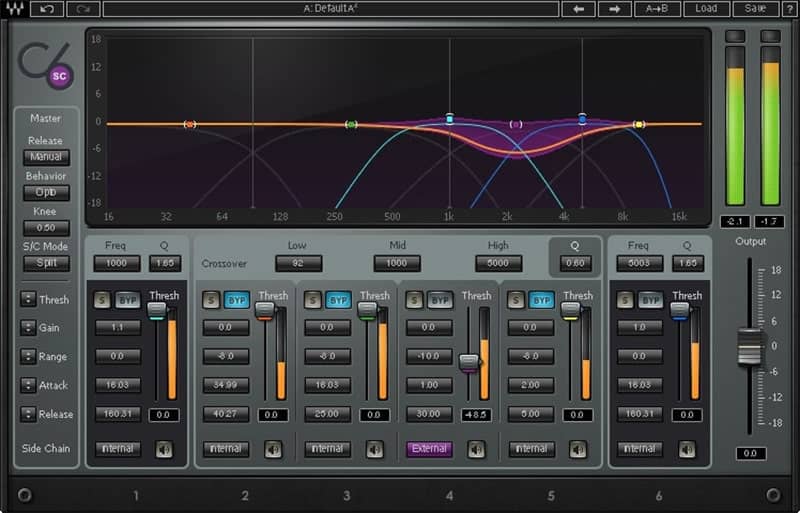 An incredibly precise VST, the Waves C6 multiband compressor plugin can be used for tracking guitars in studio, and live performances as well other post-production endeavors such as mixing and mastering. 
As the name implies, the C6 is a 6-band multiband compressor with a ton of functionalities.
For starters, it can be used for both multiband compression and de-essing and sports an intuitive paragraphic GUI for quick tweaks.
Moreover, you can also use it for equalization, limiting, and expansion making it one of the best Multiband Compressor VST plugins out there.
SEE ALSO: 5 Best SSL Compressor Plugins

SEE ALSO: 5 Best Opto Compressor Plugins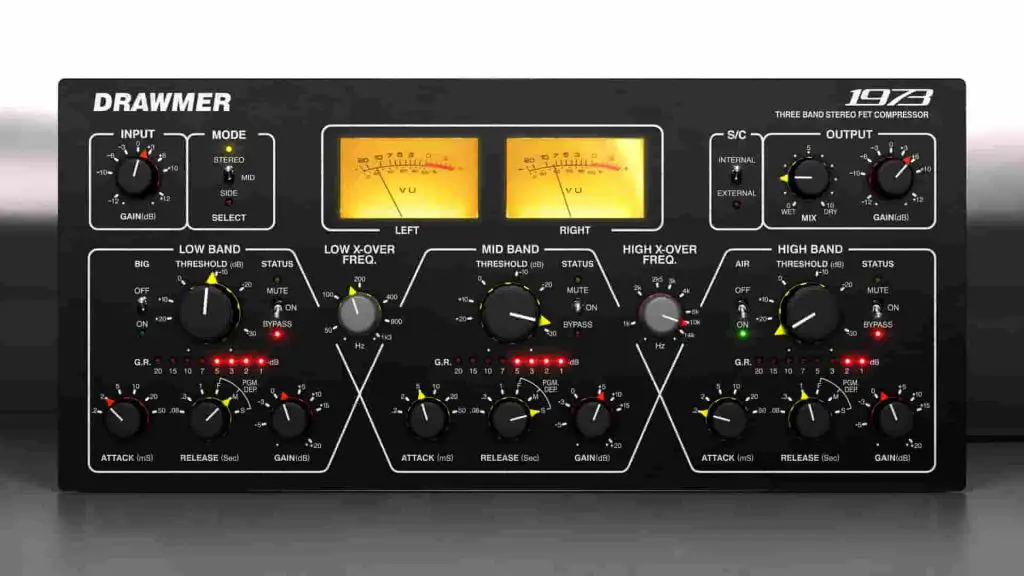 Rounding up our list of the best multiband compressor plugins is Softube's Drawmer 1973.
An emulation of the Drawmer 1973 multiband compressor, Softube's Drawmer 1973 features a beautiful user interface and perfectly is suited for beginners who want to compress bass, electric guitar or drum tracks.
The Drawmer 1973 VST boasts the same analog flair as the original in terms of sonic character and aesthetics.
The Drawmer 1973 multiband compressor provides users with dynamic control over 3 unique frequency bands wherein you can tweak the bandwidth of high, mid and low bands via the High X and Low X crossover controls, respectively. 
SEE ALSO: 5 Free Sidechain Plugins