Looking for a decent sidechain VST/AU plugin? You are at the right place. We have done a lowdown on some of the best Sidechain plugins that will add sublime compression to your instrument tracks and mixes.
Some of the best sidechain VST plugins on our list can be used on Guitar, bass, vocal, synth and drum tracks to exquisitely fine tune their loudness in the mix and master tracks. So, without further ado, let's get started.
5+ Best Sidechain Plugins 2023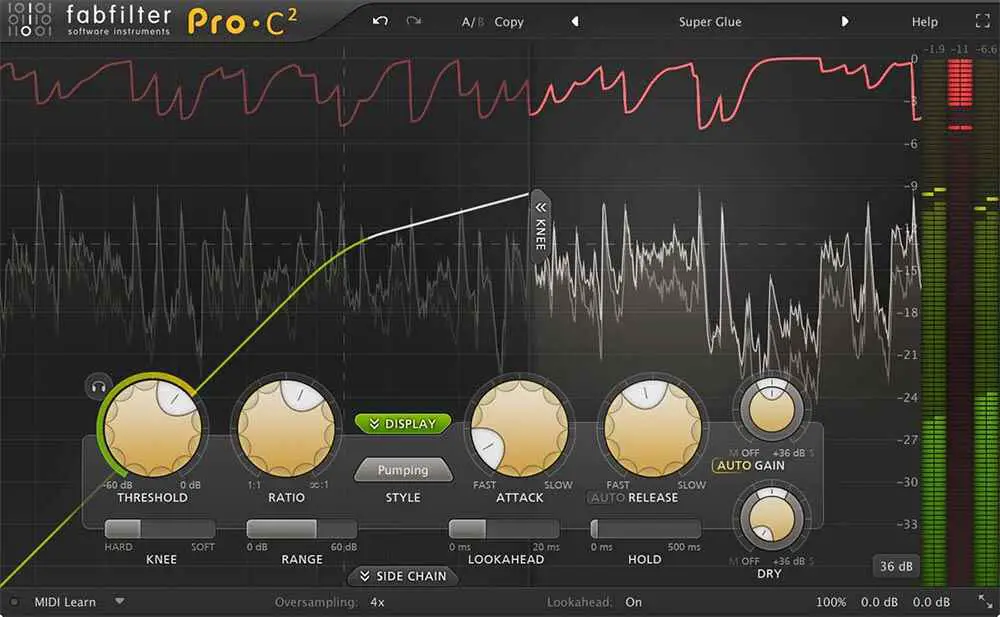 FabFilter is a renowned plugin maker known for its multiband compression VST, Pro-MB, but its Pro-C2 sidechain compressor also does full justice to its credentials.
This slick compressor plugin offers subtle mastering compression for guitars and drum tracks (think adding that magic drum glue).
For starters, Pro-C 2 comes with 8 varied compression styles such as Bus compression, Pumping, Mastering, Vocal, Punch, to name a few that each lend a distinct sound and character. 
Not to mention, up to 4x oversampling, variable knee, auto-gain and auto-release, smooth lookahead, external side-chain trigger, and mid/side processing.
The icing on the cake is the ultra smooth and responsive Retina graphic user interface with realistic metering that allows faster workflows.
Features of FabFilter Pro-C 2:
Very fast attack times
Gorgeous GUI
MIDI Learning Mode
Custom knee
SEE ALSO: Learn how to use compressor VST/AU plugin in your DAW the correct way.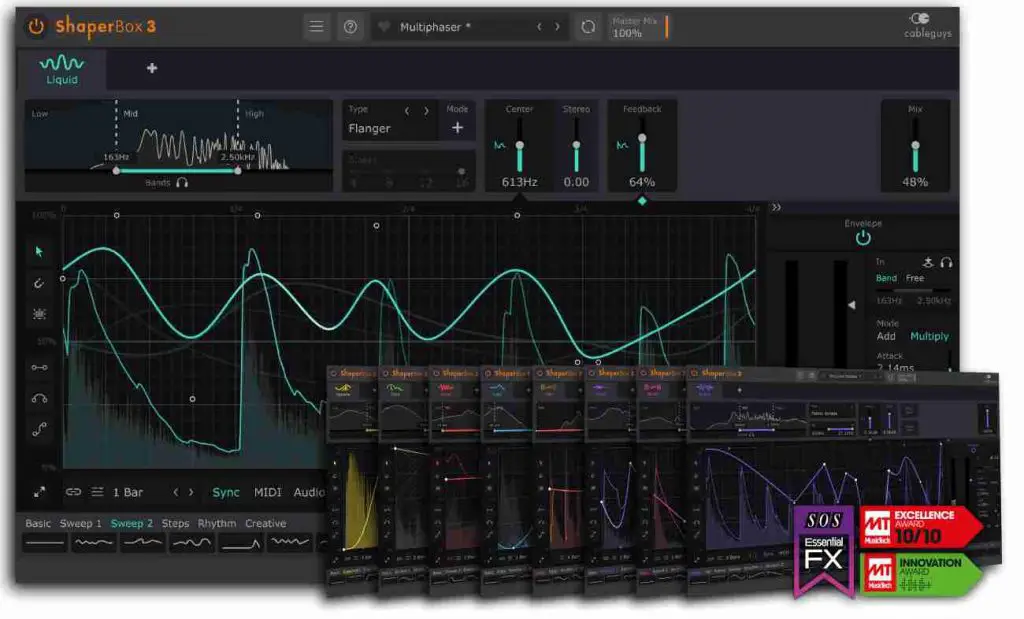 ShaperBox 3 is a unique sidechain compressor that lets you side-chain 3 different frequency bands separately. 
So, if you want to sidechain the treble of a guitar track, but want to retain the bass frequencies of the low end, you can draw a steeper curve for the low end and a more gradual curve for the high frequencies.
What's more, you can draw your custom side-chain curve via the External Sidechain View, or select one of the side-chain presets.
You can also trigger the compressor by an input source and thereby trigger sidechaining via compression and volume automation both.
ShaperBox 3 can help overlay and lock in your kick drum tracks on the bass line through the Show External Sidechain functionality.
What's more, you can draw a bespoke ducking curve and match the contours and shapes of your kick+bass tracks, so that the low end frequencies are locked in a cohesive bind together.
All in all, ShaperBox 3 is one of the best Sidechain Plugins for beginners and professional producers.

If you are looking for a comprehensive sidechain compressor, look no further than the Germanium Compressor.
Modeled on the original hardware Germanium Compressor, this versatile VST can also take care of transient designing, distortion and EQ'ing needs of your mix with equal finesse.
As well as gain reduction, Germanium Compressor offers External Sidechain and Mid/Side Processing that can really spruce up your mix tracks. 
You will be in awe of the Germanium Compressor's Clean Comp/Dirty Comp that can tweak and fine tune the Total Harmonic Distortion (THD) of your guitar, bass, drum and vocal tracks.
Whether you are tracking, mixing or mastering, Germanium Compression is a beast of a sidechain compressor for audio engineers, producers and musicians of all hues.
SEE ALSO: 5 Best SSL Compressor Plugins

SEE ALSO: 5 Best Opto Compressor Plugins

Softube has a solid FET compressor in its arsenal and it goes by the same name. FET Compressor is a must have tool for guitar and drum compression and gain reduction especially during the mixing stage.
What's more, it's built in distortion adds some nice grittiness to lead guitar parts and is the perfect companion for rock and metal mixes. 
FET Compressor comes in handy for drum mixing as well, where you can use it on overheads, room mics or the entire drum bus.
The resultant sound is a Led Zeppelin inspired boomy and loud drum sound that sounds massive. You can also do some nice parallel compression on the side via the Parallel Inject control.
All in all, FET Compressor offers nifty Sidechain compression that can be also helpful for boosting your bass guitar's low end or attenuating the kick drum beats.
SEE ALSO: 5 Best Vari Mu Compressor Plugins 

SEE ALSO: 5 Best VCA Compressor Plugins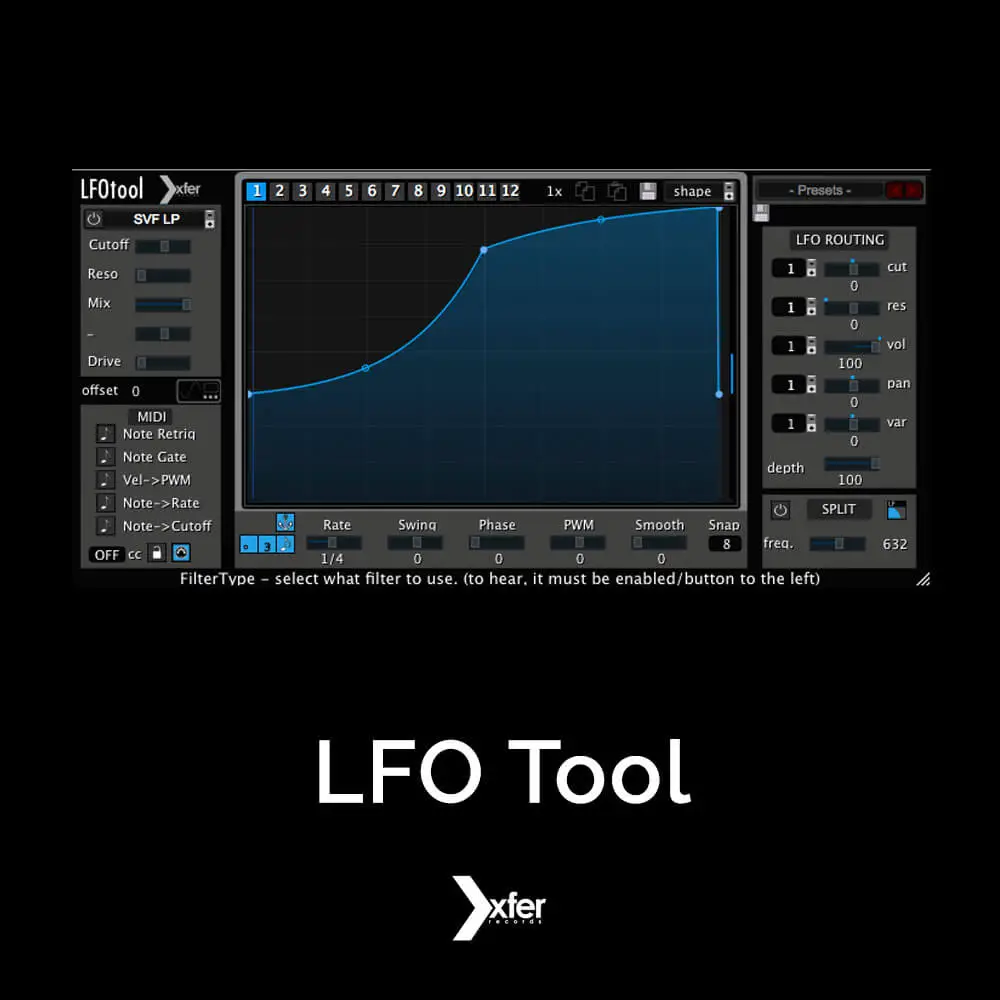 Rounding up our list of the best Sidechain plugins is XFer's LFO Tool. To trigger the sidechain compressor all you have to do is to push up the volume slider on the LFO routing. 
This is essential for determining the mix/depth of the LFO as well as for obtaining in-depth control over the curve of the LFO.
All in all, LFO Tool is a great sidechain compressor for regular side-chain patterns. You can even do a further deep dive and draw in individual volume cuts to set slower compression rates.
SEE ALSO: 5 Free Multiband Compressor VST