Frantically looking for the best mastering compressor plugins with no respite? Fret no more, we have done a lowdown on some good mastering compressor VST plugins that will make compression easier for your master tracks.
Whether you want to add a limiter, de-esser, multiband compression or a mastering bus compressor, some of the best mastering compressor plugins on our list will put you in good stead. So, without further ado, let's get started.
5+ Best Mastering Compressor Plugins 2023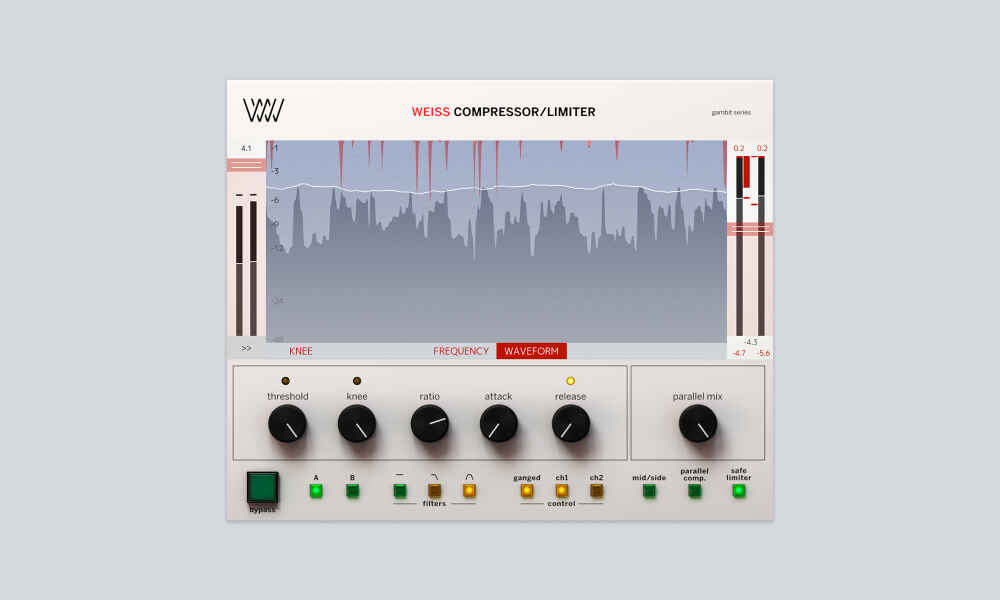 If you are looking for a nifty mastering compressor that can push the loudness of your track to streaming grade quality without unpleasant sibilance and artefacts from the limiter, Weiss Compressor and Limiter is definitely worth a gander.
For starters, you can achieve a clean, and dynamically mastered track with Weiss Compressor and Limiter at the helm. 
With the latest upgrade, Weiss Compressor/Limiter has added two new advanced limiter algorithms that give you total control over shaping the loudness of master tracks. 
Not to mention, a spic and span and intuitive graphical user interface with stunning visualizations that will allure beginner producers to hit the sweet spot between loudness and the right balance of sound. 
SEE ALSO: 5 Best Sidechain Compressor Plugins

SEE ALSO: 5 Best SSL Compressor VST Plugins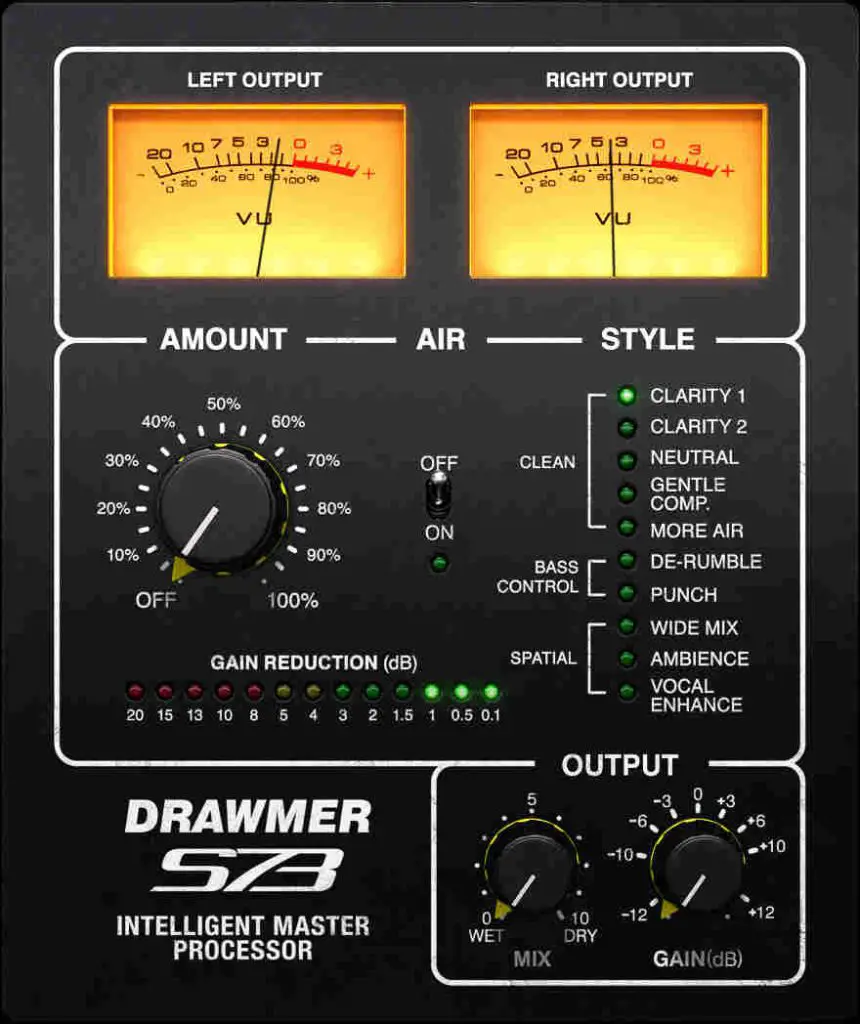 Seeking a minimalistic multiband compressor for mastering tracks? Look no further than Drawmer S73 which is replete with enhanced compressor sound design ethos and much more.
Newbie producers can get started by simply using the Style parameter and toggle between ready-made mastering processing presets to quickly hone in on the sound and loudness levels that suits their bespoke mix the best.
An emulation of the 1973 Three Band FET Stereo Compressor, the Drawmer S73 is renowned for its precision and flexible workflow.
All in all, Drawmer S73 is one of the best mastering compressor plugins for beginner producers learning the ropes of music production.
Features of Drawmer S73
Inbuilt mastering processing presets and techniques
Warm analog compressor sound.
Parallel compression
Loud mix and master tracks with professional quality
SEE ALSO: 5 Best Vari Mu Compressor Plugins

SEE ALSO: 5 Best Opto Compressors

Emulating an analogue mastering compressor processor, Master Compressor is a through-and-through compressor for master tracks.
Symbolic of its name, Master Compressor adds a touch of clean compressed sound to your audio tracks without adding any odd harmonic distortion. However, if you may, you can add harmonic distortion to louden up your master tracks via 'Tube' control. 
Sporting an easy-to-use and stripped down GUI inspired by classic hardware, Master Compressor can be used on both channel instrument tracks and the master bus.
Features of the Master Compressor
Clean GUI design.
CPU friendly
Up to 18dB of makeup gain
A/B control to compare processed and original signals
VU meter for precision monitoring
SEE ALSO: 5 Best VCA Compressor Plugins

SEE ALSO: 5 Best Bass Compressors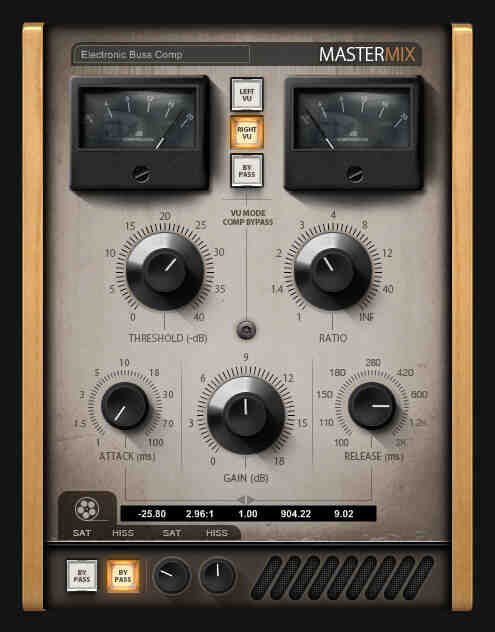 Modeled on vintage bus compressors and classic analogue consoles, the MasterMix Buss Compressor is a mixing and mastering powerhouse in its own right.
For starters, you can use the MasterMix Buss Compressor on the Master Bus and also on bus tracks or sub-groups such as Drum Group, Guitar group, etc.
Sporting an intuitive and slick graphical user interface, MasterMix Buss Compressor offers splendid visual feedback and easy-to-use design ethos with very low CPU usage.
Further, it comes with a Tape simulator stage including tape hiss and warm saturation.
For best compression practices, place the MasterMix Buss Compressor on the master Bus as soon as you get into mixing with approx 1-3dB of gain reduction.
All together, MasterMix Buss Compressor is best suited for use in drum kits and drum bus where each drum track has variation of frequencies and transients.
SEE ALSO: How to use a Compressor Plugin in your DAW.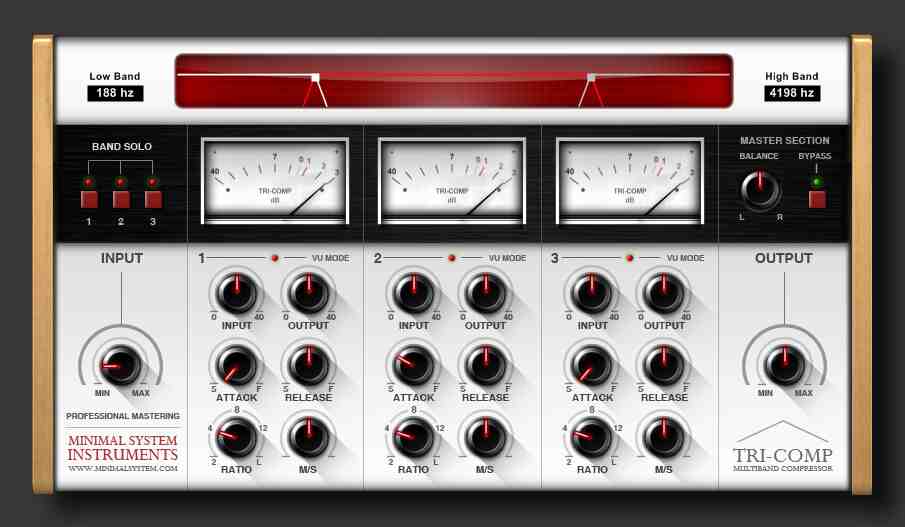 Rounding up our list of the best mastering compressor plugins is TriComp Multiband Compressor from Minimal System group.
For starters, this multiband compressor combines the best of three worlds for all your mixing and mastering needs. It emulates three vintage 1176 compressors and processes 3 individual bands (Low, Mid and High) of your incoming audio signal.
You get access to granular control over each band so that you can trigger compression, limiting, and Mid/Side processing that is individually incorporated in each band.
What's more, the Tri-Comp compressor helps you dial in a clean and crisp mastered track and comes with the standard compression parameter controls such as Attack, Release, Input, Output, and Ratio.
Features of TriComp Multiband Compressor
Bypass button for A/B comparison
Master Balance
VU signal monitor
Intuitive Graphical User Interface design.
CPU-friendly usage
SEE ALSO: 5 Free Sidechain Compressor Plugins