Looking for free sidechain plugins but to no avail? Worry not, we have done a lowdown on some great sidechain VST plugins that are free of cost.
These freeware sidechain compressors are available in VST/AU plugin format for Mac and Windows users.
If you are not happy with your DAW's native sidechain compressor, this list of free sidechain plugins will put you in good stead. So, without further ado, let's get started.
5+ Free Sidechain Plugins 2023

If you are looking for a classic sidechain plugin to recreate the lush and warm sound of analog compressors, look no further than Rough Rider 3.
Sporting a similar graphical layout as many legendary hardware compressors, Rough Rider 3 comes with a slick MIDI learning mode, built-in warming filter, precise metering, high pass filter and external sidechain input.
For starters, Rough Rider 3 features standard compression control parameter knobs such as Ratio, Attack and Release, Gain reduction Meter and Sensitivity: usually called "threshold", Makeup Gain, and Active button that unleashes strange automated compressed effects.
The built-in warming filter can be triggered by the FULL BANDWIDTH button. All in all, Rough Rider 3 is a must have free sidechain VST if you are on a tight budget.
SEE ALSO: 5 Best SSL Compressor Plugins

SEE ALSO: 5 Best FET Compressor Plugins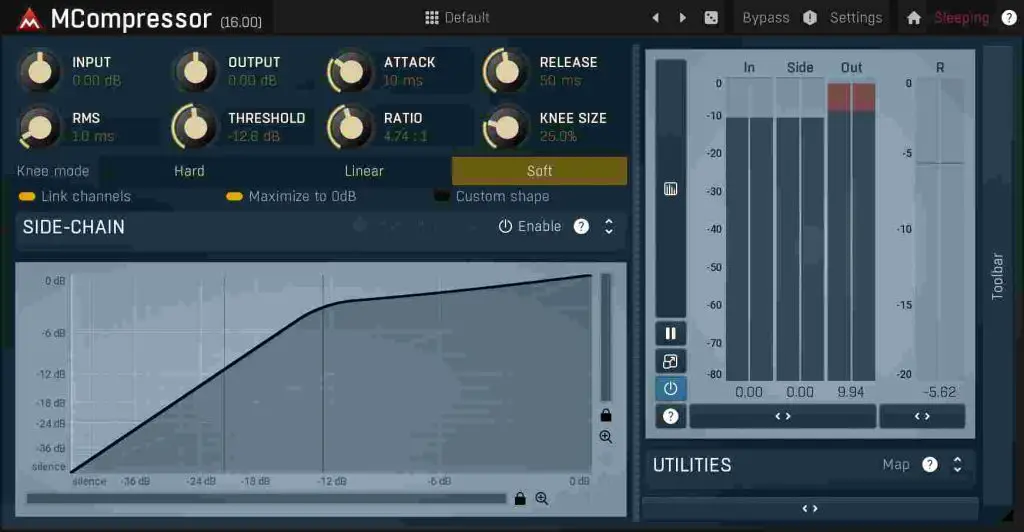 Although MCompressor is a standard VST compressor, it also doubles as a sidechain compressor if you delve in deeper. 
Touted as one of the best free sidechain plugins for beginners, Melda Production's MCompressor boasts custom processing shape so that you can sculpt dynamic sound effects and a clean compressed sound.
For starters, it features a hard, linear and smooth knee with custom size and sidechain based on the mechanism of band-passing the original signal. This also comes in handy for applying de-esser controls.
Not to mention, standard compression control knobs such as gain, release, attack, to name a few.
MCompressor also offers up to 16x upsampling, MIDI learning mode, a smooth and responsive graphical user interface, automatic gain compensation, smart randomization and up to 8 channels of sound processing.
SEE ALSO: 5 Best VCA Compressor Plugins

SEE ALSO: 5 Best Opto Compressor Plugins

Density is a mid side and Bus Compressor that offers silky smooth and versatile processing on the stereo bus and adds depth on the master chain thereby creating a powerful mix.
This nifty compressor that incorporates tried and tested dynamic shaping techniques, and combines them with modern concepts in audio processing.
Although primarily intended to be used on summing/bus tracks (especially drum bus) for gluing things together, Density has evolved to do many more things such as smooth 2-bus compression, mid/side processing in a true 2 channel layout with zero latency or phase alteration issues.
Want to learn how to use a compressor plugin to achieve professional grade mixes? Density MkIII should definitely be on your radar.
What's more, you can also use Density to add sweet coloration to your mix or instrument channel tracks such as bass guitar that will make them sound pleasant to the ears.
SEE ALSO: 5 Best Multiband Compressor Plugins

SEE ALSO: 5 Best Vari Mu Compressor Plugins

A sidechain compressor plugin with stereo input, the ATK SideChain Compressor is a stripped down compressor that offers tons of features.
For starters, ATK Side Chain compressor offers mid/side processing, a color section for adding coloration, dry/wet module for parallel compression, RMS detection, and 2 different channels that can be linked together.
You can turn on non-linear compression via the color section near the knee. A negative color reduces the gain whereas a positive gain increases the gain above 0dB.
SEE ALSO: 5 Free Multiband Compressor Plugins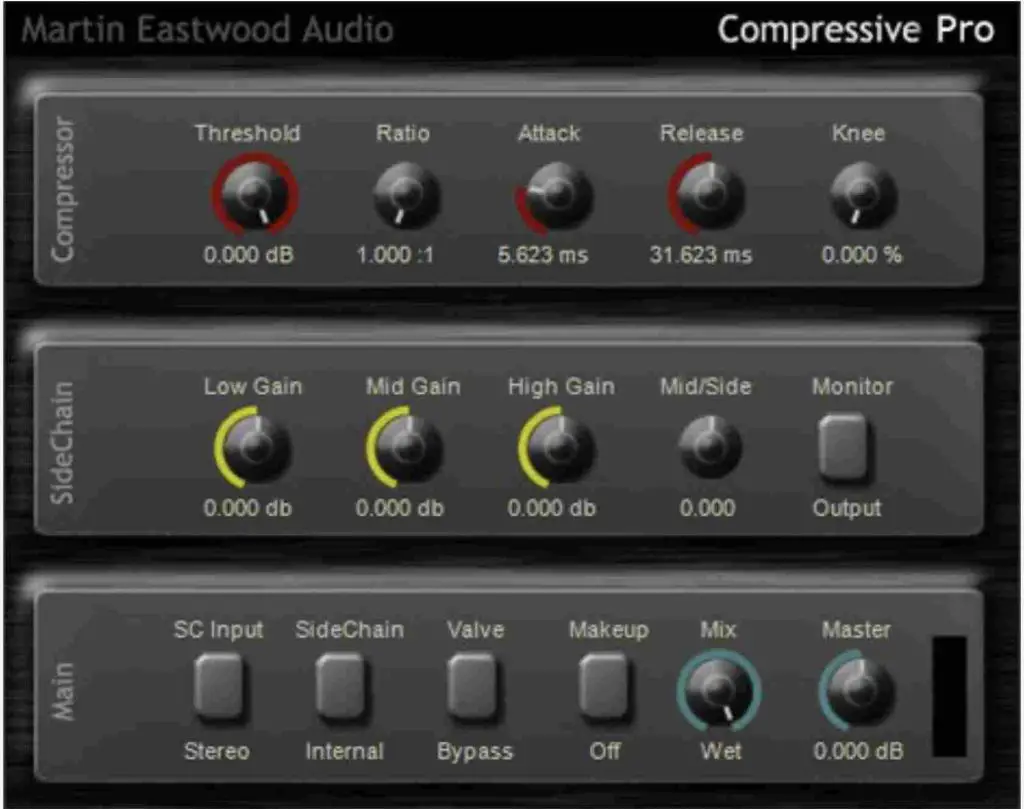 Rounding up our list of free sidechain plugins is Compressive Pro, a Windows only compressor VST by Martin Eastwood. It comes in 2 iterations namely, Compressive Pro and Compressive Lite.
Compressive Pro is an RMS compressor modeled on an external side chain analogue compressor. 
The sidechain boasts a nifty 3-band EQ as well as mid/side processing to help you gain complete control of sound compression dynamics.
On the other hand, Compressive Lite is a CPU-friendly compressor that boasts the same algorithms as Compressive Pro but is a bit slow.