Looking for a decent SSL Compressor VST? You are at the right place. We have done a lowdown on some of the best SSL Compressor plugins that will add sublime compression to your instrument tracks and mixes.
These SSL Compressor VST plugins can be used across a slew of instrument tracks ranging from Guitar, bass, to synth and drum tracks and exquisitely fine tune their loudness in the mix. So, without further ado, let's get started.
5+ Best SSL Compressor VST Plugins 2023

Emulating the vintage high-frequency smoothing circuit of the SSL Fusion stereo hardware processor, the SSL Fusion HF Compressor can be used to remove sibilance from electric guitar tracks, and mellow down crash and ride cymbals in drum tracks.
Further, you can try AUTO GAIN for applying automatic make-up gain to your drum tracks especially at higher frequencies to tame the cymbals and make them sound more balanced and crisp.  
The novelty factor of the SSL Fusion HF Compressor is that it compresses only frequencies above the set threshold and delivers a distinct sound of high-frequency rounding. 
You can further tweak the compression parameters with attack, ratio, and release and attain a silky smooth compressed sound and tape-esque high-frequency roll-offs to counter unwanted sibilance that can build up in stems and your mixes.
SEE ALSO: Learn how to use a compressor VST in your mixes.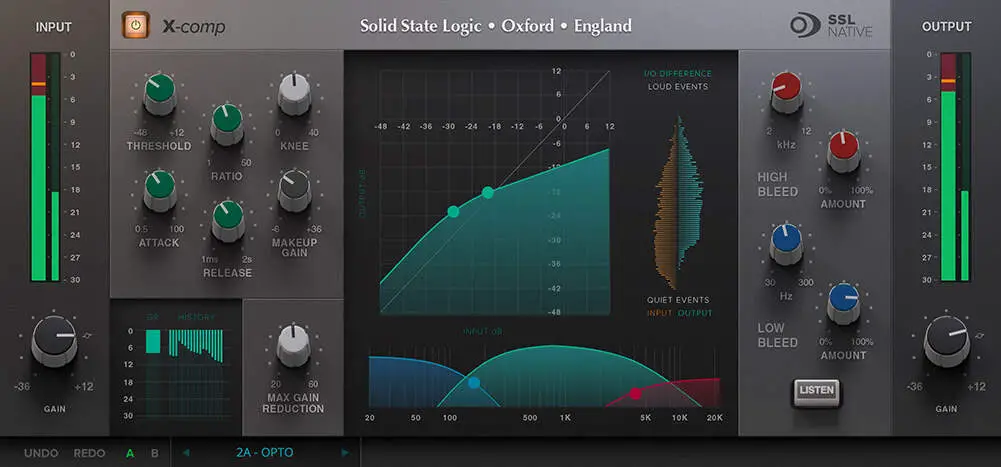 A versatile stereo compressor, X-Comp offers mastering grade audio fidelity packed in an analog graphical user interface with click and drag controls.
For starters, you can dial in the famous 'brick wall' effects and infuse raw firepower on the lines of the vintage SSL Listen Mic Compressor.
Not to mention, the X-Comp is a slick digital recreation of tons of modern and vintage compressors that run the gamut from OPTO, FET and Vari Mu compressors.
All together, X-Comp is one of the best SSL Compressor VST if you are seeking a MIDI compatible plugin that offers brickwall-style limiting and dynamic shaping options with real-time parameter tweaking.
SEE ALSO: 5 Best Multiband Compressor VST Plugins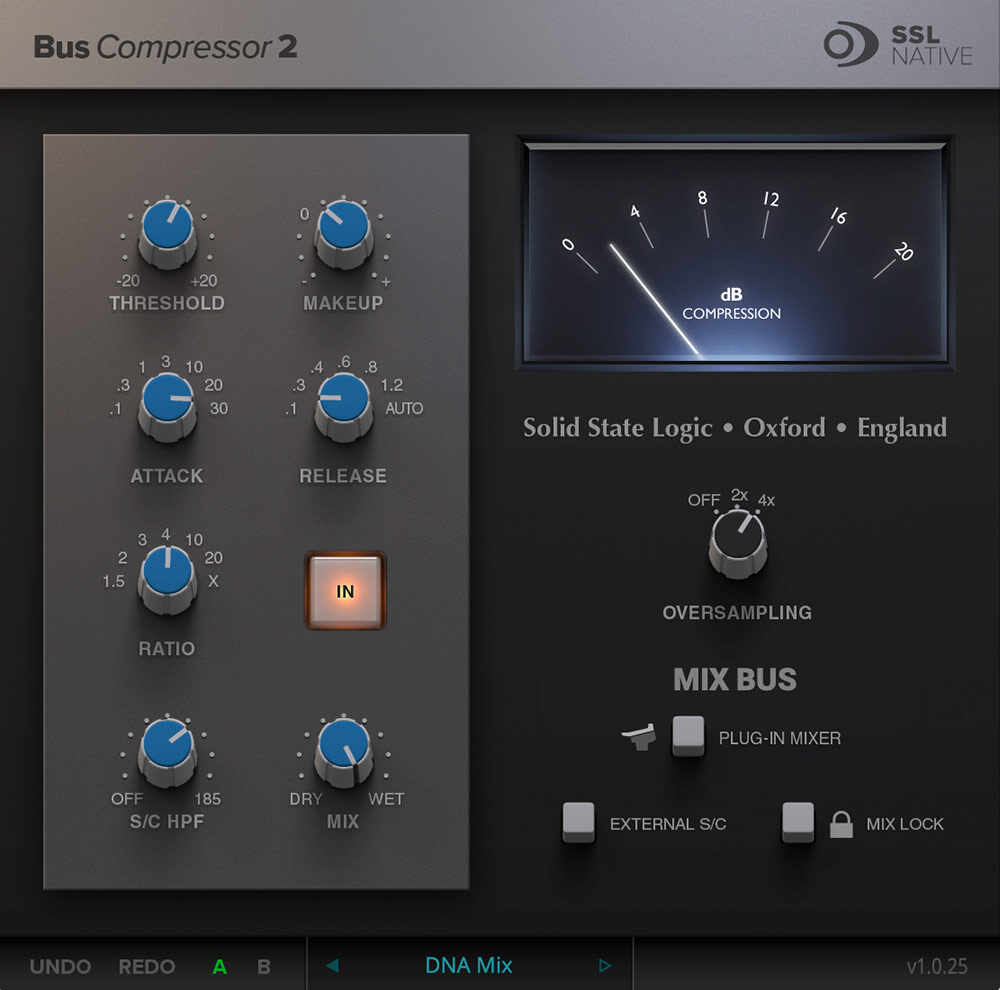 If you are looking for a nifty compressor to glue your mix together to sound like an album, in fact, a concept album with a uniform flow, look no further than the SSL Native Bus Compressor 2. 
Symbolic of its name, this bus compressor VST retains the dynamic cohesiveness of a mix even at high compression ratios. 
Sporting an easy-to-use graphical user interface, SSL Native Bus compressor 2 offers faster workflows, and parallel processing via dry/wet signal processing.
What's more, it also boasts a nifty sidechain high pass filter that comes in handy for reducing low-end pumping. 
All in all, if you want to add final touches of elegance with a dash of loudness and embellish your mix, the SSL Native Bus Compressor 2 is definitely well worth a try.
SEE ALSO: 5 Best VCA Compressor Plugins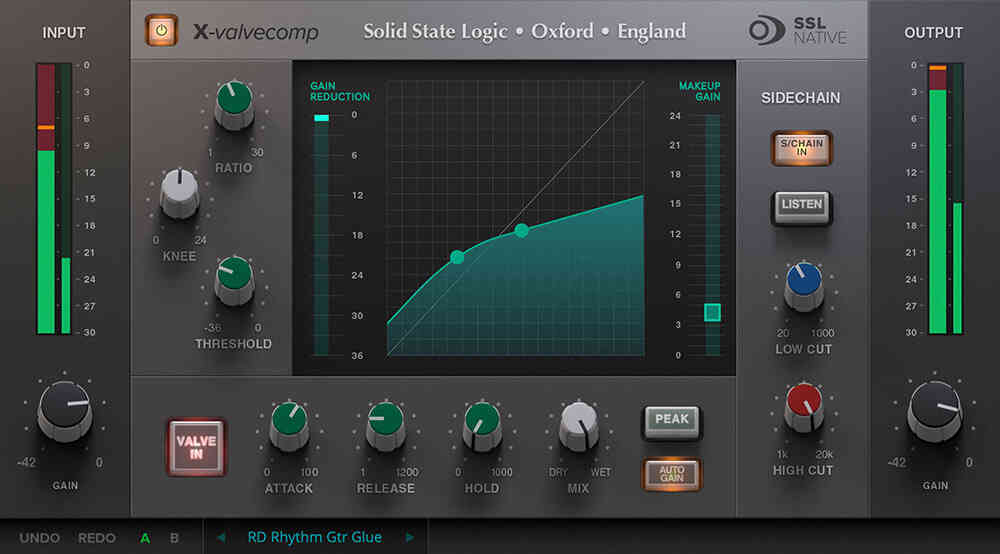 A powerhouse mono and stereo channel compressor, X-ValveComp comes with an extra 'valve' emulation stage that is placed after the compressor in the signal chain to add a variable degree of distortion and harmonic saturation.
X-Valve Comp comes in handy for adding that much needed coloraton to your mix and instrument tracks and thickens up the audio material.
For starters, X-Valve Comp boasts all the standard compression features such as Ratio, Threshold, Attack, Release, Hold, Knee, Input/Output level, make-up gain, and Auto gain, to name a few.
You can also switch the compressor between Peak or RMS modes.
Not to mention, you can trigger parallel compression with the dry/wet mix control.
What's more, you can automate X-ValveComp through your DAW's standard Automation data.
SEE ALSO: 5 Free Multiband Compressor Plugins

Rounding up our list of the best SSL Compressor VST plugins is SSL LMC+. An emulation of the built in compressor in Listen Mic which is SSL 4000E console's reverse talkback function, the SSL LMC+ can dial in the throwback sound of the 1980s.
Paired with the inbuilt noise gate, SSL LMC+ can dial in that famous gated reverb drum sound from the 1980's. 
Especially, if you are looking for ambient drum tracks with deep snare hits, SSL LMC+ is worth a gander.
You can tweak the drum sound thanks to fixed release and attack curves that can be customized at whim.
What's more, it comes with an external sidechain, Scoop and Split, highpass and lowpass filters. 
SEE ALSO: 5 Free Sidechain Compressor Plugins